Roblox is a website and app-based gaming service that lets gamers create their own game. Here, you can also chat with other gamers and build a new game directly using the website. In this guide, we are discussing a common problem on Roblox that you may encounter; the Roblox error code 267.
This error is encountered when Roblox believes there is some kind of unknown javascript is running in the background. Although you might not be running this javascript but to avoid any hacking/interventions, Roblox throws out the users with Error Code 267 (You were kicked out of the game).
You may also like,
Roblox Error Code 267 – How to Fix it
Roblox error 267 is not a server side issue but more of the user side issue and this can be solved using simple steps. To fix this, we will make some changes on your browser and also troubleshoot a few internet connectivity issue.
1. Google Chrome Browser
Most of the browsers create errors on their own and this can be due to outdated browsers or unnecessary scripts.
One best way to ensure that your browser is not creating troubles while using Roblox is to use Google Chrome as your default browser. By doing this, you reduce the chances of unnecessary errors that are created because of the browser.
The scripts can mistakenly be treated as a negative metric by the Roblox Servers. It is better to use a safe and updated browser.
2. Troubleshooting Browser
If you have made a few recent changes to your browser, you might want to roll back the changes. Unwanted plugins can run the script background and create a mess with other online applications. But you cannot truly find out which plugins or recent changes is causing this error. To solve this, we will reset the browser to default.
Open Settings on Google Chrome Browser.
Navigate to settings and scroll down to advance options.
Click the Reset tab and hit the "Reset" button to clear everything.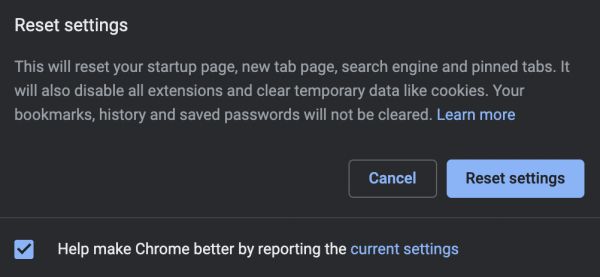 3. Checking the Wireless Connection
Wireless networks are great but they cause a lot of problems a lot of time. Usually, there are two reasons, either the router or the software that causes the wireless connection to a trip. You might want to check our guide on how to fix no internet connection and also troubleshoot the DNS server issue.
Also read: Best Ethernet Cable for High-Speed Internet Bandwidth
4. Update the Network Drivers
Outdated network drivers create passage for the data to pass between the server and clients. But if the network driver is outdated, you might feel some trouble making an network transaction.
Roblox error code 267 can be caused due to the outdated network drivers and to fix this, you need to do is install network update software.
Navigate to device manager in computer properties.
Find the Network's section and select your network adapter.
Click on the properties and you will find the update drivers option.
5. Block Ads
Most of the ads are present in javascript format and run in background. Additionally, these scripts slower the website and can usually cause the roblox to stop running.
There are many Ad-Blockers that serve the required purposes and solve any problem causing the Roblox error 267.
6. VPN Connection
VPN connections are great for privacy and security but they can cause some big issues. A free VPN is a big "No". The best option is to use more secure and best VPN services. Nord VPN is providing 68% off on their 2-year subscription. You might want to check the exclusive offer once,
7. Reinstall the Roblox App
Roblox app developers update the software regularly and if you are outdated then you might be left with some bugs. The best option is to keep your app always up-to-date. You can find the download links to the Roblox app below.
---
Conclusion
These solutions should solve the Roblox error 267 on your device. This is not a server-side issue but more of the browser and internet connection issue. Use Google Chrome as your default browser and keep your Roblox app up-to-date. Additionally, make sure to use a secure and fast VPN service to extract the most out of it.
You may also like,