Want to clear the cache on your Android phone? Let us show you the correct way to do it.
One of the things with Android devices is they can turn sluggish when it comes to performance. The top of the prime factors of this to happen is all the cache that is built up by apps on your Android phone, and clearing them should aid you some boost.
But what is cache on Android phones? Should you clear them? And what is the correct way to do this? Let's check them all in this detailed and helpful article.
Also read: How to Use Split Screen on Any Android Device
What is Cache or Temporary Data on Android Devices?
If you have been using Android for quite a long time, you might have noticed the performance boost over the years. And this is because smartphones are trying to make features and content more accessible to you by means of temporary data.
For instance, when you accidentally close or reopen the music apps on your Android phone, you can still find the last song in the music player. This is because your favorite music app saved this information in the form of temporary data on your account and device. This data is called cache data, and it helps you use your device in a much more efficient way. In fact, your browser is right now creating cache data for this page as you are reading this article.
But where is the cache data stored? It is available in the memory blocks of the internal storage of your Android device. In frequent intervals, this cache data is replaced with fresh data as you go on using the apps.
Every app and your device itself creates cache data on your Android device. The problem occurs when there is faulty data in cache memory or when the apps are having trouble accessing them. Another problematic instance is when you have a lot of apps installed on your device, and they altogether create a huge cache data mountain. In such a case, you can find performance issues with apps and your device itself.
How to Clear Cache on Android Devices
Now that we know what cache data is on Android devices and a few problems related to it. Let's look at how you can clear this cache data on Android phones, which are mainly created by apps and browsers.
All the apps on your phone create cache data, but this is different from what a browser does. A browser caches all the website data you visit and stores a copy of it on your device; this data includes images, video thumbnails, and other resource-intensive files.
You can clear cache from apps directly through your phone settings, while for the browser cache, you will have to do it from inside of your browser's settings menu.
Also read: 9 Best Parental Control Apps for Android
How to Clear Cache by Apps on Android Devices?
Open the "Settings" app on your Android device and navigate to the storage option.
Now, select "Other Apps" from the storage list. On the older Android versions, you can find the apps list under the "App Management" menu in the "Settings" app.
Now, select the app you wish to delete the cache; we prefer going with the one with a lot of cache data or an app with performance issues or bugs.
Here, you can find the "Clear Cache" option; tap on it to clear the cache for the particular app.
Now, repeat the process with other apps having larger cache data or performance issues.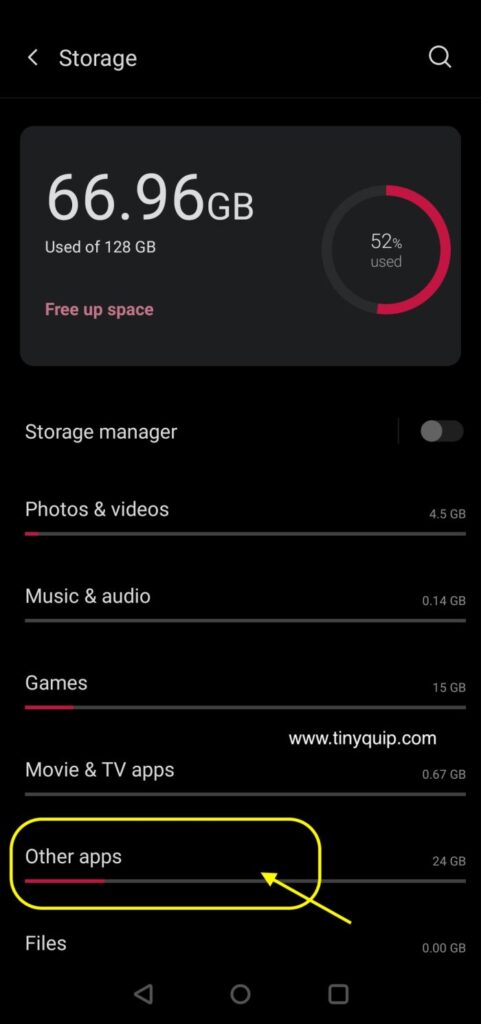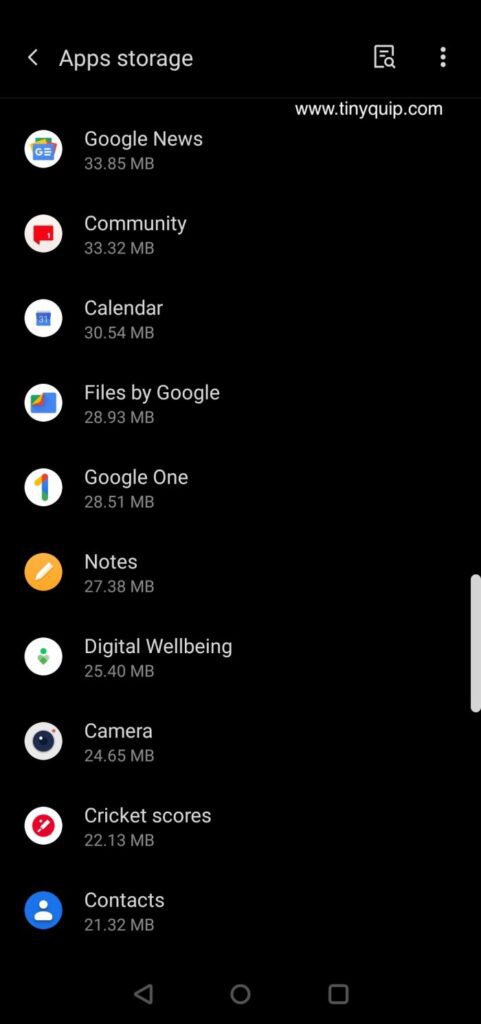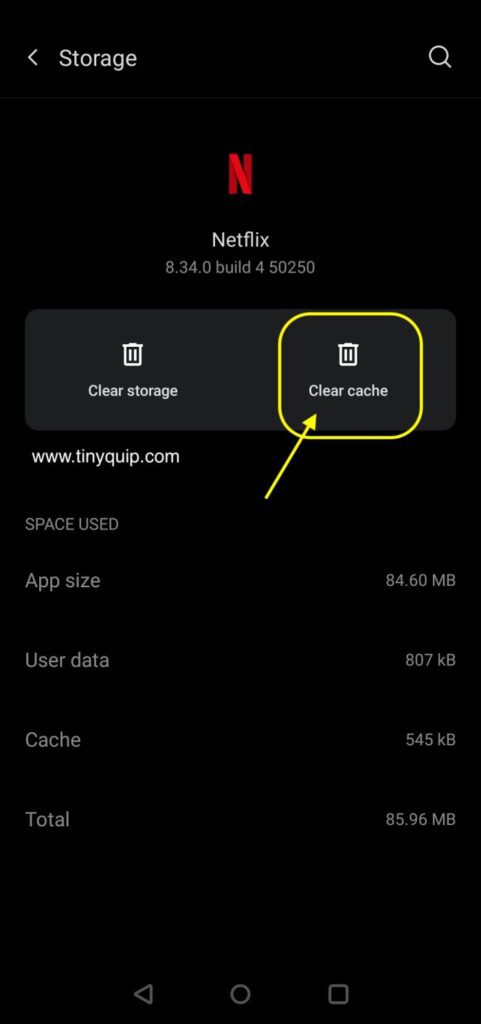 Clearing data is different from clearing cache; in simple words, the cache data is harmless, and you won't lose any important app data when you clear it. However, when you clear the app data, you will lose the associated data such as progress, login information, and more. Only clear the app data when the app is unusable and has serious performance issues while the data inside is not much of importance.
Note: The steps and images listed above are from a OnePlus device running Android version 11. The screen and steps might slightly differ on your Android device based on the model and brand you use.
How to Clear Browser Cache from Android Phones?
Open the most frequent browser you use or the one for which you wish to clear the cache data. For this article, we are using Google Chrome as it is the most common preference among users.
Tap on the three-dot menu from the right-top of your browser and select the "Settings" menu.




Under the "Settings" menu, you find a bunch of options related to the browser, such as the default search engine, sync preferences, and more. Select the "Privacy and Security" option from the list.




At the top, you can find the "Clear browsing data" option; tap on it. This is where you can delete your browsing history, cookies, site data, and cache data. You can also adjust the timeline from the last hour to all-time based on your preference to clear the cache.




For this article, we will stick to the "Cached images and files" option and then tap on the "Clear data" button from the bottom-right of the screen.


Clearing cache slightly differs on what browser you use; if you are using Firefox, Opera, or other browsers, the steps above will slightly differ. In the current case with the Google Chrome browser on your Android device, it is pretty simple to clear the cache data, and it is more flexible with what other data you can delete.
Also read: 12 Best Chrome Flags for Android Devices that You Must Use
When Should you Clear the Cache Data and How Frequently?
Now, we know how to clear the cache data on our Android device, but should we be doing it every day, week, or month? And when exactly should you clear the cache data?
Let's first clarify that cache data is not bad, and it helps in improving the performance; you shouldn't be clearing it without reason or unnecessarily.
If you find your Android device to lag or slow down, or apps are performing strangely, such as slowing down or crashing frequently, there is a chance of faulty data in the cache; this is when you should empty the cache data of that particular app and larger cache data when it comes to the performance of your Android phone.
Other times, the Android device itself has programs to replace the older cache with a fresh one as you keep using all the apps and your device. So, clearing the cache in frequency will make no impact on your Android device's performance and instead will make it slow as now it has to create a new cache data every time.
Also read: 8 Best App Lock Apps For Android Device
Advantages of Clearing Cache Data on Android Phones
Clearing cache on Android devices helps you with smooth operations, but how exactly? Let's look at some of the advantages of clearing cache data on Android devices.
Corrupt files: The Cache data stores both the good and bad data and while the good ones improve the performance, the bad or corrupt data can disturb it. Clearing the cache helps you smoothen the performance and drop the most common issues related to the app.
Free up space: Large cache files are a big headache as they take up a lot of internal storage space. Clearing them should help you get some temporarily free internal storage for storing some important files of the hour.
If the server connection to web pages is busy and not fetching new details or content, clearing the old cache data will help you get the new updates forcibly.
Should You Use Third-Party Apps to Clear Cache Data?
There are a lot of apps on Play Store that help you clear the cache, boost memory, clear RAM and claim all the other fancy stuff. However, do they actually work? In our opinion, they actually don't, at least more than half of them, and instead, weaken the performance of your Android phones.
Most such apps are bloated with adware and hurt the smooth experience you are having on your Android phone. There is also a good chance of untargeted and unnoticed malware slipping through such apps and compromising your privacy and security.
In our opinion, you really don't need such third-party app cleaners, and if you ever have to use them, we will surely list the best app cleaners for Android devices that actually do some genuine work in one of our next articles.
Also read: 12 Best & Free Meditation Apps on Android | Sleep, Anxiety, & More
Frequently Asked Questions
Should I clear Android cache data every day?
It is unnecessary to clear cache data unnecessarily or every day, and it can hurt the performance of your Android device. Only do it when you are having issues with the app or the overall performance of your phone.
Do third-party app cleaners work?
Most of such apps are spammy and filled with adware; they don't really work. Except for a few that actually make some positive changes in the performance of your Android device. 
Can you clear the cache on Android at once?
If you are manually clearing the cache, there is no direct way to clear the cache data on Android at once. However, a few apps help you do so without costing any data loss.
Before you leave…
Get Our Prime Content Delivered to your Inbox for Free!! Join the Ever-Growing Community… Right Now.
Conclusion: Clear Cache on Android Phones
We hope to have answered your doubts regarding how to clear the cache on your Android phones. It is recommended you don't do it regularly or in more frequent intervals without a need; it would only hurt the performance of your device. Stick to flushing the cache on Android phones only when there are some serious issues with the app or the overall performance.
Let us know your thoughts on clearing the cache on your Android devices in the comment section below. Also, do quickly support by sharing this article with your friends and family and on social media platforms.
Some Catchy Line to Grab your Attention
Get Our Prime Content Delivered to your Inbox for Free!! Join the Ever-Growing Community… Right Now.