---
---
Android is ruling more than half of the smartphone industry and there are a lot of reasons why one should be using an android emulator.

A lot of developers wish to run their developed apps on virtual devices than the actual device to avoid complications. If a developed app is using system services such as calls, network settings, and other crucial services then it may end up in breaking up the device.
This happens in certain situations where the app is mistakenly built wrong. To avoid this, developers can simply install an AVD[Android virtual device] on their computer and run their apps virtually.
The android emulators are also helpful for testing your developed apps on different devices and aspect ratios. You can test on multiple android devices with the help of emulators virtually and without having to pay anything.
7 Best Android Emulators For 2020 You Must Use –
---
Genymotion – The Perfect Android Emulator

Image Source –Genymotion Official 
Key Features:
Battery test

GPS

Webcam

Network testing

Disk IO throttling

SMS and call interruptions

Accelerometer and multi-touch

Pixel perfect
In the first place, the best part about genymotion is the features and compatibility it holds for your convenience. Genymotion allows you to have a battery test based application running. It helps you to react with various battery levels changing and test it easily.
The GPS feature is something that is not available on most of the emulators. With GPS you can develop and test your location-based android apps. This is a cool feature you wouldn't like to miss out while developing location-based android application.
Like other android emulators for windows, not to mention that Genymotion allows you to use the webcam. This feature allows you to use camera applications and also screencast your virtual device. The webcam is also a source for video on Genymotion.
You would not like to have network interruption on any device using your apps. Genymotion allows you to have a network test while developing your android application and that's the reason it is one of the best android emulators. The network test includes 4G, 3G, Subway, and Edge.
Check out: Data Breach – Free Tools To Protect Your Data on Web
With Genymotion you can also check Disk IO throttling and emulate devices with slow internal storage. You can also have SMS and call interruptions using genymotion and record their effect. Along with accelerometer and multi-touch, genymotion the perfect android emulator has pixel perfect display. It displays the exact screen on the window.
Genymotion is compatible with Android SDK tools and android studio. It also allows testing your website in various Android browsers.
Premium Features of Genymotion –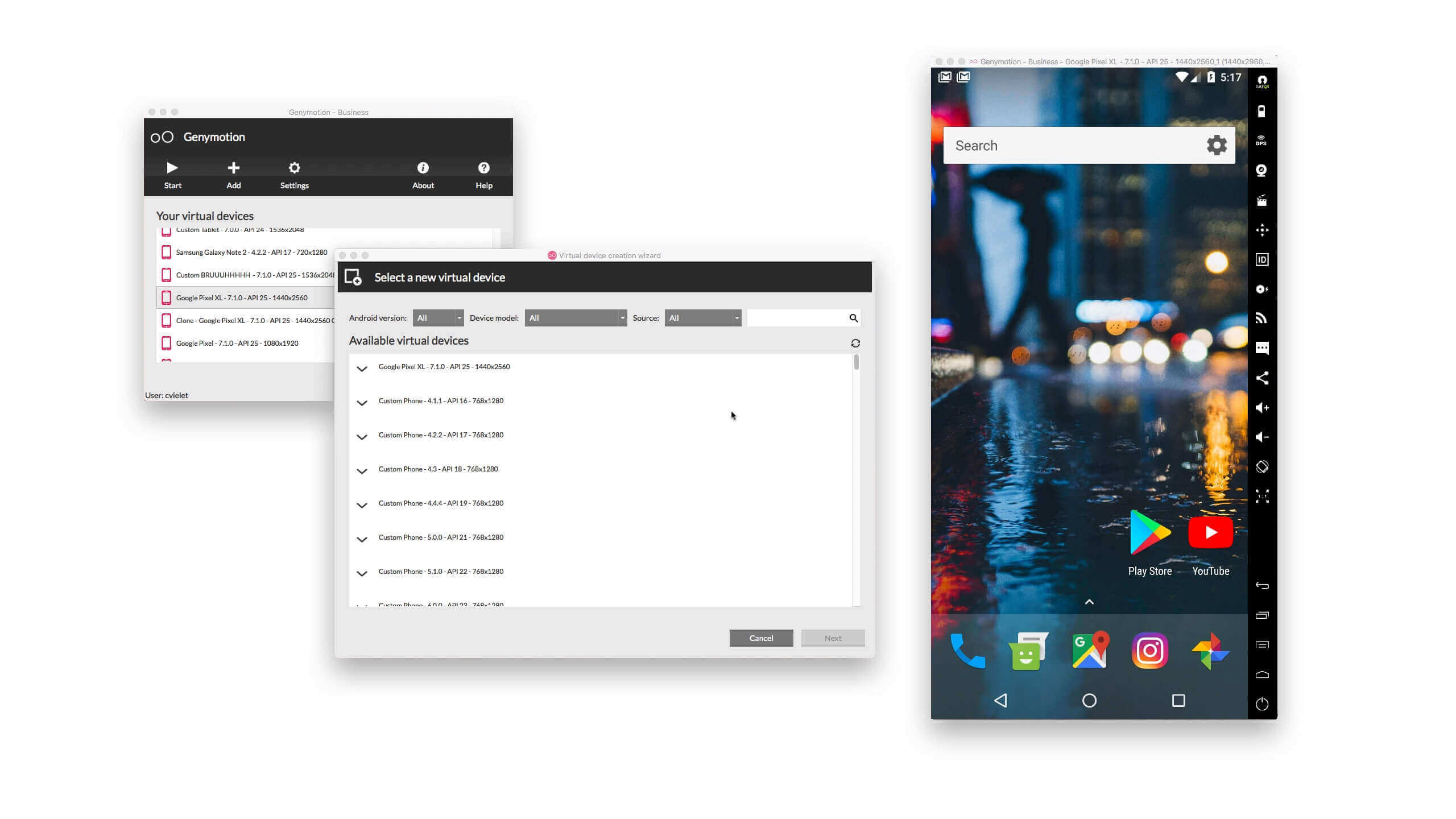 Image source – Genymotion official 
Android ID and IMEI can be changed on the go without having to reboot your device. This enhances the track testing and also categorizes your device. The device ID and IMEI is displayed with this tool and is handy in use. With premium features, genymotion is a must-have android emulator.
Also read: 9 Best App Lock Apps For Your Android Device You Must Use [2020]
With Open GApps feature you can test and run your developed android applications with a single click. If you are using an app based on google play services then this eases your testing capabilities. It also allows you to clone and reset your android device. By all means with this feature, you can clone your device multiple times for iterations and other integrations. additionally, you can also factory reset your device and reset it to the same as it was loaded.
Gneymotion is a paid android emulator and it supports both cloud and desktop. It is great for business and I recommend you try it for free and then buy it for further use.
But I am a personal user and I cannot afford genymotion. If you are facing the same problem then let me tell you that you get genymotion for free if you are using it for personal use.
---
How to Install the Genymotion Free Android Emulator?
Open your browser and Download genymotion.
Check for your system requirements before downloading the android emulator
You get two options to download the genymotion android emulator. With a virtual box or without a virtual box.
This is because Genymotion needs a virtual box to run. If you already have installed the virtual box then you can directly download the genymotion without the virtual box.
After downloading, click on the setup file and start the setup. Follow along as the setup is guided and easy to use.
Once you have completed the setup, click on the genymotion software on your desktop and the genymotion android emulator will start the booting process.
Once the booting is successfully completed, you can create your own virtual device with custom specifications.
After creating the virtual device, you can click on the run button and use your android emulator.
Also Read: 5 Websites to Download 10 Million Plus Stock Images For Free
---
How to Setup Genymotion with the Android Studio?
To use genymotion with android studio, you need to install the genymotion android emulator on your computer and set it up using the above-mentioned steps.
Now, open the android studio on your computer. If you no projects running for now then click on the settings in the bottom right and then click on plugins.
If you have on-going projects, then click on plugins from the tools.
In the plugins search, type genymotion, and install the plugin. This requires a restart so make sure you have other files saved in the android studio.
After restarting, you can complete your code and when you are ready to see it on an android emulator, press shift double times and in the search bar, type genymotion device manager.
You can now create a new virtual device or start an old android virtual device created in genymotion. Once the emulator is started, close the genymotion device manager and click on run from the toolbar in the android studio.
Here you can find your device and then test your android app code.
---
AndyOs – Android Emulator On Linux PC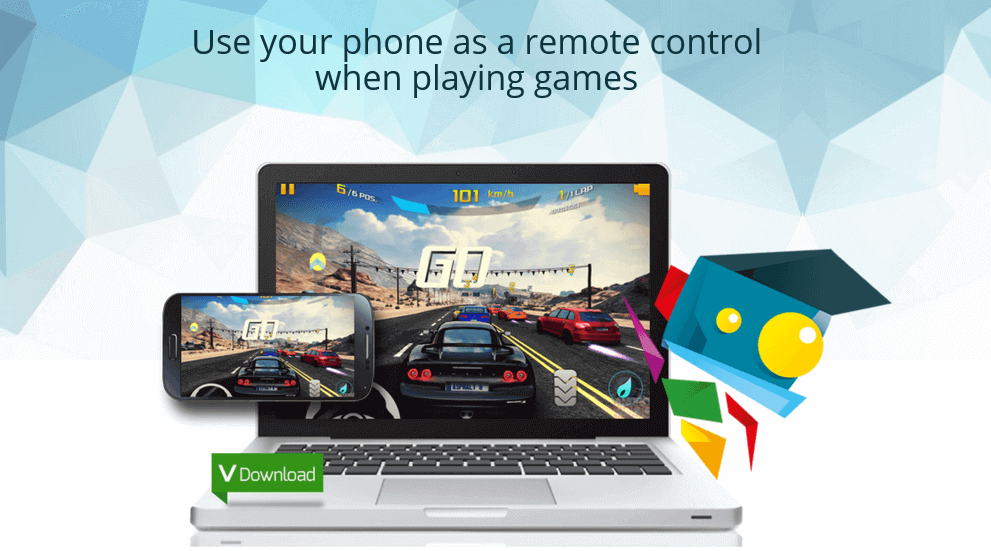 Key Features –
Phone as a remote control

Run communication apps

Seamless transitions

No limit on storage
Andy Os is a powerful android emulator and provides a better hand on GUI based applications. The most interesting feature about the andy os is the way it is built to play games and emulate the whole android operating system. It is quite handy when it is about playing games on your emulator compared to other android emulators.
Not only games but andy os is also good when it comes to fulfilling the requirements of the emulator. It is overall a good android emulator. If you are playing games such as cars and strategy games on your andy os then you can also use your android device as a remote controller. It is one of the features missing in other android emulators as far I know.
You can also run and use your social media apps like Snapchat, WhatsApp, Instagram and much more for the same. AndyOs is pretty much like a smartphone on your computer.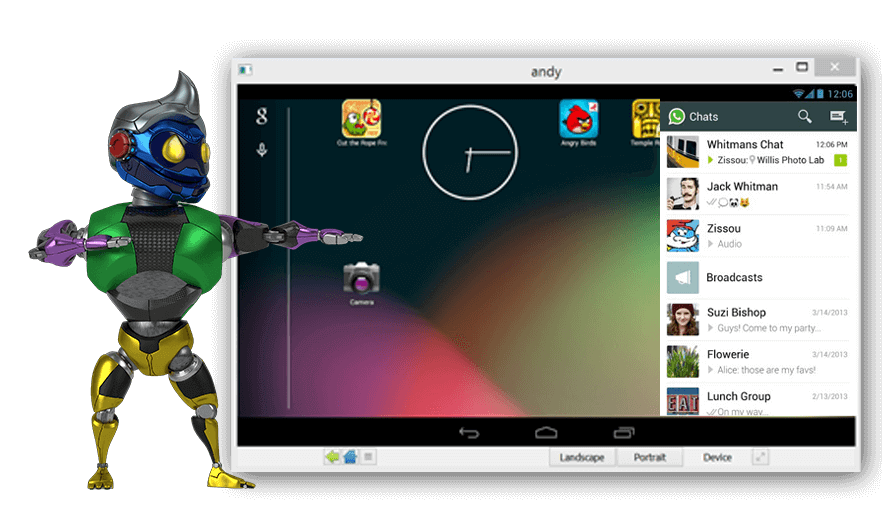 If you want to use android emulator just like any other smartphone and not develop apps on it, then you can download AndyOs. It provides a seamless transition of apps and also gets rid of storage restrictions as you store directly on your pc. No doubt it is one of the benchmarks for android emulators on pc.
Also Read: 7 Awesome Offline Messaging Apps To Send Messages Without Internet
It let you explore all the parts of an android device in virtualization experience and is visually appealing too. It is one of the best android emulators which you can download without any second thoughts.
---
Anbox – Android in a box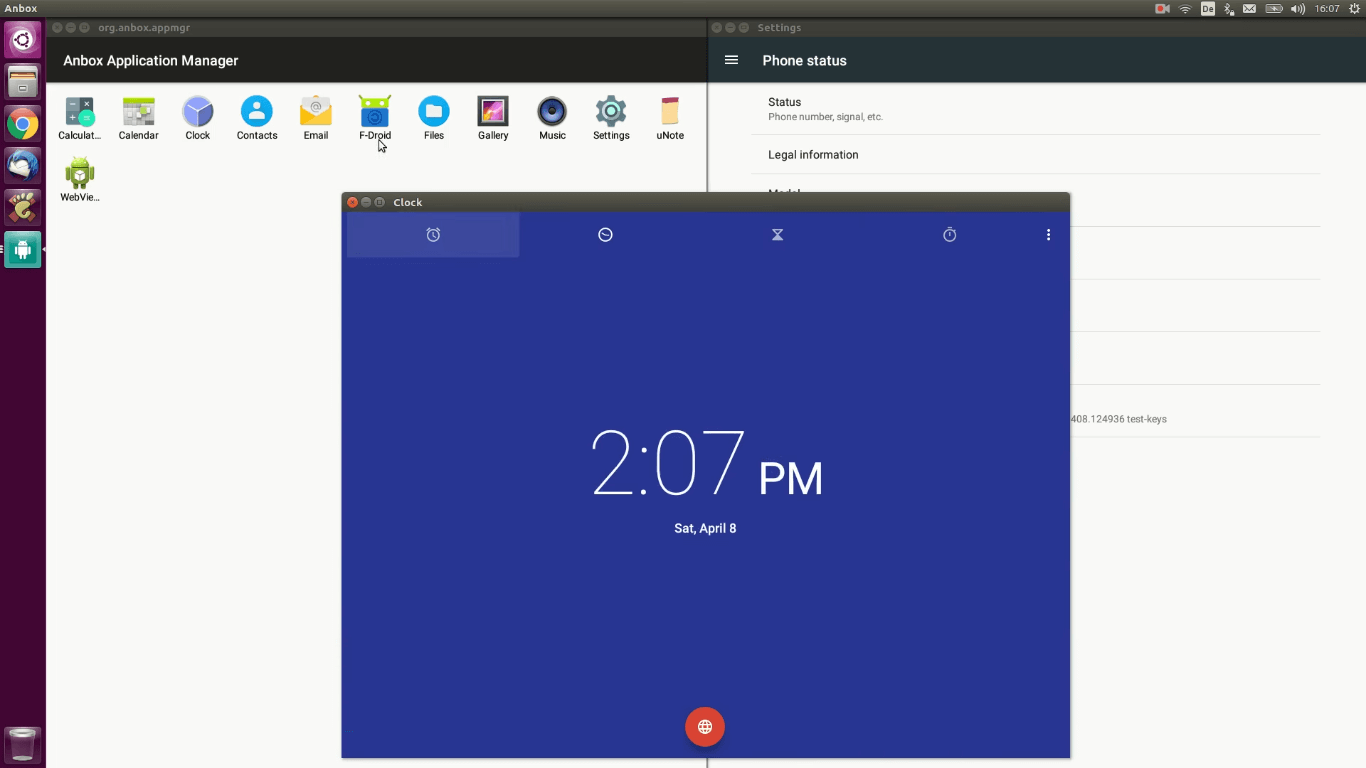 Key Features –
Open Source

No limits

Secure

Performant

Integrated

Convergent
Anbox is one of the most pioneer android emulators present for android app development in Linux. It stores the whole operating system inside a container, abstracts the hardware and also integrates core services. Every android application on the device will be integrated as a native application.
The best part about this android emulator is the way it is designed. Anbox uses LXC to provide virtualization. LXC is a Linux container that allows you to run multiple operating systems on a single controlled host. These multiple operating systems are isolated and have operating system-level virtualization.
Anbox is an open-source android emulator and is licensed under apache and GPLv3. It runs as a whole operating system on the emulator which is quite flexible to run any application on it. Developers who love playing with software can easily customize it according to their needs.
Also Read: 7 Best Smartwatches Women In India Must Have – Full Review
Since Anbox is at operating system virtualization, it does not have direct access to any of the hardware resources. You can put it in this way, it installs all your applications in a sealed box disallowing any access to your hardware or data.
When it comes to performance it is seamless and does a lot like a bridge between hardware acceleration features. Considerably when compared to other android emulators on pc, anbox is an emulator with a focus on saving your data and hardware resources.
Anbox tightly integrates with the host operating system and provides all the flexibility for virtualization. This android emulator manages a good line of hardware to let you even play the most resource-intensive games without compromising hardware.
It has great versatility for emulation; it supports all the versions from cupcakes to the latest android version in the market.
---
Android SDK – Official Emulator For Android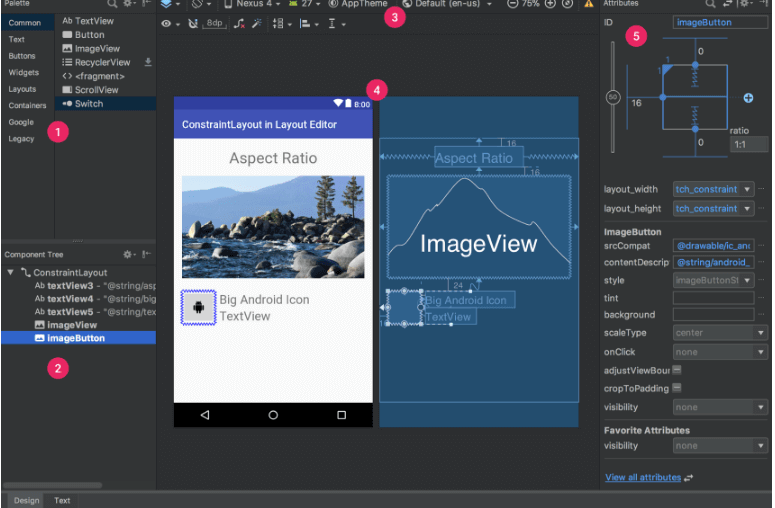 Image source – Android SDK official
Key Features –

Visual layout editor

APK analyzer

Fast Emulator

Intelligent code editor

Flexible build system

Real-time profilers
Android SDK is an official emulator by android which allows you to monitor a virtual android device on your screen. It lets you test your developed android apps without any hazel and is convenient.
The most amazing feature of this emulator is the visual layout editor. This is an intelligent way to design your android apps by dragging UI elements into the visual editor instead of writing the code. The visual layout editor allows you to layout your designs on different versions. Along with testing layouts on different versions, you can also test it on different sizes of screens.
Also read: 7 Best Trimmers for Men in India and Beard Care – Buying Guide
The Android SDK provides insights for apk composition with an apk analyzer. This helps to reduce the time spent on debugging issues along with dex support inside your app itself. The apk analyzer also reduces the size of the developed app being exported. An apk analyzer is a powerful tool that compares two apps side by side and also has a quick view of final versions such as android manifest.
Comparatively

–
This android emulator is faster compared to other emulators and allows you to test your apps conveniently. It is almost similar to a real device with testing capabilities for stimulating calls, text messages, sensors, and network applications and location-based operations. It is fast and allows you to use a pre-defined configuration for different android versions.
Furthermore, the intelligent code editor is a perk for android developers. It lets you edit your code and develop it intelligently. The toolbar lets you perform actions like launching the app and running android tools. Also, there are many more handy tools in the editor which will help you through the development.
Android profilers help with real-time updates of what CPU memory and other resources your app is utilizing.
---
Bluestacks – Android emulators and games




Key Features –

Supports External controllers


Optimizes CPU usage

Multiple Gaming

Gamer Specific android emulator
Bluestack android emulator is designed to play your android games on pc. This is the best android emulator along with Tencent's android emulator to play your favorite games.
With Bluestacks, you can connect external hardware such as keyboard and mouse while you are playing your mobile game on PC with an android emulator.
Also, with bluestacks you can play multiple games without compromising your CPU performance. This is a great way to play games and also sync them on different screens. This is something that most of the android emulators don't provide.
Interesting read: 10 Best Recipe Apps For Android and IOS | 2020
Bluestacks android emulator can help you with local language translation of any game and also automate tasks for you. Suppose you are changing your weapon during the game then you can automate a single button to change your weapon repeatedly even if it is not programmed originally in the game.
Enable high fps and also record your game with a single click and lock your cursor automatically during the game while shooting. This is some kind of hack with smartphone gaming.
Bluestacks also offers multiple other utilities such as disk cleanup and multiple android profiles. You can record and also screenshot your gaming experience right from the bluestacks android emulator.
---
Android x86 – Android Emulator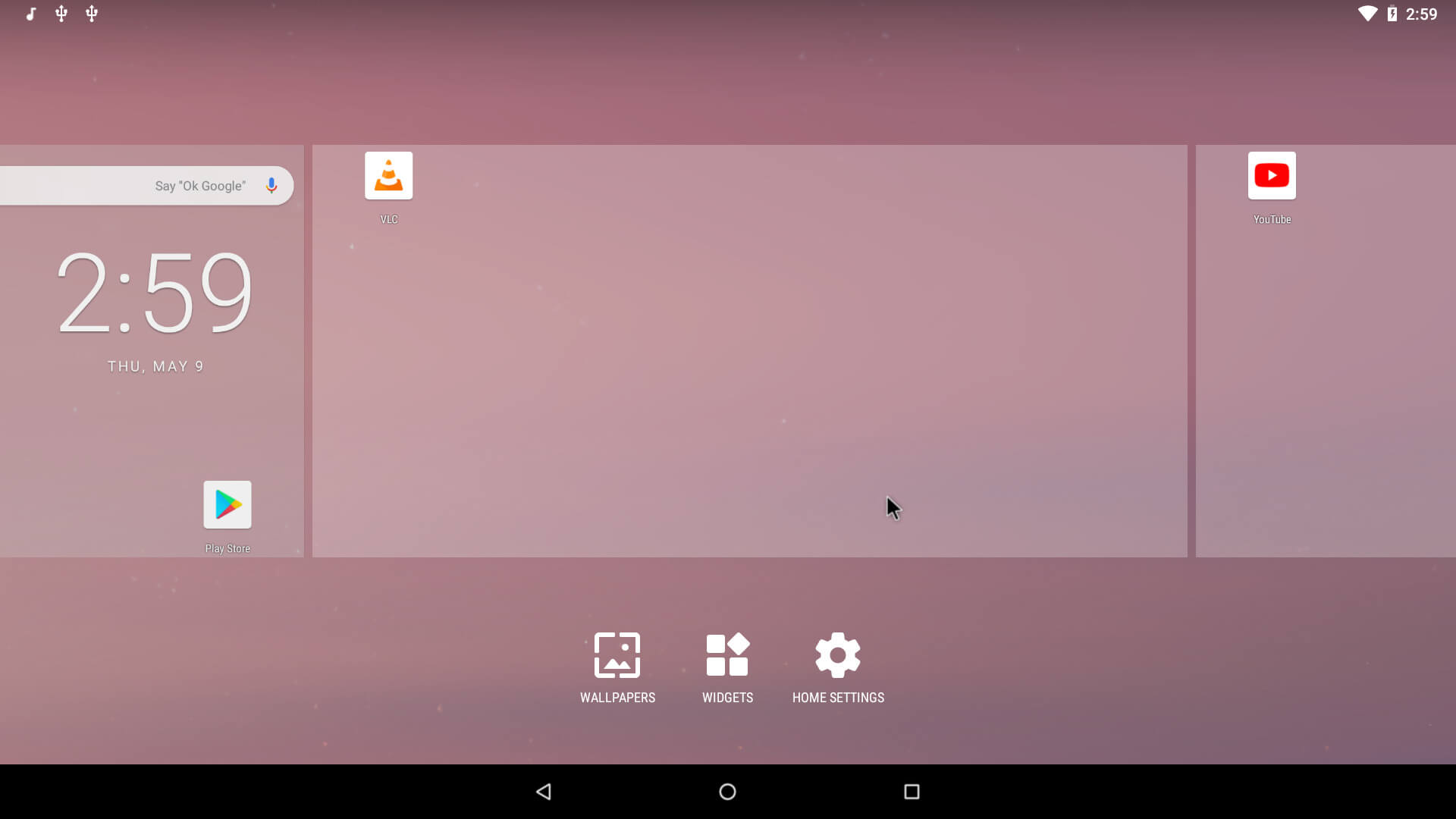 Key Features –
Open-source

Standalone live systems

Built-in wifi support

Free iso download

Can be downgraded
Android x86 is one of the best android emulators to use if you are facing problems with genymotion. It is open-source software available in iso format and is easy to install. You can easily access to their source code and manipulate the emulator as per the needs. The idea behind android x86 is to bring the Android operating system on Linux operating systems and developers test the apps and perform operations on them. To install an android x86 emulator on your computer, install a virtual box, and select the downloaded android x86 iso file.
The installation is pretty simple and directly interacts with the hardware on your system. It is virtualized on your system with the help of a virtual box which lets you create your live android distribution.
See Also: Ultimate Guide For Choosing Best Gaming Phones
Android x86 supports inbuilt wifi connection and it doesn't require any network configurations to run your applications unless you want it.
The iso files can be easily downloaded from the website and these android versions can also be downgraded using the iso files. It is pretty much one of the alternatives for genymotion and can be used if you suffer from genymotion in the first place.
---
Archon Android Emulator




Key Features –
No dedicated virtualization

Android apps on chrome

App conversions for Archon
Archon is a unique android emulator, it does not depend on virtualization like other android emulators for pc. You can directly run your apps and play games on chrome with the help Archon android emulator. It is pretty simple to install and use it, just install Archon runtime on your browser and visit chrome apps to start using it.
It is one of the handy android emulators with games and is much more powerful with the help of a chrome browser. The android apps can be deployed and run on Archon by using chrome and it does not need any other virtual box to run the environment. Everything is done on chrome.
Also Read: WhatsApp Manager – Free Transfer, Recover and Restore
If you are a developer switching from other android emulators to Archon android emulator then you can convert your applications. There are several tools available on the internet to convert your developed app compatible with the Archon emulator.
---
Frequently Asked Questions –
[wp-faq-schema title="FAQ's" accordion=1]
---
Subscribe to our newsletter and get the latest updates and tips.