Choosing the best keyboard for gaming is not any casual task; especially, when you are into intense gaming. There are a lot of factors to consider such as what is the keyboard type? Is it small or TKL? What kind of switches are used and the design factors. Honestly, the best gaming keyboard also depends upon the desk type and how the users play with it. Though we cannot handpick for you individually, we have a list of the best gaming keyboards that are ideal for all plays.
10 Best Keyboards For Gaming | Switches, Design, and Battery Life
There is a common confusion between the newbie gaming users, keyboards are all same. No, they are not. Though the keyboards with fancy RGB lights are considered gaming keyboards, they don't necessarily have to be. These days every keyboard come with RGB lights and gamers confuse them with a gaming keyboard; there are a few more concerning factors such as switch types, design, battery life, connectivity type, and size of the keyboard.
Gaming keyboards are available in wide ranges depending upon the usability and preferences of the gamers.
To sum up all the choices, here is what you need to look for while buying the best keyboard for gaming,
Finest switches.

Keyboard size.

Connectivity type.
Battery life.
Swappable hot keys.
Software to customise keyboard operations.
Streamlined design.
RGB lights.
Also Read: Best Small Keyboards for Professional Gamers
Below are the best picks on the gaming keyboards you can have to enhance your gaming experience and smoothen your intense gaming performance.
1. Corsair K63 Wireless Mechanical Keyboard & Gaming | Lapboard Combo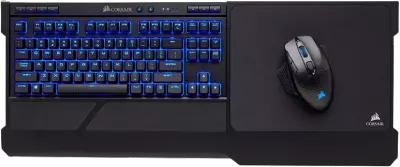 Key Features
Cherry Mx mechanical key switches.
Wire and wireless mode of connectivity.
Dedicated volume and multimedia controls.
Long lasting battery.
Programmable with keyboard software.
Wrist rest for comfortable gaming.
The Corsair K63 is a lookout keyboard for gaming and, to an extent, for programming and quick typing purposes. It has 100% Cherry MX red switches with gold contacts; these allow a faster key register.
The long-lasting battery and vibrant blue lights enhance their quality; the battery lasts up to 15 hours wirelessly while you can also connect with USB for uninterrupted gaming. Additionally, the Bluetooth connectivity is ultra-fast with 1ms at 2.4GHz and low latency. It is fast and reliable over a distance and much comfortable than other wireless keyboards.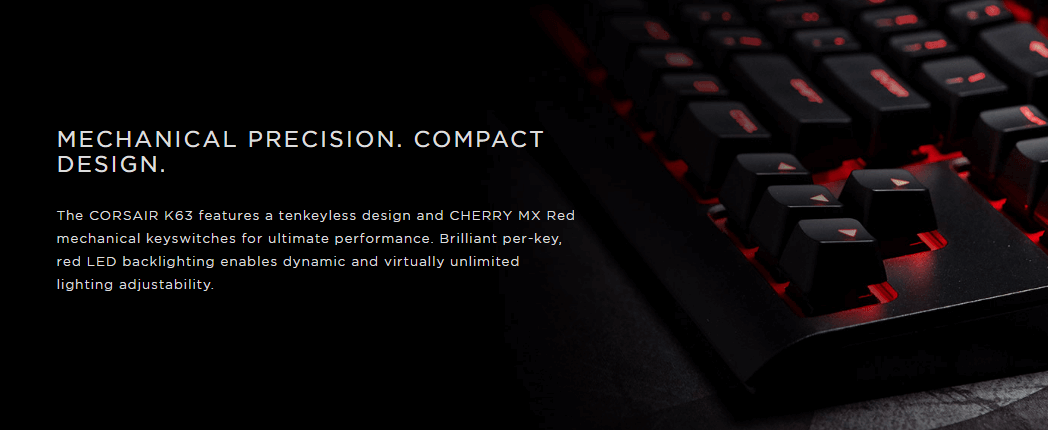 It comes with a memory cushion for protection and soft rest for long hours on the keyboard. The Corsair K63 is one of the best keyboards for gaming and programming as it comes with a mouse pad combo for comfort and a blue-lit keyboard for gaming experiences.
The lapboard design is such that the keyboard is removable, keeping the mouse pad still. This multipurpose feature enhances the features of the keyboard for use in different purposes.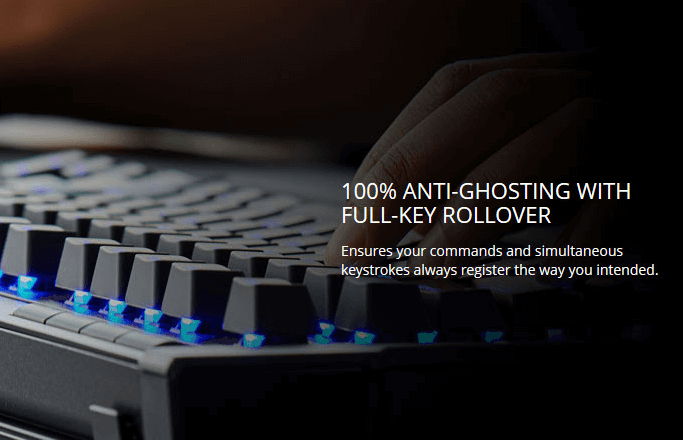 The Corsair K63 comes with 128-bit security restricting attacks such as eavesdropping and other key recorders. They are secured and much more reliable in security compared to basic keyboards available in the market.
The Good
Complete comfort for longer hours of gaming.
Long lasting battery life.
Two types of connectivity.
Strong wireless encryption.
Programmable with software.
The Bad
Connection over bluetooth is not reliable in longer distance.
Keycaps pops out easily when you are in middle of intense gaming.
No left-handed alternative.
---
2. Logitech G413 Backlit Mechanical Gaming Keyboard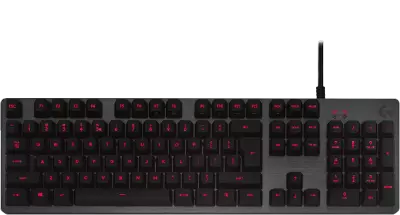 KEY FEATURES
Romer-G mechanical switches.
USB-Passthrough or daisy chain connections.
Additional game mode.
Aircraft-grade aluminium build quality.
The Logitech G413 is the perfect and best mechanical keyboard for gaming. It exists somewhere in the middle of professional keyboards and gaming keyboards. Additionally, the triggers game active mode switches the gaming experience to another level.


It is not like the RGB keyboards with multiple lights, and it has only one RED light, which gratifies the user experience. The keyboard comes in with Romer G tactile switches, which are efficient and reliable but not for a longer time.
Also read: Tenor GIF keyboard for Android, IOS, and Mac – Best Gif Keyboard
Logitech has been working on getting comfortable with its gaming keys. Logitech G413 packaging contains extra keys that include W A S D, Q W E R T Y, and 12345 keys, along with keycap remover. These keys intend from the corners, making them more comfortable and providing better gaming experiences.
THE GOOD
Aircraft-Grade Aluminium build quality.
Rugged build.
Easy and smooth typing.

Programmable macros to adjust as per your convinience.

Extra gaming keycaps (12 nos.)
Anti-ghosting key rollovers.
THE BAD
Prefer Cherry over Rogmer switches; they work perfect for long time.
Need to force close the keyboard from task manager to shut down the breathing effect after you reboot.
The software can cause issues like BSOD.
Also read: Best Keyboard Cleaner Sprays
---
3. Redragon K552 – Cheap & Best Keyboard For Gaming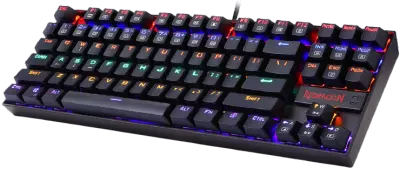 Key Features
Cherry like Mx red switches.
Wired connectivity.
19 different lightning effects.
Game modes.
6 colors breathing effects.
Tenkeyless design.
Egronomic design.
Splash-proof body.
Redragon K552 is not any common gaming keyboard, it is just the perfect choice for beginners. It has a tenkeyless compact design (No NumPad) which makes the keyboard portable and comfortable to use.
There are different gaming modes to ensure you have a professional gaming experience with 19 backlit colours and 6 colours breathing effects.


Though RGB colours are not mandated and the top factor for gaming keyboards; it still leaves a significant effect when you are playing for long night hours.
The splash-proof body and ergonomic design make your finger comfortable on each tap. The keycaps are curvy; so, you are tapping perfectly on each key despite having smaller or bigger fingers.
The Good
Tenkeyless compact design.
19 backlit colours.
Compatible with Windows, Mac, and Linux PC.
Dedicated game modes for intense gaming.
Budget-friendly gaming keyboard.
The Bad
Cherry like MX switches and not actual Cherry MX.
Delay in key registering at times.
Multiple key entries reported.
Could have bluetooth connectivity for comfortable use.
Also read: Mac Keyboard Not Working or Unresponsive? Here is How to Fix it.
---
4. Keychron K2 Wireless Gaming Keyboard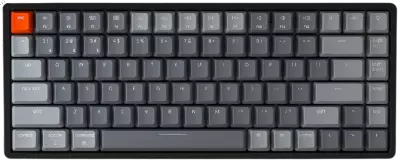 Key Features
Gateron switches.
Available in Blue, Brown and Red switches.
75% Keyboard layout.
Extra caps to match both Windows and Mac systems.
Wired and wireless connectiviy with upto 3 devices.
4000mAh battery.
15+ RGB backlit options.
Inclined bottom frame.
Keychron K2 is one of the best keyboards for gaming that one cannot deny using. There are several features and reasons why one should be using it and no, we are not being biased. Let's discuss a few features.
This gaming keyboard has an ergonomic design with a 75% keyboard layout. Meaning, there are only 84 keys and no num pad for comfortable use and easy portability. The keys are comfortable to use with Gateron mechanical switches that are comfortable but again not as best as Cherry MX switches.
One of the best things about using the Keychron K2 gaming keyboard is the compatibility with both Mac and Windows PC; You get extra keycaps to do this. Additionally, there is a wired and wireless option to use this gaming keyboard much more comfortably; be it the couch or the desk space.
With the Bluetooth connection option, you can connect up to 3 devices and easily switch between devices with one click. Besides, you can connect any Bluetooth device such as Android, iPad, iPhone and other Bluetooth devices that allow typing.
The Good
Connect up to 3 devices simultaneously.
4000mAh battery for longer gaming hours.
Both Mac and Windows layout.
Inclined keyboard frame that doesn't require any palm rest for typing.
Easy switch between devices.
15+ RGB backlit colours.
The Bad
Type-C cable.
Messy with Linux computers.
Slow Bluetooth connectivity at times.
Also read: Fix: Snap Layouts Not Working on Windows 11
---
5. Razer BlackWidow V3 Gaming Keyboard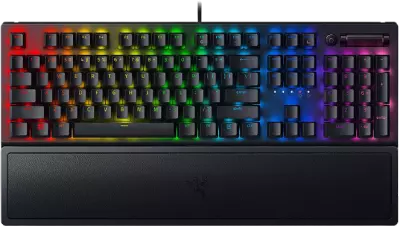 Key Features
Two Switch options (Green and Yellow).
Wrist rest for longer hours of gaming.
16.8M+ colours to customise baklit on each key.
Doubleshot ABS keycaps.
Ergonomic design.
Personalise the keyboard with solid chroma colors.
Razer BlackWidow V3 is one of the most popular gaming keyboards and the best for those who are more into intense gaming. One of the things about gaming keyboards is not all of them offer choices on switches and are lesser known of how they adversely affect the game.
With Razer BlackWidow V3, gamers get two switch options; Green and Yellow. Green switches give you the mechanical feel of clicky with tactile feedback; these are the same bulky keycaps that create loud noises and are also preferred by the gamers for the intense feelings.

However, if you are also into typing for long hours, the sound may turn out to be irritative and disturbing. In such a case, you can use the Yellow Switches that are more silent and smooth.
There are more than 16.8 Million colours to personalise the keyboard as per your preferences. The individual keys can be customised with individual colours using the software.
The Good
Doubleshot ABS keycaps that ensures the print stays longer.
Two switch options for preferrable key clicks.
Ergonomic design to ensure the keys are properly pressed.
Lesser delay in key registering.
The Bad
Magnetic wrist support is not completely magnetic but plastic.
Key spamming on a fewer devices.
Need constant firmware update.
No detachable cord for ease in portability.
Also read: Beats PowerBeats Pro Review | Totally Wireless Earphones
---
6. Razer Huntsman V2 TKL Tenkeyless Gaming Keyboard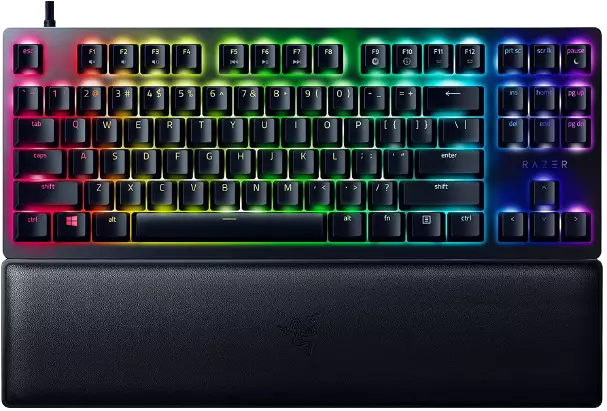 Key Features
Linear optical switches.
Hybrid onboard memory.
Doubleshot PBT keycaps.
Detachable type-c USB cable.
Larger wrist rest.
Sound dampening foam.
The Razer Huntsman V2 is a compact that is available in both TKL and a complete layout. The TKL removes the num pad section which makes it easier to carry in your backpack and compact enough to save space on your desk.
This is one of the gaming keyboards which is best for silent gaming as it uses Linear optical switches. The Linear optical switches give you a silent and smooth keypress while you are in the middle of an intense gaming session. Additionally, a sound dampening foam is placed inside the keyboard as a layer to avoid another switch popping sounds on your keyboard. This is a mechanical keyboard with no sound; strange but so good.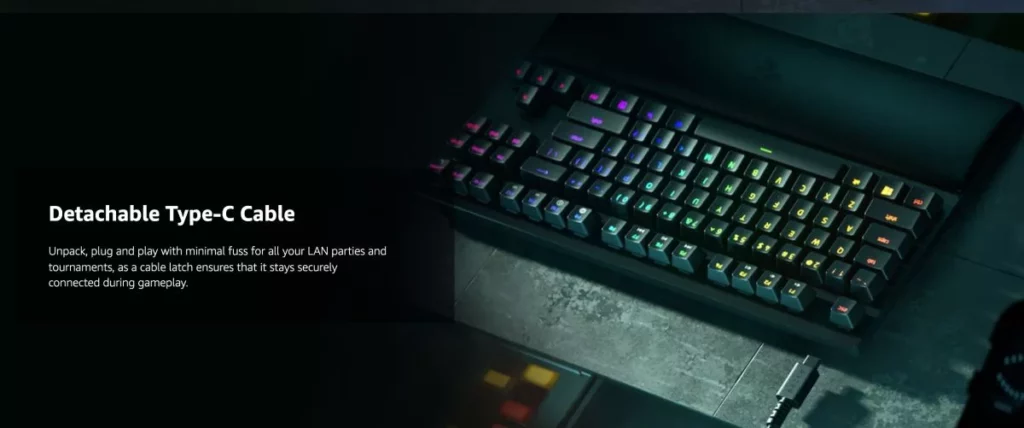 Razer Huntsman V2 also has a reduced input latency compared to any other external keyboard; thanks to the 8000Hz polling rate. The keyboard also consists of a wrist pad as a support for longer gaming sessions and you don't have to worry about the fading prints on your keycaps. This is because the keycaps are made of the Doubleshot PBT to ensure the prints stay forever.
The Good
Two switch options (Clicky optical switches and Linear optical switches).
Low noise for silent gaming during night hours.
Razer optical switches for lower input latency.
Hybrid onboard memory.
Doubleshot PBT keycaps with prints that last forever.
The Bad
Only USB connection.
Double key registery.
No wireless option.
Wrist rest is a little broader than usual.
Also read: Best File Managers for Windows
---
7. Logitech 6915 TKL Gaming Keyboard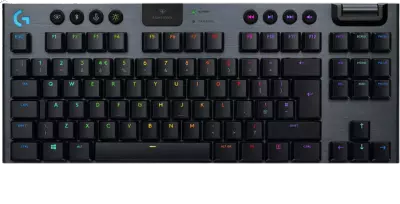 Key Features
Three switch options to choose (Tactile, Linear, and Clicky).
Aircraft aluminium grade build quality with alloy finish.
Available in Full layout and TKL.
Wired and wireless connectivity.
Programmable using the Logitech Hub Software.
RGB backlit lights customisable for each key.
The Logitech 6915 is one of the powerful and user choicest gaming keyboards. It is available in two formats; Full layout and TKL. The difference between full layout and TKL is the presence of Num Pad; in TKL gaming keyboard layout, there is no num pad which makes it more convenient to carry and perform in intense gaming sessions.
This gaming keyboard by Logitech connects with both wired and wireless technologies; upon using wirelessly, the gaming keyboard can last up to 40 hours on a single charge and quick charge in 3 hours.
Gaming keyboards are always user-preferred; one of the most important factors users need to focus on is the switch type. On Logitech 6915 gaming keyboard, users can choose from tactile, linear, and clicky that determines the smoothness and crisps while using it.
There are 16.8 Million colours to customise the backlit of your gaming keyboard that can be customised using the Logitech hub software. Either customise the entire keyboard or customise the individual keys, the keyboard is flexible in adjusting the RGB backlit colours.
The Good
Three switch options to choose.
Low profile mechanical switches.
Wireless connectivity options.
Lasting battery of 40 hours on single charge.
Aircraft-grade aluminium alloy build quality.
The Bad
Little costly.
Need to click the keys at the centre; the keys are not registered if clicked on edges or corners; not great for fast typists.
---
8. HyperX Alloy Origins Core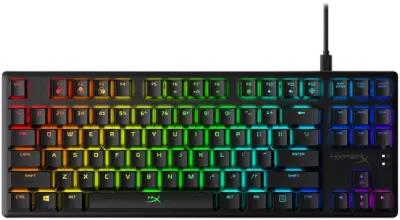 Key Features
Three switches to choose (Aqua, Blue, and Red).
Two keyboard layouts (Full and Tenkeyless).
Onboard memory.
Customised mechanical switches.
Special game modes.
Programmable HyperX NGENUITY Software.
The HyperX Alloy Origins Core is a keyboard with greater customisation options for intense and powerful gaming. It is available in two layouts; Full and Tenkeyless. The Tenkeyless keyboard layout removes the num pad and makes it more compact and easy to carry. The compact layout also allows you to have more room for faster mouse movements during intense gaming sessions.
You can choose the keyboard based on three different types of switches that determine how tactile, clicky, or smooth are the key responses. Besides, these are custom made by HyperX which means these will stay for longer and are durable for long years.
There is an option for a special game mode that allows you to improve your gaming performance. This is quite a common feature in high-end gaming keyboards and users love using it for enhancement in gaming sessions.
Additionally, the programmable NGENUITY software allows you to customise the backlit keyboard RGB lights. You can also do other customisations and save the profiles in the onboard memory to reuse them when you need them.
The Good
Three keyboard switches to choose.
Lasting and durable gaming keyboard.
Tactile and Linear switches allows users to choose based on their work preference.
Aluminium body design against fall and finish.
The Bad
Key registering delays.

Lesser onboard memory options.
Need regular updates for the software.
Also read: Tenor GIF keyboard for Android, IOS, and Mac – Best Gif Keyboard
---
9. Logitech G PRO – League of Legends Edition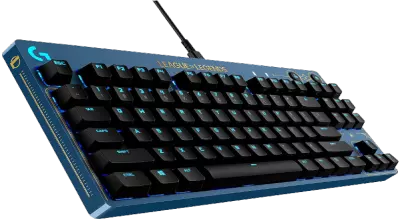 Key Features
GX brown tactile switches.
Available in multiple gamer editions (Shroud, K/DA, and League of Legends).
Rubber feets and adjustable height.
Compact gaming keyboard with detachable USB.
Programmable keys and customisable backlit.
The Logitech G PRO is a competitor level gaming keyboard but wait, it may sound cool but not that solid. It does have GX brown tactile switches that give lesser noise on typing and are available in various editions, there are also several downsides of this gaming keyboard.
This gaming keyboard is not upgraded and the only change in it is the skin and different editions. A lot of users complained about how the keyboard has led them down. Another downside is outdated Micro USB or USB 2.0 which Logitech seriously needs to upgrade. But that does not mean there are no positives on this keyboard, it can still compete and stand in the line of best gaming keyboards.
There are adjustable height options and rubber feet to ensure the keyboard does not slip during intense gaming. Additionally, the layout is compact with no num pad option which allows you to use the mouse faster and react faster to your gaming skills.
The Good
Fast and responsive with lesser delay.
Durable switches.
Highly adjustable keyboard.
Programmable macros and backlits.
Compact and easy to carry.
The Bad
Micro USB.
Hard to find keycaps of the same layout.
Also read: How to Fix Minecraft Error Exit Code: 0 | Game Crashed
---
10. Redragon S101 Wired Gaming Keyboard and Mouse Combo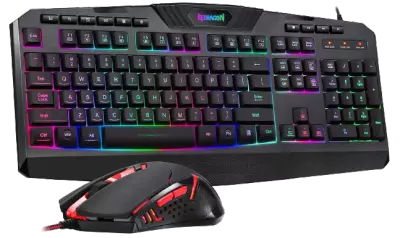 Key Features
Micro grade tactile switches.
Gaming keyboard and mouse combo.
Affordable compared to other gaming keyboards.
For Windows and Mac users.
7 RGB colours with 4 brightness levels of backlit.
Extra keycaps (10 multimedia keycaps + 12 function and multimedia keys)
Preferred by most users and one of the best sellers, Redragon S101 is a gaming keyboard that stands still against most of the high-end choices. Though there are no fancy features that make it special, its durability and trust are better than most of the others.
Despite being the most affordable, you also get a gaming mouse alongside this keyboard. So, you need not invest extra money on the mouse and be confused about which is the best. The micro grade tactile switches ensure you get lesser sound while hitting those keys which is great when you are into late-night gaming sessions.
Unlike the current trend of small gaming keyboards or tenkeyless layouts, this gaming keyboard features a full layout keyboard along with num pad. No, we are not completely against the full-size keyboard but small keyboards do give comfort.
Additionally, there are not many RGB customisations or individual key customisations but at this price, you get 7 RGB colours and 4 levels of brightness which are quite enough.
The Good
Affordable.
Tactile switches.
Keyboard and mouse combo.
Long cord for larger desks.
The Bad
Wired only.
Non-detachable USB cable.
Delay in key registering.
Average mouse responsive
---
Frequently Asked Questions [faqs]
Are 60% gaming keyboards good?
Small or 60% gaming keyboards are easy to carry, compact enough to save desk space, and allow faster mouse movements. Yes, 60% layout of gaming keyboards is great for professional gaming enthusiasts.
Which are the best keyboards for gaming?
There are a handful of the best gaming keyboards and it depends on the user preferences. Some of our top picks are Corsair K63, Logitech 6915, HyperX Alloy Origins Core, Keychron K2, and Razer BlackWidow V3.
Which is the cheap and best keyboard for gaming?
Redragon S101 is one of the affordable gaming keyboards with limited but useful features. At this price, this should be the best for hobbyist gamers.

You may also like to read,
---
Conclusion | The Best Gaming Keyboards
As stated earlier, there are a lot of things to consider before buying one; it cannot be a casual buy. Some of the factors are the finest switches, keyboard size, connectivity type, battery life, and the last RGB lights. We are quite fond of Corsair K63, Logitech 6915, HyperX Alloy Origins Core, Keychron K2, and Razer BlackWidow V3. Some of the notable mentions are Razer Huntsman V2, Logitech G PRO, and Logitech G413.
Do let us know which of the above are your favourite and best gaming keyboards in the comment section. Also, do subscribe to the newsletter below and follow our socials to never miss an update.
Some Catchy Line to Grab your Attention
Get Our Prime Content Delivered to your Inbox for Free!! Join the Ever-Growing Community… Right Now.