No matter how much you try, keyboards get dirty, and cleaning them is a tedious task. Our tech team looked after all the ways to clean a laptop keyboard and ultimately concluded keyboard cleaner spray to cut the long process. All you need to do is, use the spray and your keyboard, and you no longer have those grime and crumbs that make your keyboard look dirty and not worthy. But which is the best keyboard cleaner spray?
Also read: Best Keyboard For Gaming: Switches, RGB and in Budget
Best Keyboard Cleaner Spray in 2022
1. Office Depot Electronics and Keyboard Cleaner Spray – 10 Oz, OD10152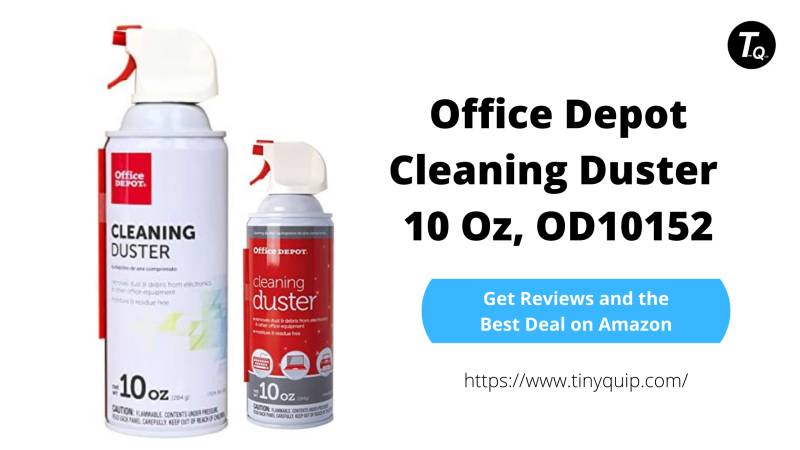 One of the top-rated keyboard air dusters, Office Depot is both cheap and best for cleaning your laptop keyboard. It is easy to use and is available in multiple sizes and quantities.
Features –
Removes dust, dirt, and lint from your laptop/desktop keyboard
Deliver precise blasts of air with the included plastic extension tube.
It contains bitterant to help discourage inhalant abuse.
It can be used on other electronic devices to keep them dust-free and increase longevity.
Pros –
Rated one of the most efficient Keyboard dust cleaner sprays on Amazon
Available in multiple sizes
Has bitterant to avoid inhalant abuse
Cons –
A short number of sprays
Needs extra care to eyes as bitterant is added
Tiny Quip Score
i

These ratings are purely based on our experience and tests.
---
2. Rosewill Compressed Gas Duster | Multipurpose Computer Cleaner Spray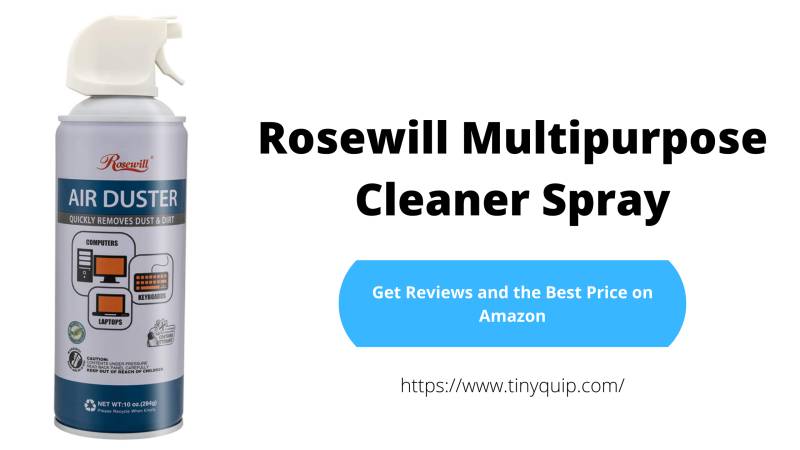 In 2022, people must take care of the environment along with taking care of their material items. Many computer cleaner sprays have chemicals that harm the ozone layer and that's when our search began for eco-friendly or environment-friendly keyboard cleaner spray.
Rosewill compresses gas duster is an ozone-safe keyboard air duster that cleans almost all electronic items and collectables. It comes with a 5″ long strong that makes it convenient to use the keyboard cleaner spray and also avoid inhalation. Besides, to discourage inhalation, a few bitterants are added.
Also read: Best WiFi Range Extender and Internet Signal Boosters
Features –
Multipurpose keyboard compressed gas duster (cleaning computer keyboards, mice, laptops, electronics, workstations, figurines, collectibles, window blinds, car interior, cups, and devices that cannot be cleaned using water)
Ozone Safe and disposable can
Large capacity of air duster
5″ long straw for a convenient spray
Contains bitterant to discourage inhalation and ingestion of keyboard air duster
Pros –
5″ Long straw for convenient use of multipurpose cleaning spray
It contains bitterant to avoid ingestion
Ozone safe
More number of sprays
Cons –
Plastic Squeezers, prone to break if pressed hard.
The nozzle head is to be held with the other hand while using it.
Tiny Quip Score
i

These ratings are purely based on our experience and tests.
---
3. Falcon Dust Keyboard and Electronics Cleaner Spray / Duster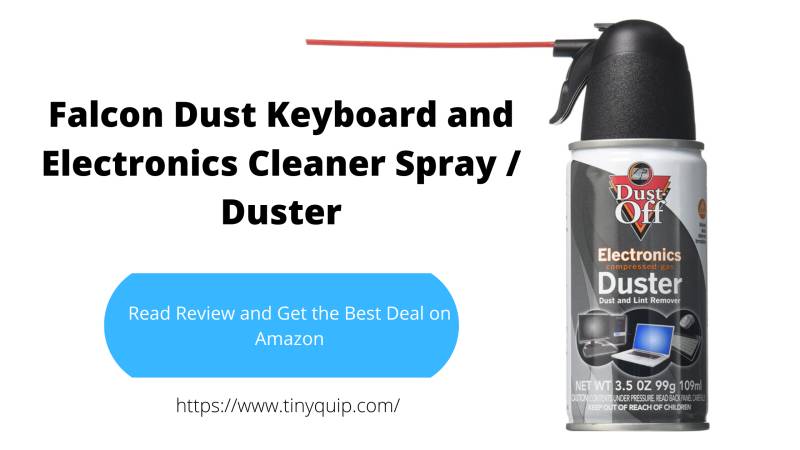 Falcon dust keyboard and electronic air duster are great for cleaning tightly packed spaces. It comes with a long straw and is ozone-free and environmentally friendly. The bitterant added discourages indigestion and inhalation of the compressed gas and has good blasting power for thorough cleaning.
Also read: Best MacBook Pro & Air Cooling Pads
Features –
100% ozone safe
Disposable cleaning duster
Small size 3.5 Oz is handy but gives lesser number of sprays.
Added Bitterant to avoid any kind of inhalation or indigestion.
Pros –
Best for tightly packed spaces
Small 3.5 Oz size for carrying
Cons –
User complaints about the size
Size mismatch
Tiny Quip Score
i

These ratings are purely based on our experience and tests.
Also read: Best Ethernet Cable for High-Speed Internet Bandwidth
---
Frequently Asked Questions
Is compressed air safe for the keyboard?
To remove the dust from the keyboard, such as crumbs and grime, you can use a keyboard air duster. Be sure to use the straw that comes along, and some air dusters need not be shaken before spraying, or they will dispense liquid.
How to use a compressed air duster to clean the keyboard?
To use the compressed air duster for cleaning the keyboard; prop the keyboard up sideways on a steady surface so the debris will fall out. Now, aim the straw sideways and spray along the cervices and gutters of the keyboard.
Can you use alcohol wipes to clean the laptop keyboard?
You can clean the laptop keyboard using alcohol wipes or cotton swabs. Take a microfibre cloth, drop some alcohol on it; make sure the cloth is not too wet; a few drops of alcohol would do. Then rub it gently on the keys and between the spaces. You can use the cotton swabs with alcohol to clean the spaces between the keys.
You may also like,
Final Verdict | Best Keyboard Cleaner Spray
These are the best keyboard cleaner spray that also works perfectly with other electronic devices. You can use these keyboard sprays for cleaning PS, Computers, workstations, collectables, car interior, and more. Make sure you know the step-by-step process of how to clean the keyboard using these sprays.