Who doesn't want a cool wireless charging stand for their smartphone? Lesser cable management, a cool lock screen dock, and fast magnetic charging. But there are a lot of choices and picks when it comes to a charging stand; some work only with the iPhones, while some don't work at all; it's just all a sham. And thankfully, in this review, you should be guessing something different than usual; something that works great for iPhones, Google phones, Samsung, and most Qi-enabled smartphones. Yes, it's the 15W Mophie Wireless Charging Stand from Zagg, and this review is all about it.
Also Read: 10 Best Microphones for Podcasting | Factors, Budget & More
Let's get started.
15W Mophie Wireless Charging Stand – Design, Quality, Compatibility, and More
Mophie is not a new name for smartphone accessories; they are known for their efficiency, quality, and best line of products. In fact, it is one of the few brands you can find Apple selling on their own website for iPhones, vent mount, power banks, and more.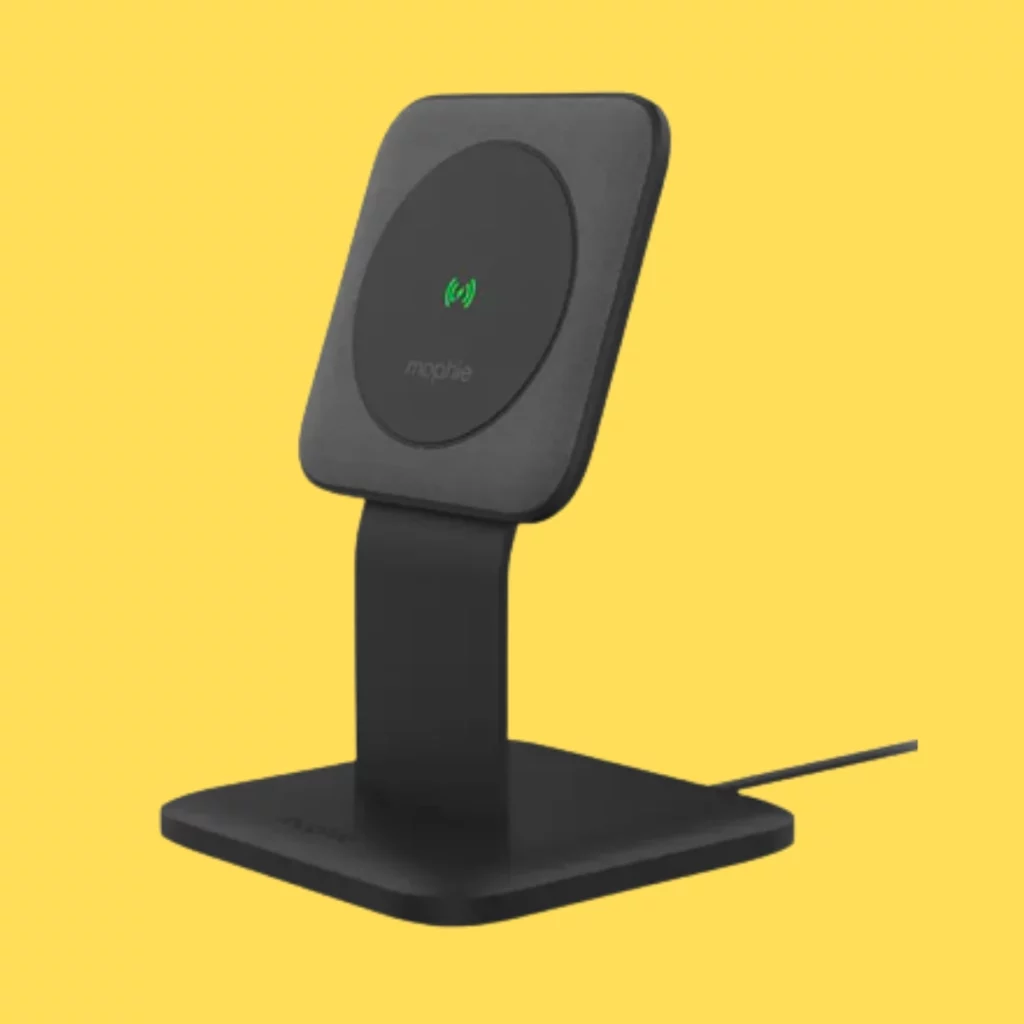 With wireless MagSafe charging to a comfortable viewing angle for the lock screen on your iPhone, the 15W Mophie Wireless Charging stand does give you a lot of comforts, and it is just one of the Zagg products that we are discussing.
That sounds great to an Apple fan, but what about Samsung, Pixels, and other smartphones?
Well, thankfully, most of Mophie's products also work great with Google Pixel, Samsung, and other smartphones. This makes it an ideal choice for most of the latest devices, and you wouldn't have to miss out on such a piece of tech.
Let's discuss more about it in smaller sections, such as design, compatibility, charging capacity, and more. And what makes it different from most other wireless charging stands?
---
Design – What Makes Mophie 15W Wireless Charing Stand Different
Let's accept it; we have seen all kinds of wireless chargers out there. Some of them are shaped like a cube, a pad, or even a trapezium. Well, that's a lot of creativity, but how about making it simple and elegant?
Mophie does the same with their 15W Wireless stand; it's not all funky but decent, ergonomic, and powerful. I would say, one of the best designs for nightstands and office cubicles.
The package ships in two pieces, and bringing them together shouldn't be a tough call for non-techies. It is simple to use. But it also lacks features such as height adjustments, angle movements, and longer replaceable cords, which are some of the downsides for me.
You can easily switch between portrait and landscape modes, which is great for features such as a lock screen dock which Apple recently introduced. With Samsung and other Qi-enabled smartphones, you can use the portrait and landscape viewing angles for entertainment and watching videos such as study tutorials, short videos, or just another YouTube video while charging your phone wirelessly without having to hold it in your hand.
Also Read: Dell U2723QE Ultrasharp 4K KVM Monitor Review
If you are traveling places, you can easily dismantle the assembly, which separates the base and the arm. So you get to carry it around in your backpack on staycations or work from vacations.
---
Quality – Light, Plastic, and Magnetic Top
One of the other things about the Mophie 15W wireless charging stand is the good quality that comes with it. The outer body of the Mophie 15W wireless charging stand is made up of non-slip textured TPU surfaces that make the product feel premium while also durable.
The magnets are pretty strong enough to hold your smartphone and do not come off easily. But this also causes one of the issues with the stand itself. Since the material is made up of plastic and the base of this wireless stand does not have enough weight, you have to hold the arm and then take off your phone from the magnetic top. However, if you just try taking off your phone from the stand without holding it or just snatching away the phone from the magnetic top, the stand will either come along or wobble in its place. This is somewhere you need to be careful about.
The premium TPU body ensures the stand is perfect for everyday tear and wear, which gives the stand a longer life expectancy, and the cable is also made up of good quality. What bothers me here is that the cable is small, and most times, a lot of users would want to use an extension board to make it long. Besides, you cannot detach and replace the cable, so if the cable is faulty sometime in the future, so is the charger.
---
Compatibility – iPhones, Samsung, Google, and More
One of the common concerns when shopping for tech products online is whether it will be supported for my device. And that's definitely the case with the wireless charging stands, which are mostly supported for iPhones.
However, that's not true with the Mophie 15W wireless charging stand, which supports not only iPhones but also Samsung, Google Pixel, and other Qi-enabled wireless charging stands. Mophie makes it possible with the snap adapter, which is included in the box. All you need to do is attach the snap adapter to the back of your phone*, and it is now ready to be charged wirelessly.
Besides, you can easily peel off the snap adapter without any residual at the back of your device. However, you will only receive 15W wireless charging on your phone only if your device supports it. Other devices will have 10W wireless charging, which is currently one of the standards for budget Android phones.
Also Read: Anker 737 Power Bank Review | The Powerful Battery Pack?
This Mophie wireless stand does disappoint me a little as it does not support iPhone 13 and above. So, if you have any iPhone between the iPhone 8 to iPhone 12, you can mostly use this wireless charging stand.
To make it better, one thing I absolutely love about this wireless stand is you get to charge using a case that is up to 3mm thick. So, there is no attaching and removing each time you want to charge your device. Just place it on the strong magnetic top, and it is good to go.
---
Pros and Cons | Mophie Wireless Charging Stand (15W)
Now that we have a clear picture of what the charging stand is and how it works for most devices let's bring in more clarity by listing out some of the best and could-be better takeaways of this product.
Pros
Fast charging with 15W wireless charging capacity
It can be used as an iPhone or Android dock stand
Compatible with certain iPhones, Samsung, Google Pixels, and most Qi-enabled smartphones
Also charges with a case up to 3mm thick on it
Premium quality finishing with TPU material
Includes a snap adapter that helps Android devices to use the wireless stand
Strong magnets that hold your phone tightly
COns
It does not support iPhone 13 and above series
A lightweight stand that can leave it to wobble while detaching the phone
Short and non-replacable cord
Also Read: 10 Best Keyboards For Gaming: Switches, RGB and in Budget
---
Frequently Asked Questions [FAQs]
Does Mophie 15W wireless charger work with my iPhone?
If you have an iPhone that supports MagSafe and is under the iPhone 12 series, you can seamlessly use this wireless stand.
Does the Mophie 15W Wireless Stand work with Samsung and Google phones?
Yes, this 15W wireless stand works virtually for almost all Qi-enabled devices, including Samsung and Google Pixel. To make it possible, you can use the snap adapter that comes with the package.
What kind of charger adapter do you get with the Mophie 15W wireless charging stand?
You get the EU standard charger adapter with the Mophie 15W wireless charging stand. If you live in the US or elsewhere that does not support EU standards, you can get an adapter converter that can match the regional standards.
Before You Leave
Get Our Prime Content Delivered to your Inbox for Free!! Join the Ever-Growing Community… Right Now.
Give this article a quick share,
Also Read: Best Accessories for AirTags: Key Rings, Straps, Loops & More
---
My Verdict: The Mophie 15W Wireless Charging Stand
Mophie has been around for quite a time and brought up the standards for smartphone accessories across the globe. Given the competition, there are several similar high-performing wireless chargers out there but lack features like supporting multiple types of phones and not just iPhones, ergonomic design, and performance standards. Of course, there are a few disadvantages, but rather than upgrading the same device, Mophie introduces several more devices, such as the 3-in-1 charging case, wireless charging pad, and better power stations.
The 15W Wireless charging stand looks appealing, given that you can use it as a stand for your iPhone dock on the nightstands or office tables. The quality looks premium but lacks features such as adjustable height, a strong base, and longer cords. The fast charging works like magic with a 15W capacity, but if your Android device supports only 10W, then you will get 10W only. Heat dissipation during the charging is minimal, so there isn't much to worry about the life expectancy of the battery on your device. Overall, it is one of the decent wireless chargers out there and gives a powerpack performance with a 15W capacity. Still, there is some room for improvements that can make this charger one of the unbeatable top picks.
I hope to have helped you with an unbiased review of the Mophie 15W wireless charging stand. If you have any views to share, feel free to use the comment box below. Like this article? Do give it a quick share on your social media handles, and do tag us. Also, join our Telegram channel, Facebook page, and Twitter to never miss a quick update.
Some Catchy Line to Grab your Attention
Get Our Prime Content Delivered to your Inbox for Free!! Join the Ever-Growing Community… Right Now.