Are you facing the 6100 error code on the Paramount Plus com website or the app while watching your favorite shows and episodes? Here is the guide to help you out.
Paramount Plus is a single platform that allows you to stream over 30,000+ popular shows and movies without switching subscriptions or apps. And it has been my favorite app for a long time, whether it is a watch party or binge-watching for days and nights. But one thing can trouble you as it did to me; the error code 6100 on the paramountplus.com website, which is something more of a connectivity issue, and if you are struggling with it, here are a few steps I used to solve this issue.
Before we go ahead, do not miss out on my previous article on how you can get the Paramount Plus Student Discount and the benefits that come along.
Let's get started with how to fix the 6100 error code on Paramount Plus.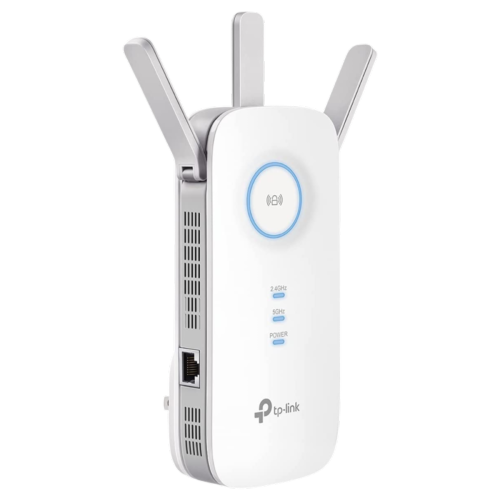 You Might Need this,
No one likes their entertainment interrupted, and definitely not that loading screen. One of the best things to do is upgrade your ethernet cable to Cat-8 and get a WiFi speed booster or extender to enhance your WiFi speed. No more connection drops.
Here are some best options to buy,
11 Steps to Fix Paramount Plus 6100 Error Code (Tiny Quip's Help Guide)
If you are facing the 6100 error code while streaming the Paramount Plus com website or while streaming on the Paramount Plus app for Mac, Android, iOS, or even Xbox, PS4, and Windows, it is likely more of an issue with the modem or internet connection. However, in certain cases, there can be issues from the device or the app itself, such as buggy cache data, the outdated app, or even a poor VPN connection.
To make it easier to help you with the 6100 Paramount Plus error code, let's discuss each of the solutions in order and resolve a seamless streaming experience for you. Stay with us till the end to never miss out on useful tips.
Also Read: How to Cancel Paramount Plus Subscription on Any Device
1. Checking the Internet Connection Speed
A fast internet connection is recommended for a seamless streaming experience. But if your connection struggles, it is common to face error codes like 6100 while streaming. In addition, Paramount Plus does require at least 30 MBPS speed for smooth, high-quality streaming with an unthrottled connection.
But how do you know if you are receiving a fast internet connection? One of the things you can do is check for an internet speed test.
Here are a few steps you can follow to run a speed test,
Using a smartphone or laptop with an internet connection, open a web browser, preferably Google Chrome or Safari.
Now, look for the query – "Speed Test," and you will find a snippet at the top of Google search results.
Hit the "Run Speed Test" button, and you should now be able to see a new window doing the test.




Once the test is complete, you can also find out if you can stream HD videos seamlessly along with the speed results.




If you get a lesser internet connection speed, there are two prospects. The first prospect is to upgrade your internet subscription to a better plan, and if you already have a fast internet connection, you need to troubleshoot your WiFi router.
Once you have a better internet connection, you should no longer see the error code 6100 while watching Paramount Plus.
To help you check the connection speed or get an alternate internet connection for streaming, here are some additional guides to follow.
---
2. Check for Bandwidth Consuming Applications and Devices
Network congestion is another prime issue that can leave you with a 6100 help error code on Paramount Plus and keep you out of all the entertainment. Mostly the network congestion is due to internet-intensive applications running in the background that is either downloading, updating, or uploading more data and eating all the bandwidth.
Regardless, you can still reduce the network congestion by disabling or restricting certain unnecessary applications that really don't need the bandwidth while you are streaming.
To do this, you can follow a few simple steps below.
Log in to your WiFi router using a web browser and the IP address, which you can usually find on the router box. Make sure you know the admin credentials for the router, which, if unchanged, should be available with the details inside the router box.
Once logged in, you can find the "Connected Devices" option on your screen. Usually, it is located under the "Network" or "Status" tab, and the position of this option can differ alongside the model and the router company.
Now, scan for the connected devices and check what devices are occupying a lot of unnecessary bandwidth. If you can restrict or disable such applications or devices, do it and restart your WiFi router.
Once the WiFi router is restarted, check if you still see the 6100 error code on the Paramount Plus com website or App.
To make it better, let's also see how to optimize your network for better performance and if it can help solve the issue with the 6100 error code on the paramount plus com website.
Also Read: How to Activate and Stream Paramount Plus on Xfinity
---
3. Optimising the Network for Seamless Entertainment
A few times, solving network issues can be easier and simple and not as geeky as complicated as any normal person would think. For instance, placing your WiFi router in a better position or using a wired connection rather than going wireless. If you are having issues with your WiFi network or if there is congestion or connection drop, there are simple things you can do to solve this.
Here are a few things I suggest,
Using a wired connection over the WiFi
Placing the router in a more breathable space where it can easily make a connection
Ensure there are no interfering devices
Keep your router framework updated
Replace your WiFi router's ethernet cable with a top-quality cat-8 cable
Keep an eye on what devices are connected to your network
Now, these are some pretty basic things you can do to optimize your WiFi network connection. I personally love the idea of using a wired connection to a laptop or desktop or even to the smart tv with an ethernet port while streaming entertainment or even for work. An ethernet or wired connection is more reliable and unaffected by other devices and signals, which ensures you get the most of the signal and bandwidth.
If you want to squeeze it all out, you can upgrade the ethernet cable with a cat-8 cable. Here are my best picks on the ethernet cables.
Also, there is a need for you to correctly position your WiFi router to ensure there are no interfering physical objects or signals from other devices, such as your Google Thermostat or Realme smart cam 360, causing a signal issue.
Such basic network optimizations should help you solve most issues with your internet connection and help you stream Paramount Plus seamlessly without any internet connection issues like the 6100 error code.
However, if you are still facing the trouble, the issue is likely, not internet-based; rather, it is with the device or the Paramount Plus servers. So, let's discuss some more solutions and try solving the Paramount Plus 6100 error on your device.
---
4. Check the Paramount Plus Servers
It is often difficult to scale the server performance or user handling when there is a lot of user traffic. A typical case is when a popular new web show or a movie is released, and everyone wants to watch it. In another case, maintaining the servers can, at times, leave them in an ideal state for some time, and users can face issues with accessing the content. There is a good chance that users also face an issue like the 6100 error code while streaming content, both on the Paramount Plus com website or the app.
In both cases, checking the server state or functionality is a handy solution, but as a user, one cannot check out such issues with the server. However, we can still see if the servers are up and running by following a few simple steps.
Here is how to check the Paramount Plus server status,
Visit the Down Detector website.
In the search bar, enter the Paramount Plus URL and click enter.
You can now see if the users are facing any Paramount Plus server outrage.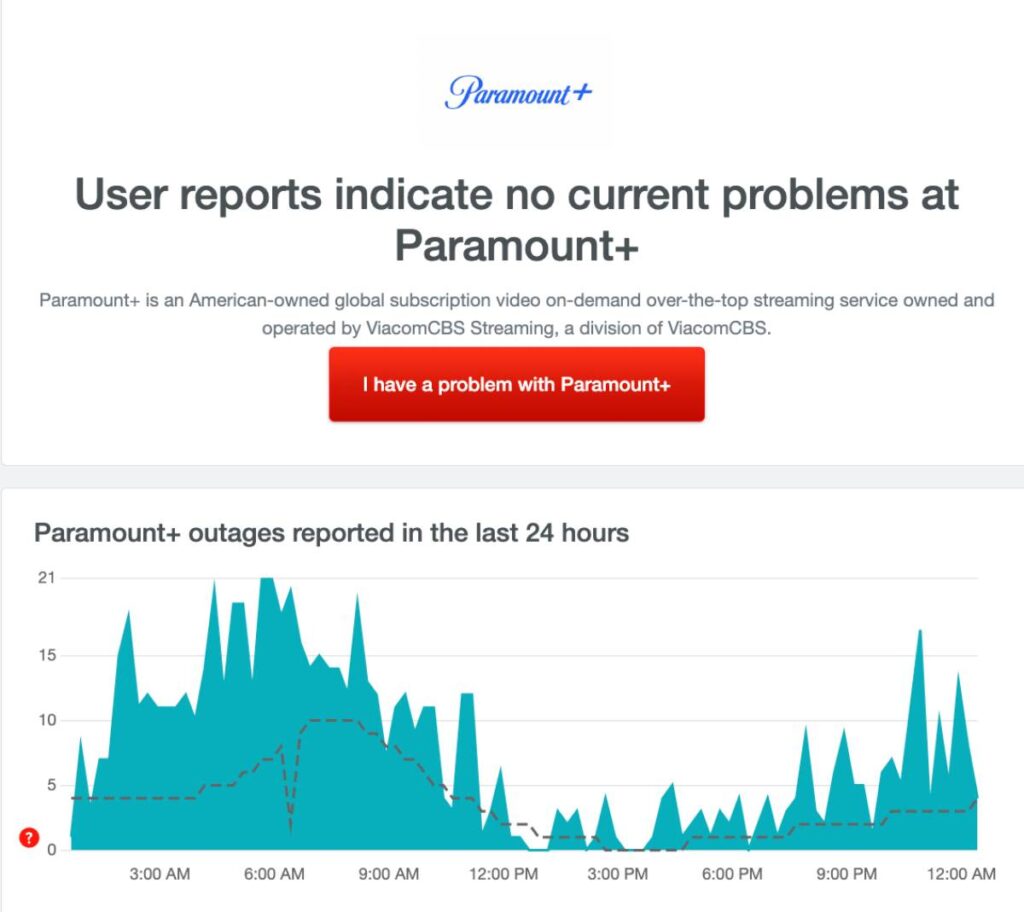 In the report, you can see a graph and a heatmap that can help you know if other users from the same region are reporting server issues. If it is likely the server, all you can do is wait till these servers are reported back live or an alternate server is arranged. You can check it by trying to stream content on Paramount Plus and if you still see the error.
If the issue is not with the server or internet connection, as mentioned in the steps above, let's troubleshoot our devices and see if it is the device that is causing the 6100 error code on Paramount Plus.
To begin with, try streaming Paramount Plus on other devices and switching networks. If you are able to do it with other devices, let's fix the issue on your current device with the steps below.
Also Read: How to Activate Paramount Plus on Samsung Smart TV
---
5. Clear Temporary Data and Cache
Temporary data or cache data is pretty handy when it comes to improving the device and app performance. It is because they store certain useful data in quick memory blocks and retrieve them faster when needed. But imagine if this quick or cache data is itself corrupted? In such a case, you would want to replace it with clean and useful data, and for that, we will first clear the temporary cache data from the device.
Here is how you can clear cache data for Paramount Plus on,
6100 Paramount Plus error code is mainly observed on Android and Fire TV, so it is best to clear the cache from your streaming devices to ensure seamless entertainment on Paramount Plus on-demand.
If you are streaming using your personal computer or desktop on the Paramount Plus com website, you can clear the browser cache on Google Chrome or Safari and see if you are still facing the 6100 error code.
If clearing the cache data isn't helping you in solving the 6100 error code on the Paramount Plus com website or app, let's hop on to the next solution on the list.
Also Read: How to Activate Paramount Plus on FireTV [Guide]
---
6. Reduce the Video Quality
Reducing the video quality is one of the handy solutions when everything is right with your device but your internet connection throttles or transmits lower bandwidth. In this case, the issue is not with the ethernet cable, WiFi router, or even the plan you are using; rather, it is the issue with the connection at the ISP end, and only your ISP can fix it.
Lower the resolution while streaming Paramount Plus on-demand and check if you are able to stream Paramount Plus seamlessly without the 6100 error code. If it's the case, check with your ISP why you are facing such throttling issues.
Also, if you are facing throttling issues more frequently, I recommend you switch your internet connection service.
Also Read: Fix: Paramount Plus Not Working on Samsung Smart TV
---
7. Switch VPN, if Any
A VPN connection is great for privacy, security, geo-unblocks, and so much more. But not all VPNs are as good as they portray. Mostly when they are "free" to use and "download."
Free VPN services eat your bandwidth and mostly steal your data for third-party advertisers. Many more reasons why you see targeted ads for everything you search online while using such VPNs. The black market is filled with all the user data that free and most paid VPNs collect when you use their service or accept their long permissions.
I recommend a VPN like NordVPN; it is great for anyone who wants a transparent security audit and assurance of white practices. It has features such as VPN tunneling, a kill switch, optimized servers for streaming, geo-unblocks, transparent data audits, and more. With powerful security and algorithms, I pretty much use NordVPN almost all the time while I am online.
Also, if you are already using NordVPN and still seeing an issue streaming with Paramount Plus, it is because you are not on an optimized server. Try switching your VPN server to another server and check if you still see an issue like 6100 on the Paramount Plus com website while streaming.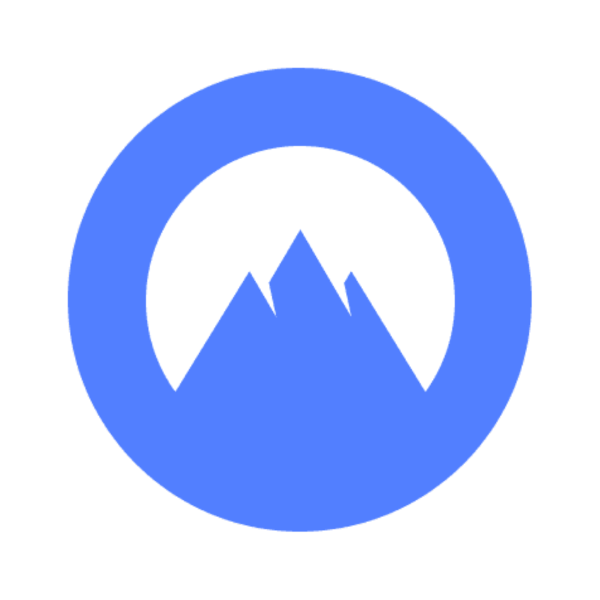 Get NordVPN
A no-log policy with independent audits
Fast servers for seamless streaming
Security such as 256-AES encryption and secure channel for transmission.
Added privacy protocols
P2P servers and torrenting
Streaming without geolocation restrictions
Heavy discounts
---
8. Updating the Paramount Plus App
Updating the Paramount Plus app is a decent solution to fixing the buffer screen issue if you are using it on devices like iPad, iPhones, Android, or other smartphones. Often, when the apps are released into the production server, there are some unknown bugs that can be specific to devices or identified later after users start reporting the issue.
Developers then release a new version of the app, which solves that particular bug on the app and try to give a seamless app experience to all the users. The same goes with the Paramount Plus, and there is likely a bug or an issue that can be directly or indirectly showing the buffer screen on your app.
One way to be sure is to check if there are any latest updates for the app, and if so, update the app and check if you are still facing the issue. If the issue is resolved, it was likely a bug that is now fixed, and if not, then you should be heading to the next solution.
Also Read: How to Install & Watch Paramount Plus on Xbox
---
9. Reinstall the Paramount Plus App
It is always a good option to reinstall the app, causing an issue. This way, all the app files will be reinstalled, and if there is any corrupted file, it will be easily replaced.
Besides, it is advisable to install apps only from trusted sources such as Play Store, App Store, or the app's website. This is because there are a lot of malicious copies available for the apps that quote "free watching," "no premium required," and more which might be tempting, but it's a trap.
Such apps install backdoors and malicious code on your device and compromise security and personal information.
Reinstalling apps also help you solve other issues with your Paramount Plus app; for instance, if your Android app is crashing or repeatedly showing errors.
---
10. Download Content for Offline Watching
Solving issues related to devices and the internet in certain cases can be time taking, and if you have guests over for a watch party or a movie night, such things can eat a lot of your time.
So, let's do a simple hack for a temporary fix.
Get a better WiFi connection, maybe a personal hotspot from your smartphone, or hook up your neighbor's WiFi connection, and then download all the movies or shows that you would want to watch time being.
Paramount Plus comes with a download option for offline viewing, so you can directly download using that option, and once done, you can turn off your internet and watch your favorite show or movie seamlessly while offline.
Though temporary, this solution always works when you don't have time to fix your internet connection issues. However, always remember that these downloads are stored locally on your device and won't show up on other devices, such as a smart tv; you would have to download again if you were to switch devices.
Also Read: [Updated Guide] How to Activate AMC Theatres
---
11. Contact Paramount Plus Support
Even after trying all the above solutions, if you still see Paramount Plus buffering while streaming, you can contact and report this issue to the support team on their official website.
Now, there is a help center resource where solutions to the most common issues with streaming Paramount Plus are already available. You can check them out and see if there is any other special solution mentioned for the 6100 error code. However, if there is no solution, you can contact the support team right away using the "Customer Support" option.
Usually, it takes them a couple of hours to address the issue, depending upon the support traffic.
If nothing works for you, I suggest you check if your favorite show or movie is available on other platforms like BET, MTV, and AMC. We also have some great detailed guides on how to activate services like BET, MTV, and AMC on any smart tv; you can always check them out for ease.
You can also try using streaming devices if the app on a smart TV is not really working and causing a lot of other issues, like the one with a buffer screen while streaming Paramount Plus.
You may also like to read,
---
Paramount Plus Streaming Devices Recommendations
Google Chromecast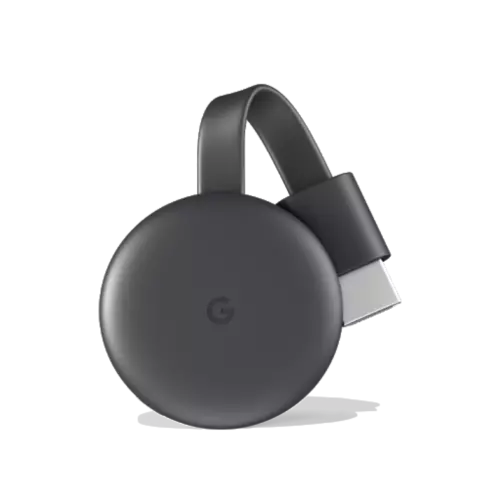 Roku Stick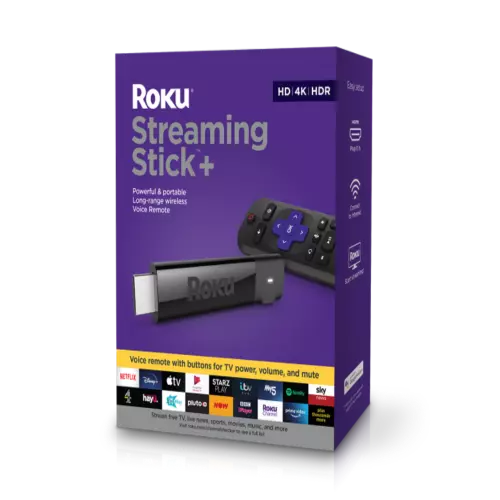 Amazon FireStick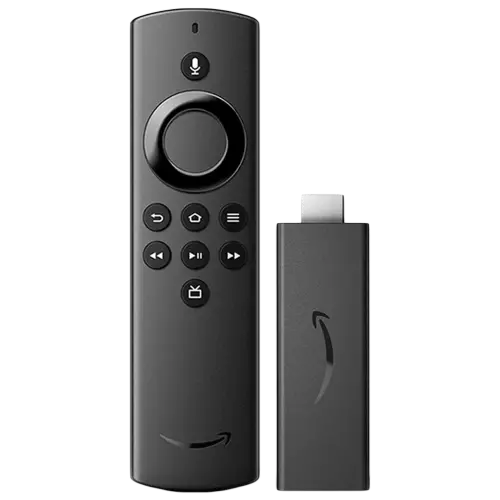 Also Read: Are Paramount Plus and Peacock the Same?
---
Frequently Asked Questions [FAQs]
What is the 6100 error code on Paramount Plus? 
The 6100 error code on Paramount Plus is an indication that there is an internet connection issue preventing the content from playing properly on your device.
What can cause the 6100 error code on Paramount Plus?
There are several factors that can contribute to the 6100 error code, such as a poor internet connection, outdated app version, device compatibility issues, or problems with the Paramount Plus servers.
Is the 6100 error code specific to a particular device?
No, the 6100 error code can occur on various devices such as smartphones, tablets, smart TVs, streaming devices such as Fire TV, Android TV, and gaming consoles if there is an issue with the content playback.
Why do I keep getting the 6100 error code even after trying the troubleshooting steps?
If the problem persists even after attempting the initial troubleshooting steps, it is likely a more intricate technical issue originating from the Paramount Plus server. In such situations, we recommend contacting Paramount Plus support for personalized assistance.
Can I fix the 6100 error code on Paramount Plus by reinstalling the app?
Reinstalling the Paramount Plus app can sometimes resolve issues related to outdated or corrupt app files. However, it is recommended to try other troubleshooting steps first before resorting to reinstalling the app.
Before You Leave
Get Our Prime Content Delivered to your Inbox for Free!! Join the Ever-Growing Community… Right Now.
Give this article a quick share,
Also Read: How to Activate NBCU on USA Network
---
Wrapping up: Help to Solve the Paramount Plus Error Code 6100
These are pretty simple steps to solve the error code 6100 on the Paramount Plus com website or app. The error is majorly due to a poor internet connection, a device-specific issue, or issues with the Paramount Plus servers.
In this guide, there are three factors to fixing the 6100 error code on the Paramount Plus com website; the first is to assess the internet connection and Paramount Plus servers, the second is to optimize the device performance for seamless streaming, and lastly, the third option is to try using alternative solutions such as downloading content offline, reducing the video quality, switching the platform, and contacting the support team.
I hope this guide came into a good help to fix the 6100 error on Paramount Plus on your next entertainment. If you have any questions for me or want to share your views, feel free to leave a comment below. If you like this article, do give this a quick share on your social media handles, and do tag us. Also, join our Telegram channel, Facebook page, and Twitter to never miss a quick update.
Some Catchy Line to Grab your Attention
Get Our Prime Content Delivered to your Inbox for Free!! Join the Ever-Growing Community… Right Now.