If you have been struggling with home and office security cameras, you really are not the only one. Low resolutions, untidy screwing, and failing cameras make it hard for you to monitor your home, office, or even your garage stores. But not anymore with Realme Smart Cam 360, and here is the "why."
Realme Smart Cam 360 is the perfect camera for your home and office purposes. But that's not all – you can also use this smart camera for monitoring your baby, pets, or even elderly people with a huge and efficient list of features. One of the best things about this smart camera is how it falls under budget camera pricing with a huge list of advanced features.
Quick 1-Minute Review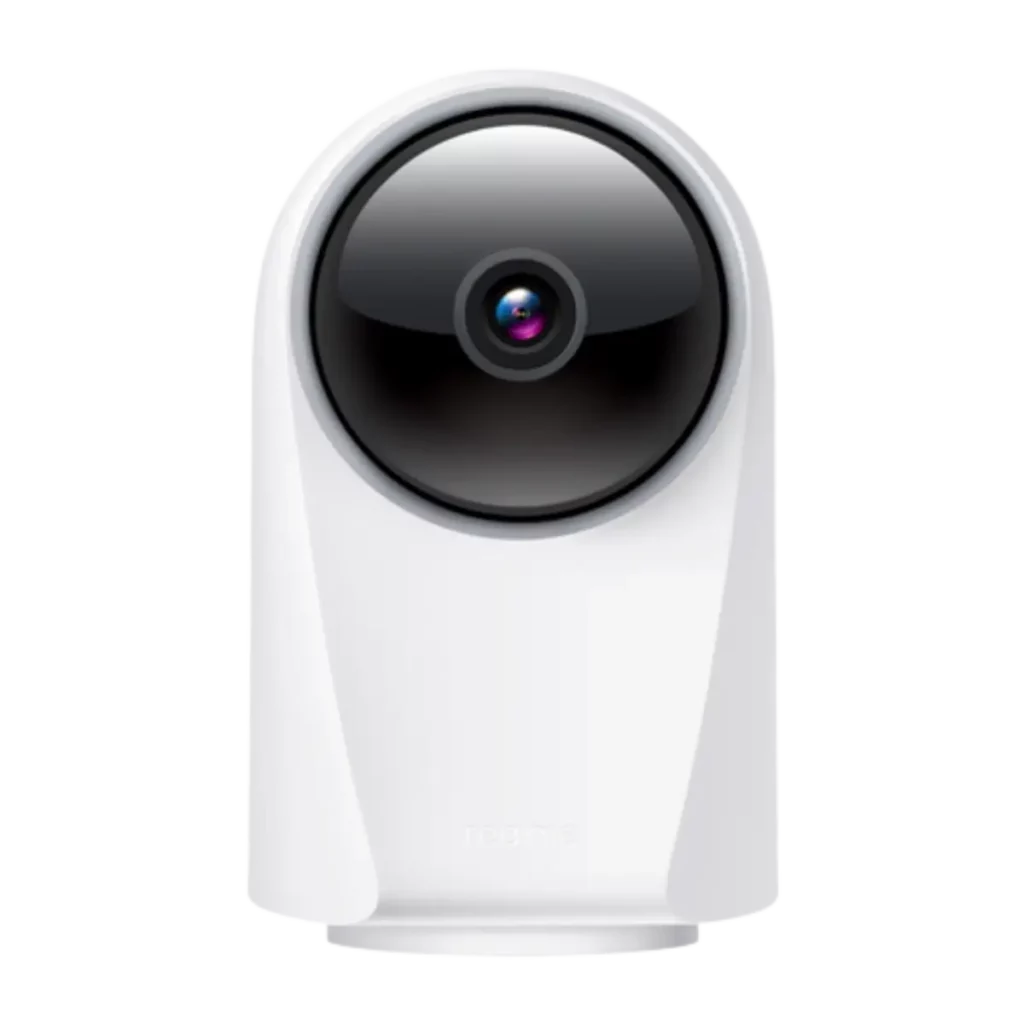 Realme Smart Cam 360 is one of the perfect dome cameras in a budget range. It has advanced features like AI and voice detection, high-definition 1080p recording in all lighting conditions, 3D noise reduction and edge correction algorithms, and much more.
This dome camera can be placed both upright and inverted as per your requirement and can manage most of its software features from the app. Now, it is a budgeted good deal that you cannot miss out on. Still, it does come with a few constraints, such as limited memory storage, corrupted memory card in longer use, no cloud storage, and grainy compression in recorded videos.
There are more pros to this smart camera compared to the cons at this pricing, and it is a great deal that you cannot afford to lose.
Also read: Anker 737 Power Bank Review | The Powerful Battery Pack?
Realme Smart Cam 360 | Everything You Need to Know
Realme Smart Cam 360 solves some of the major monitoring problems that traditional cameras come with. For instance, a poor-quality night vision recording, low resolution, bulky DVRs that may or may not support live streaming on your phone, too many plugs, and whatnot. With Realme Smart Cam 360, you can ditch all these problems, and that too almost for half of the price of the old bulky monitoring cameras.
But what makes it so special? Let's uncover it in layers of features.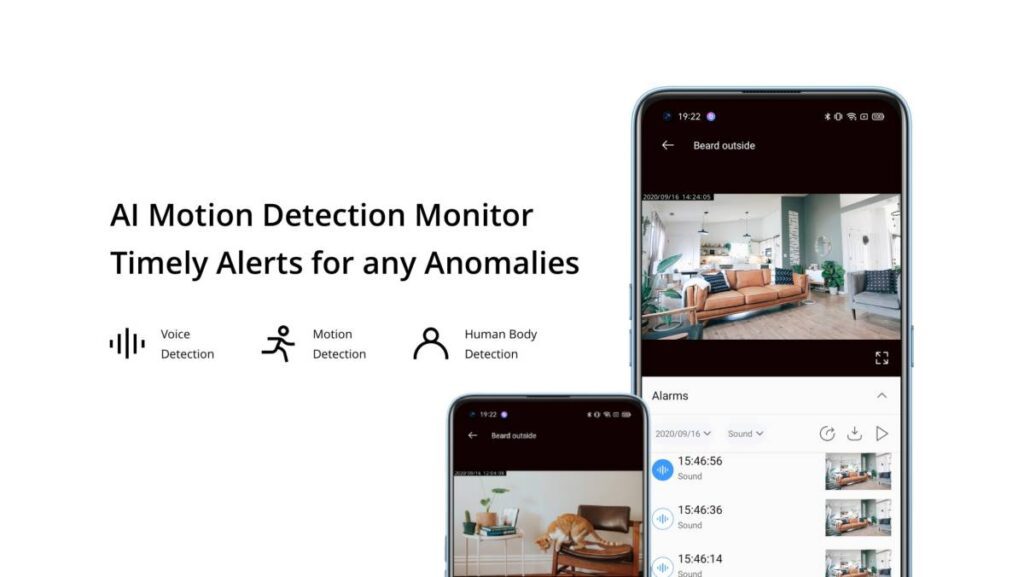 1. The Compact Design and Build Quality
It is an era of minimalism; no one likes their place to be crowded, and one thing that the old traditional camera monitoring setup has troubled users with is the bulky design and a lot of wires here and there. Thankfully, it is not the case with the new-gen smart monitoring camera systems, and one such smart and minimalist camera is the Realme Smart Cam 360.
The design is minimalist and compact enough to fit in small places, and it is because there is no need to connect DVR or other setups for this. Moreover, you can either fix it on the top or place it on a flat surface; it comes with dual positioning options, which makes it more convenient.
This smart cam has a dimension of 4.49 x 2.76 x 2.56 inches which is small enough to fit in most places. Besides, the packaging comes with freebies such as smart cam stickers, which make it match the vibe of your space.
It is an IP camera, so it needs the Realme link app and access to your WiFi connection, and there is no need for any other wired setups. However, it is not waterproof, so keep it away from any liquid for your best interest.
Also read: MagEZ Slider Review | The Best 4-in-1 Wireless Charger for Apple?
---
2. 1080p Video Recording
Video monitoring is a big task, and you don't want blurry pictures as evidence that leads to no suspects. Moreover, it is the era of fast internet and smoother video performances, and it is what the Realme Smart Cam 360 delivers.
1080p video recording with WDR codecs allows you to capture better details even in lower lights and give you better video performance. It is one of the best video quality that any other smart camera in this budget range has to offer. But wait, that's not all about this fancy quality of video recording; there is more to it.
One of the common things that you can find with monitoring cameras is grainy live streaming that only makes everything else inconvenient for you. This is where Realme outsmarts most traditional cameras with a 3D noise reduction algorithm that helps it sustain a better video quality, reduce noise, and highlight details. Besides, it transmits a more natural video and all thanks to the edge correction algorithm that pairs with this smart camera.
⚠️ The recorded video still has a certain level of noise that needs to be smoothed out by the core changes from Realme; maybe in the future, they can fix this issue.
Also read: Dell U2723QE Ultrasharp 4K KVM Monitor Review
---
3. Cam that Mimics an Owl | 360 Degree Video Recording
Most often, with DVR cameras, you get a multicamera setup, which is nice but also unnecessary for small spaces. For instance, baby monitoring, checking on your garage, or just keeping an eye on your store counters. In all such and similar cases, a single camera is enough. But what if you want to also record what is happening at the back of your camera, or maybe on the sides? This is where the 360-degree panoramic capture comes in.
With Realme Smart Cam 360 and the Realme Link app, you can instantly rotate the eye of your camera or the camera itself to record all the 360-degree views. And all of these frame rotations are quiet enough to ensure the customers, audiences, crooks, or even the baby are not conscious of it. All of it comes with smooth transitions and almost no noise.
---
4. AI Motion Detection and Real-Time Tracking
Most expensive monitoring cameras make it easier for you with AI motion detection and real-time tracking features. So, if you have enabled them, the monitoring eye will automatically move along with the movements in the front. But wait, that's only for expensive smart cams, right?
Well, not really.
With Realme Smart Cam 360, you can avail of these smart features, such as AI motion detection and real-time tracking, all under the budget and at no added cost. All you need to do is enable it using the Realme Link app, and there you have it.
One of the best things is it can detect motion, voice, and even the human body and quickly send you an alert or notification of it. I totally like this feature with the Realme Smart Cam 360, and it has often come in handy most times when I leave my garage store empty.
Also read: ExpressVPN Review | Why is this the Best VPN Service?
---
5. Night Time or Low Light Monitoring
Recording at night time or in low lights gets difficult, as the camera does not get sufficient light on the aperture to capture better. However, to solve this issue and give users a better quality for monitoring at night time or in low light, Realme Smart Cam 360 uses a high-quality 940nm infrared illuminator. This illuminator can record up to 10 meters from the camera position in all directions in low light or night time, and all of this recording is in color mode and infrared vision.
At this pricing, I have found Realme Smart Cam 360 to offer some great video outputs; the switch between light and low light or night time takes up to a second, but when it does, I don't have many complaints. Besides, the noise in the live video frames is less but not as less that they cannot be noticed. The 3D noise reduction can be improved when it comes to nighttime monitoring, and the video turns out a little more grainy than usual.
---
6. Recording and Storage at 1080p
Storing videos can have a little downside when it comes to the Realme Smart Cam 360 at 1080p recording. The maximum storage you can have is 128 GB which is way less than what the traditional DVR has to offer; for instance, the standard storage that DVR monitoring cameras have to offer is 6 TB, which can store up to videos for up to two months and more.
The lab tests show that you can store up to 14 days of recordings with the 1080p recording on Realme Smart Cam 360. So, if you want to playback recordings, download them, or just browse through them, you can do it from the past 14 days.
In my opinion, the storage is limited, and there could at least have been a more expandable storage unit. It could have been up to a terabyte for more professional purposes, at least.
Thankfully, you can download video selections onto your phone, and it is a seamless task with the Realme Link app.
Also read: OXO Sweep and Swipe | The Best Gadget Cleaner?
---
7. Get Better Privacy
Privacy is one of the important factors; you don't want your private space to be invaded, be it in actuality or the recorded videos on your smart cam. With Realme Smart Cam 360, I could easily set it up in hibernate mode using the Realme Link app to stop recording when I didn't want it to. When switched to hibernate mode, the smart cam activates the anti-sight switch and shuts off the shutter. So, you are assured the third eye is not watching you in your private time.
But that's not all the privacy that comes with Realme Smart Cam 360; there is always more to it.
The smart cam features a private file format that cannot be directly watched using a phone or a PC. Besides, all the recordings are encrypted in a secure AES-128 encryption that assures your recordings are safe with you.
But what about the recordings being tapped when you are streaming it live? Well, Smart Cam 360 has covered you with that too. The smart camera uses TLS 1.2 transmission encryption to ensure that your videos are transmitted safely and securely.
Also read: 9 Best Android Cleaner Apps That Actually Make your Phone Fast
---
Added Features | Realme Smart Cam 360
Realme Smart Cam 360 does offer some improvised core features at budget pricing, but it also has a few additional features that make it stand out. For me, it is the in-built WiFi extender that helps me get a better connection speed, and this is something you don't expect your monitoring camera to do, that too, at this price.
In addition, there are features like voice talkback, better video encoding, screen sharing with colleagues and family, and better exporting that make your Realme smart camera 360 a more efficient option.
With AI retrieval, your Realme camera 360 can actually do smart things, such as quickly finding clips from time markers, intelligently retrieving recordings, and automatically identifying events from the video. All of this can be done using the Realme Link app itself, and with a single app, you can access all these features. In fact, you can also create a multiple-camera setup using the Realme Link app, watch multiple screens at once, and also share the screens with your partners, colleagues, or anyone else with a single link.
I have been more of a tech guy, so I love to explore gadgets beyond their limits. For me, it was easier to integrate Realme Smart Cam with my IOT projects and other AIoT devices for a seamless smart home setup.
---
Technical Specifications (Specs for Tech-Geeks)
| | |
| --- | --- |
| Product Dimensions | 4.49 x 2.76 x 2.56 inches |
| Weight | 6.7 ounces |
| Encoding | H.265 |
| Resolution | 1920x1080p |
| Storage Type | MicroSD card up to 128 GB, no internal or cloud storage |
| System Requirements | Android 5.0 or iOS 9.0 or above |
| Connection Type | WiFi (IEEE8O2.1 lb/g/n 2.4GHz) |
| Interface Type | App (Realme Link) |
---
Pros and Cons | The Best Dome Cam?
Pros
1080p high-definition 360-degree recording
14 days of backup with 128GB of storage (upgradable)
AI motion and voice detection with real-time updates
Two fitting options; upright on a desk or screw it on a ceiling or wall
Record in color during low light conditions
H.265 encoding consumes only half of bandwidth and storage in comparison to other cameras at this range
The intelligent selection feature marks the timeframe on recordings for easy download and retrieval.
Connect your smart cam with other AIOT products for smart home connections.
Share video recordings with family or others with the Realme Link app.
Multiple privacy protections
Cons
Stored videos are a little noisy and grainy compared to live streams.
No cloud storage, so the smart camera will only work when you insert the memory card.
The memory card is only expandable up to 128 GB which might not be a lot for professional purposes.
The SD card needs to be bought separately and has to be of the best quality, which can be an additional expense to your pocket.
Does not have a battery backup and needs a power backup such as an inverter for the same.
A lot of users complain about corrupted memory cards with longer usage.
---
Frequently Asked Questions [FAQs]
Is Realme Smart Cam 360 waterproof?
No, Realme Smart Cam 360 is not waterproof, so it is best to keep it away from any kind of liquid, such as rain, at your window.
Is the storage expandable on Realme Smart Cam 360?
The maximum storage you can have on your Realme Smart Cam 360 is up to 128 GB through an external storage card.
Does Smart Cam 360 have internal storage?
No, Realme Smart Cam 360 does not have internal storage or cloud storage. It also needs the memory card to work at all.
Can you install Realme Smart Cam 360 on the ceiling?
Yes, there are two modes of positioning your smart cam 360; upright on a flat surface or inverted through screwing.
Does Realme Smart Cam 360 need WiFi or an internet connection to work?
The Realme Smart Cam 360 records without an internet connection, but if you wish to watch the live stream on the Realme Link app, you will require the camera to have access to an internet connection.
Before You Leave
Get Our Prime Content Delivered to your Inbox for Free!! Join the Ever-Growing Community… Right Now.
Give this article a quick share,
You may also like to read,
---
Wrapping up | My Verdict on Realme Smart Cam 360
Realme Smart Cam is one of the best smart cameras that I have come across at budgeted pricing. The camera works great in low light and night vision and always records in 1080p smooth recording. There are also more advanced features like AI motion and voice detection with 360-degree panoramic monitoring. With better algorithms, compact design, build, added features, and so much more, Realme Smart Cam 360 is a perfect budget option for monitoring. You can also set up multiple cameras and monitor with the Realme Link app.
However, there are a few downsides, such as limited storage, no cloud storage, and even noisy, compressed videos that are a lot different from what you see on the live stream on the app. Besides, there are a lot of complaints about memory cards after a longer use and so little that you can store on them.
I hope to have helped you with the Realme Smart Cam 360 review and if you should get the deal. If you have an experience or views to share about this smart camera, do let me know through the comment box below. If you like this article, do give this a quick share on your social media handles, and do tag us. Also, join our Telegram channel, Facebook page, and Twitter to never miss a quick update.
Some Catchy Line to Grab your Attention
Get Our Prime Content Delivered to your Inbox for Free!! Join the Ever-Growing Community… Right Now.