Choosing a microphone for podcasting can be a tough choice, especially when there is such high competition in the market. But you cannot just go on Amazon and randomly place your order. There is science behind it, and this guide is all about that science. Come join me in this descriptive guide on the best microphones for podcasting and what to consider when picking one.
There are two factors that can make your audience sleepy while listening to your podcast. One is a boring script, and the second is poor audio.
Wait, are you feeling those yawns already? Those are because your audience didn't understand a thing you said in your podcast show. And luckily, we know why.
When beginning in the podcast industry, a simple collar microphone, your smartphone for recording, and shush environment is enough. But when it comes to growing your podcast show and reaching more audiences, we need to take care of some glam. Platforms like Spotify and iTunes have a high number of listeners, and they keep releasing new lists of shows one should listen to. Imagine being heard in low quality at those times. We are definitely losing the audience along with the embarrassment.
That's it. It's time.
We are getting a new microphone for our podcast.
But wait, where do we start? Should I just go on Amazon and look for the one and place an order? That's absurd.
Let's do some research here. You can skip to the list of "Best Microphones for Podcasting" to save some time.
Also read: Dell U2723QE Ultrasharp 4K KVM Monitor Review [The Best Second Monitor Ever]
How to Pick the Best Podcasting Microphone | All Factors That We Need to Consider
There are a couple of factors that one needs to consider while buying a podcast microphone. And precisely, it's not only the budgeting that we are mentioning here. Also, these factors may change based on where you are from, what environment you are recording in, whether you will have guest speakers, whether you are recording using platforms like Skype and Zoom Calls, and much more.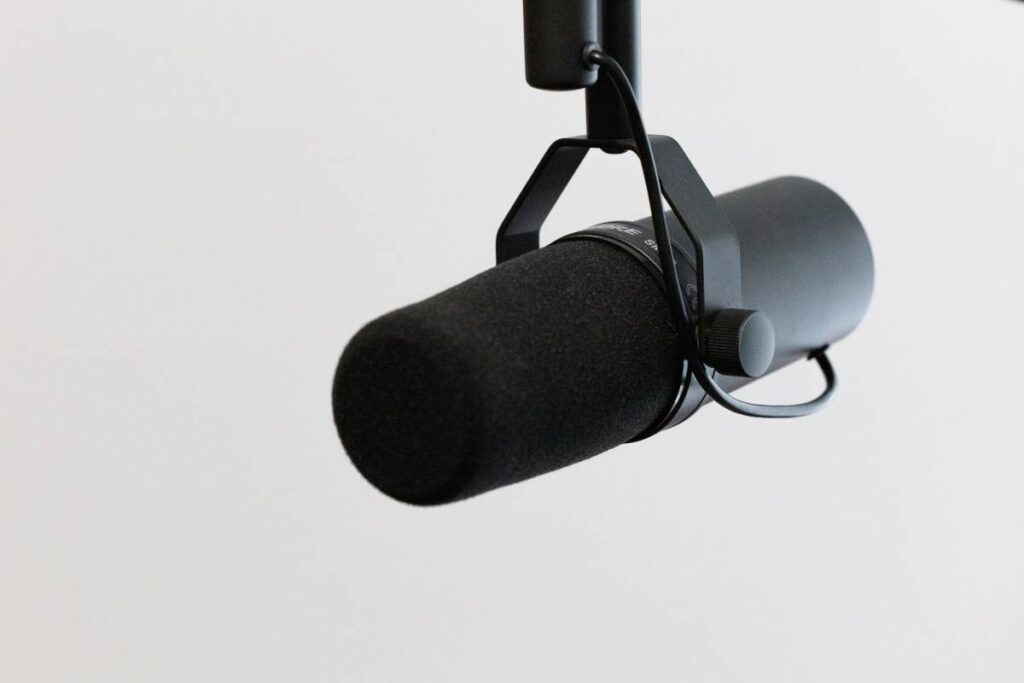 I recommend you go through the factors in detail and then check out the following list of the best microphones for podcasting. That way, this guide will give you a clear picture and not just a good deal.
Factor 1: Type of Microphone
Did you know there are also types of microphones? And no, I am not talking about the collar microphone or the desk microphone here. That's a totally different comfort factor and depends on your choice.
Here, I am referring to the dynamic and condenser microphones. Now, that sounds pretty technical, right? But trust me, once you know how these work, you will understand them much better.
Dynamic microphones are one of the perfect choices when you are the sole speaker or into singing directly into the mic while recording. It has lower response frequencies in comparison to the condenser microphones and can record your vocals much better without additional disturbance.
The condenser microphones are the total opposite of dynamic ones. These work great when you are recording a room with multiple speakers, have a lot of audio interaction, and want each of them to be crisp like a croissant from outside while comforting the audience with better details inside. Condenser microphones pick out all the details from the surroundings with higher frequency responses. So, you might not want them when you are the only person speaking in your show; else, it will only take more editing time than yours.
To cut it short, if you are the solo hero of your podcast show, dynamic microphones are the best choice, while for welcoming guests, condenser microphones are better options.
Also read: Realme Smart Cam 360 Review
---
Factor 2: USB or XLR | Connectivity Matters
The second-most crucial factor is the connectivity of your microphone.
Now, a lot of you might be thinking, what about connectivity? How does that matter, be it USB or XLR?
But no, it's important, and it can be really helpful for you.
The USB microphones are super comfortable, all you need to do is plug them in, and you are ready to use them. There is no additional setup, no extra equipment, or even software in most cases. Besides, these are highly portable and multipurpose. For instance, you can use these podcast mics for your shows on weekdays and karaoke nights on weekends and at parties, all seamlessly.
On the contrary, XLR microphones need a dedicated setup such as a USB Audio interface, Mixer, or even a podcast recorder. Besides, they are a little over expensive in comparison to USB microphones, and they give the best ever sound.
USB microphones can be cheaper and multipurpose and multidevice, but in comparison to XLR, those microphones sound amazing. So, if you are more dedicated to building your podcast as a business or making it a full-time job, XLR microphones are what you need. But for hobbies or starting up, USB microphones will do the most for you.
---
Factor 3: Polar Patterns
Most of the audience reading this guide might have heard this term for the first time; polar patterns. What is a polar pattern, and why is it one of the deciding factors of how your podcast will sound?
Polar patterns are what direction or how your microphone will record your audio. There are three kinds of directional microphones; omnidirectional, cardioid, and supercardioid/hypercardioid.
Omnidirectional microphones are great when you have a lot of guest speakers in the same room. This is because these microphones have a larger sensitive area and easily picks up sound from the surrounding. However, if you are a solo speaker in the room, you might want to ditch an omnidirectional mic as it will easily pick up unwanted sound, and you will have to spend more time editing it.
An alternate option for a single speaker microphone can be the cardioid microphone, which is sensitive only at the front and skip out most of the audio from the surroundings. On the other hand, supercardioid or hypercardioid microphones reduce this sensitivity in the front and back of the microphone and help you get a better studio-like sound and lesser background noises.
Also read: Anker 737 Power Bank Review | The Powerful Battery Pack?
---
Factor 4: Aren't We Deciding on the Budget Yet?
When you first visit a microphone store such as on Amazon, you will find a lot of options; all with exciting features, looks, and operations. These choices can often be too fascinating, and you might get a little overboard or, worst case, a lot overboard when buying a microphone fit for your needs.
This is where budgeting helps us pick the right podcasting microphone with no extra worries.
If you are a beginner in podcasting and have yet to get those studio-like vibes in your audio, a budget-friendly microphone should do the job for you. These are usually under or near $100 and give you at least the basic podcasting experience.
However, while growing your podcast or when becoming a bigger player in podcasting, you might want a more actual studio-like microphone that records better and have additional audio features, filters, and more. At those times, it is always good to invest in high-quality and better microphones, which might be a little expensive but worth the spend. The mid-range microphones can range anywhere from $150 to $250, and high-end microphones from $300 to over $500.
As a professional podcaster, you might have found a mid-range podcasting microphone to do the job, but if you are still struggling with the audio, you might want to change your audio recorder or processing software to get the most out of your microphone.
Also, it is always recommended to take care of your podcasting microphones by regularly cleaning and storing them well.
---
Factor 5: Compatibility with Other Setup
Your podcasting microphone is definitely the star of your setup, but it is not the only working hero of your setup. When you are improving your podcasting or your shows, you definitely work on other setups, such as the software to record and process your audio file, the external audio filters on your microphone, and connectivity with other platforms.
No doubt, your microphone works best in its natural form, but it might not work the same in all environments. For instance, a few microphones might sound well or work well with your processing platforms, like the podcast recorder and video podcast software like Adobe Premiere Pro.
This can be mainly because there are not many driver options with certain budget-friendly podcasting microphones, and because of this, you might not be able to access some of your microphone features. Besides, this is true with other setup options you might want to include, so it is always best to stick with the generic models that are more commonly used and work very well with everything else.
Also read: MagEZ Slider Review | The Best 4-in-1 Wireless Charger for Apple?
---
10 Best Microphones for Podcasting | Sound Acoustic on Your Show
Here are some of the best microphones for podcasting, and for a more detailed review, scroll down past the list.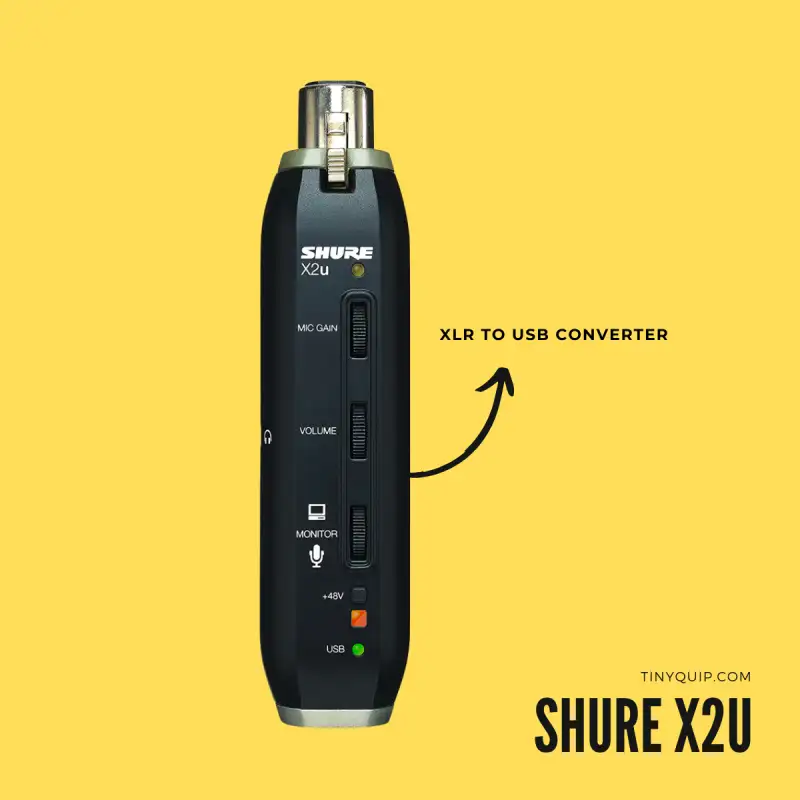 Shure X2U | XLR to USB Connector
Easily convert any XLR microphone to a USB
Connect to Windows, Mac, and most USB audio devices
Integrated pre-amp microphone gain and volume control
Provides +48V Phantom power for condenser microphones
Headphone jack to connect your earphones directly
Zippered pouch, cable, and other accessories included
1. Rode PodMic | The Beginner's Friend to All Ages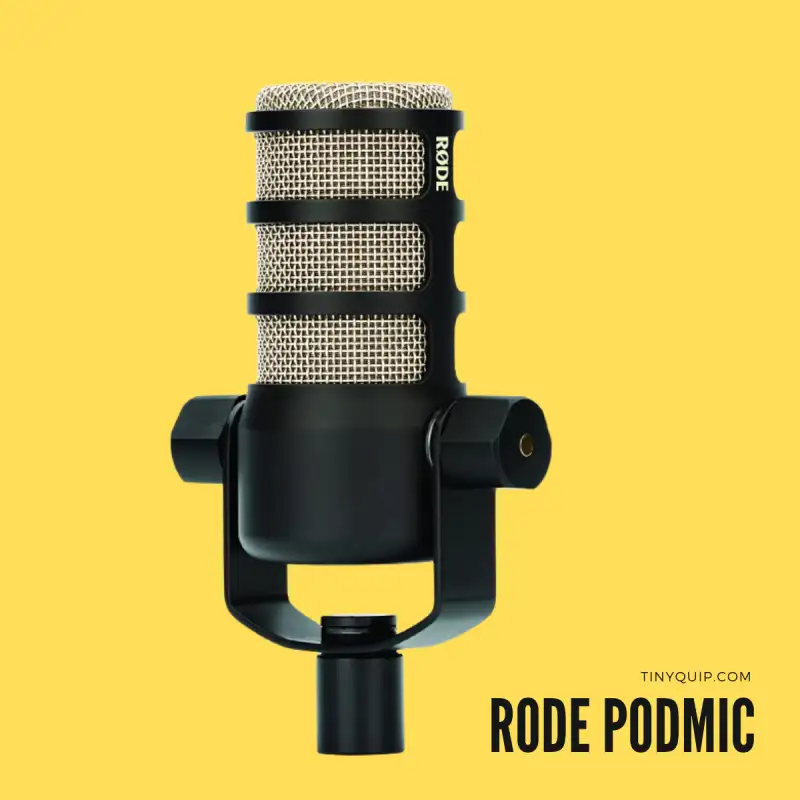 Specifications
Type of Microphone: Dynamic
Connectivity: XLR, Wired
Polar Pattern: Cardioid/Unidirectional
Compatible Devices: PSA1 (Boom Arm)
Special Features: Mute function, activated voice recording
Whether you are starting out your podcasting journey or you are intermediate to the pro podcaster, RODE PodMic is always a handy option for you.
Don't judge it by its compact look; it is more than its size, a powerful, dynamic, cardioid microphone for everything audio. It is best for beginners who are yet to learn how to skip out all the noise from their recordings and record more acoustically. Since it is a cardioid/unidirectional microphone, it will skip out most of the surrounding noise and keep things sensitive in the front and record nothing extra.
Moreover, it is dynamic, so it is very well suited for solo speakers, and if you someday get a guest, you can keep an additional RODE PodMic in front of them, and it will still do the magic. Speaking of magic, PodMic comes with special features such as mute and voice-activated recording. With these, I can always pause in the middle of the podcast, such as during breaks, and with voice activation, I can save some extra recording time when I am not speaking, but the mic is left on.
PodMic works with wired XLR connectivity, so you will be using it with the studio unit for a connection. I also like that it supports a solid suspension grip, such as the PSA1 that holds the mic perfectly; you can use the studio arm or just a microphone tripod, and it will hold it well enough to record great.
It is one of the best podcasting microphones under $100 for beginners, alongside the Rode NT-USB Mini.
Also read: Adobe Express vs. Canva | Which is The Best Design Tool?
---
2. Blue Yeti USB Microphone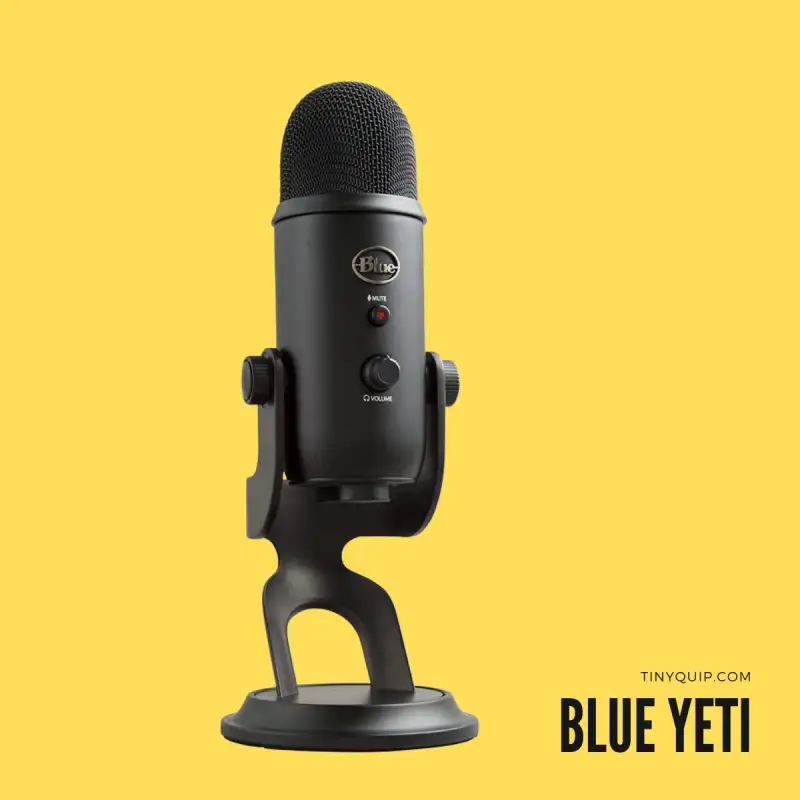 Specifications
Type of Microphone: Condenser
Connectivity: USB cable
Polar Pattern: Omnidirectional/cardioid/bidirectional/stereo
Audio sensitivity: 120 dB
Processing software: Blue VOICE software
Special features: controls on the mic, adjustable polar patterns
Dynamic mics like RODE PodMic are amazing when it comes to recording a solo show or canceling the background noise, but when you grow your podcast and have people on your show, you might want one mic that can record the vibe of your environment. This is where you can get the Blue Yeti Mic which is omnidirectional, and a condenser mic which records from all directions.
Blue Yeti is also a popular microphone for various other purposes, such as karaoke, voiceover recordings, online streaming and gaming, and much more. Moreover, you can enhance and utilize most of its features by using the Blue VOICE software, which gives additional customizations such as enhanced effects, advanced modulation, and HD audio samples.
I like the microphone itself has a lot of buttons for various quick actions. For instance, you can adjust the volume and mute directly by turning the wheel or pressing the button on your microphone. There are also other important areas on your microphone in the back, such as the polar pattern, microphone gain, and three-capsule array for a better crisp sound.
Now that the polar pattern is mentioned let me tell you my favorite feature about the Blue Yeti. You can switch between the polar patterns and adjust them to either be cardioid, omnidirectional, bidirectional, or stereo based on your requirements. So, it is one microphone that can act as any other type of microphone that you need.
---
3. Samson Q9U | Multiple Connections, More Convenient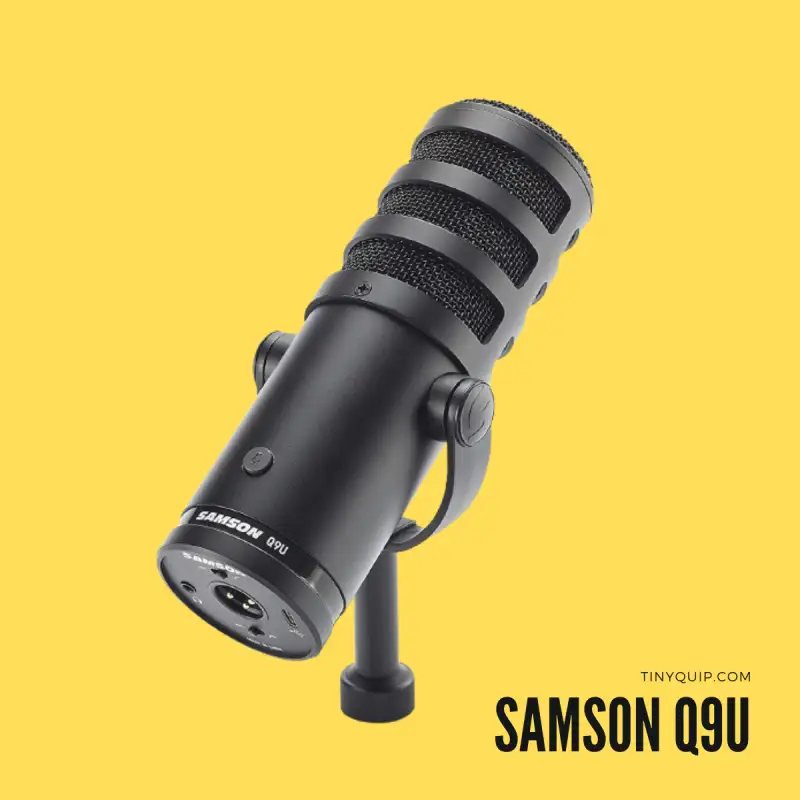 Specifications
Type of Microphone: Dynamic
Connectivity: XLR, USB
Polar Pattern: Cardioid/Unidirectional
Compatible Devices: Interface, mixer, Mac, and personal computer
Special Features: Mute control, low cut filter, and mid-pretense boost
The Samson Q9U is one of the most popular microphones, and the popularity is not just for podcasting. Singing, karaoke, voiceover recordings, streaming, and much more; this microphone does all of it.
It is a dynamic microphone, so the sensitive areas are in the front and will skip out most of the background noise from the surroundings. To add more to it, Samson Q9U is also cardioid in nature, so we are mostly skipping out the extra noise and saving some editing time. But likewise, to Rode PodMic, we will need more than one microphone when we have guest speakers, which is an additional expense. Or you can get an additional Blue Yeti along with it and use it, especially when you have guests on your podcast show.
There are also multiple connectivity options that make this microphone an ideal choice. You can use the XLR connectivity when you need an analog output and connect the interface or studio setup to your microphone. In other cases, when you want the microphone to be more user-friendly, you can connect using a USB connection. Such as for karaoke, singing, and other fun entertainment when you are not podcasting.
Likewise to other microphones on this list, there are also some additional features, such as mute controls, low-cut filters for better sound, and a mid-pretense boost to keep your vocals perfect for podcasting.
---
4. Maono PD400X Dynamic Podcasting Microphone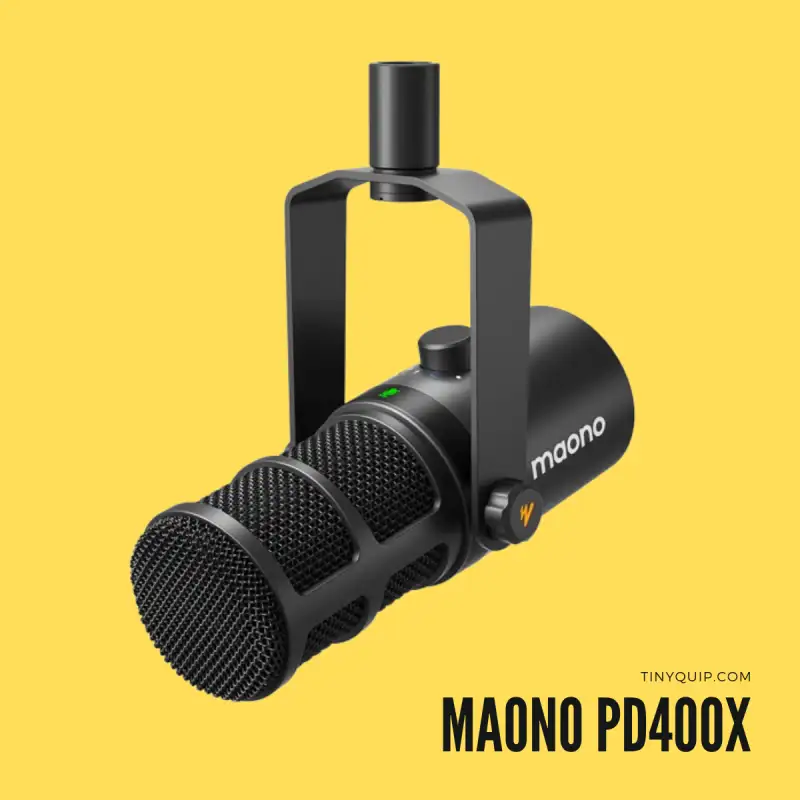 Specifications
Type of Microphone: Dynamic
Connectivity: XLR, USB
Polar Pattern: Cardioid/Unidirectional
Compatible Devices: MacOs/Windows, PS4/PS5, personal computer and more
Special Features: EQ switch, tap-to-mute, headphone jack, volume control, and mic gain
Another mid-range powerful microphone on the list, the Maono podcast microphone, is just what you need for a powerful podcast recording. It is a dynamic microphone, which is well-suited for solo speakers on the show as it skips out all the extra background noise.
Likewise to the Samson Q9U, the Maono microphone features a dual connection, XLR, and USB. So you can either use it for professional features with an interface, mixer, and studio setup or use it with your personal Mac or Windows laptop. For entertainment, such as online game streaming, you can also connect this microphone to your gaming consoles, such as PlayStations, and use it as a normal yet powerful mic.
The microphone is cardioid in a polar pattern and comes with special additional features such as volume and mute controls, an EQ switch, a headphone jack on the mic, and microphone gain for better-sounding audio.
Also read: Bark vs Qustodio: Which is the Best Parental Control App?
---
5. Shure MV7X XLR Podcast Microphone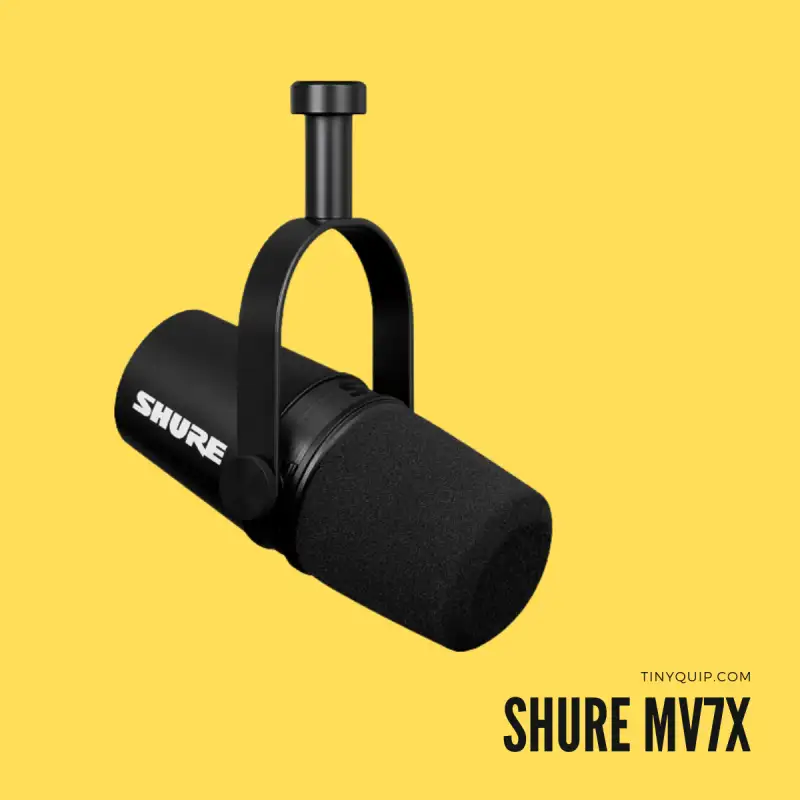 Specifications
Type of Microphone: Dynamic
Connectivity: XLR, Wired
Polar Pattern: Cardioid/Unidirectional
Compatible Accessories: 3/8″ – 5/8″ thread adapter, included
Special Features: Same form factor as that of Shure SM7B (off-axis audio)
Shure is not a new name to the podcasting microphones industry, and you might have seen a lot of famous video podcasts. A pricey microphone that does wonders for every podcaster, the Shure range of products is just on point, and one of its budget-friendly microphones, the Shure MV7X, should just suit your needs.
If you are a growing or trending podcast that needs more professional audio, the Shure MV7X is the choice for you. It is a dynamic microphone with a cardioid polar pattern that skips out all the background noise and unwanted sounds while you are podcasting. Besides, it uses the same form factor as that of the Shure SM7B and reduces off-axis sound while recording your shows. So you are getting a fascinating feature at a mid-range price.
One of the restrictions, at least on a personal level, with the Shure MV7X microphone is the XLR connectivity. For beginners in podcasting, this is really not a good choice, firstly because it is expensive, and secondly, because you can only use it with interface and studio setups due to XLR.
But wait, you can still use it with the Shure XLR to USB connector, and voilà, you are ready to use it with more devices. This connector is sure enough to convert any of your XLR podcasting microphones into USB ones.
---
6. HyperX Quadcast S | You Shouldn't Miss Out on This Buy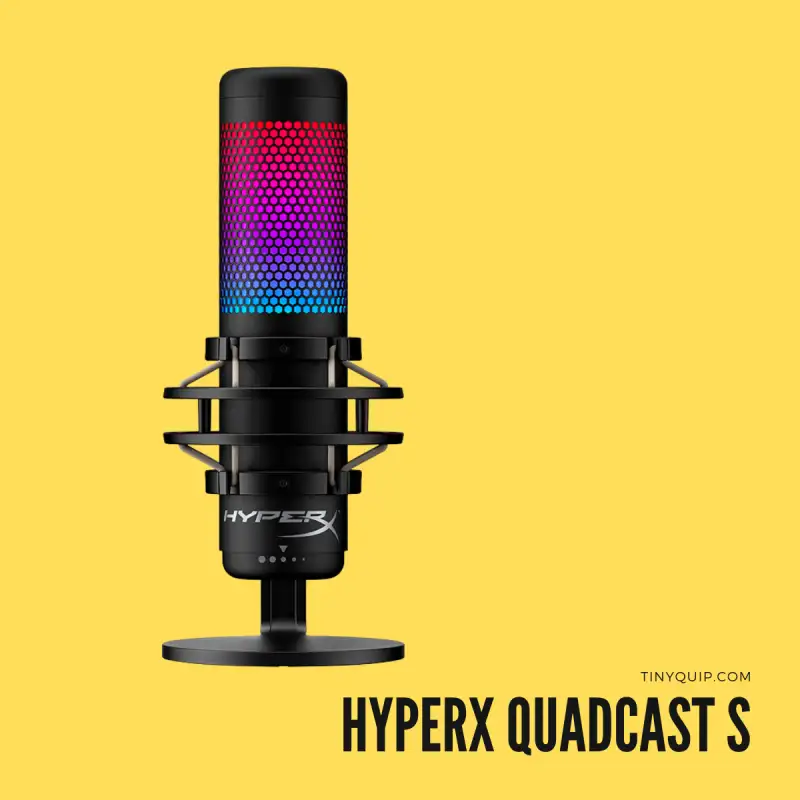 Specifications
Type of Microphone: Dynamic
Connectivity: USB, Wired
Polar Pattern: Cardioid/Bidirectional/omnidirectional/stereo
Compatible Devices: Personal computers (Windows, MacOS, and more) and gaming consoles
Special Features: Mute function, includes a stand
HyperX Quadcast S is a dynamic microphone that comes with RGB lights and multiple operational uses. It is an ideal mic when you are into group podcasting in the same room, streaming your games online, or even for other audio entertainment.
The mic itself has some functions upon it, such as a tap-to-mute button on top, so you can quickly cover your secret talks behind the show. At the bottom part of the mic, you can find a mic gain to adjust audio control and an internal pop filter to skip out noise as much as possible. There is a headphone jack at the back to listen to how you sound, and most fascinatingly, you can easily adjust between polar patterns with just a button.
You get a mic stand along with your purchase, so you definitely need not buy an additional arm; the quality is amazing, and at the microphone, you get an anti-vibrational shock mount so your recording is not disturbed while all the banging on the desks.
I love this microphone also for a non-technical feature, the RGB vibes. So if you are into video podcasting or love to have guests over your show, and your niche or setup demands darker environments, this microphone will be all about the vibes. Besides, you can set up those RGBs as you like, and for gamers and the video industry, this is a sick microphone to have.
There are four polar patterns: cardioid, bidirectional, omnidirectional, and stereo, to match your needs, and you can quickly switch between them using a single button. So, it is an ideal microphone for solo and group podcasters, and you can easily pair it up with most devices, all thanks to the USB port.
---
7. Elgato Wave DX with XLR Cable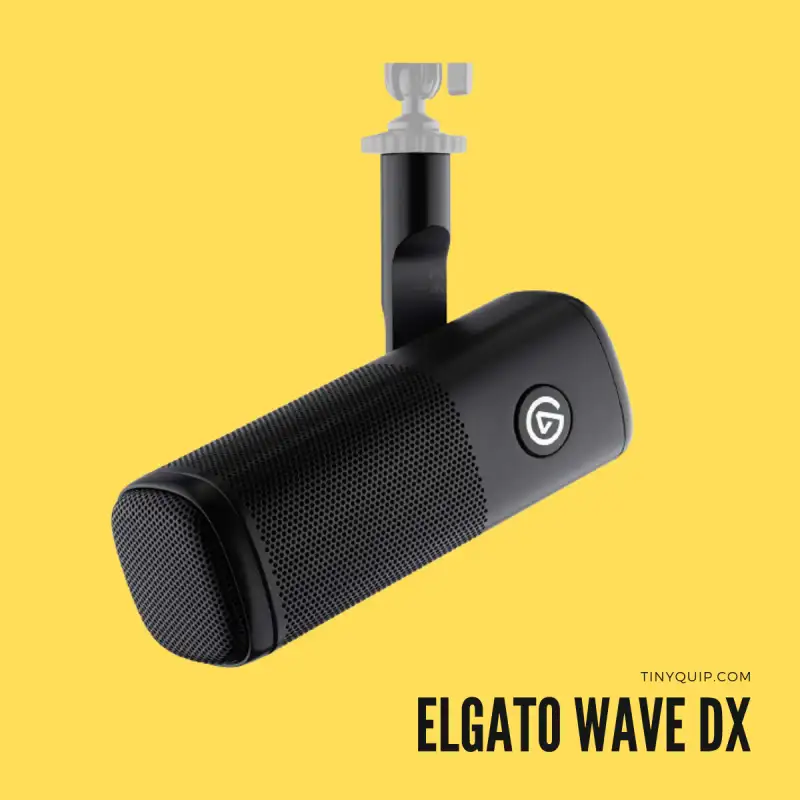 Specifications
Type of Microphone: Dynamic
Connectivity: XLR, Wired
Polar Pattern: Cardioid/Unidirectional
Audio sensitivity: 38 dB
Special Features: Speech-optimized, hardened steel chassis, forgiving off-axis
Elgato Wave DX needs no special introduction to podcasters, and it is one of the most efficient and budget-friendly podcast microphones on the list. It is a dynamic microphone with sensitive areas in the front, and this favors the microphone design too. So when it is adjusted on the boom arm, you can comfortably speak on the mic top.
Now, this is an XLR connector microphone, so there are a couple of things you can do to use it conveniently. For instance, you can connect it to a PA, mixer, audio interface, or studio kit and record your show, singing, voiceover, or other audio requirements. Or you can use an XLR to USB connector and use the microphone with other devices, such as a personal computer, Windows, or MacOS.
The microphone has a unidirectional/cardioid polar pattern, so you are mostly skipping out unwanted background noises, and it has forgiving off-axis audio, so even when you are not directly speaking on the mic, it is still recorded. The build quality of the microphone is amazing as it is made up of steel chassis, so it can definitely bear some falls but definitely not severe ones.
I like that you get a cable and a no-cable version of this microphone, so you can always save money if you already have an XLR cable. But unfortunately, there is no mic stand included; you will have to buy a different one. The package includes only a mono swivel mount and thread adapters, but it works really great with all the mic stands and arms.
Also read: How to Move from Blogger to WordPress? A Handy Guide
---
8. Rode NT1 5th Generation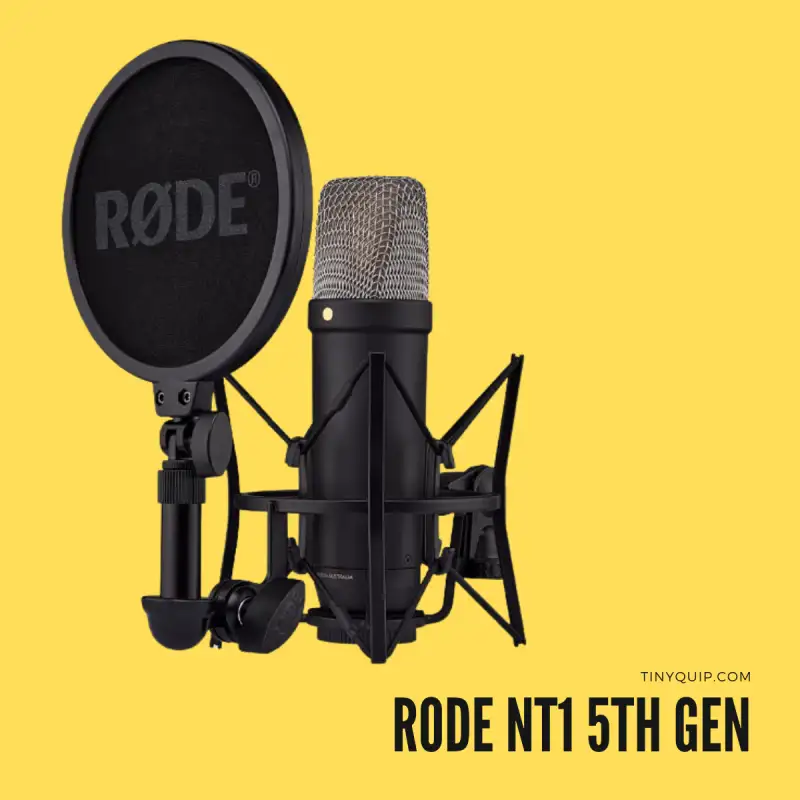 Specifications
Type of Microphone: Condenser
Connectivity: XLR, USB
Polar Pattern: Cardioid/Unidirectional
Audio sensitivity: 45 dB
Special Features: Battery-powered and includes cables, dust, pop filter, and shock mount
Condenser microphones are great when you have more than one speaker in the same room. But there are not really many great options in the list by far for a completely professional group podcast experience. And do note that I am here mentioning speakers in the same room and not a group podcast on a platform like Zoom, Skype, or another audio/video conferencing. For solo speakers, we already do have a lot of dynamic unidirectional microphones on the list.
Thankfully, this premium podcasting microphone comes with an XLR and USB connectivity. So, you can use it as any mic and not just with an audio interface or studio setup. The package includes a USB cable, an XLR cable, a pop filter, and a shock mount. Now, these are pretty useful and handy equipment that you will need now or in the near future.
Unlike most of the podcasting microphones on the list, Rode NT1 5th generation microphone is battery-operated. So, you can easily set up your podcasting environment anywhere and have no trouble with cable management, especially for video podcasts. However, if you are among those who do long shows, travel often, and always fall short on time; you might start missing the cable mics.
---
9. Rode NT-USB Mini Condenser Microphone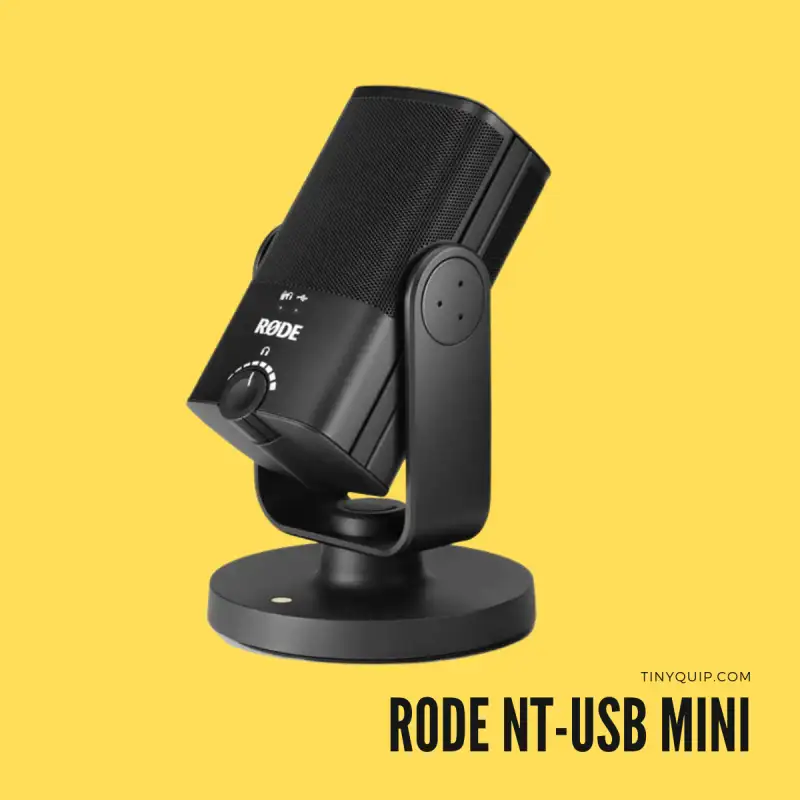 Specifications
Type of Microphone: Condenser
Connectivity: USB
Polar Pattern: Cardioid/Unidirectional
Compatible Devices: Personal computer, amplifier, headphones, and more
Special Features: Integrated pop filter and magnetic base
Rode NT1 5th Generation is a great model when it comes to professional podcasting, but it would still be a lot over budget for those who have just begun. Thankfully, there is a mini size of this podcast microphone, and it is called Rode NT-USB mini.
Rode NT-USB Mini is a lot similar in terms of features compared to the NT1-5th generation, but it has some of its own special features that make it stand out. For instance, the compact design and portability.
I would love to use this mic for solo and when I have guests on my show because it is a condenser microphone but with a cardioid polar pattern. So, the sensitive area is in the front, which will give me a good quality output meanwhile, since it is a condenser type, it will maintain the crispiness and pick some sound from the surroundings, such as your keyboard clicks, notifications, or dropping a huge jar.
I also love how compact and cute the microphone is, and the microphone is clutter-free; at the front bottom, you can find the volume wheel/dial to control the volume or even set your microphone to mute. At the back, there is a USB mini port and a headphone jack, so you can connect it up well.
It is a decent and great deal at this price, and I would recommend it to any beginner podcaster, any day.
Also read: OXO Sweep and Swipe | The Best Gadget Cleaner?
---
10. Shure SM7B | The Most Pro Podcasting Microphone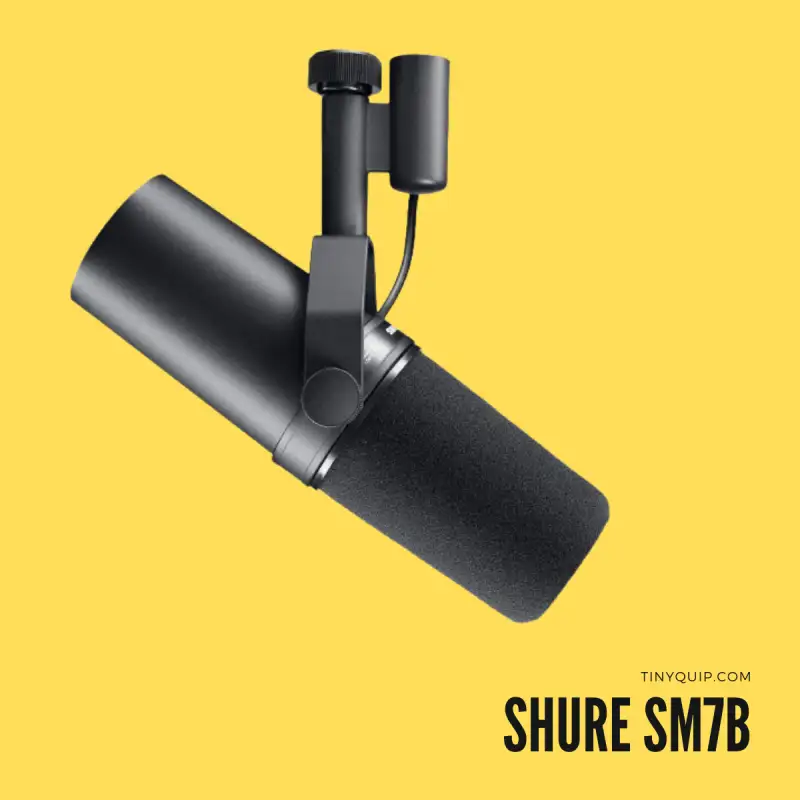 Specifications
Type of Microphone: Dynamic
Connectivity: XLR
Polar Pattern: Cardioid
Compatible Devices: Personal computer
Included components: Close-talk windscreen, foam windscreen, locking yoke mount
My list until now covers basic and mid-range microphones, but this one is special for pro podcasters. The Shure SM7B is a great quality podcasting microphone for solo podcasting; it is a dynamic microphone with an XLR connector, so you will get a lower frequency response and skip out most unwanted noise. On the other hand, the polar condenser pattern ensures to get a good hold of vocals from your guest speakers compared to any other podcast microphone.
The XLR connector demands you use the microphone with the interface, audio mixer, or studio setup only, but there is always a way to deal with it. Using Shure XLR to USB connector, you can always convert your XLR microphone to USB and use it with other devices like personal computers, karaoke, and more.
At such a price, you also get helpful accessories such as the close-talk windscreen, foam windscreen, and a locking yoke mount to connect a studio arm.
In my opinion, if you are a podcaster with a huge fan base or have been in the industry for a long, this is the microphone you need. Everyone else who is still starting out, or is at an intermediate level, can use the other microphones on the list as they are powerful, filled with quality features, and still do the most job at a lower price.
It is sure-shot one of the professional and best podcasting microphones to have in your dream studio.
Also read: ExpressVPN Review | Why is this the Best VPN Service?
---
Wrapping up: The Best Podcasting Microphones for Your Next Shows
If you're looking for a budget-friendly microphone for podcasting, a microphone for around $100-$150 should be sufficient. However, as you grow and become a bigger player in podcasting, it's worth investing in high-quality mid-range microphones that can range from $150 to over $250. And for all those full-time professional-grade podcasters, there are some amazing choices that can range from $300 to over $500 and give you the best sound and quality.
To make things easier for you, I've compiled a list of the 10 best microphones for podcasting. Each microphone has its own unique features and is suitable for different types of podcasters. From the affordable Rode PodMic to the professional-grade Shure SM7B, this list has something for everyone. I recommend doing further research and considering factors such as your budget, type of microphone, connectivity, polar pattern, and compatibility with other setup options before making a final decision.
I hope that this guide has provided you with a better understanding of what to consider when choosing microphones for podcasting and has helped you narrow down your options. Drop all your views about this guide in the comments section below.
Before You Leave
Get Our Prime Content Delivered to your Inbox for Free!! Join the Ever-Growing Community… Right Now.
Give this article a quick share,
If you like this article, do give this a quick share on your social media handles, and do tag us. Also, join our Telegram channel, Facebook page, and Twitter to never miss a quick update.
Happy podcasting!
Some Catchy Line to Grab your Attention
Get Our Prime Content Delivered to your Inbox for Free!! Join the Ever-Growing Community… Right Now.