Want to pick a name for your podcast show or looking for good podcast name generators? Your search ends here.
They say all you need to do is start, and things will follow. Podcasts pretty much work the same; once you start recording, you understand it better, and things follow later. But one thing that is challenging even before recording a show or writing a podcast script is choosing a name for your podcast.
I once tried almost 50 podcast name generators to pick a podcast name for my friend. And guess what? They were all rubbish.
Your podcast name should reflect what your show is all about, it should match the vibe, and most importantly, it should be catchy and easy to remember. Most podcast name generators I came across just randomly mixed alphabets and popped them on my screen. While a few of them actually gave some sensible names that one could use.
Be it choosing a name from a podcast name generator or creating your own, let's understand in more detail how you can pick a podcast name that reflects your show.
Welcome, this is Ashutosh, and here I am with a Tiny Quip guide on how to pick a podcast name and notable podcast name generators.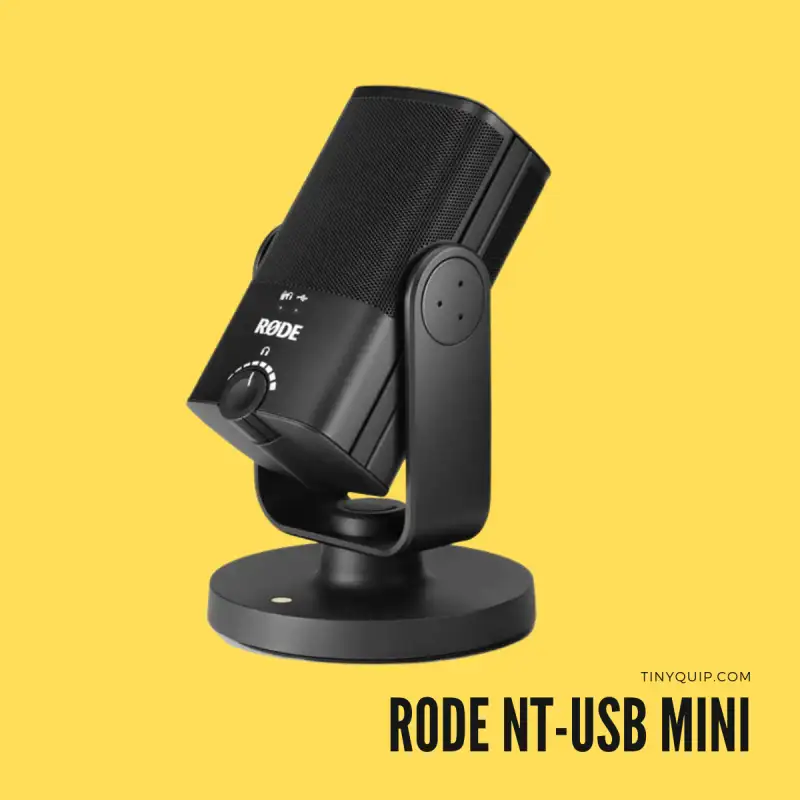 Your Audience is Yawning
Two things can make your audience sleepy while listening to your podcast. One is a boring script, and the second is poor audio.
Here are my favorite 10 best microphones for podcasters that will make you sound-sick professional. And also budget-friendly for beginners and professionals.
Also Read: How to Clean Your Podcast Microphones? A Handy Guide
How to Pick a Podcast Name: The One That Reflects Your Purpose
The podcast name is one of the few notable things your audience will notice even before they start listening to your show. It almost serves as the first point of engagement with your audience, and if they don't resonate with the name, it is likely they will be less interested in listening to your show.
Also, a podcast name reflects your personality, theme, and type of content your potential audience will enjoy. If you are sticking with a boring name, you might lose some points and definitely on building a community. Most podcast names are catchy and short and include an emotional connection with your audience. However, in some cases, we may consider what Shakespeare once said, 'What's in a name?' and focus on a better approach towards content, mostly with educational and research podcasts.
So, here are some tips on creating compelling podcast name ideas for your next show,
1. Define your Podcast Theme
If you are going to build a community, it is important that your podcast has a direction and a theme. Ask yourself what your podcast show is about and what you are trying to convey with your expertise. Know your target audience in both micro and macro niches and learn what you will bring to the table.
When you have a clear vision and clarity about what your podcast show is about, choosing a podcast name becomes a lot easier.
Also Read: Download Podcast as MP3: The Only Guide You Need
2. Brainstorm Keywords and Phrases
Once you have your theme decided, the next thing to do is jot down a list of keywords or phrases that relate to your concept. These can be emotions, adjectives, or other words that can capture your audience's attention.
To reflect your persona, use your voice and style to come up with the name. Another common trait that most podcast creators use to create a personality-related name is to use their own name in it. A classic example is "The Joe Rogan Show," and the name itself reflects the powerful brand persona of the creator and leaves an impact.
I prefer writing all the names in a list and then start striking off, which seems less relatable and catchy. This makes it easier for me to stick with names that can sound more relatable to the theme and then start experimenting with it with the next steps.
Also Read: Podcast Cover Art Guide: Size, Logo, Dimensions, and More
3. Descriptive Phrases are Always the Best
Using trendy and pop-culture references for your podcast name is a great idea but think of it as a short lifespan of your show. Trends and culture are dynamic and keep changing, you can use the hints of those, but it is better to use more descriptive or defining phrases.
Also, avoid using longer texts; shorter phrases are easier for the brain to understand and stick in for a longer time. If you are going to include some catchy phrase, it will butter it up for the better.
4. Check if your Podcast Name is Unique
Your podcast name is supposed to be unique as it represents a brand. No doubt, you can have two podcasts with the same name, but it unnecessarily creates confusion and clash among the audiences, and eventually, you might think to change it later. This can damage your brand persona, and you will have to rebuild the brand again.
The best way to look if your podcast name is taken is to look up the major podcast directories and google the name first. If a podcast name sounds similar or exactly the same, it is best to avoid it and create something unique of your own.
It is the digital era, so it is best to look up social media and web domains to know if your podcast name is already taken for something else. It may be a cooking show or a website with similar or varying information. At some point in time, you will be promoting your podcasts, so it is best to have the availability firsthand and register it then and there.
Also Read: Podcast RSS Feed: Everything You Need to Know
5. Test It Before Using
Your close kins, friends, family, and colleagues are often your biggest supporters; they always want to see the best out of you. So, when you have a podcast name, show it to them, and discuss if the name reflects your style and vibe and matches the theme around which you love creating content.
Their feedback should help you with insights, preferences, and perspectives that you might have missed considering.
Also Read: Podcast Covers: 7 Best Apps to Create Stunning Podcast Cover Art
---
Best Podcast Name Generators
Now that we have an idea of what an ideal way is to pick up a podcast name, you can use your creativity to come up with a creative and catchy phrase. But what to do when you are out of the creativity fuel? In such a case, you can use podcast name generators that create a unique podcast name for you.
But I suggest you do not completely depend on these podcast names as they are a mix of phrases from a huge database and, at times, make no sense.
Here are some the notable podcast name generators to come up with a unique podcast name for your next show,
| Tool | Description |
| --- | --- |
| Castos | Castos podcast name generator is one of the best tools I came across. The suggestions were not that great, but they were unique and catchy. |
| Riverside | You can find a few suitable names for your podcast here, but most of these can sound similar to the existing podcast shows as the database is trained on 1 million podcast names, and ultimately, it's a mix and match of the same. |
| Welder | Welder is another great tool that can help you generate a name for your podcast. What I like about this tool is you get to describe your podcast theme, and based on the description, a suitable name is generated. |
| Spotify | A personal favorite, this tool is great for generating catchy and modern podcast names for your show. The only issue is you have to keep pressing the push button until you find a suitable name. Also, you cannot enter any phrase of yours as the other tools let you do. |
| ChatGPT | No, I am definitely not pumping the hype, but it is worth checking ChatGPT to generate a podcast name for your next show. What I love about this tool is you can express all your ideas for the podcast name, and the tool will then generate a name based on your choices. |
These are some of the helpful tools that should make it easy for you to pick a podcast name for your next show. You can always tweak the name with these tools to add a vibe and style of yours and then use it on your podcast.
---
Frequently Asked Questions [FAQs]
Why is choosing a podcast name important?
Your podcast name is the first point of engagement with your audience. It reflects your show's personality, theme, and the type of content your potential audience can expect. A catchy and relatable name can pique interest and attract listeners, while a boring or unclear name may result in a lack of interest and reduced engagement.
Can I use a podcast name generator to come up with a name?
While podcast name generators can be helpful for generating ideas, it's important not to solely rely on them. Many generators mix and match phrases from a database, leading to nonsensical or unoriginal suggestions. Use them as a starting point, but always customize and refine the names to match your show's unique style and personality.
What are some notable podcast name generators to consider? 
There are several podcast name generators available, but here are some noteworthy options: Castos, Riverside, Welder, Spotify, and ChatGPT.
Should my podcast name include my own name?
Including your own name in the podcast, title can be an effective approach, especially if you have a strong brand persona. Names like "The Joe Rogan Show" showcase the host's identity and create a powerful connection with the audience. However, it's not necessary, and you can explore other descriptive and engaging names that match your content and style.
What if the podcast name I want is already taken? 
If your desired podcast name is already in use, it's best to avoid using it to prevent confusion and potential legal issues. Instead, get creative and brainstorm alternative names that reflect your theme and are unique to your brand. Ensure the chosen name is available as a web domain and on major social media platforms for consistency in branding.
Before You Leave
Get Our Prime Content Delivered to your Inbox for Free!! Join the Ever-Growing Community… Right Now.
Give this article a quick share,
---
Wrapping up: The Best Podcast Name Generators and Picking a Name Guide
This pretty much wraps up the simple and effective guide on how to pick a podcast name. I suggest you go through these steps each time you come up with a name to make the entire process easier for you. If you are running out of ideas, you can also use podcast name generator tools to generate a name for your podcast. Some of the best options are "Castos," "Riverside," "Welder," "Spotify," and "ChatGPT."
I hope this guide on podcast name generators and how to pick a name for your podcast helps you out. If there are any new ideas that I missed out, do let me know in the comment section of this guide. If you like this article, do give this a quick share on your social media handles, and do tag us. Also, join our Telegram channel, Facebook page, and Twitter to never miss a quick update.
Some Catchy Line to Grab your Attention
Get Our Prime Content Delivered to your Inbox for Free!! Join the Ever-Growing Community… Right Now.