AirTags are Apple's one of the most valuable products after the Airpods, and we are crushing over them. You can buy several accessories for your Apple AirTag and make it look more cool, comfortable to use and keep it safe.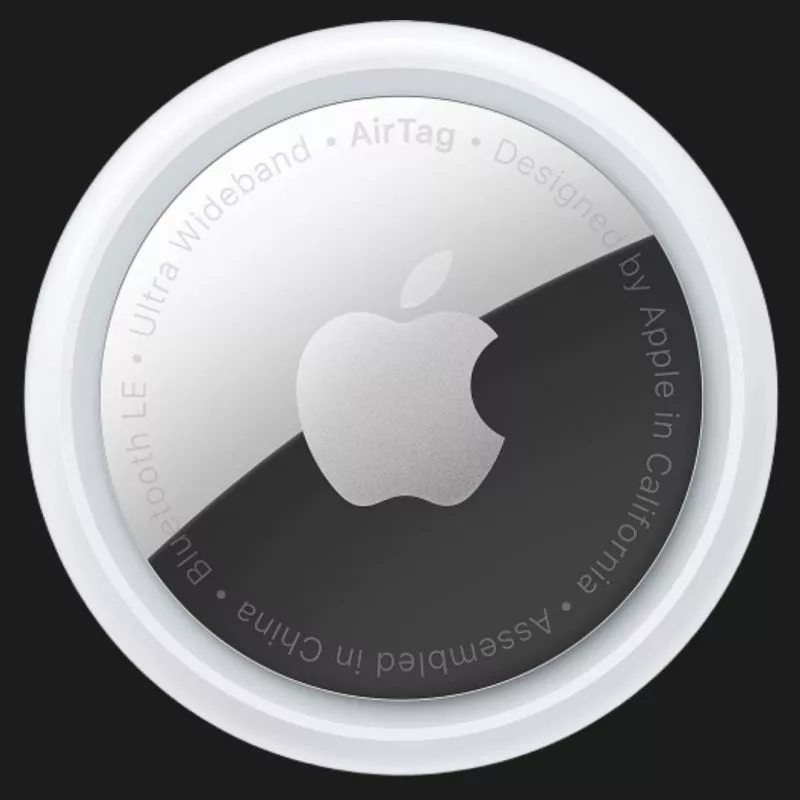 Buy Apple AirTags
Features
Keep track of and find your items alongside friends and devices in the Find My app
Play a sound on the built-in speaker to help find your things
Precision Finding with Ultra Wideband technology.
Put AirTag into Lost Mode to be automatically notified when it's detected in the Find My network.
Replaceable battery lasts over a year.
AirTag is IP67 water and dust resistant.
11 Best AirTag Accessories
There are several accessories such as cases, key rings, and protective full-body covers for AirTags. However, it must not be easy to find valuable and genuine products. This is why we have handpicked some of the best AirTag accessories for you. Our top picks for AirTag accessories list the best and filter them based on types and material.
Here is the list of best AirTag accessories.
The AirTag Basics
1. Protective Film for AirTags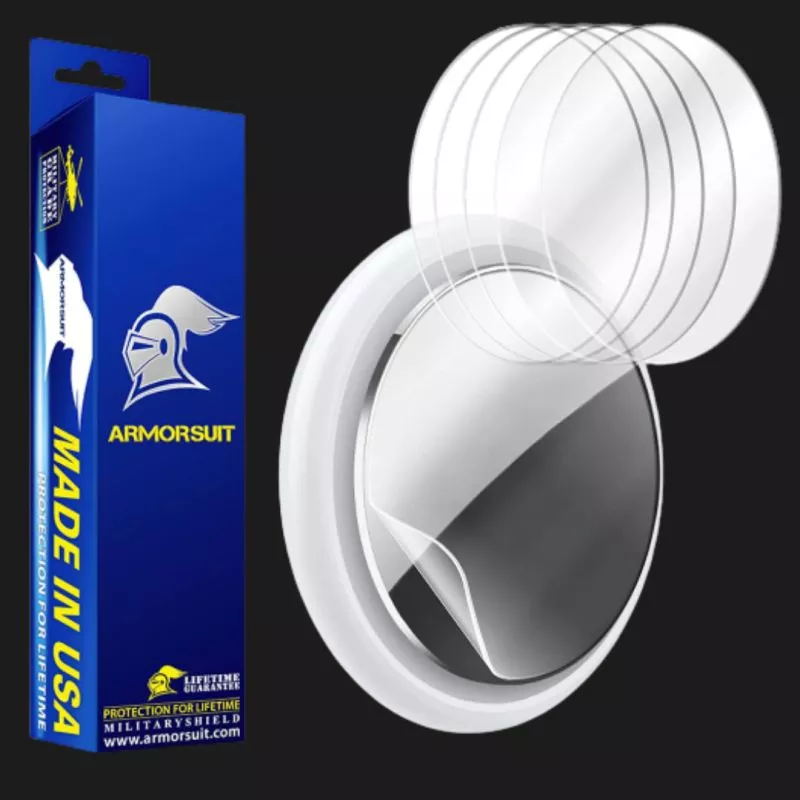 Features
Pack of six protective films.
Military grade protection shield.
Fits with any case.
Bubble free and self repairing.
Flexible film.
Smooth touch.
Say no more to fingerprints.
Easy installation.
AirTags are small and can get easily damaged or scratched; ARMORSUIT protective film ensures you protect the AirTags with a shield. This is a pack of six protective films with military-grade shield protection; not that it can stop a bullet but protective against UV, yellowing, scratch, fingerprints, and dust on your AirTags. They are always in HD clarity.
Most AirTag protective films are thick, and it gets difficult to place them in keychains, straps, rings or loops. ARMORSUIT protective films are thin compared to other films like you haven't used any protective film at all. It perfectly fits with any case, and your AirTags are good to lose. So, you can find them easily.
This protective film uses a wet installation method to avoid any bubbles, and if there are any, they will disappear by 24 hours. Besides, if you accidentally give a minor scratch to your AirTag after installing ARMORSUIT protective film, the scratch is self-repaired. This is one of the best things we loved about this protective film.
After installing ARMORSUIT protective film, you can find them to fit perfectly around the edges; this flexibility is what makes ARMORSUIT protective film a perfect choice. Besides, the film is so smooth; you won't feel like it exists on your AirTag. At last, one of the important objectives of ARMORSUIT protective film is the fingerprint resistance surface. Keep your AirTags fingerprint free and like new.
---
2. AirTag Front Pocket Minimalistic Wallet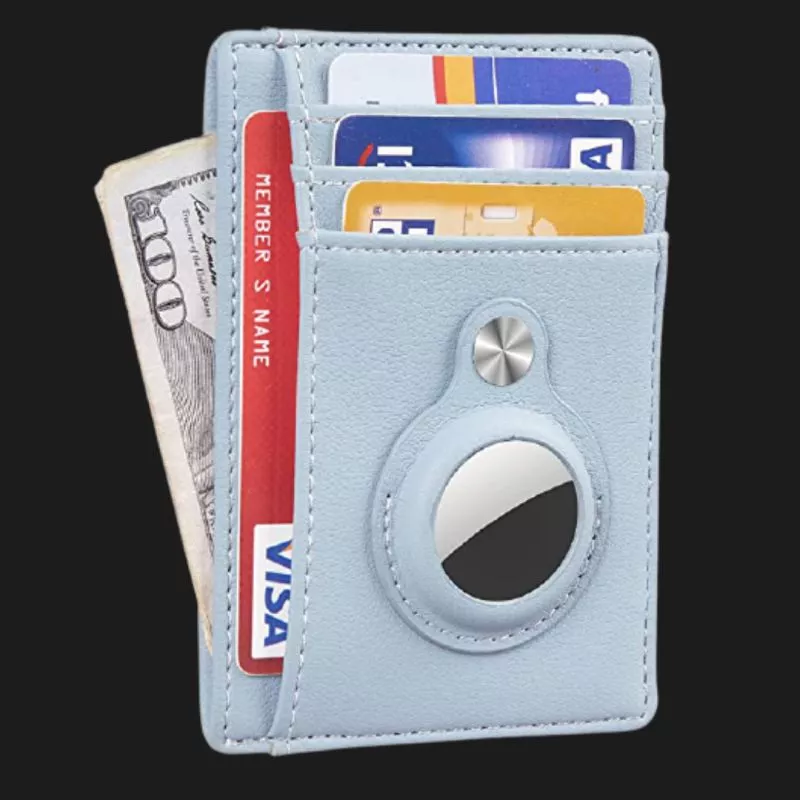 Features
Available in 4 colours.
Slim and minimalistic.
Can store upto one ID card, 5 credit cards, and 6 folded bank notes.
Fits perfectly in back and front pockets.
Best with ARMORSUIT Protective Film for AirTags.
Losing a wallet is easy, be it at work, cafe, travel or home. If you often find yourself stuck with losing wallets, this is the perfect replacement for you. This minimalistic wallet is slim and easy to carry in front and back pockets, bags, and jackets.
You can carry one ID Card, 5 credit/debit cards, and 6 folded banknotes easily with this wallet. It is a perfect choice for everyday use, and besides, it has an AirTag holder. So, you are never losing your wallet again. Use the find my device and track your wallet in seconds with AirTag support.
There are 4 colour options to choose from; black, blue, red, and pink champagne. You can buy the perfect colour of wallet that matches your taste and combinations.
Also read: How to Fix AirPods Not Connecting or Working
---
3. AirTag Cardholder for Wallet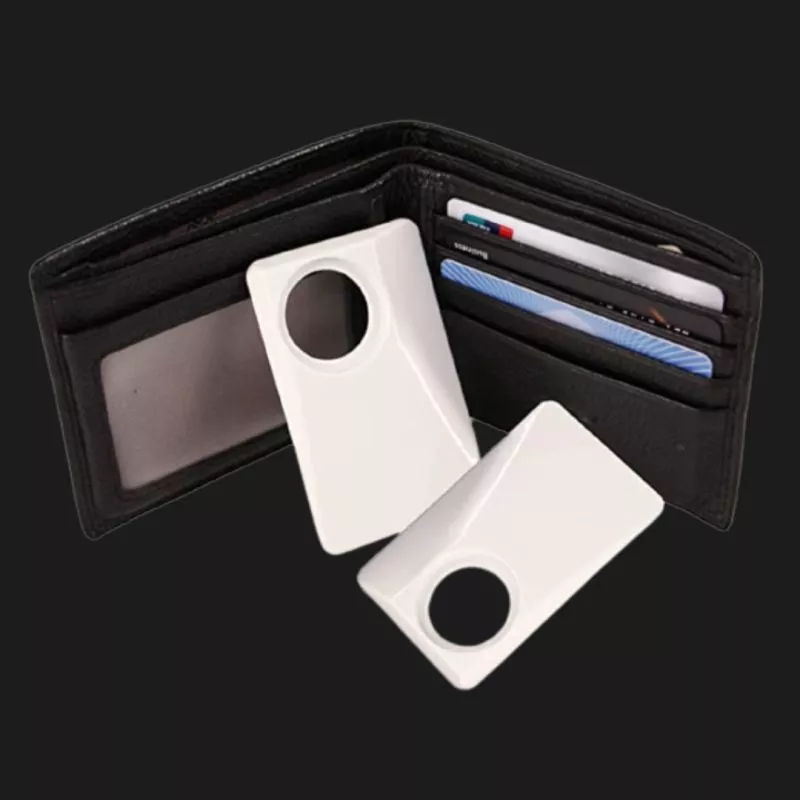 Features
Credit card sized.
1mm thickness.
Fits in both small and large wallets.
Protect your AirTag and also hold it in one single place.
Fits perfectly.
Lightweight and suitable for wallets and handbags.
Safely secures your AirTag.
I already own a new wallet and don't want to replace it anytime soon, is there a way to securely place AirTag in a normal wallet? Yes, there is, and it is the AirTag cardholder by CraftBay, a credit card-sized holder for AirTags.
There are dozens of cardholders available online, but with a common problem, the thickness. This AirTag cardholder may look simple but makes it easier for you to carry. It perfectly fits in small and large wallets, securely holds your AirTag, and keeps it in place.
Also read: How to Take a Scrolling Screenshot on iPhone?
---
4. Raptic Link and Lock AirTag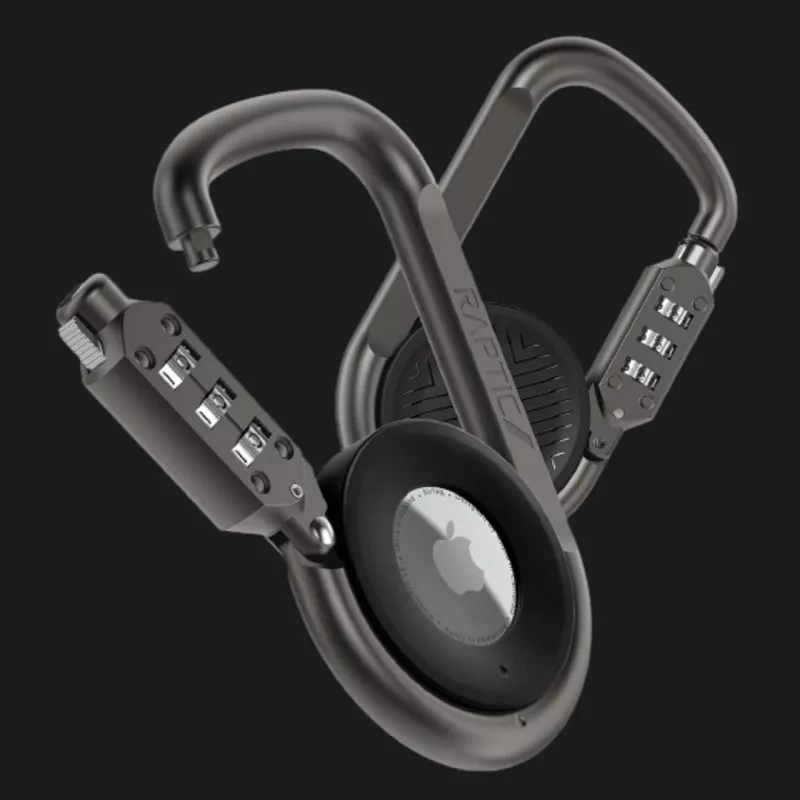 Features
3 digit combination code.
Durable body made of casted zinc.
AirTag with carabiner to hold on various items.
Easy to use and carry.
We use a link and lock every other day with luggage, bike, backpacks, and so on; there are several applications of it. However, Raptic has taken a step ahead and have remodelled the design to be able to hold an AirTag making it one of the best AirTag accessories.
Likewise, to the traditional link and lock, you can find a three-digit passcode to unlock and lock the belongings using this accessory. All you need to do is hook the AirTag carabiner to your belonging and shuffle the passcode.
The inner model of Raptic's link and lock includes a soft cushion that can hold your AirTag stiffly and also ensure it doesn't come off easily. Apart from the soft cushion, the entire body is made up of casted zinc which is best in surviving the harsh outside weather, dust, grime, and give durable protection. This is one of the must-have AirTag accessories in your backpack.
Also read: Mac Keyboard Not Working or Unresponsive? Here is How to Fix it.
---
Best Keyrings and Keychains | AirTags Accessories
Here are the best and innovative key rings for AirTags; It is comfortable to use AirTags with keyrings as they can be hooked anywhere, such as backpacks, keys, jeans, and more.
5. Leather Key Rings for AirTags | Apple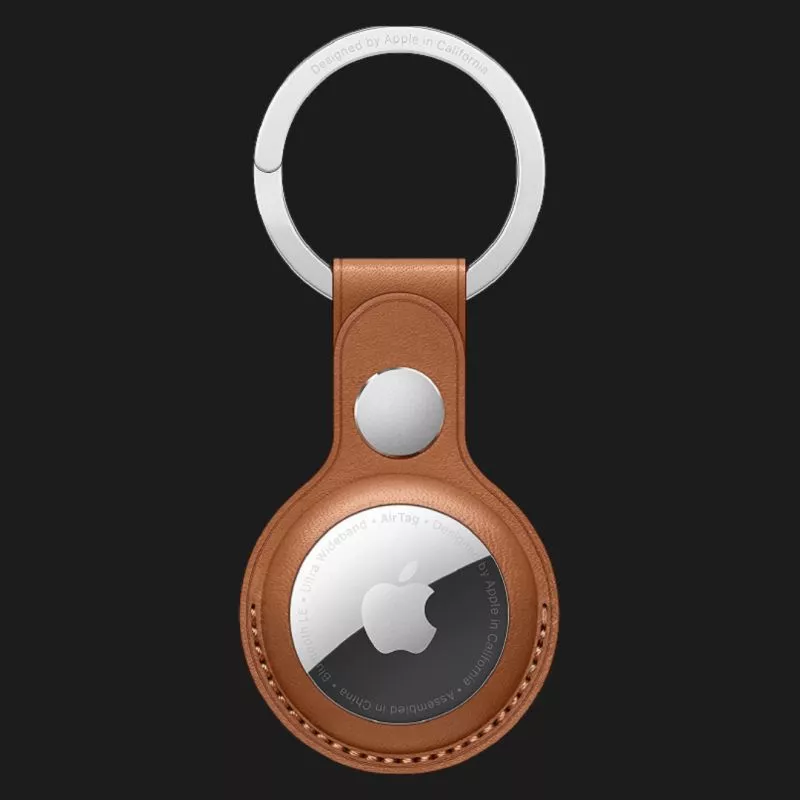 Features
Premium feels.
Finest leather.
Tanned and soft to touch.
Fits the AirTag perfectly.
Strong stainless steel to last long.
Available in six colours to match your combination.
Best with ARMORSUIT Protective Film for AirTags.
One of the most premium add-ons for AirTags sold by Apple, this leather keyring is a must-have. It is made of the finest materials and tanned leather, making it soft to touch and giving you all the premium feels.
Unlike other key rings, this one from Apple actually fits the AirTag perfectly; So, you never have a fear of it falling. Besides, this leather keyring for AirTag is meant to last long due to the finest materials used. Be it the European tanned leather or the striking stainless steel; this is the perfect key ring for your AirTag.
With this keyring, you can hook your AirTag anywhere, be it your dog leash, keys, Jeans, or tossing it in your backpack. Besides, the premium feels, and quality makes it stand out against all the others.
Hey, I'm not too fond of Saddle brown or tan colour; Don't worry, these leather keyrings are available in six different colours to choose from. The best part, the quality shines through them and why not? Apple sells them.
Also read: List of all iPhone Models: Every iPhone Model Since 2007
---
6. Caseology Keychain for AirTags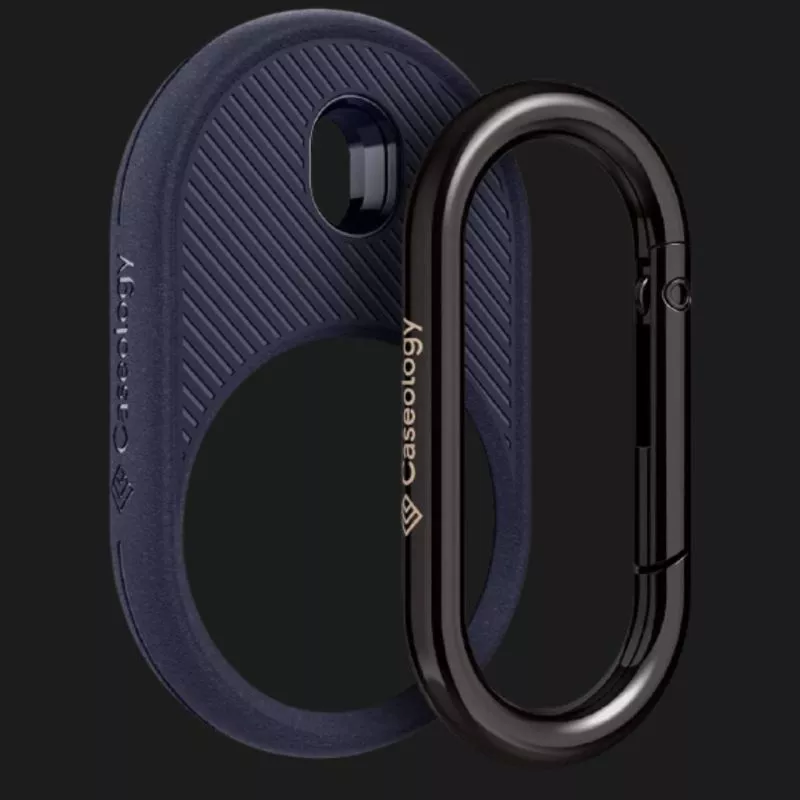 Features
Compact and protective design.
Durable and tough.
Waterproof AirTag case.
Sandstone textured thermoplastic polyurethane material.
Open design to avoid signal disturbances.
Attach to anything with the durable carabiner.
Available in three colours: Deep Navy, Matte Black, and Urban Gray.
Best with ARMORSUIT Protective Film for AirTags.
The breathable, stylish, and compact plastic keychain for AirTags, Caseology, is one of the best choices. It has an open and protective design, durable against sturdy use, and the best part, the entire keychain is waterproof.
This AirTag can be hooked to anything from your backpack to pet collars; the compact and protective design is suitable for everyday use. Besides, it has an easy installation. Unlike the other keyrings or keychains, you don't get a button press to hold your AirTag, all you need to do is press it, and the AirTag will sit perfectly in the case. However, this is also a problem for some users as a little pressure would also bring the AirTag out of the case.
Also read: Does Walmart Take Apple Pay?
The open design gives your AirTag sufficient space to breathe and have no signal disturbances. However, this non-breathable space is not a big problem for AirTags; Apple AirTags have a strong signal game.
---
7. BRG Rugged Keychain | Popular AirTag Accessories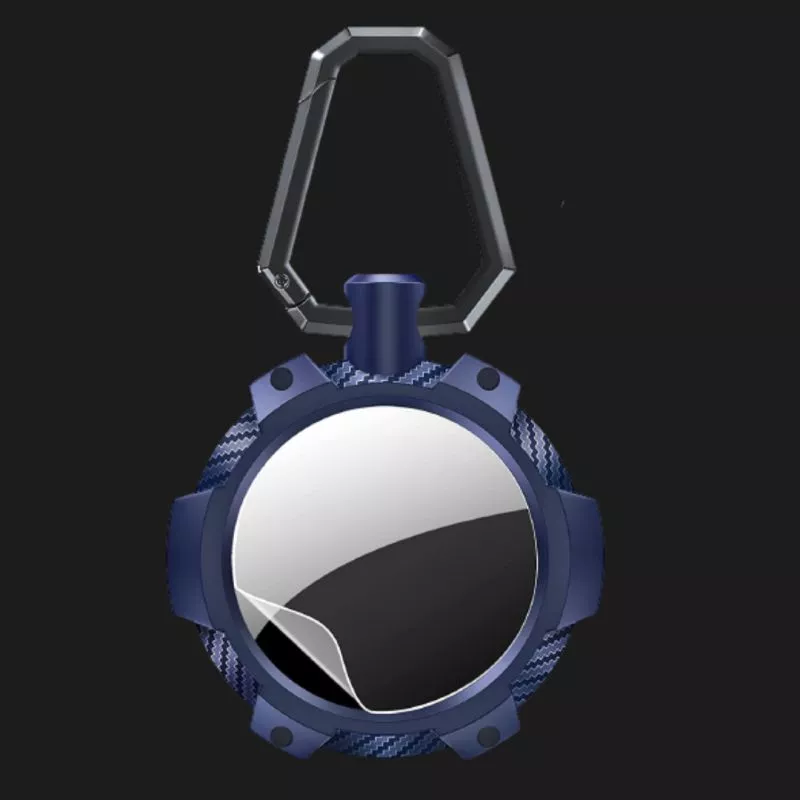 Features
Full body shockproof.
Soft silicone material.
Six shockproof edged design.
Rugged AirTag keychain.
Semi open design.
Extra screen protector films included.
Available in 4 different colours to match your taste.
Are you a traveller, gym enthusiast, or love doing rugged jobs? It would help if you had no other AirTag keychain than the BRG rugged keychain for AirTags. This is the perfect choice for those who love doing rough jobs or using AirTags roughly or in a harsh way. The six cornered, rugged shockproof designs keep your AirTag protected even when you accidentally drop the AirTag.
We love using this AirTag keychain for travelling purposes because of the design. Be it hiking or adventure in terrains; this AirTag keychain ensures your AirTag is safe. Apart from the design, this AirTag keychain is also soft textured and has a shockproof design.
The semi-open design ensures your AirTag can breathe, but you always risk getting your AirTags scratched from both ends. Two protective films for the front and two for AirTags back are included with the package to solve this problem. So your AirTags are protected from all the directions; a perfect representation of 360-degree protection.
Also read: AirDrop Not Working? Here is How to Fix it.
All these features but don't like the colour? Don't worry; there are four colours available to choose from. Match them to your Bags, Pet's collar, or anything you don't want to lose. Get these rugged AirTag keychains right now.
---
8. Protective Leather Keychain Cover for AirTag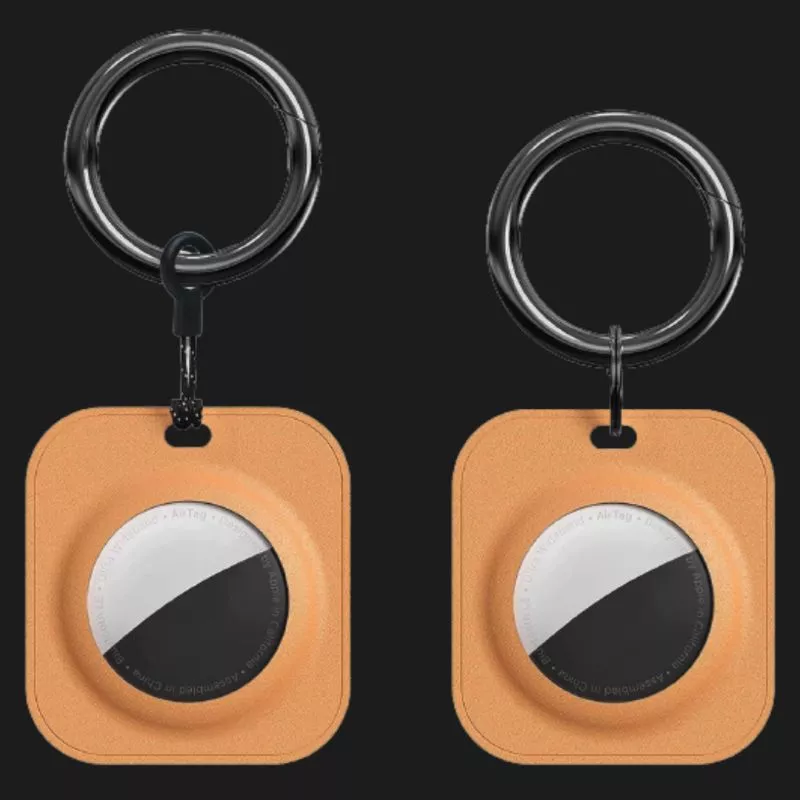 Features
Best against bumps and scratches.
Easy to hook with anything.
Resistant to wear and tear.
Pack includes 2 * keychain and 2 * Lanyard.
Unobstructed signal with no possibility to fall.
Protective film included inside the leather cover.
Available in 4 colors to match the trends.
The TROPICALTREE orange leather protective cover for AirTag is one of the best options to ensure your delicate AirTag is safe. Easy to hook with anything, say dog leash, backpacks, travel bags, or anything you don't wish to lose.
What makes this leather protective keychain different from other AirTag keychains?
This protective leather case includes a 2 layer of natural leather protection with 2 modern keychains; this makes the TROPICALTREE leather cover much better than other protective keychains. Apart from this, the internal cover includes protective film resisting scratches and bumps on your AirTag.
The protective film does not interrupt the signals to your AirTags; they work perfectly in the cover as they did outside it. The leather used is natural and resistant to wear and tear.
---
9. Transparent AirTag Keychain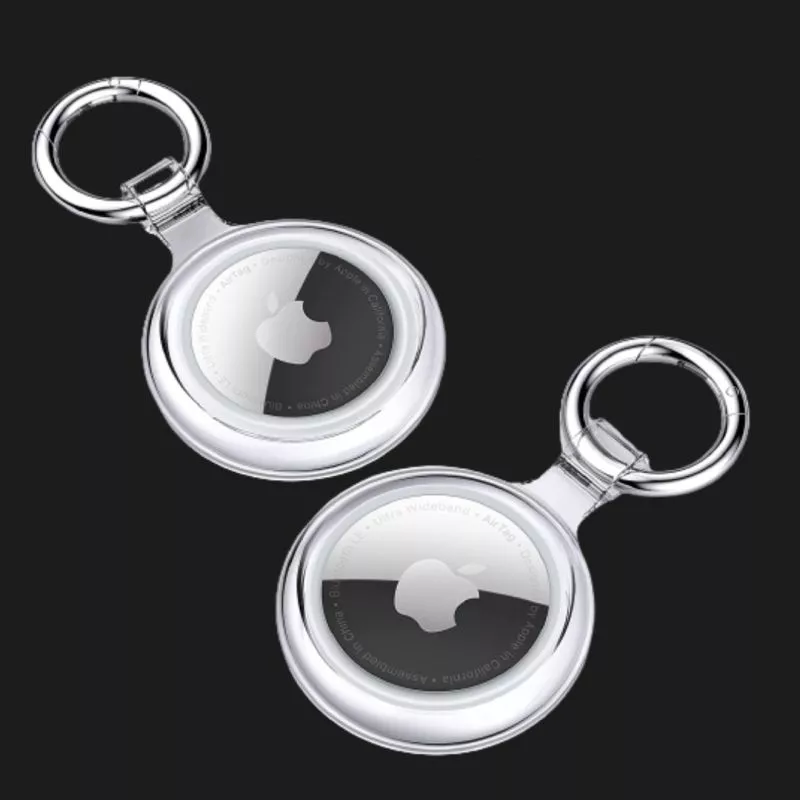 Features
2 Pieces of keychains and 4 protective films for AirTags in the pack.
Transparent keychain design.
Securely holds the AirTags.
Scratch and fingerprint resistant, shock and shatter proof.
Bubble free and self repairing.
Made of high-quality TPU material.
Don't want fancy leather on your AirTags, get these transparent AirTag keychains with advanced features. The pack includes two keychains and 4 protective films to ensure your AirTag is protected and you use them worry-free every day. Just like the ARMORSUIT protective film, the films included with these AirTag keychains are bubble-free and self-repairing. That said, protective films use wet installation technology and leave no bubbles in most cases. If any bubbles are left, they shall disappear by 24 hours. Besides, the self-repairing film relieves your worries by healing any scratches on your own; no film replacement is required.
Also read: iPhone Camera Not Working or Freezes? Here is How to Fix it.
This AirTag keychain is soft and made of high-quality TPU material. Use it anywhere from dog leashes to travel bags or college backpacks. It is flexible and modern in design. The carabiner uses a new and more convenient way to fit in keyrings over the traditional ones.
---
Best AirTag Loops and Straps
Straps and loops are the easiest way to carry around and tag to your most precious belongings you are afraid to lose. If you are among those who usually misplaced your valuable items, you can use the AirTag loops or straps to tie them and track when you misplace them. Straps and Loops are one of the convenient ways to attach your AirTag and are one of the best go-to accessories.
10. Apple AirTag Leather Loop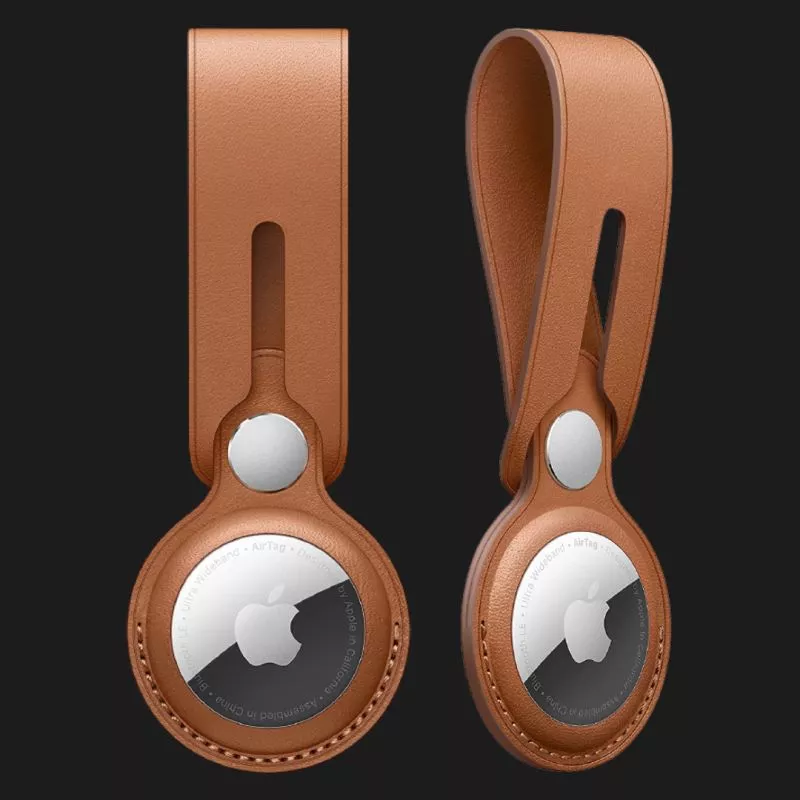 Features
Available in 6 colours.
Specially tanned European leather.
Firm and durable.
Premium look and quality.
AirTag not included.
Apple AirTag leather loop is one of the best and must have Apple AirTag accessories; you can easily hook the AirTag to various items such as a backpack, Umbrella, and any other items that you wish to hook it on. The body is made up of specially tanned European leather for long term use and high-quality premium touch.
This AirTag leather loop is available in multiple colours such as Meyer Yellow, Saddle Brown, Red, Baltic Blue, Forest Green, and California Poppy. You can quickly hook the AirTag loop and be assured of the fittings; the hooks are firm and the AirTag can sit precisely in its position and never fall until you remove the hook.
Also read: 6 Best Notes Apps for iPad and iPhone
One of the disadvantages we personally feel about the design is the AirTag is exposed to outer conditions. In such a situation there are good chances of getting dust, grime, scratches, and other weather conditions to damage your AirTag. You can pair it with ARMORSUIT Protector Film to ensure your AirTag is safe though it is exposed.
---
11. Nomad Glasses Strap for AirTags™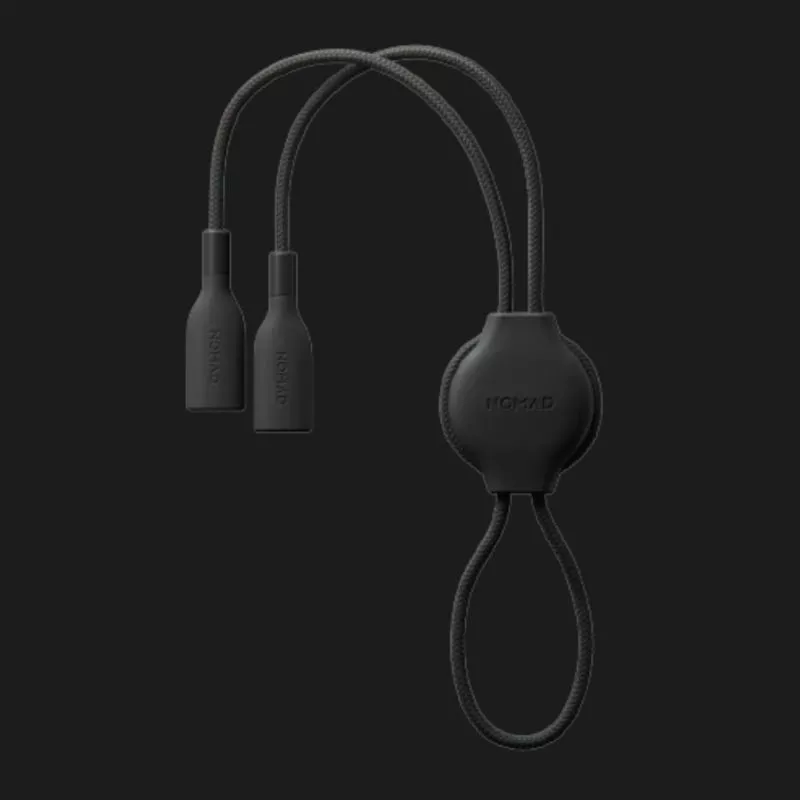 Features
Pop-in holder for AirTag
TPU rubber AirTag holder
TPU rubber glasses attachment points
Universal glasses attachments
Made of hard plastic at the ends and a TPU lightweight but tensile strong holder, this is a perfect option for those who don't want to misplace their glass or drop them on a trek or adventure. Nomad is a creative and quality perfect brand and with these glass straps, you are never misplacing your glasses.
You must be wondering with the AirTag, the strap might be a little weighted and one may feel uncomfortable wearing them. However, Nomad's brilliant engineering has ensured the straps are lightweight despite the AirTag on them. It is easy to change the AirTag and it fits perfectly well.
Also read: How to Fix iPad Pro is Not Charging or Slow Charging Issue?
---
Apple AirTags
Apple's AirTags are next-gen innovation that helps you to find your lost items by using the Find My Device app. The AirTags are button-sized small devices costing approximately $29/AirTag and a bit lesser when buying a pack of 4 from Amazon.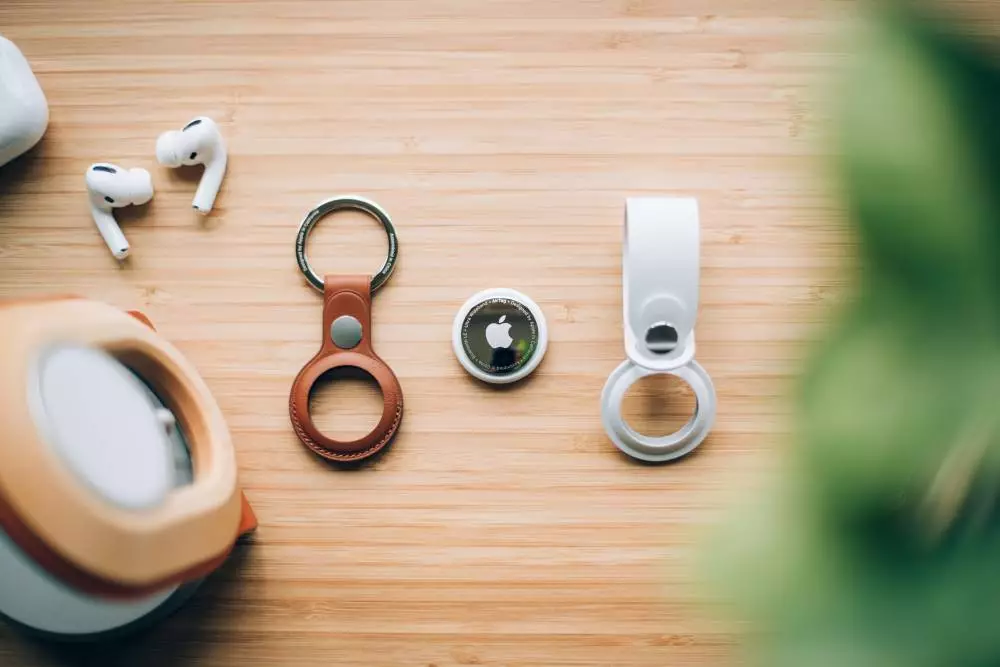 These small devices can help you find your device with precise navigation, as clean as 9/10 each time. All you need to do is unwrap the sheets and, in the end, pull them. This way, the battery circuit is closed, and the Airtags are ready to use.
To activate the AirTag, bring it near your iPhone and wait until a pop-up similar to the share wifi password pops up.
Now, give a name to your AirTag, such as keys or bags and then sign in using your Apple ID and phone number. The process is done, and you are ready to roll.
Also read: 7 Best Third-Party App Store Alternatives To Try
How to Use Find My Device to look for the AirTag?
Open the Find My Device app on your iPhone.
Drag the bottom menu and you can find your AirTag listed. Do remember to correctly name your AirTag and tag it to the right object such as keys and bags.
Now, you can get the navigation to your device when it is far away. Besides, you can play a sound to get quick notice of your AirTag.
What if your AirTag is at a Distance?
There is a certain working range under which the AirTags work and if you are in close proximity, it will be easy for you to find your AirTag using the Find My Device. But what if the AirTag is too far away, like another city or town? Can your AirTag be detected? Could you be able to find your belonging?
Apple engineers have well thought about this issue and there is a way you can get your AirTag and the belongings back. When your AirTag is away from your detectable range, it starts connecting to the nearby iPhones and pops up a message with your information. This way, you are constantly shown its location and the nearby iPhone user can contact you and get back your items.
There is also a way Android users can view a found AirTag without having the Find My Device app; Using the NFC feature on Android devices, users can connect to the AirTag and get relevant and contact information of the owner.
Also read: 25 Best MacBook Pro and Air Accessories
Final Words | 11 Best AirTag Accessories
AirTags are one of the coolest new devices launched by Apple and you wouldn't want to use it naked. The above listed were some of the best accessories you can buy to use AirTag in your everyday life; the best and one of the most important accessories is the protective films that help in protecting the AirTag from external conditions regardless of what AirTag accessories you use along with it.
What are your favourite AirTag accessories? Do let us know in the comments and we will add them to the list.
Some Catchy Line to Grab your Attention
Get Our Prime Content Delivered to your Inbox for Free!! Join the Ever-Growing Community… Right Now.