iPad and iPad Pro are well-known for note-taking, and there is no doubt why users love making cool and appealing notes. I have always stumbled upon YouTube videos that show how to make creative notes on iPad and iPhone. But hey, I lack those creative things, and I am impatient. If you are like me too and are lazy making such notes, here are the 6 Best Notes Apps for iPad, iPad Pro, and iPhone.
Also read: How to Save Battery Life on iPhone [New Guide + Case Study]
6 Best Notes Apps on iPad, iPad Pro, and iPhone that We Love
Apple Notes are one of the most loved apps, and in our earlier posts, we discussed how to pin and unpin Apple Notes. Though Apple Notes are good, they are not up to the mark to create much more creative note-taking with design and colors. In this guide, we mention them all. Here are the 6 Best Notes Apps on iPad, iPad Pro, and iPhone.
Also read: How to Get iPad Engraving in India and Should You Get it done?
1. Notability
Notability is one of the most popular note-taking apps with a versatile set of features. It is great for multitaskers and allows editing multiple notes at once. You can annotate PDFs, and images, highlight texts and do pretty much anything. Notes taking have become more creative, and Notability gives almost all the features.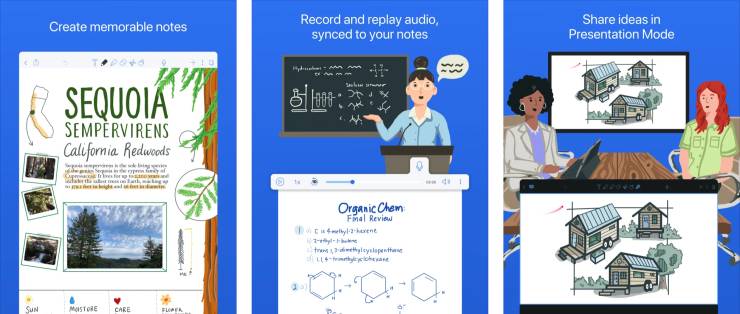 iPad and iPad Pro users with Apple Pencil can draw doodles to annotate anything and everything. The app has an easy-to-use interface with dozens and dozens of features. One of our favorite features of Notability is annotating and creating notes on saved web pages. You can mark and annotate important sections and prepare notes for references.
This notes app includes pencils of different colors, shapes, images, OCR, audio recording, doc scanner, and cloud storage. The OCR feature converts digital typing into handwriting for creating more personalized and creative notes. If you have misplaced your Apple pencil or using Notability on iPhone; this is one of the best replacements. On the contrary, you can buy an Apple Pencil from the link below.
Annotate almost anything (PDF, Images, web pages,

etc.).
Tools include OCR, Audio recording, shapes, images, doc scanner, and multiple color pencils.
Document Scanner included to scan and make annotations.
OCR to make typing look more creative and handwritten.
Unavailable for Android users.
No landscape pages.
No auto shapes.
Exported PDF files have a huge size.
Cannot delete multiple pages
Border margins are larger in exported PDF files.
2. Noteshelf | Best Notes Apps for iPad Pro
Noteshelf is one of the best notes apps for iPad ever before we discovered Notability. There are some outstanding features that Noteshelf has to provide, but never to forget, it is a paid app. As mentioned, there are several features, and one of our favorites is the split mode. In split mode, the user can multitask on two different notes at a single time without having to close the other one. Almost all the notes apps in the list lack this feature, so Noteshelf is different from others.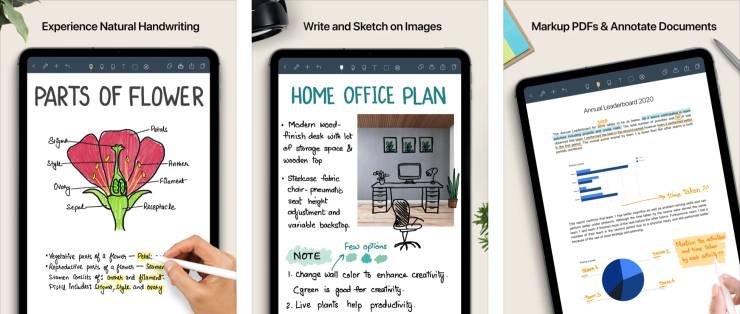 Also read: How to Use Notepad++ on Mac OS [Definitive Guide]
You will be astonished to know that Noteshelf recognizes more than 65 languages and converts them into handwriting. So, if you are writing in some other language than English, you can still use the OCR feature and make it look creative in your own language. With a few other features, Noteshelf outsmarts every other notes app for iPad, iPad Pro, and iPhone.
Several drawing tools, pencils, colors, papers, and covers.
Cloud export support such as Google Drive, iCloud, and a few more. Export email and print directly.
Import images and PDFs directly
Annotate PDFs and save them directly as copies
Only two types of exports – PDFs and Images
The free version supports exporting only 5 images and 20 pages of PDF
Images cannot be edited or modified once they are placed
3. Notebook – Take Notes, Sync (Zoho Corporation)
The note-taking app Notebook is similar to Google Keep notes, except it has a better layout and slightly differs in features. Notebook is perfect for iPhone and iPad users with dozens of features such as text, audio, images, annotations, use Apple Pencil for creating handwritten notes, and colorful options. Other features that we will love is a better organization and smart folder options.
You can organize your notes in multiple folders and ensure you find them at the right time. This app is best for creating subject-wise organized notes and smartcards to create easy-to-understand notes if you are a student.
On Notebook, you can create covers for your notes and make them look more appealing and neat. Most note-taking apps leave don't have a cover option and show the content in a thumbnail. Who wants such untidiness when scrolling through your notes? I don't and which is why we highly suggest using Notebook.
We love the drawing tools set that Notebook provides for its Apple users. There are dozens of tools that make your note-taking a hyper-productive task. The app is also available for Windows and Android, making it one of the best to use for cross-platform.
If you are one of those who create many notes, we highly recommend you to check the iPad stand mentioned below. It has multiple postures, compact, is the best fit for iPad, iPad Pro, and other tablets, and has a solid secondary leg. It helps you create more amazing notes in lesser time.
Free Note-taking app
No Ads
Audio recording, Images, and Apple Pencil support included.
In-built document scanner.
Smart cards for ease of understanding.
Folder organization.
Mishandle text selection on longer notes.
Using the Notebook app while using other apps can make it unusable.
A few bugs
4. GoodNotes
Several free options work best for sketching and drawing or making notes but are there good options in paid versions? There are, and one of the best options is GoodNotes. If you love dark scheme notes apps, this is a good choice. GoodNotes has tons of template libraries and ready-to-use tools. The drawing tools are numerous in numbers with several options in colors, shapes, and thickness. The app rightly understands the sensitivity of the Apple Pencil, and one can easily prepare notes.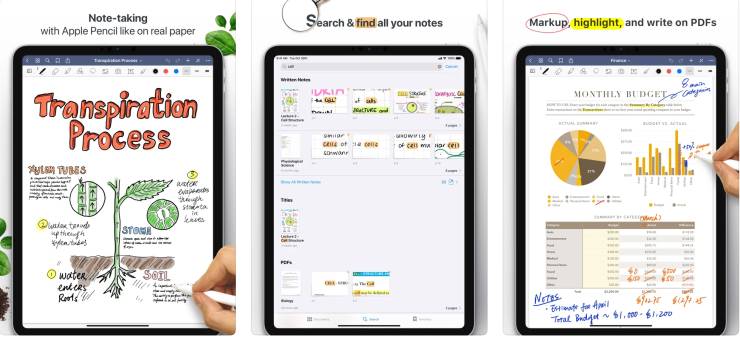 The OCR feature allows you to convert the text into handwriting and make the notes look more creative. Those who create notes during the classes can quickly create amazing and productive sketches with tools on tips. The design is impressive, and do not miss the dark mode template.
OCR feature
Dozens of template libraries
Better handling of imported PDF files
Ease to select and delete multiple pages
Supports both portrait and landscape mode
Better implemented highlighter
Bookmarks can have unique names
Smaller PDF files compared to other note-taking apps
No hyperlink support
Basic text features
Only category wise view available
No voice recording option
5. Apple Notes
Apple Notes is one of my favorite note-taking apps with tons of features. The default notes have features such as quick text, images, voice recording, quick sketch and drawing, tables, and charts. Apple Notes is best because of the cooperative ecosystem, which allows you to create notes from any app.
Also read: How to Sync the Calendar on iPhone, iPad, and Mac
Notes are synced with iCloud and you can access them from any other Apple device. One such example is writing notes on iPhone and then accessing them using a Mac device. All thanks to Apple iCloud service.
Cross-platform availability
Intuitive user interface
Organized notes
Sharing and extensions
Search any notes
Offline storage
Free for Apple users
Cannot export to a format that can be imported again
Creatively limited
6. Evernote | Best Notes Apps for iPad and iPhone
Evernote is not just another note-taking app; several features make it one of the best notes apps for iPad and iPad pro. You get the basic features such as handwritten notes, Apple pencil support, text and images, and a few other features. The highlighted and prime features include OCR, web clipper, and templates. You can scan cards, pages, and images, record and insert audio and video, and handwritten and OCR.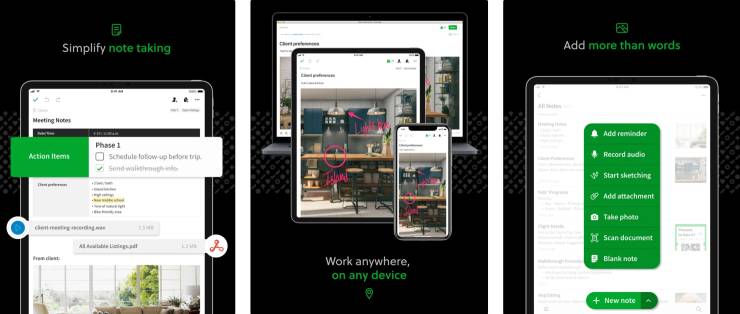 What most note-taking apps fail at is cross-platform and third-party support. Evernote is not the same, and it supports multiple platforms and third-party apps, which makes it useful for various purposes. There is a free version with several restrictions but can be upgraded anytime.
Supports various platforms
Handwritten (Apple Pencil) and OCR supported.
Web Clipper to annotate saved web page sections
Wide range of templates to choose
Annotate anything
Record audio and videos directly to the notes app.
Sync data across 2 devices
The free version restricts the file size to be smaller than 25MB
Offline notes are available only on a single device
Costly pricing
Limited collaborations
Lacks productivity features
Frequently Asked Questions
is taking notes on an iPad helpful?

Note-taking on digital devices such as iPad or tablets is fast and helpful and helps make more tailor-made notes with relevant media such as images and voice recording, which is not possible with the traditional method.
Which iPad note is best for note-taking?

Several note-taking apps are helpful to create creative and tailor-made notes. A few of them are – Notability, Noteshelf, Notebook, GoodNotes, Apple Notes, and Evernote.
You may also like,
Final Words – Best Note-Taking Apps for iPad and iPhone
There are several best note-taking apps, and these are our top picks. In our list, you can find the best note apps for iPad, iPad Pro, and iPhone that allows you to create more appealing, creative, and quick notes. Do let us know in the comment which is your favorite and best notes apps for iPad and iPhone from the above list.
Some Catchy Line to Grab your Attention
Get Our Prime Content Delivered to your Inbox for Free!! Join the Ever-Growing Community… Right Now.