Windows Operating System has been one of the favourites because of the ease of use and simple interface. There has been no much change in how the file manager on Windows look, feel and work. Aside, Microsoft hasn't changed anything on Windows file explorer for ages, and now it looks duller and sick. Fortunately, there are several File Manager alternatives on Windows platforms. Here are a few of the Best File Manager for Windows that we love and recommend to our users.
Also read: How to Remove Windows 10 Password From Login Screen?
Best File Manager for Windows [Alternatives that we love]
| Best File Manager for Windows | Ratings |
| --- | --- |
| XYplorer | 4.8 |
| Directory Opus | 4.5 |
| One Commander | 4.7 |
| Files | 4.0 |
| Fman | 3.9 |
File Managers are nothing to be loved for as they are only file manager. The only thing that interests us as users is they should work as per our needs. Well, what if they could work beyond the features that the basic Windows File Explorer provides? Wouldn't that be crazy? Well, that's why we love using alternatives. In the following sections, we discuss some of the best file managers for windows. Do mention your favourite at the end of the blog in the comment section.
Also read: How to Record PC Screen for Free using Powerpoint [PPT] on Windows [7,8,&10]
1. XYplorer
It doesn't matter if you are a core geek or a casual user; this is one of the advanced and best file explorers on the list.

The best part about having XYplorer is the portability that comes along. The file explorer can be loaded on a USB stick and can be used on multiple computers that you work on. There are two packs; one is the home version, and the other is a pro version, and both come with lifetime updates. You can either use it as installed software or use it along with a portable USB stick.
The interface is simple but is designed and developed for both the core geeks and casual users. Besides, several other features, such as a dual file browser, can be used to compare or improve productivity. The dual-pane file browser can be accessed using the shortcut F10 button or clicking on the dual pane button.
Also read: How to Change Windows 10 Login Screen Background
We love the scripting language support that allows you to code a last year's doc file into a zip file. Isn't that cool and geeky? In addition, there is a detailed description of every file that the Windows file explorer could never give.
Pros and Cons –
File type highlighting, creation and organisation for casual and advanced geeks.
Info pane with detailed information about the file.
Faster file search with quick delete, open and modify option from the search bar.
Drag and drop operations from one pane to another.
Dozens of keyboard shortcuts for geeks.
Scripting language support.
No FTP support.
No customisable toolbar.
Plugin support is missing.
Single-threaded.
Available for 32-bit users.
No support for Windows libraries.
Cannot display files as grouped.
A separate tree for each panel is missing.
2. Directory Opus
Using a file manager alternative, one would wish to have completely replaced the original windows file explorer. Directory Opus does the same; it replaces the windows file manager completely and gives the unique features and replacement mode.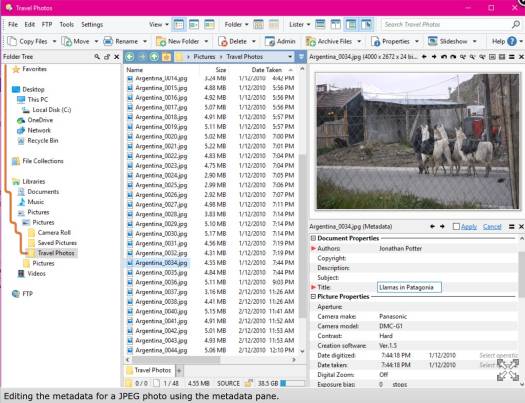 Windows file explorer restricts customisations and there is nothing much that one can do about the user interface. On the contrary, Directory Opus is customisable and gives users the freedom to customise the user interface as per their needs. Besides, how can we miss the batch-options? Directory Opus allows the users to rename, view and edit file metadata in batch which saves time and also allows multiple sharing.
Also read: How to Fix DNS Server Not Responding on Windows 10 & Mac OS
In XYplorer, we saw a disadvantage: the file explorer was only limited to a 32-bit architecture; both 32-bit and 64-bit architecture support directory Opus. In addition, it has a better organisation with star rating and colour-coding.
Pros and Cons –
Customisable user interface.
Batch options.
Available for both 32-bit and 64-bit.
FTP support.
Integrates as launcher for third-party softwares.
Extended scripting API.
Customisable and downloadable themes.
Gets updated often.
Dozens of other features that other file explorers lack.
Expensive plans and pricing
Restrictive license
Limited to only two views
Restrictive touch support
Consumes huge storage space
3. One Commander
One Commander depicts similar features as that of the Directory Opus and XYplorer with dual panes and customizations. Version 3 is loaded with dozens of features and improvements, making One Commander one of the top choices. One of our favorites is the dark mode feature with the right color settings and interactive dual panes.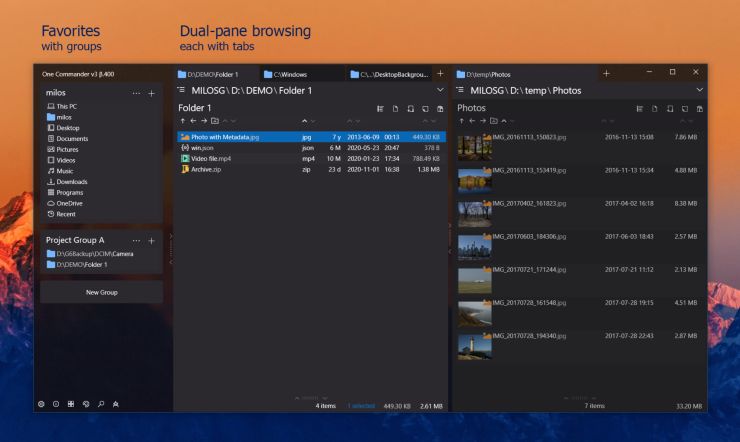 You can open two file explorers side by side in dual panes, and both the file explorers are interactive. The dual-pane also supports multitasking and does not only views the files; you can access all the drives, folders, and libraries directly through both the panes. Isn't that a good one for multitaskers like you and me? Especially when you are a core geek.
Also read: How to Change Windows 10 Login Screen Background
As mentioned earlier, One Commander depicts a lot of features of Directory Opus and XYplorer; one of the noticeable features is portability and compactness. Being a mutant to two of the best file manager for windows, One Commander is one of the best file managers/explorers for the windows operating system.
Pros and Cons –
Dual Panel
Access to all libraries, drives and folders
FTP client
Custom layout and dark theme
Files and folder icons customisable
No installation required, One Commander is registry.
Bulit-in preview
Tabs
Column navigation
Presets for file views
Context menu only based on icons
4. Files
Files is a file explorer for windows 10 and can be downloaded from the Microsoft store. This file manager for windows 10 comes with a clean user interface and restrictive customisations. Though Files is not a traditional file manager for Windows, it still lacks features such as a dual-pane for multi-tasking, and it continuously keeps loading the background process. The problem with continuous background loading is that it will make your windows computer slow and consume a significant processor time.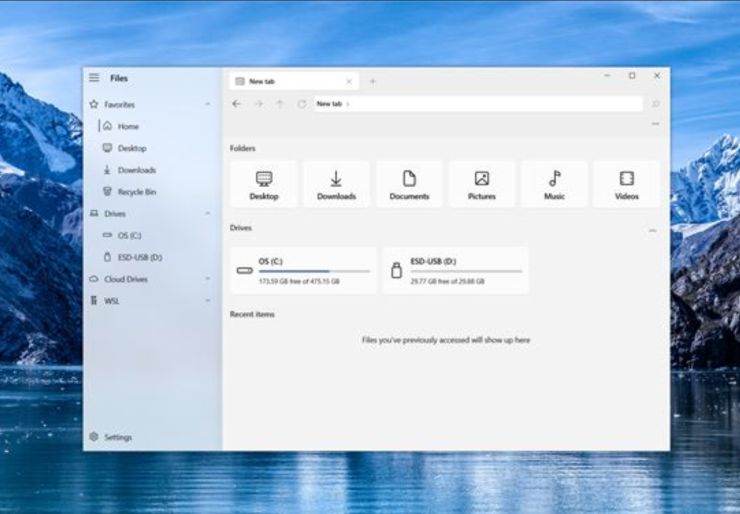 The UI is fluent or can be stated as clean but similar to the default windows file manager. It looks the same and feels like a theme has been applied to the default windows file manager.
Pros and Cons –
Dark theme
Clean and fluent user interface
Can replace the default windows file explorer to open default apps
Customised right-click menu
Show and hide libraries and folders
Libraries and folders are placed the same as the default windows file explorer.
Dual panel is missing
No scripting support
Extensive plugins missing
Continuously loads process in the background
5. fman – Windows File Manager
The fman file manager is much different from what the native file manager looks at on the Windows operating system. Several features will want you to use the fman file manager software on your windows operating system. A few of the loved features of fman are cross-platform support and functions like finder of Mac operating system.
One of the features that "Files windows explorer" misses is the dual pane windows for multitasking. File manager for windows like XYplorer and Directory Opus support dual-pane, which makes it want-able file explorer. Fortunately, fman does not miss out on the dual pane feature. Besides, the look like the finder from the Mac operating system makes it much cooler to use.
Also read: How to Schedule Tweets Using Android, IOS, And Desktop
Pros and Cons –
Works on all kinds of operating system
Simple to use
Finder like user interface
Works smooth compared to other file explorers.
No text file viewer
Limited or restrictive touch support but works well for keyboard users
Has no menu bar
Buggy
Frequently Asked Questions
Which is the best file manager for coders?

XYplorer and Directory Opus are the best file manager alternatives for coders and developers on windows operating systems.
Are there are any alternatives to windows explorer?

Yes, there are several alternatives to windows explorer; a few are fman, Files, Directory Opus, and One Commander.
Which is a best alternative to windows file explorer?

One Commander is the best alternative to windows file explorer. It is loaded with power pack features which makes it more desirable to use.
Which is the best cross-platform file manager?

One Commander is the best cross-platform file manager that can be used on different platforms.
Which is the best portable file manager?

XYplorer is the best portable file manager loaded on a USB stick and can be used as a plug-and-play file manager software.
The Best File Manager for Windows | Alternatives to File Explorer
These are the best file manager for windows, and each of the file managers has some of the best set of features. Among the list, Directory Opus and One Commander file explorer have proved to be the top file explorer alternatives on the windows operating system.
If you are a power user, you would want to use XYplorer, which comes with scripting support and dozens of other features. Which is your favorite and best File Manager for Windows? Let us know in the comment section.
You may also like,
Some Catchy Line to Grab your Attention
Get Our Prime Content Delivered to your Inbox for Free!! Join the Ever-Growing Community… Right Now.