I am the kind of person who loves using multiple operating systems on my laptop. By doing so, I get to avail all the features and smoothness of different operating systems. Some simplify my work, and some maintain the performance. So, let us Install Windows 10 Using USB to make things easier.
Also read: How to Remove Windows 10 Password From Login Screen?
Why booting windows on USB when you can use a virtual machine? Virtualization is a good option, but there are a few drawbacks along with it. If your host operating system is not working properly, it will cause issues in your guest operating system. Also, if there are malware and virus attacks on your host operating system, then your guest OS is affected.
I personally found virtual machines are pretty much slower, so I opted for booting the operating system on USB.
Install Windows 10 on USB – Boot on USB
To boot windows 10 iso to USB, the very step is to make the USB in bootable format. To do this, you first need to download the windows iso file (32/64 bit) and Rufus software (USB iso burner).
Make sure you download correct iso file and genuine Rufus software.
For the USB hardware, choose the size according to your work type. You can choose 64/128GB of class 10 USB type for using the operating system in fast mode. If the size of the USB is more, you can set more swapping space, which will help you use the os in fast mode rather than lagging. Windows 10 on USB bootable will run smooth and fast.
Also read: How to Change Windows 10 Login Screen Background
One of the advantages of using USB booting is installing the operating system on the USB itself. It is important to download lighter versions of OS for this. You can also install the windows on the primary hard drive, but there is an advantage of doing it on USB. Your storage is independent and is not being shared, and another advantage is that you don't have to overwrite your important data on the primary disk.
I personally suggest having more space on USB since windows 10 on USB bootable consumes a lot of places.
After downloading the two software, open Rufus and it should be something like this,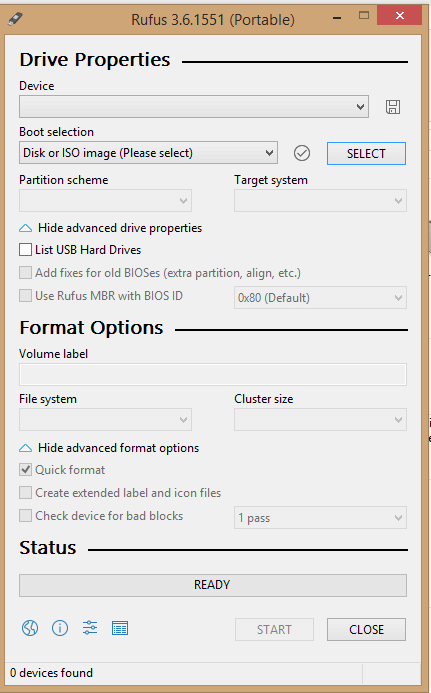 Configuring Rufus USB ISO Burner –
Now select your USB drive in the device option. Usually, by default, it is selected, and in case it is not listed, then re-insert your USB hard drive.
In the boot selection option, make sure ISO or disk image is selected. It is by default chosen on some devices.
Now select your iso file by browsing into the directory and hit the start button. After pressing the start button, a prompt will ask if you want to use a "dd" image. I prefer the dd image, although it is not recommended.
After all the processes are completed, your USB is now ready to install your operating system on the USB itself.
Also read: Top 6 Free Bulk Image Resizer For Windows – No Watermark
Setting up boot menu for windows on USB Booting –
Now power off your computer system and load the boot menu options. Generally, it is the F12, F1, F10 or F2 key.
Now set up USB boot in the first order and enable legacy support if available. Set USB boot in the first order in legacy support menu too.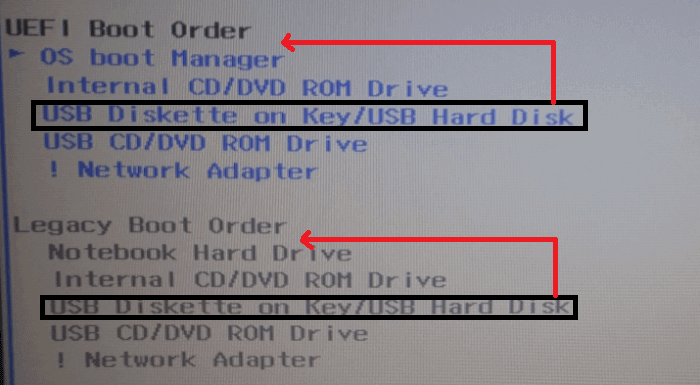 Save the boot menu, insert your USB hard drive and restart your computer. Now you will see a windows set up on your screen.
USB Install Windows 10
Set the date and other components such as hardware and other properties. Now, while disk partitioning, if you are using lighter os, you can choose the USB hardware. By doing so, you will install the whole operating system on the USB drive instead of the primary disk.
If you want to install the operating system on the primary disk, then format it and install the operating system.
After the setup is completed, you can restart your computer and ensure the USB device is connected if you have OS installed on it. If you have not installed os on a USB drive, you can directly turn on the system, and no need to change the boot order now.
Also read: Minitool Partition Wizard v11.6 | How-to Tips and Review
You can choose which operating system you want to use and then hit enter. If you have installed it on a USB drive, you can't remove it until you shut down the computer.
Final Words
This is how simple it is to install a Windows operating system on a USB drive. You can install other operating systems like Linux and Mac OS using the same process. It is important to have the right ISO file, and you are ready to use multiple OS on your computer using a simple pen drive.
Some Catchy Line to Grab your Attention
Get Our Prime Content Delivered to your Inbox for Free!! Join the Ever-Growing Community… Right Now.