Three Best File Managers For Iphone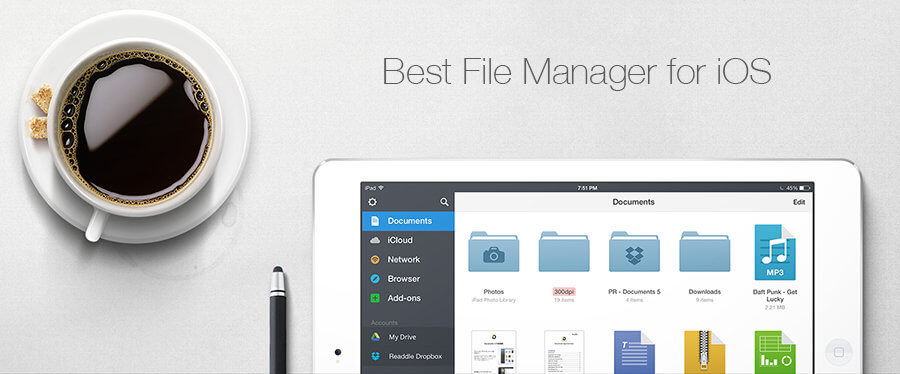 Until 2017, Apple didn't have any file manager on it's operating system for Iphone. It was not required to have one and then with the release of ios 11, apple launched it's own file manager called Files. The File manager on iphone is all about managing icloud storage and other third party storages such as Google,One drive etc. So, we are here with some best file managers for iphone.
Why use other file managers for iphone?
Files app does too less when it comes on sharing and storing of files. It is all about the icloud storage and other storage services and nothing much. also, there are restricted for viewing video files, accessing pdf or any other file access.
To manage the file operations in a better and convenient way we need to use other third party file manager apps from the app store. These file managers does almost all the file operations just like the android file managers.
Documents by Readdle

It is the all in one file organizer app for ios devices. Filled with capabilities this app does a lot as a file manager. You can import files from other sources such as computer, cloud or other nearby devices and also download content from web. This is missing in traditional files app by ios where you cannot download content from web.
With documents by readdle you can also manage your basic file operations, zip/unzip, color or tag you files. If you are using an ipad for this then you can use the drag and drop feature for moving of files.
Protect your files with password and also share them seamlessly with the documents app on ios. You can also listen to music online or offline and integrate all the cloud services all in one app. Using the two sync you can also have a backup of your files and access them anytime.
Also read: Install Beta Apps on your iOS device using TestFlight App
Also, watch your favorite movies with in built video player on documents app by importing it from your computer. Access your photos and shuffle them in different folders with ease.
This is a great app for reading documents in text or pdf formats. With in built reader you can view office files and also search in pdf. Read all the file formats and create them directly on your iphone using the documents app on ios.
Download here [Free]
File Master – Privacy Protection

File master is the app which is a must use file manager for person with secret files. This file organizer does all the operations with just a tap. All the files can be remotely accessed using a password and locally using a master passcode. Only you can access these files and protect your content.
The file master also does basic file operations. The best part is multi selection of files and long press pop up menus. You can import photos and also take a secret photo or video directly inside the app.
It supports all kinds of audio and video files. The music player also supports music control and background play using the File master app.
The privacy protection on file master is just on point. The App uses passcode to unlock and all the folders are protected using a passcode. You can also hide files and folders inside the file master app.
Also read: Apple Beta Program – How To Join And Test?
The documents of any format can be viewed using the in built document viewer and these files can also be shared with other devices. You can also send these files as email attachments.
Download here [Free]
FileApp – File manager for Iphone

The fileapp is a file organiser for Iphone to manage all the files on your device. Using this app you can share data with a computer using the USB file transfer. You share files with mac, linux, windows and other operating sytems.
You can also store files from third party applications such as mail and safari. The best part about using this app is to seamlessly share your data over http and ftp options. This eliminates the use of usb cables for file transfer. I love this techique, it reduces my mess.
You can also paste the text and images directly inside the app and it will create a file on your behalf. This app is loaded with powerful pdf editor to edit your files on the go and in fact you can also write other file formats such as html.
Also read: Oneplus vs Iphone – Why OnePlus 6T Is Better Than IPhone XR.
The app is protected with ios passcode protection and also a passcode on app startup. If required a wireless transfer password can also be added to it. All music and video file formats can be accessed using the fileapp. You can also access the airplay support and play music in background.
Download here [Free]
Music is must while I work. Is it same with you? let me know in the comment box below.