I struggle a lot with disk management on windows pc, all the files are misplaced. Some of them are in drive F, some in drive E, and some in drive H. All of this because there is not enough space in individual drives to save a collection and searching for those files is hectic. So, a week ago I got to know about this all in one disk partition tool which is pretty easy to use and loaded with features.
Table of Contents –
AOMEI Disk Partition Assistant
AOMEI disk partition assistant is a must-have on your windows pc. I personally recommend this because of the utility it provides and the efficiency standards. It is one of the best disk utility tools available in the market and there is so much that comes along with it which no other disk partition tool provides.
Features of AOMEI Disk Partition –
Free partition manager for home and personal use.
Resize/move, merge partitions with ease.
Disk/partition cloning.
Convert MBR to GPT and vice versa.
Transfer operating system to SDD or HDD without a fresh install of windows.
Create bootable media.
Operates on windows vista, XP, 7, and later versions.
There are a lot of features available with the AOMEI disk partition tool. This tool is available both freeware and also for a price of $49 which is a pro version. The free version of this disk partition can manage all the requirements for home and personal use. The AOMEI disk partition assistant standard version does a lot with managing your disk spaces and resizes them according to your needs.
Best Password Managers in 2020
No doubt there are windows very own disk management tool pre-installed along with your windows operating system but there is a lot missing in it.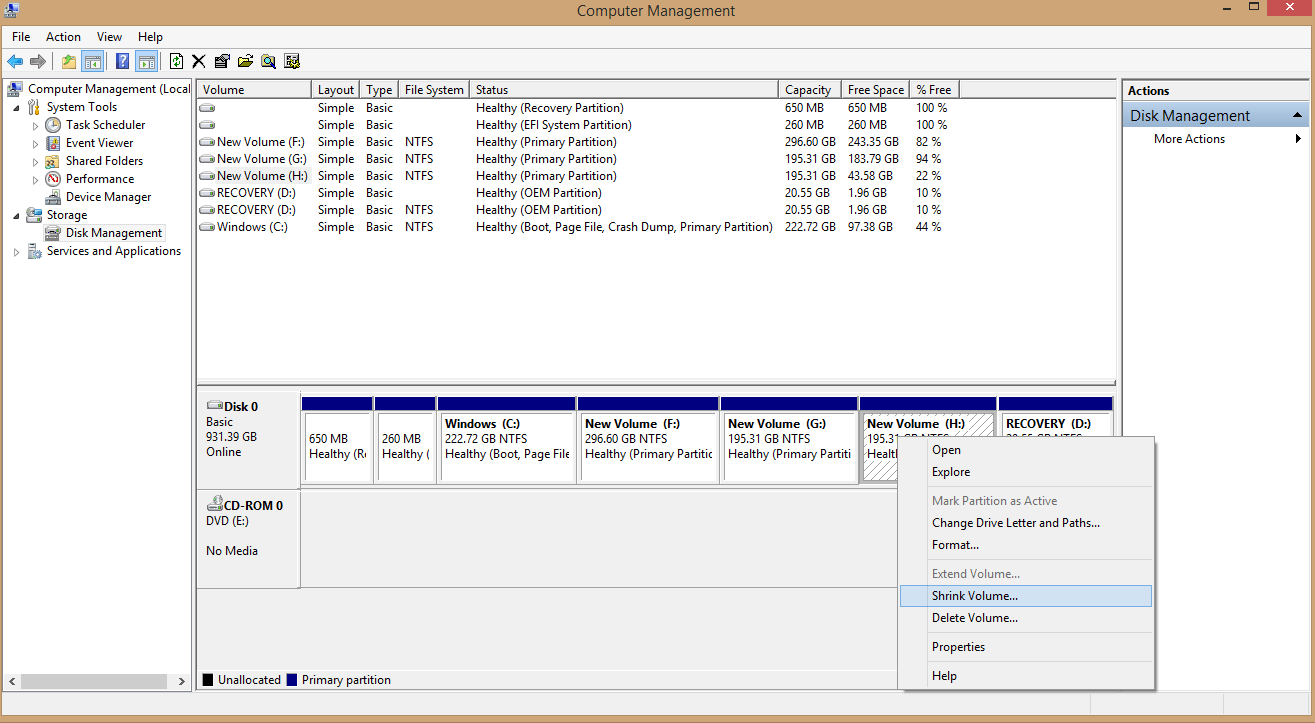 I personally face this problem with windows inbuilt disk management utility. There is so little to do with it. You can only shrink or delete the disk drive or just create a new one. But with the AOMEI disk partition tool, you can resize/move or even merge your disks together.
Not only just resizing or moving or merging your disk drives, but this tool also clones the drives and partitions letting you make a quick upgrade to hardware. Also, this is helpful with back up the creation of important disk drives if you have any.
The pro version has a lot to do if you work for an enterprise or you deal with a lot of data with windows server. The powerful tools will let you manage the slabs of data on the windows server quite easily and perform easy partitioning and backup. I bet you won't regret using this tool being thousands of kilometers away from your server without any hassle.
Want to try this free partition manager tool on your Windows PC? It is absolutely free for personal use.
---
AOMEI Disk Partition Assistant Professional Version
With a professional version, you can extend the partition wizard, resize, move, merge and split partition. You can also allocate free space with this version. It is a stepwise wizard that is available on Windows 10/8/7 and also performs migration of the operating system to SSD wizard. If you want to create your own bootable media drive then leave it on simple procedures of this wizard.
It supports SSD secure erase wizard which is missing in most of the partition management tools.
A lot of other operations such as quick partition, creating and deleting a partition, formatting can be easily done with the professional version.
Also read: Ultimate Guide For Choosing Best Gaming Phones
Also, you can perform checking of errors, change drive letters, and volume labels and define other partition properties with simple steps.
This is not all of what the AOMEI Disk partition tool can do. With the professional version, you can check for bad sectors along with rebuilding MBR and initialize disk which is a feature not available in most of the partition tools.
There are some exclusive and data-sensitive operations with the AOMEI partition tool. You can convert MBR (Master Boot Record) to GPT (GUID Partition Table) and vice versa. It is important to note that this is a data-sensitive operation and is recommends you take a backup of your data.
The disk partitioner tool also performs the conversion of disk type. It can convert Fat and FAT32 file to NTFS file and vice versa and Primary partition to logical partition and vice versa with a simple click.
You can change serial number, change partition type id, set active partition, and align partition with the professional version of AOMEI disk partition assistant. Also, wipe hard disk and partition with easy GUI steps and hide/unhide partitions if necessary with the same tool.
The AOMEI is running an offer on their official website with a pro version at $49 and lifetime free upgrades. Check out now and buy (Recommended).
---
Partition Assistant – Server, Enterprise and Technician Version
The server version is something you would not like to miss if you belong to an enterprise or deal with huge data on servers. It is a difficult job to manage servers and being a system engineer it is important that you look out the server space and don't let the business down in any circumstances.
You definitely need the AOMEI Partition assistant server version to maximize the disk usage of your server and do the changes without losing out on data.
Similar to professional versions you can perform a lot of operations like resize/move and merge partitions, split partitions and allocate free space. You can perform all of the professional features on the server version.
It can perform command-line partitioning sitting thousands of kilometer away from your windows server with simple steps using the AOMEI Disk partition assistant. It also has a partition recovery wizard window. Go to the creator and integrate it into the recovery environment.
10 Best Video Editing Apps in 2020 For Android and IOS
The other features remain intact and you get all of the professional features with the server version too. You can perform basic disk operations, conversions from one disk drive to another, and manage your partitions.
You buy it right away for $179 and lifetime free upgrade with offers running on their official website. This offer includes 90 days of money back, immediate license delivery, and lifetime free technical support.
The enterprise version lets you run the assistant software on multiple systems within one company. This saves money with all the features included.
Technician Edition is designed specifically for IT professionals, system administrators, technicians, and consultants. Unlimited annual subscription license and lifetime free upgrades are quite a need to handle large and distributed pc and servers. If your work is too hectic and managing is one of the top priorities then I recommend you to buy this technical version right away. It includes all the features in a single pack that can be used on multiple systems.
In all the versions you can transfer the operating system to HDD or SDD with simple steps. AOMEI disk partitioning assistant runs on the windows version from 7 and later. It supports Windows XP and Vista too.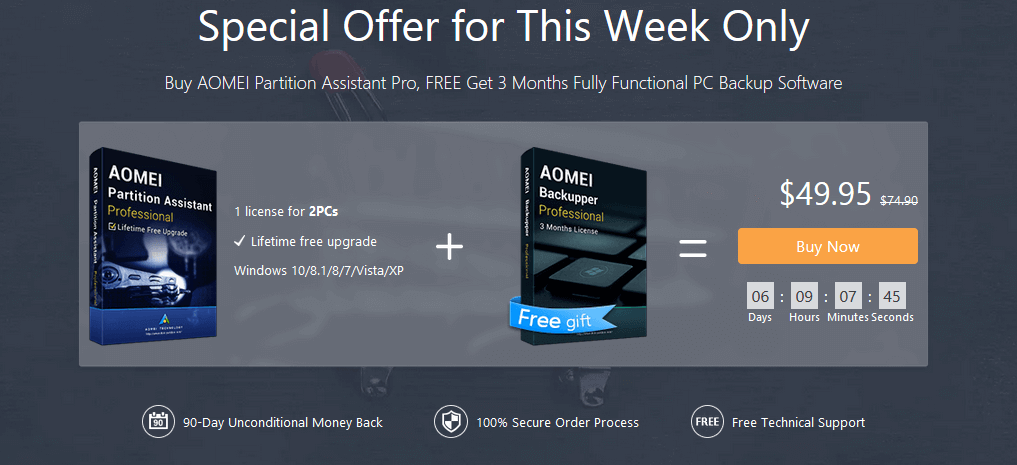 Pros –
Simple GUI based interface.
Supports basic partitioning tasks (resize, split, and merge).
Perform conversion of disk types with simple wizards.
Allow partitioning before booting up.
Transfer OS to HDD or SDD without fresh installation.
Secure SDD Erase wizard.
Create bootable media on the go
Convert MBR to GPT and vice versa and FAT/FAT32 to NTFS and vice versa.
Closing words –
I recommend AOMEI Disk Partition Assistant to everyone from personal to enterprise use. I believe it is one of the best partition tools available in the market. It is loaded with features and is easy to use. The GUI is simple, convenient to use and everything is just on the go.
---
You may also like,
Some Catchy Line to Grab your Attention
Get Our Prime Content Delivered to your Inbox for Free!! Join the Ever-Growing Community… Right Now.