Cooling pads are one of the most important accessories you must and should have in your bag. MacBook is one of the luxuries and powerful machines; if you use your MacBook Pro for extensive uses such as video editing, coding, gaming, or graphic designing, you need to have the best MacBook pro cooling pad to keep your device cool and working.
Best MacBook Pro Cooling Pads in 2022
There are great deals on MacBook cooling pads, but how do you know which is the best cooling pad? Here are my top and Best MacBook Pro Cooling Pad with features and reviews.
To connect your Macbook with the cooling pad, you will need a Type C USB Hub. This is because the cooling pads are universal and need to support other devices. You can use a USB converter in this case and make it compatible with your MacBook device.
1. Havit HV-F2056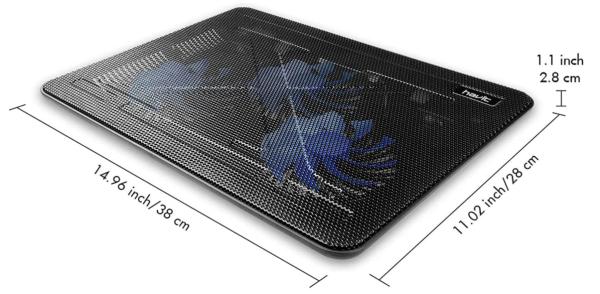 No doubt. The best cooling pad on Amazon, Havit HV-F2056, is a lightweight, slim, and portable cooling fan for your MacBook Pro and Air laptops.
Available in three colours, Havit HV-F2056 is lightweight with two adjustable heights. This allows you to use your cooling pad much comfortably while using your MacBook Pro or Air device.
The best and most important for any cooling pad is the type of surface. If the surface of your cooling pad does not grip your laptop, you will easily slip it away while using it. On Havit HV-F2056, you get stability and wear-resistant, giving you a firm grip while using the cooling pad.
If you ask my opinion about cooling pads, one of the most needed features is how quiet is your cooling fan. A noisy cooling pad can create distractions and be unpleasant to work with. But that's not the case with Havit HV-F2056; here, you get a noise-free environment and better cooling. Additionally, there are extra USB ports to attach your other devices to the same cooling pad.
Tiny Quip Score
i

These ratings are purely based on our experience, analytics, and tests.
Features:
Light-weight, Slim, and Portable
Available in three colors
Two adjustable heights
Stable usage with a tight grip and wear-resistant body
Noise-free cooling
Additional USB ports to use more devices
Compatible with 15.6 – 17 inch laptops.
---
2. TopMate C302 Cooling Pad for MacBook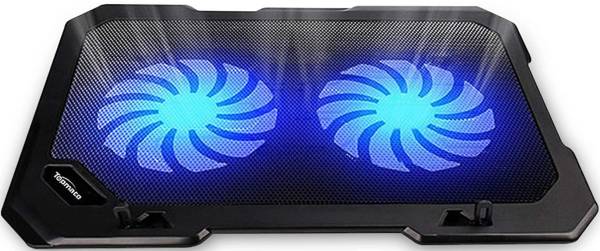 Topping second to our list of best cooling pads for MacBook Air and Pro, TopMate C302 is one of the perfect.
This lightweight cooling pad weighs only 1.09LB and is much easy to carry. On the other hand, it also has a flat surface to view the screen more conveniently. Being super lightweight, the cooling pad can easily be carried in a bag along with your MacBook.
TopMate C302 has two fans that run at 13000 RPM but are also noise-free. In certain situations, to conduct the heat dissipation, the cooling pad can bring more air volume, and there can be some noise that cannot be avoided.
With two adjustable heights, you can have comfortable working and gaming on your MacBook. The USB ports are only limited to two; one of the USB ports is used for your MacBook, and the second USB port is used for other devices.
Tiny Quip Score
i

These ratings are purely based on our experience, analytics, and tests.
Features:
Quiet Fans
Easy to carry
Powerful heat dissipation
Ergonomic comfort
Extra USB Port
---
3. Lamicall Laptop Cooler
Cooling pads usually have 2-3 fans that dissipate heat, and the fans come with fixed rotating speed or RPM, but the Lamicall Laptop cooler stands out in this case.
Do you know why?
Because it has 5 cooling fans with an adjustable speed of 1800-2200 RPM that allows faster heat dissipation, it is easy to carry due to its lightweight nature. It has a flat surface to give you a better working and gaming experience.
Most users have a common doubt; will my laptop slip if I use it on a cooling pad? It is hard to use it with a clamping or gripped surface. On Lamicall Laptop Cooler, you get a mesh surface that gives you stability while using your laptop.
Like other cooling pads in the list, on Lamicall, you get 2 foldable height adjustments to give you a proper working platform.
This slim, lightweight laptop cooling pad is easy to carry with a blue LED light indicating the cooling pad is running. Also, it looks cool when you use it in the night light. Moreover, despite having 5 cooling fans running at 2200 RPM, it gives whisper-quiet cooling that no other cooling pad can feature.
Tiny Quip Score
i

These ratings are purely based on our experience, analytics, and tests.
Features:
5 cooling fans running at 1800-2200 RPM.
Lightweight
Mesh Surface for stability
2 foldable height adjustments
Blue LED light
Whisper-Quiet
Dual USB Ports
---
4. TECKNET Macbook Pro Cooling Pad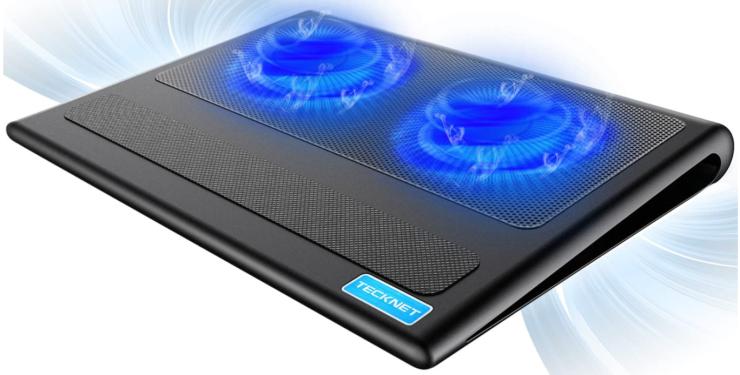 Tecknet Macbook pro cooling pad is not the one you must have but the one that is great for intense working hours.
A lightweight, slim, and portable MacBook cooling pad is easy to carry and can be used for long hours. It has 2 USB-powered cooling pads that allow you to attach 1 external USB device along with your Macbook pro.
The ergonomic design with comfort helps you use your Macbook with a grip and stability. Moreover, the LED light in the rear signifies that the cooling pad is active.
A design that creates an elevation to use your MacBook in a comfortable computer position is one of the best choices.
Tiny Quip Score
i

These ratings are purely based on our experience, analytics, and tests.
Features:
Lightweight, Slim, and portable
2 USB Powered cooling pads
1 external USB device
Ergonomic design
Elevated
---
5. KLM Wind Laptop Cooling Pad [4 Fans]
Available in 4 colours, the KLM wind MacBook pro cooling pad increases your laptop's life expectancy despite its age.
This cooling pad has 4 cooling fans running at 1400 RPM with a properly ventilated design. You can use your laptop for long hours of gaming, coding, and video editing on this well-designed laptop cooling pad, and this is why it is one of the best on the list.
The ergonomic design holds your MacBook in a comfortable state when using it for long hours. Compatible to use with multiple laptop sizes, it is the best choice but is also a bit bulky. Use it on your office desk, and it should be perfect for you.
This 2 USB support cooling pad has 5 years of warranty, assuring a quality investment. Using the 2nd USB port, you can add an external device on the cooling pad along with your MacBook pro.
Tiny Quip Score
i

These ratings are purely based on our experience, analytics, and tests.
Features:
It supports almost all sizes of laptop
Powerful with 4 fans at 1400 RPM
2 USB ports
Quality with 5 years of warranty
---
Frequently Asked Questions
1. Does the cooling pad really work?
Yes, they do work, and we have found some amazing results. If you work on your laptops for longer hours, you must and should have a cooling pad.
2. What does a cooling pad do?
The cooling pad reduces the heat produced inside the laptop due to excessive use. It also regulates the heat flow and cools down the components inside the system.
3. How can I improve cooling on my laptop?
The best way to improve cooling on your laptop is by using a cooling pad that regulates heat flow and cools down the system's components.
4. Why do MacBook heat faster?
The laptops are now getting slimmer, and it is getting difficult to accommodate all the components in such a compact place. The best you can do is add an external cooling pad to your MacBook and avoid heating.
Final Words | Best Cooling Pads for MacBook
No one wants to type on a hot MacBook pro or fear the components burning out while gaming, video streaming, or editing. These are our best picks on the Macbook pro cooling pad that will help you cool down your Macbook. You can bookmark this page as we keep updating the list.
Meanwhile, you can check our other best picks –
Some Catchy Line to Grab your Attention
Get Our Prime Content Delivered to your Inbox for Free!! Join the Ever-Growing Community… Right Now.