The beats powerbeats pro are one of the spectacular sporty earphones. These decent wireless earphones are made by apple owned company and they are just amazing the way they are built.
Beats powerbeats pro is wireless earbuds that are designed for true sportsmanship. They come in a handy case which can be carried anywhere you would wish too. The best part about powerbeats pro is the level of comfortableness. The box contains multiple ear tip options which are designed in a way one can keep listening to them for long hours.
Powerbeats pro not only fit very well in your ears but they feel good too. Jaybird X3 is one of the picky earphones when the volume is up in comparison to powerbeats. You can feel the difference when you actually have them in your ears. The reason for this is the micro-laser barometric technology in the design. This helps the music to flow with ease into your ear with lesser pressure.
Design
The ear tip portion of the powerbeats pro is slim in nature. Now, this is what most of the music enthusiasts are looking out for, especially the people in sports. Why not? The slim design keeps the ear tip properly placed even during the intense workouts. Also, they don't create much pressure around the ear lobe later causing pain which is again an important factor.
The volume of music and other playback options can directly be accessed by the button on the center. Both the units of powerbeats pro have this option so that you can control with any hand while you are working. No doubt, they are true wireless in nature.
iPhone users can directly activate Siri with their voice using this apple owned product.
These wireless earphones are a bit different than Apple AirPods or any other wireless earphones. You can use either a single earphone or both of them. There is no difference in sound quality and the clarity of sound is very well set on these earphones.
Beats Powerbeats Pro – Stylish, Smarter and Efficient
The AutoPlay/Pause functionality through sensors makes it much more mesmerizing. The moment you remove them from your ears, it automatically pauses the music. Now that is an efficient product because it saves a lot of battery and it becomes much easier to use it.
Volume buttons are perfectly positioned and you can increase or decrease the sound with few finger clicks. There is an extra button placed exactly at the center of both the earphones behind the logo. This turns out to be more functional and stylish with such detailed placements.
The microphone is not that harsh or noisy. The surround system makes it easier for you to talk clearly, even while panting. Low pitch voices are perfectly amplified and clear.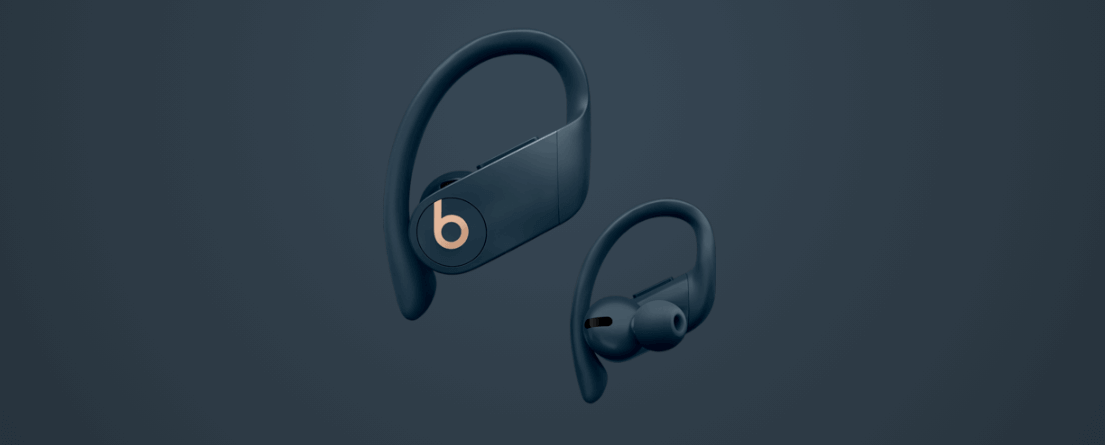 If you are a regular gamer and are more into battle royal games like PUBG-M then no doubt you can be super alert on your game.
The case in which powerbeats pro is presented is quite uncomfortable to carry. This is because of the shape and size it is into. The charging slot is right at the back of the case and the battery lasts as long as up to 9 hours between two charges for each earbud.
Powerbeat Pro supports fast charging. 5 minutes of charging supports up to 1.5 hours of charge when you are on the rush. With the charging case, you'll get more than 24 hours of combined playback.
With H1 chip by apple powerbeats pro delivers a faster and more stable wireless connection. It is designed for sweat and water resistance with adjustable ear hooks. They are available in four colors; black, ivory, navy, and moss.

Setting Up Beats Powerbeats Pro 
Setting up powerbeats pro is quite simple. Open up the case and just like apple AirPods the beats will be set up with two touches. You can also see the battery status on the right side of your ios device. Apple owns beats but the powerbeats pro is not exclusive to Apple devices. You can connect your other android and windows devices too.
Also Read: Best Routers With VPN – Security And Gaming Perspective
You will definitely love beats powerbeats pro on the go and not only during a workout session. The pitch is flat on the EQ and plays some crunchy music for some genres.
They look stylish and have clips for both the powerbeats. This is to keep it still while you are in the middle of intense and heavy workouts. Also, it is a necessary design. Most of the times the ear units fell off get non-functional. This is where most of us are investing our money; quality and performance.
Beats powerbeats pro marks one on the design and performance. It is perfect for intense and heavy workouts. The music is flat on the pitch and considerably be set on most of the android devices using the EQ app. Overall it is a must buy the best wireless earbuds with value for money.
Also read: Apple Watch Series 4 – Design | Features | Review