Steam is a popular platform favorite to every user in the gaming industry, and why wouldn't it be? The platform allows gamers to buy and rent games, and some of the popular games, such as Call of Duty, are hosted. Besides, steam allows players to have a multiplayer environment and let them play games with friends and strangers. The major problem with steam is gamers accidentally buy the wrong games or lower versions of the game on steam and expect a refund. Is that possible? Yes, you can get a refund on steam for a few games, and it is a simple process.
Also read: Best Wireless Mouse for Gaming | Razer, Logitech & More
Refund Options for Games on Steam
One of the most common questions is does steam provide refunds on its games? Yes, they do and the best part is they are ready to hear out the situation. So, does not matter if you have accidentally purchased the wrong game, you can always go for the refund but in the specified timeframe.
Like other eCommerce websites, Steam allows you to have a refund on the game but within the specified time. Some games allow you to have a refund within 7 days, and a few games have 3 days refund policy. So, if you have decided to give your game back, you must check the refund period.
Refund options are not available on all the games and differ between the developers. If you have a VAC game ban, then the refund option is not available for you. In addition, in-game purchases are not modified, used, or transferred to a third party to avail of the refund on them.
Also read: The 5 Best Small Gaming Keyboards
Steam Refund Rules and Policies
Though steam allows its users to refund the games, there are certain rules and policies. The refund options differ between developers, and a few of them do not offer such perks. If you are buying the game, always read the refund policies panel and know them before making any purchases.
Here are some of the rules and policies to know if you wish for a refund on steam –
To avail of the refund, the game has to be played less than 2 hours overall from the date of purchase.
You can file for a refund within 14 days of the purchase.
DLCs can be filed for a refund, but DLCs that allow you to level up characters and game levels cannot be refunded.
In-Game purchases are to be refunded within 48 hours for valve games. Modifying and using these purchases mark them non-refundable.
VAC(Valve Anti Cheat) Ban on a certain game is non-refundable.
Steam wallet refunds are available for those who want to use them for purchasing other items on steam.
Refund for games purchased using Steam Wallet from third-party sources is not available.
How to Refund Steam Games [Step-by-Step]
In this section, we will discuss how to refund steam games using your steam account. In the later sections, we will discuss how to check if your purchase on steam is eligible for a refund.
Open the Steam website and log in using your credentials. If you have multiple steam accounts, ensure you log in through your purchase account. If you log in using another account, you will not find any purchases and might get confused.
The next step is to click on purchases from the accordion menu.




Here, you can find the list of items that you have purchased. These include games, DLCs, in-game purchases, and more. We will select the games we wish to ask for a refund and are in the eligibility period.
You can find the "I would like a refund" option from the next options, select it and tell steam you bought the game accidentally.
Choose how you would like to get the refund; you can either select the original payment method or select the steam wallet for the refund.
Additional details are to be filled out.
Once the process is completed, an email confirmation is sent to you. After the email confirmation, the steam looks into this matter, and within 7 days, the refund is initiated to your bank account or steam wallet.
Also read: Best Skyrim PS4, PC, & Xbox One Mods | Play Next-Gen RPG
How to Check Steam Refund Eligibility?
Wondering if your game purchase is eligible for a refund? Not all purchases are eligible for a refund on Steam, and it is easy to identify those items.
Click on the "view complete purchase history," and you can find all the eligible items for a refund. If your item is missing from the list, the possibility is you cannot refund it.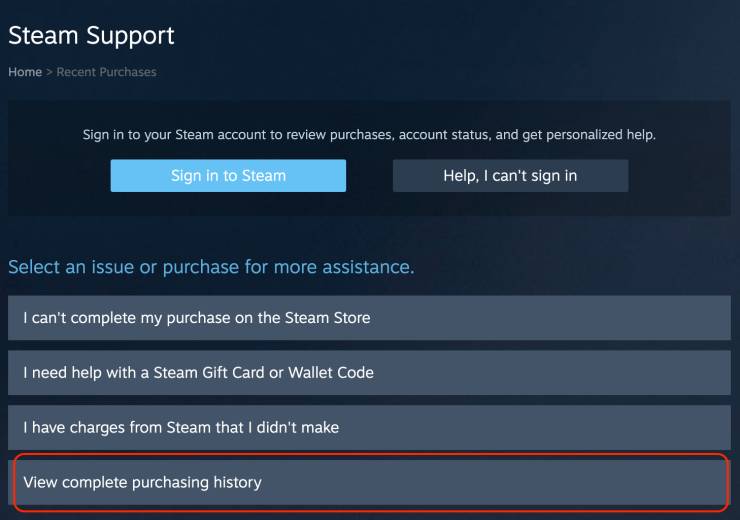 Click on the "I would like a refund" option, and if you can still not find the purchase, there can be two situations; either your purchase does not qualify for the refunds, or the developer does not allow a refund.
Also read: 25 Best Torrent Websites for Movies, Games, and Software
Get Refund for Games on Stream
This is how you can get a refund for games on stream. It is a slightly consuming process, but ultimately you get refunds on your purchases. One of the noticeable things is you don't get refunds on all kinds of games, DLCs, or in-game purchases; they vary between developers. Also, one of the pieces of advice is not to play the game for more than 2 hours, or you lose the refund. In addition, you cannot use in-game purchases and DLCS, modify or transfer them.
Do let us know in the comment section if that helped you and join the community by subscribing below.
Some Catchy Line to Grab your Attention
Get Our Prime Content Delivered to your Inbox for Free!! Join the Ever-Growing Community… Right Now.