Instagram allows you to engage with a million other people worldwide, all with a single tap. The problem is many users want to get Instagram famous, and they end up spamming other accounts. To avoid such spam, Instagram has set some limitations to each of its users; when this limitation is reached, the user can find Instagram Action Blocked notification on their screen. How to fix this issue? Because when Instagram sends you this notification, you are blocked or banned from doing certain actions. Let's understand and fix this issue.
What is the Instagram Action Block Issue?
Instagram Action blocked is a "Ban" action on the user accounts for a temporary period if found spamming or inappropriate actions.
Instagram Reels, IGTV, DM, and Stories are a great way to engage with other users. Unfortunately, many users spam these to get more followers. A common instance is commenting on many popular creators with your username and asking them to follow. Another instance is when you DM the same message to more than 10 other users.
Instagram considers such actions as spam, and it is highly recommended not to do so.
Types of Instagram Action Blocked Notifications
Like Block:
You cannot like any posts but perform actions like commenting and following, unfollowing.
Comment Block:
Commenting is blocked for any Post (Reels, IGTV, Post); users can like, unfollow, or follow other accounts or posts.

Action Block:


This common type of block does not allow users to either like, comment, follow, unfollow or do any other type of actions on their Instagram account.

Temporary Block:


The unblock time is not specified; Users are asked to try again later.
24-Hour Block:
Users have to try after 24 hours to perform any action.
Extended Block:
This type of block is time-based and unblocks at a specific date; Say a week, two, or more.
When does Instagram send you Action Blocked notification?
Spam commenting on multiple user accounts.
Commenting and tagging a bunch of other accounts in the comment section multiple times or on different accounts.
Liking more than 100 posts within one hour and 1000 posts within 24 hours. This limitation increases for older accounts.
Commenting more than 60 comments per hour and 200 comments within 24 hours, the limit increases for older accounts.
Following more than 100 accounts in one hour and more than 700 accounts (Average) per day, the number decreases for newer or younger accounts.
Copy Pasting the same direct message to more than 10-15 people.
Connecting to untrusted or blacklisted third-party service to increase likes, comments, and followers.
8 Steps to Fix Instagram Action Blocked Notification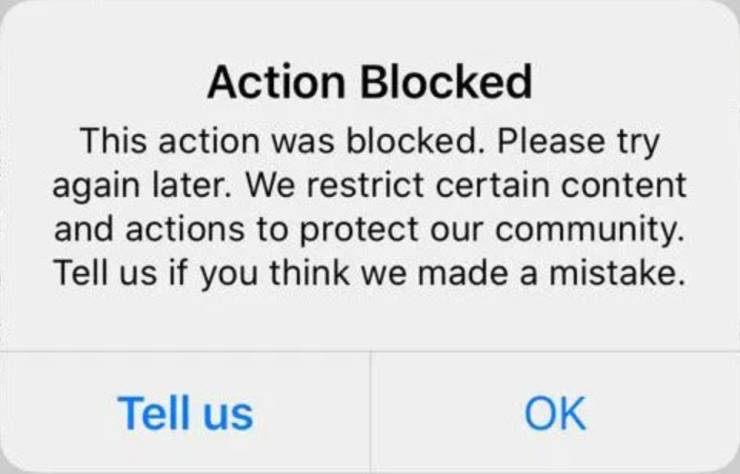 There are certain measures that can help you fix this Instagram problem, We have made a list for you –
Report it to Instagram using the "Tell Us" option; you can find it in the notification. Instagram might unblock you in certain situations.
Supposedly you cannot find the "Tell Us" option; you can inform Instagram using the settings menu. You can find the "

Report a Problem

," click it, and then select "Something Isn't Working" from the list in the settings menu.
Disconnect any third-party apps for increasing followers, and likes which are usually bots. Simple follower monitor apps can also cause trouble; disconnect all the third-party apps.
Sign out and Sign in again in your Instagram account.
Switch to other devices or internet connections such as cellular data; it is possible that the IP address is banned and not the account.
Update to the later version or uninstall and install the app once again to remove any possibility of bugs and glitches.
Leave it untouched for 24 hours and check back again.

Deactivate your Instagram

account and try again.
How to Avoid such Issues in the Future?
Instagram is one of the popular places for creators similar to YouTube and TikTok, but abusing any platform will only ban you. Engage with your audience in the right way using the best engagement strategies, and you can find the results. Here are a few things that you need to remember to avoid Instagram action blocked in the future –
Do not use third-party apps to boost your engagement.
Discourage your team from using robots to promote your content on Instagram.
Avoid quick engagements such as liking and commenting on hundreds of posts or following users in bulk.
Avoid follow and unfollow method to increase your followers; it does not improve the engagement but instead hints Instagram for robot or spam-like behavior.
Common Questions
Why I cannot like any Instagram post?

If you cannot like any Instagram post, you are possibly blocked from doing so by Instagram management.
What is Instagram Block Action?

Instagram Action blocked is a "Ban" action on the user accounts for a temporary period if found spamming or inappropriate actions.
Can Instagram close my account?

In a rare situation, Instagram shuts the account when they consider actions are harmful to the community. However, if you are following the Instagram Standards and Guidelines, your account will not be suspended.
How long does Instagram block any account?

48 Hours – Instagram temporary block can last as long as 48 hours.
Instagram Action Blocked / Instagram Jail
Abusing Instagram for more engagements on your profile is against the standard Instagram guidelines. Any abusing or spamming on the Instagram platform can put your Instagram account in jail (Block from doing certain actions). Moreover, in certain extreme situations, Instagram can suspend your account. We recommend you do not use any of the spamming strategies to boost your performance.
You may also like to read,
Do join our community by subscribing below and follow us on social media – @tinyquip
Some Catchy Line to Grab your Attention
Get Our Prime Content Delivered to your Inbox for Free!! Join the Ever-Growing Community… Right Now.