3 best Linux Android Emulators for android app developing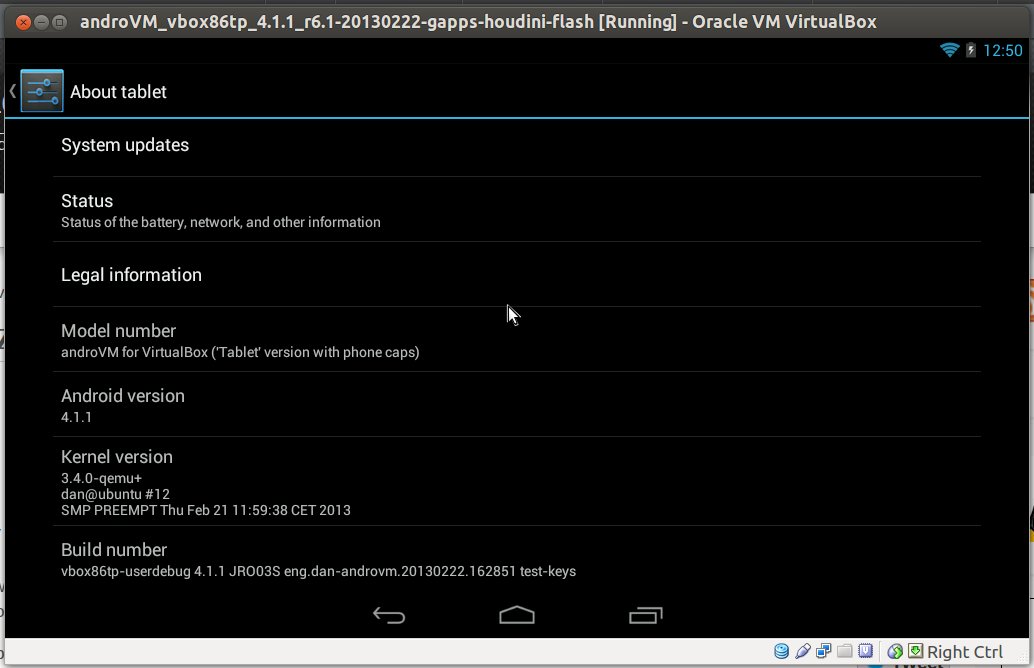 Android is ruling more than half of the smart phone industry and still looses on some of its own parts. Being designed on Linux based operating system it fails to be operated on Linux OS for desktops. In fact the emulators are available for windows and much operable than Linux. So, let's check out some of the Linux android emulators.
3 best android emulators for Linux –
Genymotion – The perfect Linux android emulator.

Image source – genymotion official 
Features:
Battery test
GPS
Webcam
Network testing
Disk IO throttling
SMS and call interruptions
Accelerometer and multi touch
Pixel perfect
In the first place the best part about genymotion is the features and compatibility it holds for your convenience. Genymotion allows you to have a battery test based application running. It helps you to react with various battery level changing and test it easily.
The GPS feature is something which is not available on most of the emulators. With GPS you can develop and test your location based android apps. This is really a cool feature you wouldn't like to miss out while developing location based android application.
Like other android emulators for windows, not to mention that Genymotion allows you to use webcam. This feature allows you to use camera applications and also screen cast your virtual device. The webcam is also a source for video on Genymotion.
You would definitely not like to have network interruption on any device using your apps. Genymotion allows you to have a network test while developing your android application and that's the reason it is one of the best android emulators for Linux. The network test includes 4G, 3G, Subway and Edge.
With Genymotion you can also check Disk IO throttling and emulate devices with slow internal storage. You can also have sms and call interruptions using genymotion and record their affect. Along with accelerometer and multi touch, genymotion the perfect linux android emulator has pixel perfect display. It display's the exact screen on the window.
Genymotion is compatible with android sdk tools and android studio. It also allows testing your website in various android browsers.
Premium Perks of GenyMotion –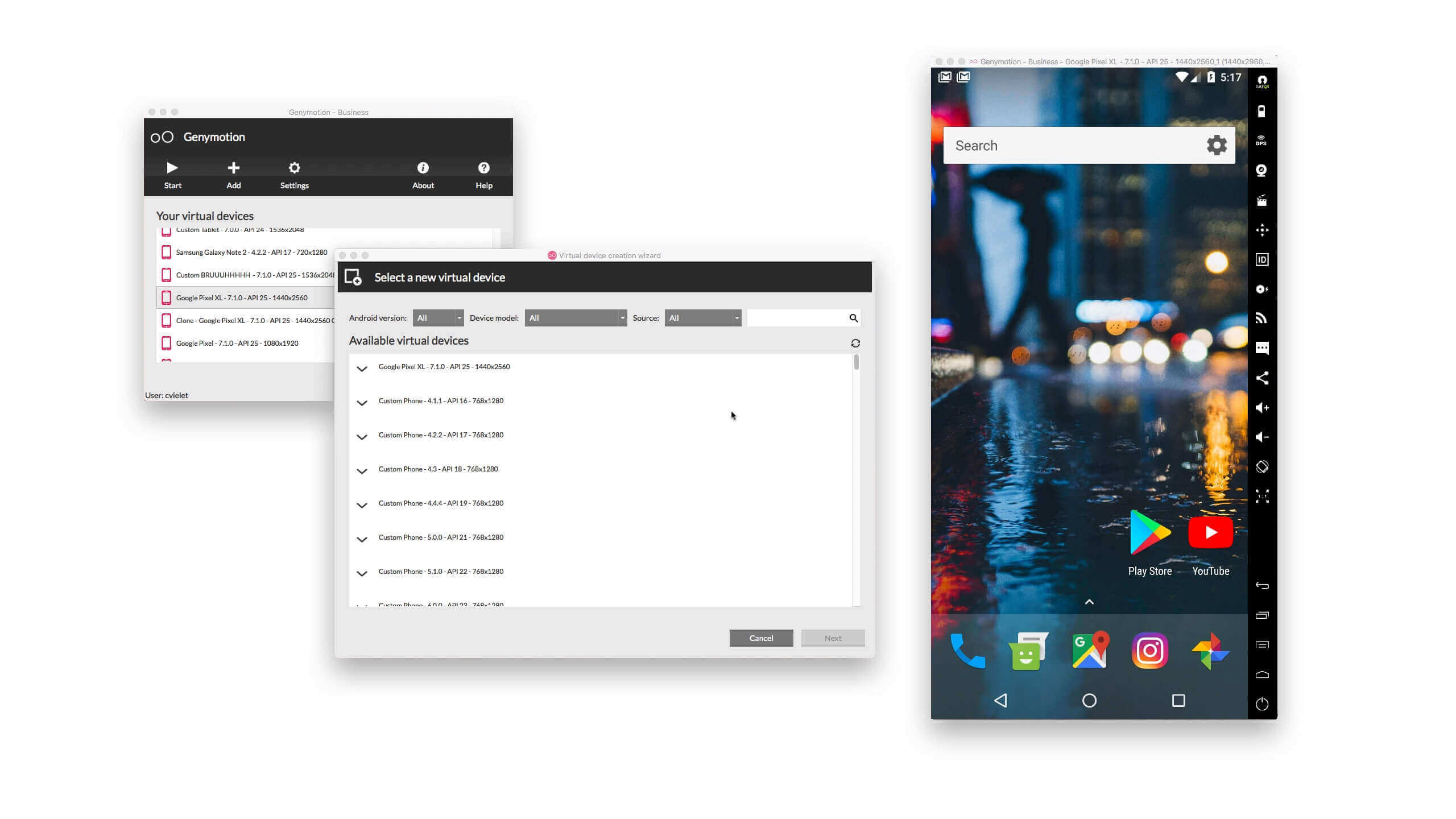 Image source – genymotion official 
Android ID and IMEI can be changed on the go without having to reboot your device. This enhances the track testing and also categorizes your device. The device ID and IMEI is displayed with this tool and is handy in use. With premium features genymotion is a must have linux android emulator.
With Open GApps feature you can test and run your developed android applications with single click. If you are using app based on google play services then this eases your testing capabilities. It also allows you to clone and reset your android device. By all means with this feature, you can clone your device multiple times for iterations and other integrations. additionally you can also factory reset your device and reset it to the same as it was loaded.
Android SDK – Official Emulator for Android development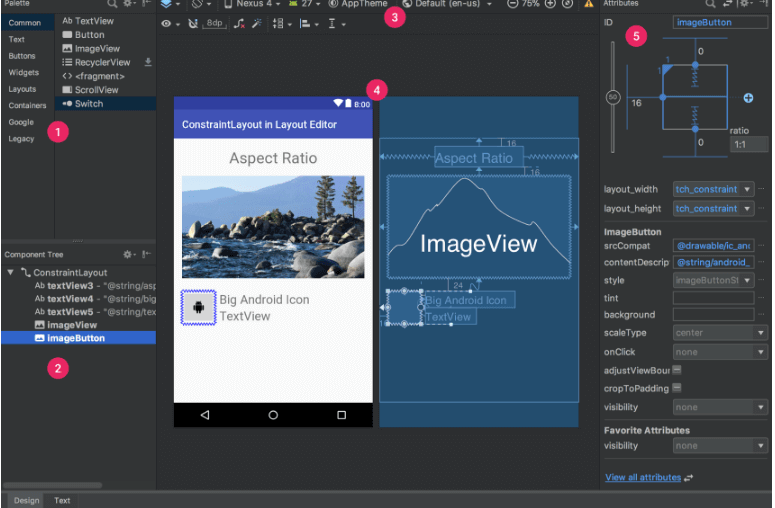 Image source – Android SDK official 
Features:
Visual layout editor
APK analyzer
Fast Emulator
Intelligent code editor
Flexible build system
Real time profilers
Android SDK is an official emulator by android which allows you to monitor a virtual android device on your screen. It lets you test your developed android apps without any hazel and is convenient.
The most amazing feature of this emulator is visual layout editor. This is an intelligent way to design your android apps by dragging UI elements into the visual editor instead of writing the code. The visual layout editor allows you to layout your designs on different versions. Along with testing layouts on different versions you can also test it on different sizes of screen.
The android SDK provides insights for apk composition with apk analyzer. This helps to reduce time spent on debugging issues along with dex support inside your app itself. The apk analyzer also reduces the size of the developed app being exported. The apk analyzer is a powerful tool which compares two apk's side by side and also has a quick view of final versions such as android manifest.
Comparatively –
This android emulator is faster compared to other emulators and allows you to test your apps conveniently. It is almost similar to a real device with testing capabilities for stimulating calls, text messages, sensor and network applications and location based operations. It is fast in nature and allows you to use pre defined configuration for different android versions.
Furthermore the intelligent code editor is a perk for android developers. It lets you edit your code and develop it in an intelligent way. The toolbar lets you performs actions like launching the app and running android tools. In addition there are many more handy tools in editor which will help you through the development.
Android profilers help with real time updates of what CPU memory and other resources your app is utilizing.
AndroVM – One of the best Linux android Emulators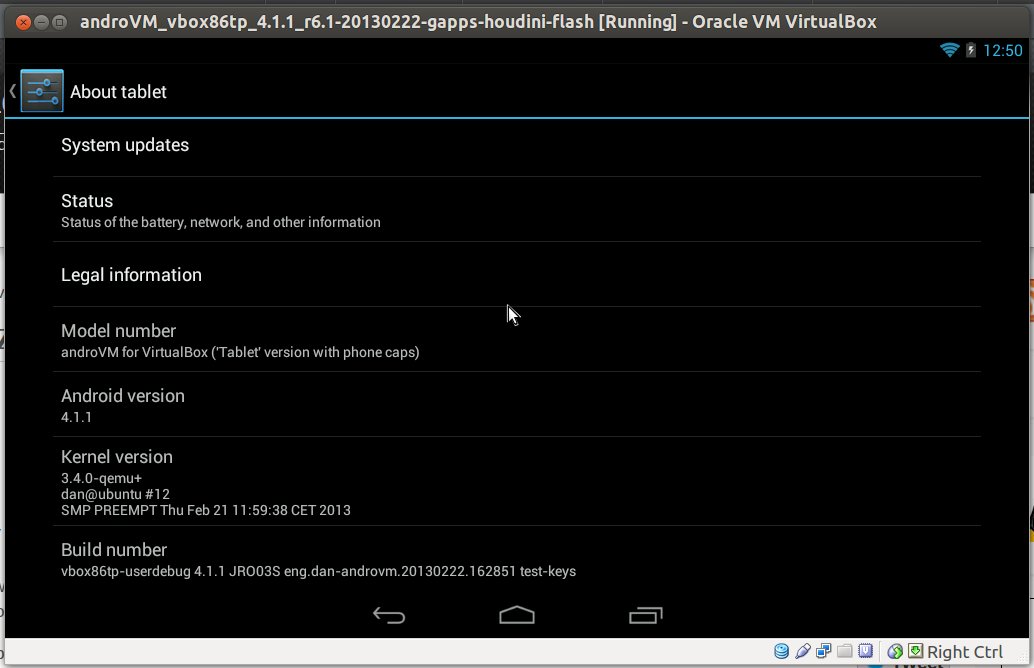 Features:
Fast
Network testing
Works with Virtualbox
Apps such as angry birds can be run
AndroVM is an alternative emulator which can be used if you don't have a super pc. The official Android SDK requires fast computers for usability. If you don't have faster computers eventually you it will create problems and definitely will be slower. AndroVM is a perfect substitution for the same and that's why it is linux android emulator.
AndroVM allows you to perform network testing for your developed apps. Therefore you can test your data connectivity and other location based app development.
The better parts about the AndroVM are about its interface. It uses virtualbox for installation and which adds perk to the developing and using.
Along with developing apps you can test them with AndroVM. For example, you can run angry bird game on the emulator and play for the win.
The AndroVM counts into one of the best alternatives and options for emulators on linux. You just need to have certain system requirements and virtual box installed.