Free Password Manager To Protect Your Data
---
---
The most important part of using any service is the security overview which is governing it. Do we use password protection on almost every service we use on the internet and are we sure that we remember all the passwords? Here comes the need for using a password manager and in this blog post we are going to list the best password manager which you can use to encrypt and save all your passwords on the go.
You might now oppose saying, I remember all social media and services passwords and I don't need a password manager. This might be probably when you are using the same passwords on every website and here comes the real problem with passwords.
When your data is compromised by data breaches or when attacker figures out the password from a single website then all of the other services fall in risk. Quite common because weak passwords are easy to hack and the attacker can try using them on other services and gets access to all of your other services.
So, what are weak passwords? Weak passwords are something that can be known to anyone easily. These passwords can be related to your hobbies, pet, birth dates and ex-boyfriends/girlfriends.
Don't reuse passwords. Even if you are using a password that is not related to your general biographic information, do not reuse the password on multiple web services. In these cases, by any means, if the password is leaked through phishing attacks or any other fool's way then all of your data and identity are at risk. Use strong passwords and make sure you don't reuse the password.
---
What are strong passwords and why do we need the best password manager?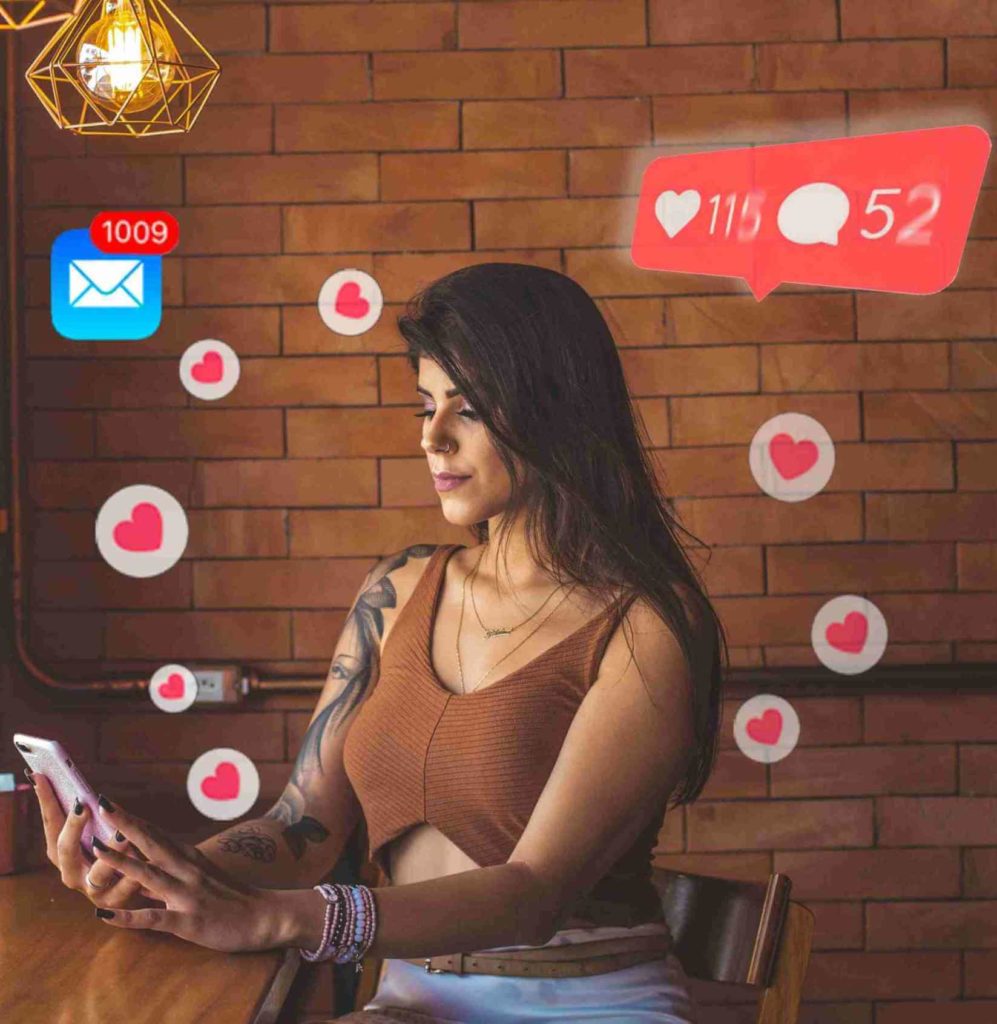 Strong passwords are when you make it difficult for a hacker to understand the possibilities of your password. For this, you can use different combinations of characters and make it harder for the attacker to guess the right one.
The password should contain a different combination of characters such as symbols, alphanumeric, upper case and lower case letters and some more symbolic characters. These combinations are harder to crack using attacks like dictionary attacks or other brute-forcing attacks.
---
What is a brute-forcing attack?
A brute-forcing attack is when the attackers try using a different combination of passwords along with the username and then try to gain access if it is a hit. This type of attack can easily get access to your weak passwords and let the attacker do the rest.
Are strong passwords only about the combination of characters difficult to guess? Not really though. Even if the combination of the password is pretty shuffled and difficult to remember it is still not that difficult to crack it up and there is a need for some cryptography here.
Cryptography is implemented in the browser-based password managers as such of google and chrome. Google has its very own password manager which uses AES encryption algorithms which are too powerful. These passwords are cryptographic and hard for the user itself to understand. These passwords are made up of random combinations of characters and it would take years for the attacker to know it unless the attacker uses a quantum computer.
Bonus Content: Quantum Computer – A brief Introduction
Although Google has its very own password manager it is difficult to have it everywhere on the web. Some services don't support Google and have their security measures. In which cases, browsers such as chrome and Firefox have their very own password managers.
Password managers on chrome and firefox do provide encryption and save all of your passwords but there are two major problems with it.
The first problem with password manager on chrome and firefox is they are limited to the devices. You can use them on your desktops but won't be able to use them on other devices. Consider the problem with firefox, it cannot sync with ios devices and then you will be unable to use them.
The second problem with using browser-based password managers is they can be accessed by third party services. Advertising partners are pulling data from your browser's password utility and this is something which you would not like.
And that's where the password managers can help you out. Password managers store all of your passwords in a safe vault in an encrypted format. These passwords are guarded by a master password which is known only by you and not even stored in servers. This is beneficial now. Ask me how?
When the master password is not stored in the password management server then the service provider cannot access your vault of passwords and they are safe there. The second benefit of this is when the attacker hacks into the server, they only get a bunch of encrypted passwords that are no use to them without the master password. This is the most secure way of managing all of your passwords. I recommend the password manager and in fact, I use password managers. Now, which is the best password manager for you? Let's figure it out.
---
LastPass – Best Password Manager
No doubt the best of all password managers, LastPass is a freemium password manager for almost all the devices including apple watch. Lastpass doesn't send your master password to their servers instead they send the rest of the passwords saved in the vault in an encrypted format to ensure security.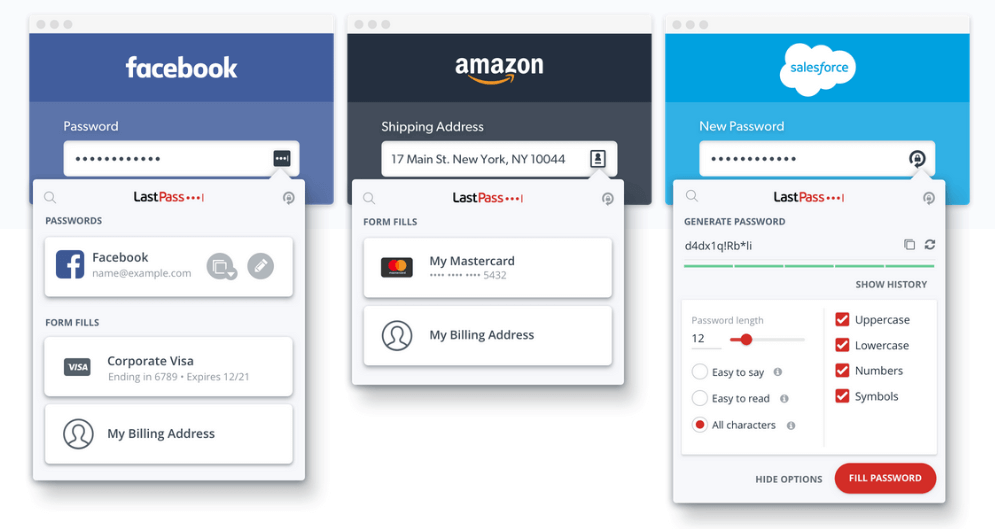 Lastpass comes with three different packages and since it is freemium, the basic package is free on where you can access it on all the devices, have one-to-one sharing, save and fill passwords, generate passwords for different web services and most importantly have multi-factor authentication. With the free package, only one user can use it and it also includes a 30-day free trial which is the best part. You can test it before you adopt it.
The password manager last pass also has two other packages; premium and family package. With the premium version, you get all the freebies and along with that, you get many of the other useful features. These features on the last pass let you have one-to-many sharing, emergency access, advanced multi-factor authentication, last pass for applications and most important of all 1GB encrypted file storage.
With the help of these features, you can not only have a secure way of saving passwords but use it everywhere else. Also, with the freemium version, you can try and test it before using it and then later adapt it. With the premium version, you can ensure that all the applications you are using get the support for the last pass too. So, you need to worry much about opening the vault, copying the password and then pasting it. It does it all on its own.
Another best part about the last pass premium package is storing of files. Why only passwords? At times we have some confidential files which are to be shared secretly and with the help of last pass password manager, it can be done easily and quickly.
The last pass password manager also has support for family packages. The family package offers all the premium perks and along with that a bunch of few more useful features. With the family package, you can get up to 6 premium licenses and also share files in a common folder.
With the family package of the last pass, you also get access to the family dashboard and store all the passwords and share them with family members on the go without any hassle.
Last pass password manager not only stores your password in an encrypted format but also simplifies shopping for you. Ease your shopping experience as LastPass will automatically fill the details on checkout. Log in automatically and also generate new and strong passwords when you are registering for a new account. The pop up will quickly pop out in text fields with recommendations and suggestions.
You can store and share your digital files like car insurance, wifi passwords, memberships, and other files online with the last pass premium packages. It supports up to 1GB of file storage. Make notes and also prepare for the unknown by choosing people who can access your last pass account during emergencies.
This is no doubt it is the best password manager but no software is developed flawlessly. Vulnerability reported in 2019 states that last pass is leaking credentials due to a bug. The no worry part was when the company fixed the bug before the security was compromised. Here is a complete blog by Zedge on the LastPass vulnerability bug.
How to use Lastpass?
Get the last pass browser extension for desktop browsers and enable it. Create your account and set a master key for your account. Make sure you remember this master key as it will be used to access your account. Now, you land up in dashboard where you need to add sites and their passwords which will then be encrypted.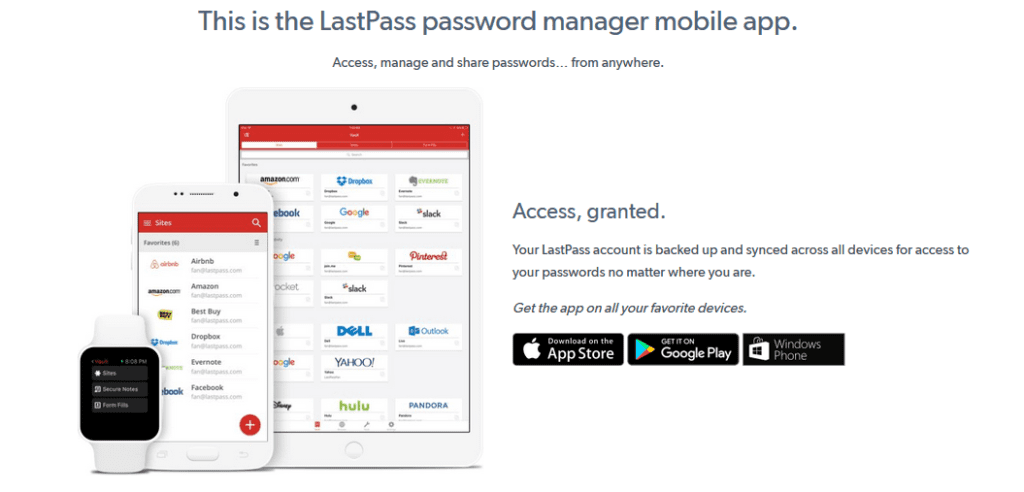 Lastpass is available for mobile platforms too and it works simply great. You have downloaded it from google or apple store and you are good to go after logging in. This is great because it directly starts syncing with your previous password and you don't have to add it again.
Credentials can be quickly and securely filled on your device without you needing to type it. It also has fingerprint security to make sure no one other than you access your last pass app on your device.
---
Dashlane – Password manager at its best (Recommended by author)
It is a new player in the market but it is no less than the best of the password manager. Dashlane ensures protection saving your passwords encrypted in their servers and a master password for you to access. It auto-fills all the passwords and makes shopping easier. But what's different? Let's check out the dashlane password manager.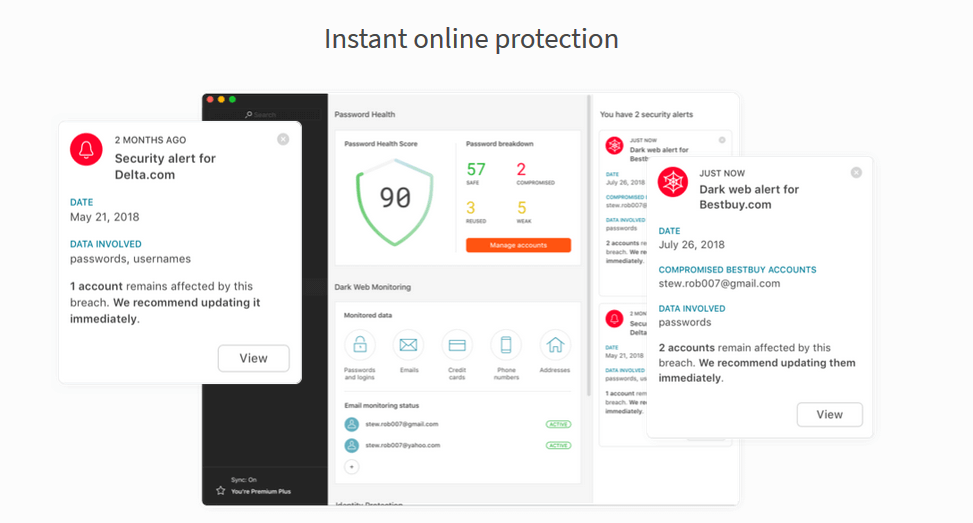 If you are looking for a password manager that is ideal for both personal and business use, then dashlane is just the right choice. Dashlane is a freemium password manager which gives you more features than any other password manager.
Dashlane stores and auto-fills all of your passwords, personal information, and payment details quickly and accurately.
When you register for a service, a dashlane pop-up suggest you a strong password and also generate a strong password for you. It is highly dependent and works when you change passwords too.
Another feature of dashlane is securing your documents and notes over the internet by encrypting them. This way you can securely share documents on the go and hassle less.
Now let me tell you why I love dashlane and why I recommend it. There are some features that I love the most and make dashlane stand out from other password managers.
Let's start with the dashboard. Dashlane has a very interesting dashboard which provides metrics and analysis report of all the websites you have listed. It displays the threat level and pops up always alert if your data is compromised on the web. Suppose your data is breached by an online website then dashlane will quickly show up a pop that the data is breached. In this way you are always alert and knowing your data. This solves a major issue we encountered in our data breach blog post.
Free Content: Data breach? Know if your data is compromised on web
Now when your data is compromised such as login credentials or banking details, they are sold out on the dark web. Dashlane scans the dark web data and if your credentials are found there then it immediately alerts you with a popup. In this way, you can take faster actions and that is why I am into using Dashlane password manager.
The problem with young teenagers on the internet life is that they cannot resist using services. If there is a small update or a bigger one, it is to be posted on the internet. In all this hush and rush, we end up connecting to unsecured public wifi and we really don't think much about VPN's. Using dashlane you can always encrypt your online security over unreliable wifi networks too. This is something missing from the rest of the other password managers.
Also read: 5 must-try VPN apps for your smartphone
Lastpass had a family version for your password manager but dashlane is a bit ahead. It allows you to share passwords with your family and colleagues without revealing your actual password to them. In fact, you can revoke this access anytime you need and also sync it on all of your devices. You can also grant access to emergency contacts that can access your dashlane account when you are not around.
Dashlane provides two packages and these are billed yearly. Among the two packages the first one, the free version will let you use dashlane with limited features. You can store up to 50 passwords in encrypted form but can use it on only one device. Autofill, password generator, alerts, and password changers are provided with this freemium version. The most important part is that it supports standard 2FA encryption and has secure note options.
But what are you missing? You cannot access dark web monitoring or secure your data over unreliable wifi. You cannot also store files and access the dashboard remotely. All these features are included in the premium version along with the basic features.
Also with premium account, you can sync your dashboard on unlimited devices and share passwords with unlimited people. With the free version, you could only share it with 5 accounts. The security is much more improved in the premium version without any doubt. The premium dashlane encrypts data in U2F with YubiKey's support.
The stand out feature is the business plan on dashlane password manager. Dashlane password manager also has a business package if you want it to use it for your own enterprise. It doesn't involve much of the technical aspect and is ideal for both tech geeks and non-technical naive and nerds.

The business package is something that you cannot afford to miss. If you are running a small enterprise or running an institution then your employee logins must be secret to others. You know the obvious reasons for the same. Using dashlane password manager you can save time by simple and auto-login using encrypted passwords.
You can also share passwords with other employees and all of this can be managed from the admin console. But there is something along with that; you can store important files in encrypted form on the private space. These smart spaces are convenient for storing and sharing all of your important files in one space.
You might wonder that any employee can manipulate user policies and other access control from their user panel. This won't be the case with dashlane. With dashlane you have control over user and policy management with Admin Console.
Bonus Read: 14 Instagram Hacks You Probably Didn't Know
---
Conclusion on Why you need a Password Manager

I recommend using the above two password managers which are great. They are billed yearly at approx 4 dollars per month which are not negotiable to security you need. Lastpass is one the best password manager among all the password managers out there. Honestly, if you want a more guided control over your password manager then you have to go for Dashlane. It cost's slightly more than the last pass password manager but it is worth using it.
Along with using the password manager, it is important that you do not use weak passwords on any of the web services. It is important that you don't allow the slightest of the breach and there you will be good with your data. Another important thing to take care of is to avoid using your credentials on untrusted sites or third party links. This way you will avoid phishing attacks. If you are using the password manager then you will not be worried about password stealing. As all the passwords are in encrypted form. I recommend you to use the dashlane free version as it provides much more free features than LastPass. Overall, the password managers are must to have in your daily life.
---
Frequently Asked Questions –
What is the best password manager?
1. LastPass – best password manager
2. Dashlane – Password manager at its best (Recommended by author)
Does Google have a password manager?
Yes, Google does have a password manager.
Although Google has its very own password manager it is difficult to have it everywhere on the web. Some services don't support Google and have their own security measures.
Are Password Managers safe?
Password managers store all of your passwords in a safe vault in encrypted format. These passwords are guarded by a master password which is known only by you and in fact not even stored in servers.
What is the best free password manager?
If you are looking for a password manager that is ideal for both personal and business use, then dashlane is just the right choice. Dashlane is a freemium password manager which gives you more features than any other password manager.
---
Subscribe to our newsletter and get the latest updates and tips. Follow us on social media for the same Here.