Is your Android phone battery charging slow? You are making some big mistakes, and here is how to fix them.
Android phones, just like iPhones, have been facing a lot of battery issues, and this comes right after using them for quite a time. The weak power source, adapter, USB cables, and bad temperatures; all of these contribute to charging your Android phones slowly. Also, there are a lot of rumors that the slow charging issue on Android is specific to models and brands, and it is true to an extent due to bad manufacturing. But this doesn't mean other Android devices cannot face slow battery charging in the near future. Here is everything you should know on how to solve the Android slow charging issue and prevent it from happening in the future.
Also read: How to Recover Deleted Messages on Android Like a Pro
Why is My Android Phone Battery Charging Slowly?
Smartphones are to be operated under certain optimal conditions to take care of the battery lifespan. For instance, one of the scenarios is using a bad USB cable and discharging the battery completely before the next charging cycle. If your Android phone's battery is charging slowly, here are a few reasons that need to be taken care of to avoid the issue.
Unclean charging port
Bad USB cable
Faulty adapter brick
Weak power source
Battery draining apps
Heated temperatures
Uneven charging cycles
Heavy usage while on charge
One of the most important reasons in the above list is uneven power cycles which go unnoticed by most users. To maintain the battery health, always charge it only up to 80% and discharge it to only as low as 20%, and this will help maintain the longer lifespan.
But it is only one of the factors. Let's look at all of them in the following sections of the handy article.
Solved: Android Battery Slow Charging Issue
If you have an Android device that is charging super slow or facing issues with charging overall, you can refer to the below solutions to fix the issue. Moreover, even if you have a new device or an Android device with no charging issues, you can still follow the below practices to never have a battery problem on your Android device in the future.
If this article helps you out, do not forget to share it with your friends on social media and on your blog.
Also read: How to Fix Google Photos Not Backing Up on Android & iOS?
1. Clean your Android's Charging Port
Firstly, Android and iPhones both the devices have one common issue with them; the charging port easily clogs up with dust, grime, and other particles, making it hard for the power connection to complete. You won't believe it unless you clean the charging port by yourself and remove all the dust. Besides, it is a common problem with most of the other devices, and we even discussed it in one of our prior articles – MacBook battery not charging issues.
To clean the USB or charging port on your Android device, take a needle-like sharp and thing tool and gently insert it into the USB port until it touches the inside surface. Now, gently move the tool outwards from one direction to the other end outwards to remove the dust particles. To make it easier, you can use a torch from another smartphone and direct it inside the charging port to check if dust is still left inside.
Alternatively, you can use a USB charging port cleaner that comes in handy with cleaning ports for almost every other device. One of the best and most efficient which we use is shown below.
Aneco USB Port Cleaning Kit for Android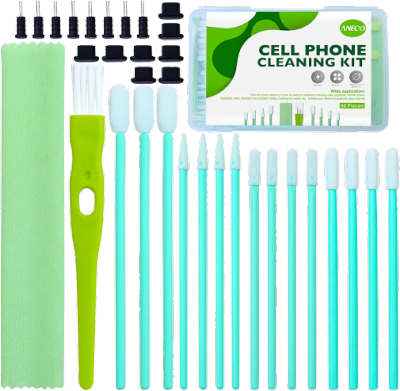 ADXCO 129 Pieces Cell Phone Cleaning Kit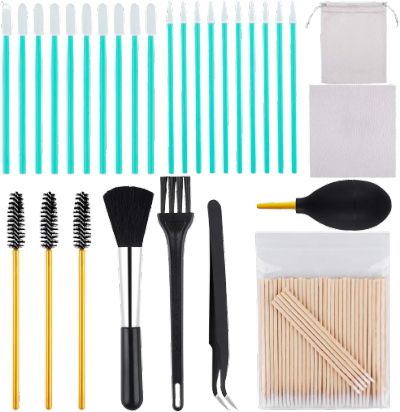 2. Check for Faulty USB Charging Cable
If you have a clean USB port and still face slow battery charging issues on your Android, it is likely the bad USB cable. But what exactly is a bad or faulty USB cable? Let's discuss the solution in detail.
A faulty or bad USB cable is one that is either not genuine or is broken from the bending areas. Meaning that the wires inside are visible and they are losing out most power that needs to be transmitted to your Android phone. One of the common signs of this is getting shocks when you touch the USB cable when connected to the power source.
If you are using a third-party USB cable to charge your Android device, you should check if it is genuine and only charge using a genuine one. Most non-genuine USB cables are made of weak conductors, and over time, they lose out the capability to transmit power and might even hurt your Android's battery lifespan.
Here are some of the genuine USB cables and cable protectors for your Android device,
CONMDEX USB Cable for Android Type-C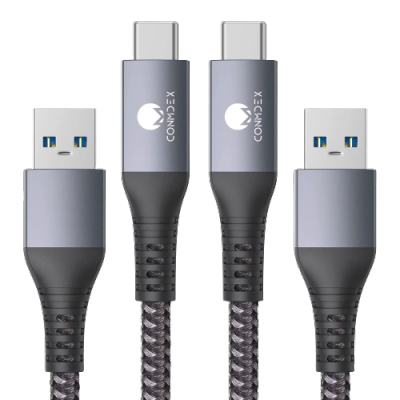 USB Cable Protector Covers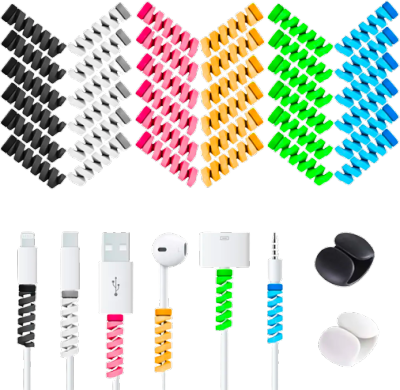 Also read: Gmail Keeps Stopping on Android Device? Here is How to Fix it
3. Faulty Charging Bricks Won't Charge your Android Anymore
Let's address it, your charging bricks or adapters will not live forever. It is one of the most common misunderstandings among users that if there is a fault, it has to be only with the USB cable and not the charging brick. However, this is not completely true.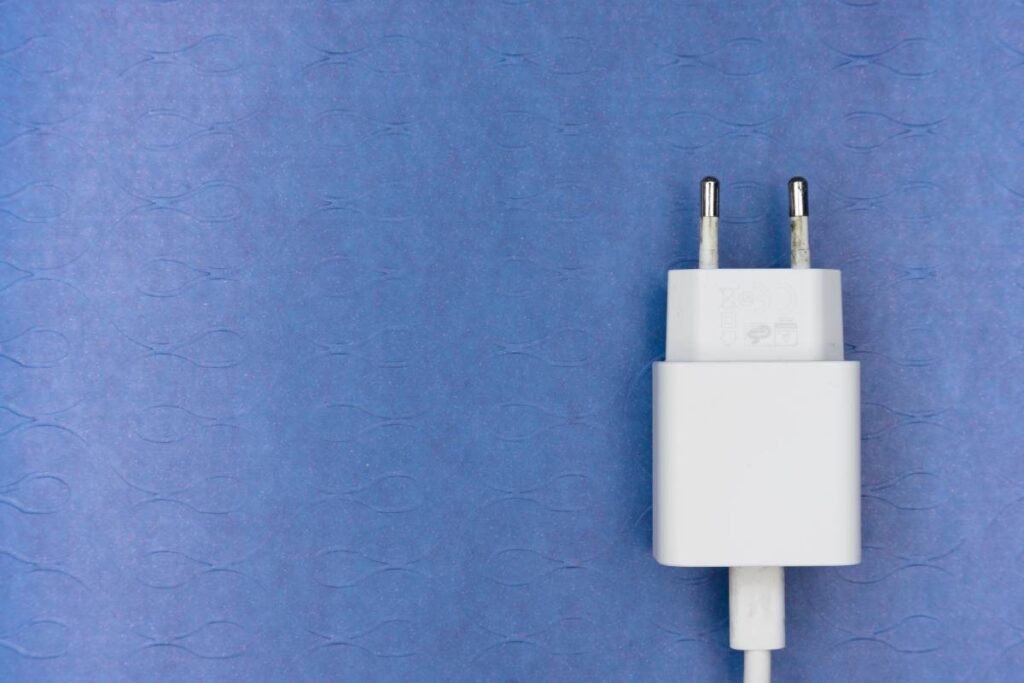 If you have a power source with a fluctuating voltage, it is likely that your charging adapter will no longer work. Now, this is something from our personal experience where we lost four charging bricks/adapters to high fluctuating voltage, and this is something you cannot control without a good technical understanding of how electrical appliances work.
However, you can change the charging adapter and check if the issue is really with the adapter or something else. For this, connect your Android device with a genuine USB cable to another spare charging adapter and check if it charges normally. Now, if you are able to charge your Android phone normally with a different charging adapter, it is likely that the current one no longer works.
You can use one of the voltages controlled charging adapters and talk to the electricity department for a controlled voltage to your power source to avoid messing up with any other digital devices at your place.
Here are some of the best spare charging adapters for your Android device,
Universal Wall Charger for Android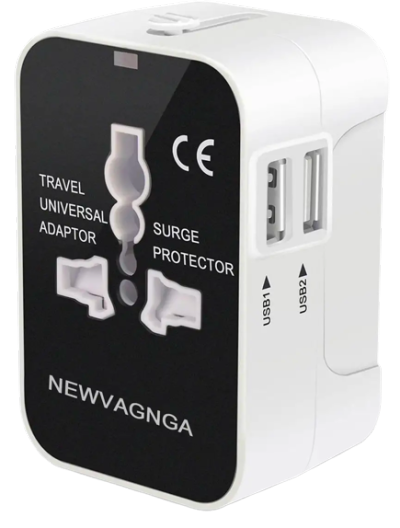 Tessan Wall Charger for Android (Universal)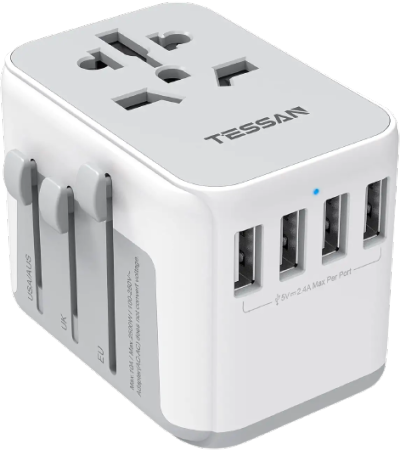 4. Weak Power Source Issue
Electrical issues can cause a real problem with your digital devices and not just your Android or iPhones. High voltage fluctuations are one of the problems with the power source, and we have already discussed it in the above section. However, a weak power source is no less of an issue for your Android phone's slow battery charging conditions.
When you connect your Android phone to a weak power source, your device does not get enough power to charge the way it normally does. Indicating a weak or slow charging situation and may take up to hours for your device to charge. Besides, continuously charging your Android phone through such a power source will eventually worsen the battery lifespan, and you might have to replace the battery sooner than expected.
To solve the weak power issue, contact the electricity department or an electricity technician and get all the power outlets checked for weak or faulty connections. Replace the outlets and wiring if required to keep all your other devices and electrical appliances safe.
5. Uneven Power Cycles
It is highly debatable among tech nerds regarding how much you should charge your smartphone's battery and for how long. A few of them say it is okay for you to charge your Android device for the entire night and forget about it, while others say do not charge it over 80-90% for optimal battery lifespan.
The power cycle depends upon the battery type which is used in your Android phone, and you should be charging as per it. However, we suggest you not discharge your Android phone's battery below 20% and charge it above 80% for optimal usage. Now, that's what we have found after consulting experts and doing experiments on different models of Android phones.
6. Check Android's Battery Health
If the battery health of your Android phone is degraded, it is natural for faster discharge or slow charging. Now, Apple devices such as the MacBook and iPhones have a battery health indicator but does Android device show battery health too? If not, then how to check it?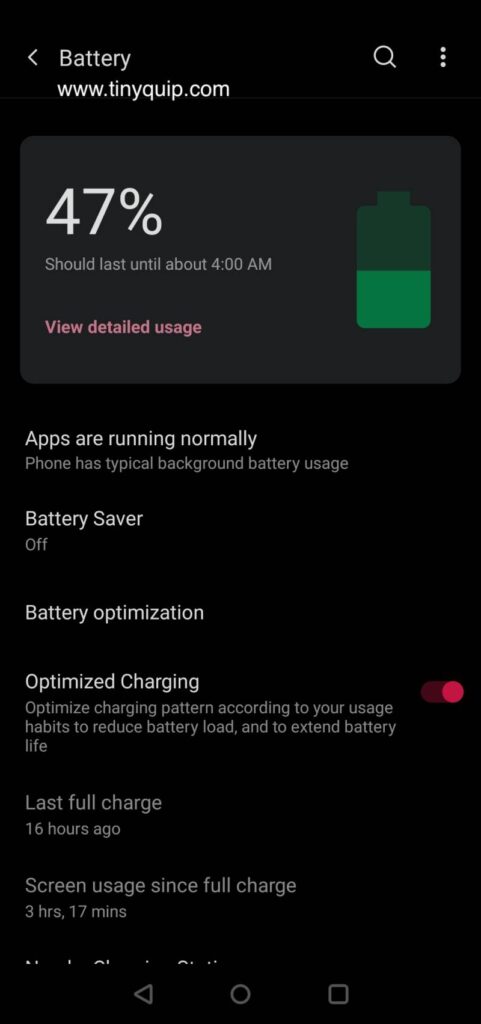 A few Android devices, such as Samsung and OnePlus, shows the battery health percentage without the need for any third-party app. However, other Android devices and models might not show it, and this is where you need to install a third-party battery health app from Play Store.
For devices that show battery health percentage, you can access it from the battery options under the settings app. If you cannot find the battery health percentage directly in the battery settings options, you can click on the "diagnostic" to see all the information along with the battery health percentage.
If you have a low battery health percentage, it is best to get your Android phone's battery replaced or get a new Android model based on your preferences.
7. Temperature Conditions
Temperature conditions are one of the vital factors when it comes to using digital devices, including Android smartphones. If you stay in a very hot temperature region or the environment around you is naturally hot, it is likely that your phone's battery will degrade much sooner. This is because batteries are required to be operated on certain optimal temperature conditions to work perfectly.
The temperature around your Android should neither be too high nor too low to have a normal battery lifespan. If you stay in a very hot region, you can use place an ice bag below your Android device or use cooling equipment to keep your Android device's temperature cooler.
If you haven't taken care of your Android phone's battery temperature, it is likely that the battery is significantly degraded and is the major cause of your Android phone charging slowly. In such a case, it is best to replace the battery pack before it damages the other parts of your Android device, majorly the internal hardware.
8. Disable Battery Draining Apps – Launchers, App locks, and Speed Boosters
All the funky user interfaces that come from app launchers and app locks drain a lot of battery from your Android devices, and we don't realize it all. Not only launchers but a lot of other apps in the background eat a significant amount of battery, and your phone is lesser charged as the charge is continuously being consumed.
So, how do you know what apps are draining the battery on your Android phone?
Thankfully, under the battery usage on your Android device, you can find an option to see what apps are using the most battery. If you are not guilty of using apps like Instagram for longer hours, then check for the apps which are consuming battery while you hardly use them. App launchers and parental control apps can be one of them, and you can uninstall them if they consume a lot of battery.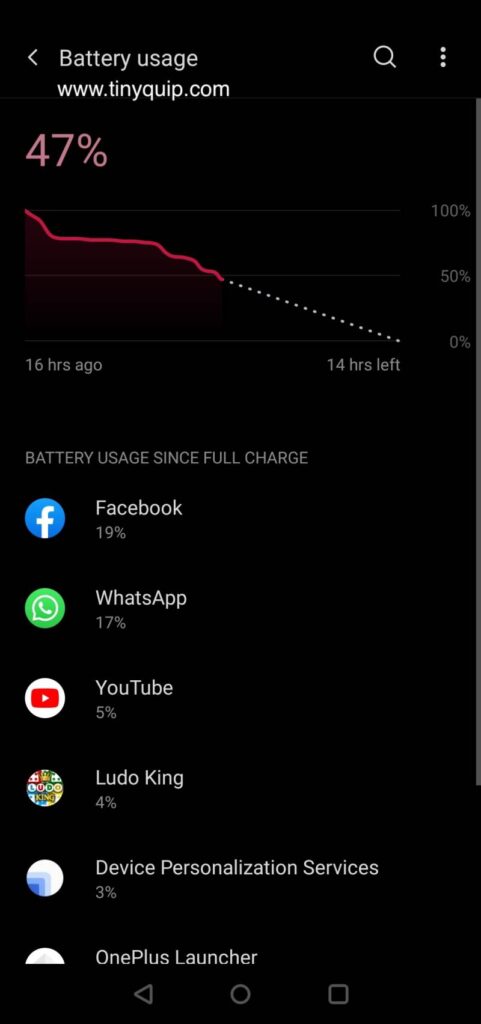 If you cannot uninstall apps, then you can stop the background process by using the "Force Stop" button for each app that unnecessarily runs in the background of your Android phone.
In other cases, if you find apps to be shady and consuming battery such as a calculator or file app consuming a lot of battery, then it is likely a payload or script that is being used as a backdoor to your phone. Uninstall such apps and reset your Android device to factory defaults to ensure your security and privacy are maintained.
There are also a lot of speed booster apps that claim to fast your Android device but end up eating a lot of battery as they are filled with Adware. We recommend you not to install such apps as most of them don't work, and if you want to fast your Android phone, you can clear the cache on your Android device rather than using such speed booster apps.
9. Check for Faulty Wireless Charging Hardware
Wireless charging is now one of the new normals, and it is so much better than managing cables all the time. However, if you have been using a wireless charger and notice your Android phone charging slower, it is important to check if the hardware is faulty. This mostly happens if you have been using the wireless charger for a long time or dropped it from a height.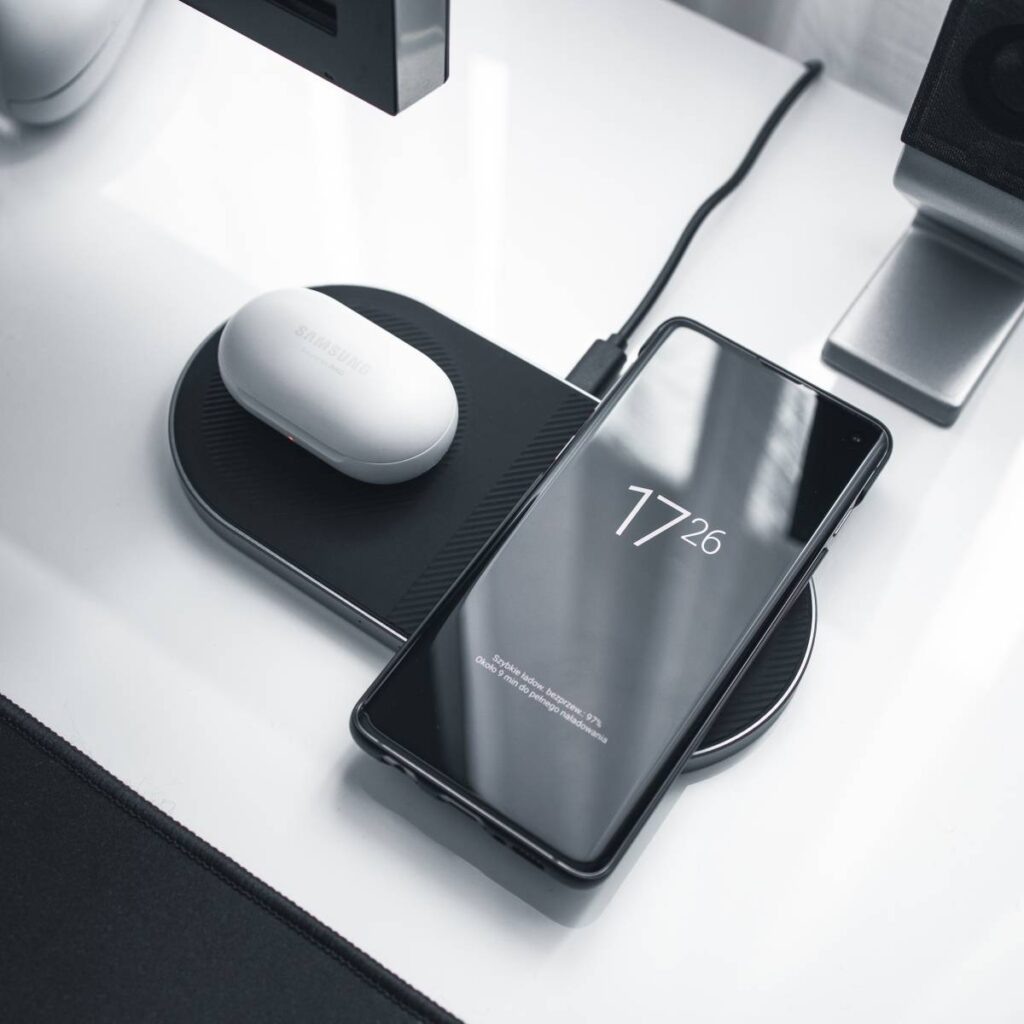 If the power circuit in the wireless charger is affected, it is likely that the charger is unable to transmit the required power to your Android device.
To confirm this issue, try charging your Android device using a USB cable and adapter and notice if you can charge it smoothly and faster. If yes, it is time to replace your wireless charger with a new one or continue using the USB cable for charging your Android device.
10. Avoid Using your Android Phone while Charging
Using your Android phone while charging, especially for gaming and other concentrated work such as video streaming and graphic designing, can mistreat the battery. As discussed several times in this article, the charging cycle of your Android phone should be smooth and seamless for optimal lifespan. However, using your Android phone while charging will stop it from charging healthily and degrade it, ultimately causing major issues such as slow charging.
It is best to restrict yourself to using your Android phones minimally while on the charge to ensure the phone is correctly being charged up.
Before you leave…
Get Our Prime Content Delivered to your Inbox for Free!! Join the Ever-Growing Community… Right Now.
Quickly Share this Article:
Wrapping up: Fixed Android Phone Battery is Charging Slow
We hope to have helped you with solving the slow charging issue on your Android phone. There are a couple of things that need to be taken care of about your Android devices, such as looking out for bad and faulty USB cables and adapters, cleaning your Android's USB charging port, and keeping an eye on battery usage and temperature conditions. Following these tips should help you keep your Android phone's battery healthy for a longer time.
If you like our article on how to fix Android phone battery charging slow issue, do share it with your friends on social media and subscribe to our newsletter below. If you are an Android fan, do not miss surfing more Android articles on our website.
Some Catchy Line to Grab your Attention
Get Our Prime Content Delivered to your Inbox for Free!! Join the Ever-Growing Community… Right Now.