---
In the hectic lives of ours, it gets difficult to take care of our grooming but we also want to look more manly with a perfect beard. This is not that difficult if you give out 5 minutes a day to take care and trust me, it will be quite simple. we have listed the best trimmers for men in India and an ultimate guide to choose the right trimmer. But firstly, you are making a mistake with just combing your beard and walking away to office or college. Once you wash your beard, it cleans the dust but it also removes a lot of oil and nutrients from the skin. To take proper care of your beard you need to give some nutrients to it.
Table of contents –
---
7 Best Trimmers For Men that are available in India
1. Mi Trimmer – Fully Featured Best Trimmer For Men
Mi trimmer is one of the best trimmers for men beard grooming. The blades are made up of stainless steel and have 40 length settings with 0.5 mm precision. It is powerful and is designed with a perfect grip.
Cord and cordless usage of mi trimmer let you use it even when you are charging the trimmer. This makes it the best trimmer for men. Another supporting reason is the IPX7 waterproof technology; with this, you can not only wash the blades but the whole body of your trimmer. This helps to maintain the cleanliness of your trimmer.
Free Content: 11 Easy Ways for Men to Look More Handsome and Attractive
Mi trimmer can run up to 90 minutes on cordless which is enough to give you 5-6 times trimming on a single full charge. It also has an LED indication for you to know when the battery is about to drain up.
It comes with a travel lock to avoid switching on unintentionally. You also get a travel pouch to carry your trimmer with.
Key Features –
40 length settings

Stainless steel blades

Powerful battery

Cord/Cordless Use

IPX7 Waterproof

Perfect grip

Travel lock
Pros –
Long-lasting battery

Cord and cordless use

Travel Lock
Cons –
Cord cable looks cheap

Blades heat up a bit when used for longer.
---
2. Philips QT4001/15 Best Beard Trimmer
Philips QT4001 is a pro skin advanced trimmer. It is a convenient, reliable and functional beard trimmer for every man out there. QT4001 is the best trimmer choice for men because of all the fully functional features and quality.
It has an easy precision setting of 1-10mm and has a locking method to prevent accidental change of precision. The 1mm precision is will help you keep a short beard for almost 3-5 days and is perfect for regular use.
Rounded blade tips are extra sharp to always cut hair neatly and effectively. Unlike mi trimmer, it does not have a full-body waterproof. You can clean the trimmer head which is detachable just by keeping it underneath running water.
Philips QT4001 has a battery backup of 45 minutes on 10 hours of charge. It has a perfect grip and no irritation in trimming the beard. It is the best men's trimmer available in India.
Key Features –
Easy precision setting with lock

1mm precision available

Skin-friendly

Detachable head for easy cleaning

Perfect grip and design

45 minutes of cordless

LED Indicator
Pros –
1mm precision

Skin-friendly blades
Cons –
Battery backup

Not full body waterproof
---
3. Philips QT4011/15 – Most loved by Buyers
When it is about beard trimmers, the blades play an important role. Blades are the most important factor if you want to choose a beard trimmer. Philips QT4011/15 is made up of a titanium blade that provides you with superior cutting performance and long-lasting sharpness. The blades are self-sharpening which is one of the best parts about them.
The power consumption is optimized so that it lasts longer and gives the best performance. This is why the battery is also engineered in this way to give you 60 cordless minutes on 1 hour of charge. It is certainly the best trimmers for men.
Talking about engineering mechanisms, the tip of the blade is designed in a rounded fashion with a comb to prevent skin irritation. This makes the blade cut sharply, neatly and more effectively.
You might want to have point precisions on your beard length and that is why Philips QT4011/15 has 20 point precisions. Setting up the precisions is quite easy, just turn the wheel and lock in the length settings.
If you want to clean shave then remove the comb and trim to get the zero trim look. It runs 60 minutes cordless and the battery is indicated with an LED indicator. You can make sure that you don't end up half trimming your beard before the juice runs out.
Another important thing you need to do from a hygiene perspective is to clean the trimmer regularly. Cleaning is recommended after every use to make sure you protect your beard and skin underneath. Philips QT4011/15 is easy to clean by just placing the trimmer head under running water but this is not the exact way. Know how to clean your trimmer head at the end of the thread.
Philips QT4011/15 has an ergonomic design which makes it easier to hold and reach hard areas of your beard. Along with all the features, you get a travel pouch to carry it everywhere you go which makes it easier for you to play your beard game right. This trimmer ranks in the best trimmers for men in India. No doubt with the engineered design. I would call it a perfectionist.
Key Features –
Long-lasting performance

Cord and Cordless use

Skin-friendly use

20 length setting with 0.5 mm precision

Titanium blades

Ergonomic design
Pros –
Battery advantage (60 minutes cordless use on 1 hour of charge)
Cons –
Blades tend to become blunt after a couple of months usage
---
4. Philips BT1212/15
This trimmer is no different from the best trimmers listed out in the whole trimmers for men catalog. It has a long-lasting performance and is built to last. But there is something unique as compared to other trimmers in the list. It has a USB charging facility that lets you charge your trimmer through your regular mobile charger or a laptop when you are traveling.
The Philips BT1212/15 is long-lasting compared to any ordinary trimmer; Runs 4 times longer than any of the ordinary trimmers. Something I don't like about this trimmer is the battery backup; it gives you only 30 minutes of trimming with 8 hours of charging. It can do better I believe although you have a USB charging facility to charge it on the go.
Like most of the Philips trimmers, BT1212/15 also has rounded blade tips to prevent irritation on your skin. The self-sharpening steel blades do much with trimming neatly and make your beard look great.
Bonus Content: 10 Best Video Editing Apps in 2020 For Android and IOS
It is easy to clean and has not much but a comfortable grip, enough to let you do the trimming part comfortably. The soft texture and stylish military look make it more stylish and attractive when you carry it along with you.
Key Features –
USB Charging

Long-lasting

Steel blades
Pros –
Travel-ready

Lasts 4 times longer than ordinary trimmer

Three combs with the pack
Cons –
---
Comparison of Philips QT4011/15, QT4005/15, QT4001/15, and BT1212/15 Trimmer
Also read: 9 Best App Lock Apps For Your Android Device You Must Use [2020]
---
5. Nova NHT-1071 – Best Trimmer For Men
If you are looking for a unique trimmer which powerful and silent then I want to recommend this trimmer. Nova NHT – 1071 has turbo technology which lasts it for 5 times longer than any ordinary trimmer. It is powerful and has the perfect design to reach all the parts on your beard.
Charging the Nova NHT-1071 is as easy as charging your mobile device. It supports USB charging and is much more flexible to charge.
Inside the box, you don't get the adapter with this trimmer, you have to buy an external adapter or just use the one you got with your mobile. This is a convenient option if you are traveling, you can just charge it with power banks or your laptop.
Free Read: Data Breach – Free Tools To Protect Your Data on Web
If you are having a dense beard and you want to go for a short hair trim look then this trimmer is best for you. It has a 9 length setting which you give you perfect 3 days shadow look in one trim. The length settings are protected with a safety lock to avoid accidental change while trimming.
Also, the design of the blades is quite different from any other trimmer. The titanium blades are designed in such a way that you get 35% faster and efficient trimming.
All the detachable components are washable but it is not full-body waterproof. You can wash it under a running tap and then attach it back after every use.
The battery backup is similar to the other trimmers; you get 45 minutes of cordless use once fully charged.
In my opinion, there is one thing which I don't like about this trimmer, You don't get to use it while charging. So, it's not like you are also charging and trimming at the same time just like the ones with Philips trimmers.
Key Features –
Superior Performance

USB charging

9 Length settings

45 minutes cordless use

Unique lift and trim

Safety lock

Titanium blades
Pros –
Cost-efficient

Good Quality body

Value for money
Cons –
Cheap quality plastic comb on the trimmer head

Cannot use while charging

8 hours of charging for 45 minutes
Also read: 7 Best Tools to Convert Documents like PDF to Word Online
---
6. Ustraa Chrome – Corded & Cordless trimmer

Ustraa chrome trimmer is the best in the market and a one-time long-lasting buy trimmer. It has great design and battery. A completely reliable trimmer for men in India, Best of performance compared to any other long time branded trimmer.
Ustraa chrome trimmer has the latest Li-ion battery which is the same used in most of the smartphones. Something which I loved the most when compared to any other trimmer is the long battery backup. It runs for 90-120 minutes on a charge of just 60 minutes, this is something you cannot miss out.
Also, let's understand the efficient blade technology. The titanium-coated self-sharpening stainless steel blades are best for trimming. Its unique design and wider blades give you trimming as low as 0 mm.
These blades are covered with strong and adjustable combs that are sturdy and doesn't shake and lock effectively. This provides smooth, consistent and tangles free trimming.
You get an LED status indicator to know the battery left before you start trimming or leave for travel. This LED status indicator also displays if your trimmer needs oiling.
Key Features –
Large titanium coated T-Shaped blades

lithium-ion battery

sturdy ABS combs

self-sharpening blade

comb locking mechanism

90-120 minutes of cordless usage time with a quick charge time of just 60 minutes.
Pros –
Amazing LED Display with Oiling Indicator.

Quick Charging and Long Lasting Battery

Strong and Adjustable ABS combs.

39% Wider Blades

Multiple blades are given inside the box which can be used for different levels of trim
Cons –
Not waterproof

Limited modes

No USB charger
---
7. Philips QP2525/10 One Blade Hybrid Trimmer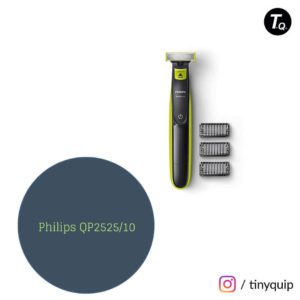 Unique OneBlade Philips QP2525/10 is an amazing and impressive trimmer that does trim, shave and style with a single trimmer. It has a dual protection system on the blade cutter to prevent the blade to irritate the skin.
The sharp cutting with Philips one blade is neat and perfect. It provides 200 times more precise edge cutting and doesn't shave too deep like a shaver.
The dual blade gives you trimming from both sides. So, you can direct in any direction and still have a precise trimming in both directions. You also get three trimming combs for you to trim in all right styles and fashion.
The blade is easily replaceable which means even if your trimmer blade is not sharp; you can directly buy a new replacement instead of buying a whole new trimmer.
This blade is covered with a plate to protect your skin and also prevent irritation. The unique part about this trimmer is that you can use it with foam or without foam. This is something which no trimmer features in our best trimmers list in India.
The battery backup is of 45 minutes on 8 hours of charge which is the same as other trimmers in our list. There is no USB charging available but considering the overall features, it is considered okay.
Key Features –
Dual-sided blade

Wet and dry

Durable OneBlade

3 trimming combs
Pros –
Easy to use design

Perfect for styling

Best in trimming

Replaceable blade
Cons –
Battery

Costly replacement of the blade
---
How to Choose the Best Trimmer For Men
1. Quality
The quality is the most important thing if you are looking out for a beard trimmer. A bad quality trimmer will hurt your beard and it is something you have to avoid because it takes a lot of time to grow a perfect beard. Keep in mind that you have good quality blades; titanium covered on steel blades will help you a lot because they don't hurt your skin. Also, the grip should be comfortable enough to let you style in your way.
2. Length Options
For most of the new teenagers, they do not consider the precisions and length available. But it is by far the most important factor in choosing the best trimmer for the beard. With proper precisions, you can adjust your trimming. With the right precision and length, you can keep a perfect beard. A perfect beard is something not like a zero trim style or awkwardly too much or uneven. Overall it should suit your face and style.
Also Read: WhatsApp Manager – Free Transfer, Recover and Restore
3. Battery
A perfect trimmer is one that can last for long and gives the consistently best performance. Your trimmer should always be travel-ready which means you shouldn't keep looking for a charging point every time. The most typical best trimmer for men will last from 45 minutes to 60 minutes but we also have listed a few trimmers which will last for more time.
4. Cord or Cordless
This is more about convenience; if you are buying a trimmer then it must suit your convenience. A cordless trimmer is more comfortable as you can use them anytime on the go but with the corded trimmer, you have to look out for a power source.
5. Purpose
There are different trimmers available in India. Not every trimmer needs to be a beard trimmer. So, if you are buying a trimmer for beard then make sure you buy a beard trimmer itself and not other purpose trimmers.
Also, there are dry and wet trimmers which are important to choose from. You can use the wet trimmer right after a shower but that is not the case with the dry trimmer.
---
How to Clean your Trimmer?
Cleaning your trimmer is the most important thing you need to do every time after you trim. It is pretty simple to wash your trimmer.
The first step is to remove the washable elements and brush them with a small brush. Then you have to rinse your trimmer head under the running water. Pour some blade cleaning solution and then rinse it again.

Dry it with a cloth and spray some multipurpose disinfectant to clean it properly.

Do the same with every washable element. Important to realize you don't pour water on the non-waterproof elements such as the body.

To clean non-washable elements, take a wet cloth dipped in the blade cleaning solution and drain it off completely. Now, wipe the non-washable elements and then dry it with a cloth. Spray multipurpose disinfectant and your trimmer is clean.
Bonus Content: Ultimate Guide For Choosing Best Gaming Phones
---
A Complete Beard Care Routine
1. Beard Wash
Wash your beard thoroughly with a good beard wash. You must take care of this step as it is the most important step. Pour some beard wash on your palm and rub it gentle enough to reach the skin underneath. Wash your beard completely such that there is no beard wash left on the skin or beard. Using regular shampoo will make your beard and skin a bit rough and uncomfortable and this will also make you feel unpleasant.
Once you are done with beard wash you need to use a conditioner for the beard. Pour some beard conditioner on your beard and make sure it settles down everywhere. Rinse your beard properly before you dry out your skin.
Most of the beard washes and bear conditioners have a lot of chemicals in it. Chemicals such as paraben, sulfate, and silicone can turn out harmful in the longer run. You must use a proper beard wash and conditioner and make sure it is chemical-free.
Also, don't wash your beard every day; this will end up leaving you dry and rough skin. Wash your beard twice a week or two and you can do it more or fewer times depending on the density of your beard.
2. Beard Oil
Now that we have washed our beard, the nutrients are removed from the skin along with the dust. We will now have to provide nutrients to the skin and this can be done with the help of beard oil.
Beard oil provides natural hydration and also gives conditioning to it. It is simple and easy to use. Pour some beard oil on your palm depending on how dense your beard is. Gently massage your beard evenly on all sides and make sure it reaches your skin underneath. Rub it downwards toward your chin and then tap it softly with your fingers.
The right time to use beard oil is when you have just taken a shower. This is because there is no secret that hot water showers open up the pores on your face. This is the exact time when you need to apply some beard oil so that it reaches underneath your skin. You can apply it every day and most preferably only once a day.
Beard oil will also make your beard and mustache soft and also smell great.
3. Best Beard Brush
Combing your beard is something you need to do every day no matter what. But you know I am not a big fan of regular combs when it comes to beard care. Regular combs are made out of plastic or steel and they just pluck your hair and sometimes get stuck there with pain. I have a better option here.
I suggest you all use a bristle hairbrush. Hairbrushes are much comfortable and don't tear or stuck in your hair. Using a brush will also make your hair look more even and it is quicker than the traditional comb system.
Make sure you don't do it harshly or you will end up hurting your skin and breaking the texture of your beard.
The next step is to use scissors and cut off the split ends and make adjustments to your beard. You can also use it to shape your mustache.
But it doesn't end here.
When it is about making adjustments of beard, you need a perfect trimmer too. One of the biggest problems for men is buying the right trimmer for themselves. It has been a big-time issue with having so many trimmers in the market and choosing the best one out of them.
---
Frequently Asked Questions –
[wp-faq-schema title="FAQ's" accordion=1]
---
Subscribe to our newsletter and get the latest updates and tips.
Some Catchy Line to Grab your Attention
Get Our Prime Content Delivered to your Inbox for Free!! Join the Ever-Growing Community… Right Now.