AV receivers are the best addition to your home theater systems that improve sound and video quality. The best AV receivers for music and entertainment give you a set of features such as surround sound and voice assistants. Additionally, with HDCP and 4K video support, you can directly improve the video quality and stream up to 4k video.
If your AV receivers do not support the voice assistants, you can integrate them with the HEOS Link. Additionally, you can set up home automation with this integration.
Top Picks – Best AV Receivers For Music and Home Theater
Denon AVR-X8500H – Home Theater Experience
The Denon AVR-X8500H is one of the most powerful and best AV receivers for music and home entertainment. It is lined up with impressive features such as home automation and voice control with Alexa and other voice devices. To clarify, let us see the complete features and functions of Denon AVR-X8500H.
Denon AVR-X8500H uses a 13.2 channel receiver that supports the latest immersive audio formats. These include IMAX enhanced video, Dolby ATMOS, DTS:X, and AURO-3D, to name some of the audio formats. Watch clearer images and videos, and above all, get immersive surround sound with the best AV receivers for music and entertainment.

There are 8 HDMI inputs and 3 HDMI outputs featuring HDCP 2.2 connectivity. These include
4K Ultra HD 60Hz video
HDR and 21:9 video
4:4:4 Pure Color sub-sampling
BT.2020 pass-through support
I love the advanced video processor that allows you to upscale the video quality. With the 3 HDMI outputs, you can connect your AV receiver to an external monitor, TV, and projector. With any source of input, the video quality can be up-scaled to a true 4K quality. The Denon AVR-X8500H supports HDR, Dolby vision, and HGL technologies for a better experience.
Also read: 8 Best GBA Emulators For Android & PC – Free & Paid GBA EMU
The AV Receiver is now not limited to cables and wires. In other words, you can connect your av receivers with technologies such as wi-fi, Bluetooth, Spotify, and Airplay. Firstly, with the HEOS technology, you can play the same or different songs in all the connected rooms. This gives you a whole-home audio experience without having to go to the receiver physically. Secondly, you can connect devices such as Alexa and Google voice assistant to control music on the AV receiver.
Advanced sound processing involves powerful DSP Audio processing and 32-bit D/A conversion. This gives you an entrancing audio experience and high-resolution audio. With Control4 SDDP, quickly integrate into your home automation devices and perform tasks. To make it easier, you also get an IR remote to control the AV receiver.
---
Denon AVR-S540BT (Best Mid-Range) AV Receiver
The Denon AVR-S540BT AV receiver is one of the mid-range best AV receivers for music. With 5.2 channel Dolby Vision and a 4k ultra HD receiver for the best video quality. The supporting technologies include HDR, HLG, and 4k video pass-thru for a high-quality viewing experience.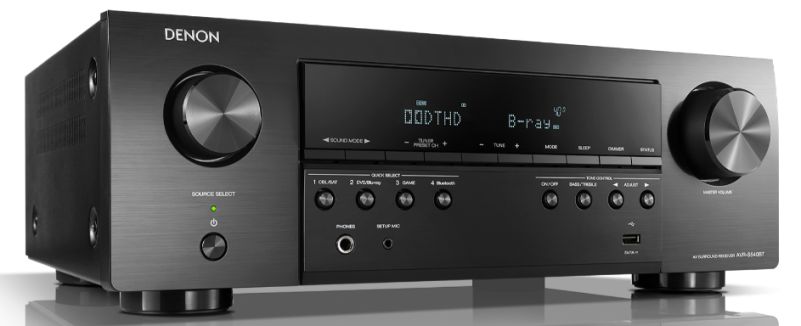 There are three HDMI ports with HDCP 2.2 connectivity support making it one of the best av receivers for music and entertainment. The Dolby Vision and HLG ready Denon AVR-S540BT allows you a bright, contrast, and colorful visual experience. The total of five HDMI ports include –
4:4:4 Pure Color sub-sampling
HDR
BT.2020 pass-through
Dolby Vision compatibility and HLG
Full 4K Ultra HD with 60Hz
Unlike the Denon AVR-X8500H, you get limited connectivity options. You can connect to your Denon AVR-S540BT using Bluetooth only on your smart devices and computer. It can remember up to 8 Bluetooth pairs so that you can enjoy music with your friends and family. You can also control the Denon AVR-S540BT using the Denon 500 series remote app on Android and IOS devices.
The front panel consists of a USB port that can be used to connect various USB media devices. It also supports a wide range of music extensions; a few are MP3, WMA, FLAC, and MPEG-4/AAC tracks.
Also read: 21 Best MacBook Pro Accessories
However, the Denon Avr-S540BT does not support HEOS technology, so it doesn't work with Alexa and other voice assistants. On the other hand, you can separately buy a Heos Link and set up home automation and voice assistants with your AVR-S540BT. It is probably the best add-on to your AV Receivers for entertainment and music. HEOS Link also allows you to play the same or different songs on different speakers set up in your room.
The advantage of using the HEOS Link is, it can convert any speakers into wireless and provide amazing features. It comes with smart home integration and a subwoofer system that is compatible with Alexa smart speakers.
Overall, Denon AVR-S540BT is one of the best AV Receivers for music and entertainment. It is a mid-range model with impressive sound quality but limited to Bluetooth connectivity. You can use the HEOS technology to extend its capabilities and features, such as home automation.
---
Sony STR-DN1080 – Best Home Theater AV Receiver

The Sony STR-DN1080 is exactly what a best home theater AV receiver should work like. Be at the heart of the action, music, and entertainment with the 7.2 channel powerful AV receiver system.
The Sony STR-DN1080 supports technologies such as Dolby Atmos, DTS:X, and the ultimate 4k video experience. You get a cinematic surround and immersive sound experience along with an advanced digital format. The AV receiver is compatible with phantom speakers and 4K HDR quality for your entertainment.
Also read: 9 Best WiFi Range Extender and Internet Signal Boosters
One of the best features of the Sony STR-DN1080 is the surround sound experience with only 2 speakers. These best av receivers for music works with Google Assistant and Chromecast giving you all the freedom to play your favorite music and movie from any device.
---
Yamaha R-S202BL Stereo Receiver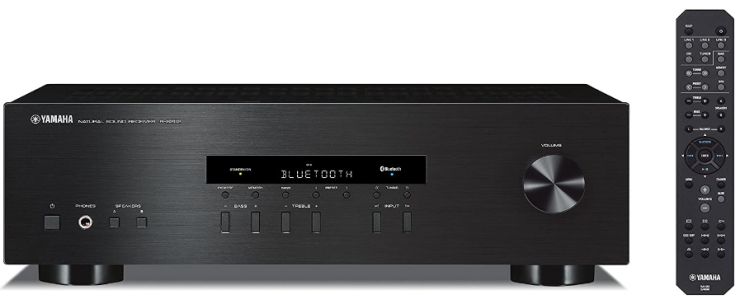 Yamaha R-S202BL is another best AV receiver for music in the market that works on Bluetooth; you get an amazing and quality sound experience.
One of the advantages of this av receiver is the Eco-friendly build that saves up to 0.5W automatically; You can manually set the stand-by mode and adjust this setting. Additionally, you no longer need to struggle with radio presets as there are 40 pre-installed radio presets; enjoy streaming music even if you don't have any device or subscriptions.
Also read: 12 Best Showbox Alternatives For Android and Fire Stick
You can connect your favorite voice assistants to play your own music directly through Bluetooth; this improves the overall product's immersive experience. Additionally, the brushed aluminum design look gives a premium finish to your av receiver.
I would suggest you this one of the best av receivers for music if you are a hardcore music personality. Moreover, it is only for music.
---
Sony STR-DH590 -Mid-range best AV Reciever for Music

Sony STR-DH590 is a great addition to your home entertainment system; with dozens of features and mid-range prices, it is the best AV receiver for music and entertainment.
The supersonic fidelity and high-performance video support 4 HDMI ports and HDCP 2.2 signal handling; you get a perfect combination for a home entertainment system. Likewise to the Denon AVR in our list, Sony STR-DH590 displays a clearer 4k picture with a Dolby vision and flexible surround sound. This is possible because of the 5.2 channel AV receiver that brings out the best picture quality with a 4k HDR pass-through.
Also read: Showbox not working? – Fixed Bugs and Latest Updates
Additionally, with all these technical features, you get a premium design look that is compact. You also get the Bluetooth connectivity to play music directly from your phone using apps like Spotify or Apple Music, or any other music app.
---
Frequently Asked Questions
Should I buy an AV receiver?

AV receivers are a great addition to your entertainment system; if you want a 4k quality HD images and surround system, then I suggest you upgrade with the best AV receivers for music.
Do AV receivers improve quality of the sound?

Definitely, AV receivers with 5.1 and 7.2 channels improve sound quality with a surround sound system. In addition to these, it also amplifies sound without losing the tones and sharps.
Should you turn off AV receiver when not in use?

AV receivers use minimal power and go in stand-by mode when not in use. It is completely okay to leave the AV receiver on when not in use.
Best AV Receivers for Music
To sum up, these are the best AV receiver for music that is a perfect fit for your entertainment system. Additionally, they allow you with 4k HD picture quality and surround system. It is contrasting to find the best features at these prices. Moreover, these AV receivers can be used with Bluetooth and voice assistant apps like Alexa and google assistant.
Some Catchy Line to Grab your Attention
Get Our Prime Content Delivered to your Inbox for Free!! Join the Ever-Growing Community… Right Now.