The Chinese tech giant Xiaomi is now up with a new product – mi trimmer. This tech giant is one of the most selling cell phone brands in India. Xiaomi after launching premium smartphones at a cheaper price is now stepping into other sectors of products; Grooming is one of them for now.
Recently Xiaomi successfully steps into the grooming industry with its latest product mi trimmer.
The mi trimmer is handy, easy to use and packed up with a lot of features you can't resist. These features not only do the job easier but are also much more comfortable.
Also read: Mi Notebook Air – Slimmest and Powerful laptop | Full Review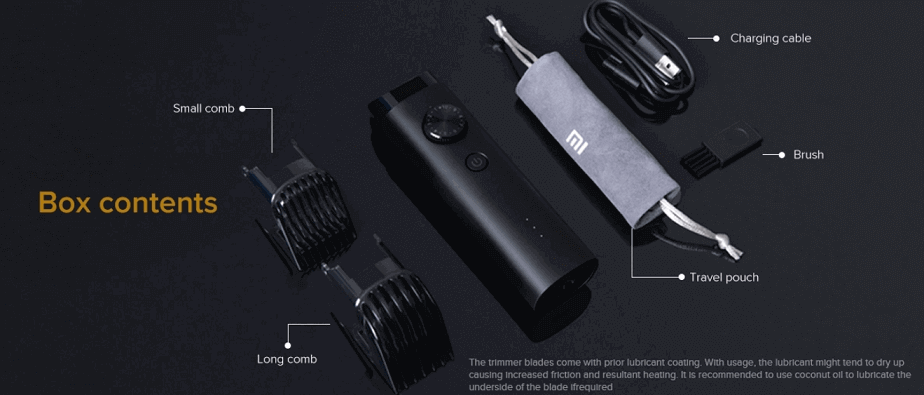 Mi Trimmer – Classy and Comfortable Design
The mi trimmer is no different than any other common trimmer when it comes to design perspective. The medium-sized handle and the top blade sums up most of the trimmer.
On the serious note, it is not just about the medium-sized handle and the top blade. It has much more to do with it. The 40 length setting allows you for precision and sharpness of beard while trimming.
I personally feel awkward and uncomfortable when I have a lot of uneven beard hair on my face. The precision lets you have your style and nothing much less or more. The 40 precision is also cumbersome for some people who just want few options to trim and move on.
Also read: 15 Best Body Wash For Men To Feel Fresh and Great
The blades are made up of stainless steel. There are a lot of advantages to using stainless steel blades. They don't rust easily, warms up quickly, and are good against your skin compared to other alternatives.
The trimmer reaches every corner very smoothly with round blades. These blades are with precision as small as 0.5mm. The box contains two blades with different precision.
Battery Backup?
The battery backup is 90 minutes on cordless. This may seem like a powerful battery backup but honestly, there are many Philips trimmer which lasts longer than 90 minutes.
The MI trimmer can run cord and cordless both. This means that you can trim while you are still charging the trimmer.
Also read: 21 Best Macbook Pro Accessories in 2020
The fast charging feature will charge in no time. The developers claim 5 minutes of charging will give you a backup of 10 minutes. Which is great when you are getting late for something.
Is MI trimmer waterproof?
Yes, the Mi trimmer is totally waterproof with whole-body being washable when you are getting late. Usually, it is troublesome to remove the head of the trimmer and clean the blades but with mi trimmer, you can directly place the whole trimmer under a running tap and clean it without having to get on your nerves.
Also read: 7 Best Trimmers For Men and Beard Care Guide
Are you travel-ready with your trimmer?
Mi focused on one of the problems men face while carrying a trimmer in their travel backpack. The trimmer is designed with a travel lock feature which turns the trimmer into non-functional until you turn it off using the travel button. The box also contains a travel pouch for your trimmer.
---
Frequently Asked Questions –
[wp-faq-schema title="FAQ's" accordion=1]
---
Subscribe to our newsletter and get the latest updates and tips. Follow us on social media for the same Here.
Some Catchy Line to Grab your Attention
Get Our Prime Content Delivered to your Inbox for Free!! Join the Ever-Growing Community… Right Now.