Despite being one of the most popular messaging apps, WhatsApp still does not allow you to start a conversation without saving the number. If you want to message someone whose number is not saved on your contact list, you first need to save the number, refresh the contacts page, and start a new conversation. Isn't this a tiresome process? In this guide, I will share a few ways you can use to send messages on WhatsApp without saving any number or contact.
Saving an unknown WhatsApp number to start a chat with an untrustworthy or unknown person is not safe. It discloses your profile image, WhatsApp status and dozen of other information. It is best to send messages directly without having to save the number. But how to do so? Here is the complete guide for you.
Also read: How to Block and Unblock Someone on Facebook?
WhatsApp's Wa.me links – The Best Way to Send WhatsApp Messages without Saving Number
WhatsApp has a secret feature that allows you to send messages without saving a number. In the FAQ section of WhatsApp messenger, the developers explain the process of using wa.me to send messages without saving numbers.
To use the wa.me feature, you need to open any suitable browser on your android or IOS device. If you are using a desktop client for WhatsApp, you can also use the desktop browsers such as chrome or safari.
In the browser tab, enter the following web address: https://www.wa.me/[Country Code] mobile-number and click enter. Remember to replace the mobile number with the number you wish to message without saving the number.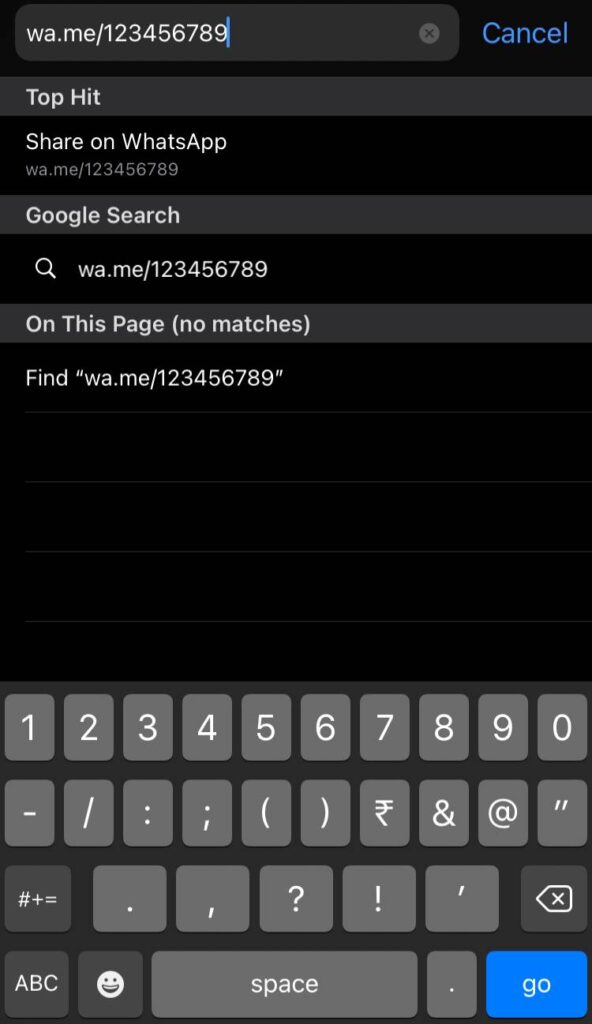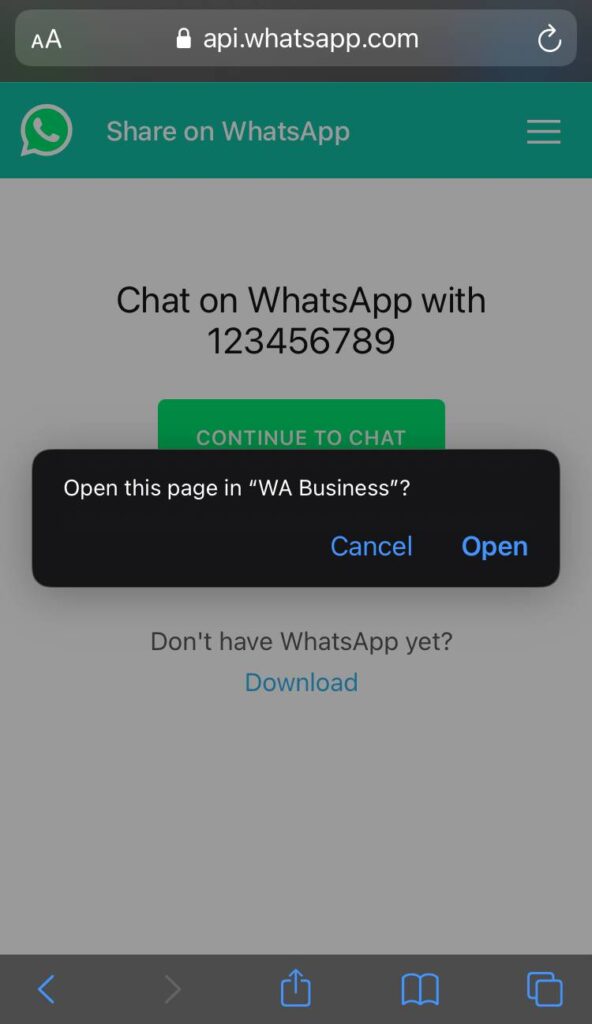 Example: https://www.wa.me/91123456789
"91 is the country code for India", you can do the same with your country code.
Once done, you can see a green button indicating continue to chat. Click on it, and you will be redirected to the WhatsApp app. In the case of the desktop browsers, you are asked permission to open the WhatsApp desktop client to continue.
Now you can chat or message without saving the number on WhatsApp. Isn't this a cool feature? Also, it is faster than saving the number in actual and then starting the conversation.
This method works on Android, IOS, and also desktops (Windows, Linux & Mac)
Also read: WhatsApp Manager – Free Transfer, Recover, and Restore
Method 2: Click to Chat [Small, No Ads]
Android, Price: Free
Click to Chat is a third-party app that does the work for you. This free app allows you to start a WhatsApp conversation without saving the number on your contacts list. Besides, it is one of the fastest methods than actually saving the number and syncing the contact to start a conversation on WhatsApp.
In the wa.me method, you have to copy the number and enter it in the browser and then be redirected to WhatsApp; if you don't want to do this and want to make it much quicker, you can use the Click to Chat app on your Android device.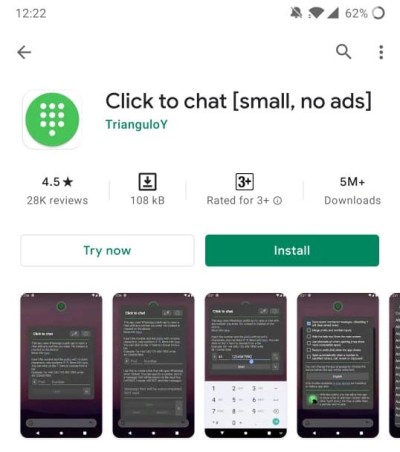 You need to enter the mobile number on this app and click a button; you will start a chat on WhatsApp. This helps you keep your contact book clean when sending a temporary message or to someone unknown. Besides, this disallows the other person to see your WhatsApp personal information such as profile picture or status.
The best part about this app; it is a free app with no ads. Usually, such apps are loaded with ads, and users get fatigued using them, but this is not the case with Click to Chat. In addition to this, the app is as small as 113kb which makes it small and fast.
An app with a similar name on IOS devices that we do not think is a trustful app. The first flag is that the developers are different, and there are many bugs and complaints regarding the UI of the app. The second flag is, Apple has no privacy information about this app which makes it more suspicious.
Method 3: Text Selection [Android Only]
Text selection is one of the secrets to send a WhatsApp message to unsaved numbers quickly. This secret tip works with almost all android devices (Works on Android 9 & 10), and a few devices such as Huawei and selected models are yet to receive this integration.
To begin with, open any browser or google search widget from the home screen and enter the mobile number. Your mobile number should include +country code at the beginning.
Now, select the number by long-tapping on it, and you see a bunch of options such as cut, copy, paste, call and more. Click on the three-dot menu from the options after the selection, and you can find a few sharing options such as WhatsApp, Messenger, Call, or SMS.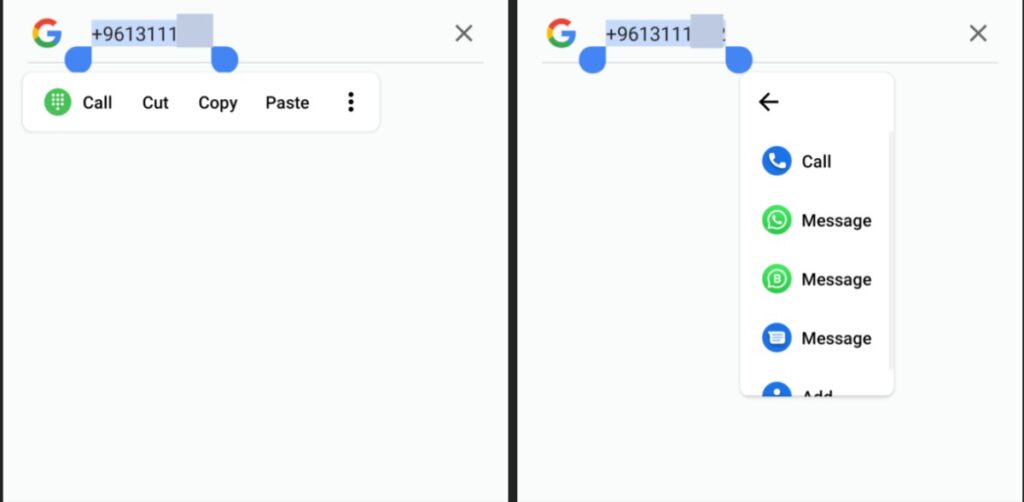 Select WhatsApp, and now you will be able to send WhatsApp messages to unknown numbers without saving them.
This handy feature works for short-term chats where you don't want to save them to contacts to secure privacy.
Also read: How to Delete Large WhatsApp Media and Free Up Storage
Conclusion
WhatsApp being a popular messaging app, fails to integrate such an important feature to secure privacy. Most users contact people from Instagram pages to buy or sell something or contact other people for home business; In such a situation, it gets difficult as the entire process of saving the number and syncing contact is long. These were the legitimate ways to send WhatsApp messages without saving numbers, which are handy and fast. So, you secure your privacy and time; both.
Some Catchy Line to Grab your Attention
Get Our Prime Content Delivered to your Inbox for Free!! Join the Ever-Growing Community… Right Now.