I know how irritating it is when your music app just stops due to a poor internet connection or other app issues. Especially when everything is now online, and I badly miss the Walkman a few times. While this is a small issue, I am here to help you with how to solve the Spotify App keeps buffering issue for both music and podcasts. Soon, I will also share solutions for other music apps; you can comment down your favorite apps at the end of this guide. 
Back to Spotify; it is one of the most popular music and podcast apps besides Apple Music, and a few of us juke-heads just can't let go of it. I especially use Spotify for podcasts, there are some great collections, but I hate it when the show suddenly stops, and the app isn't responding. Also, it is not the first time there have been instances when the Spotify app keeps buffering or just doesn't play anything at all.
So, in this guide, I come up with the most common solution to solve this issue with the Spotify app. Stick with me till the end while I share some easy-to-go steps and help you with each solution in detail. Also, if you are new to Tiny Quip, do explore more of our tech guides, and do not forget to check out our socials – Twitter, Facebook, Pinterest, and Telegram.
Also Read: How to Set Up Sleep Timer on Spotify: Android, iPhone & PC
9 Steps to Fix Spotify App Keeps Buffering Issue: Music and Podcast
Before I start with the solutions, one of my tech friends suggested that why not just download all the music and podcast offline to ditch the buffering issue; it's also a great way to save some data on your tab. While it is a great tip, the issue is not only with the internet in some cases but also with the Spotify app or the device.
1. Check Spotify Servers
If you are having trouble with playing songs or podcasts on your Spotify app, it is always best to check the Spotify servers first. Spotify is a huge platform, and a lot of creators and celebrities keep releasing popular content. At times, the servers might just crash due to a popular release, or it's just a maintenance issue.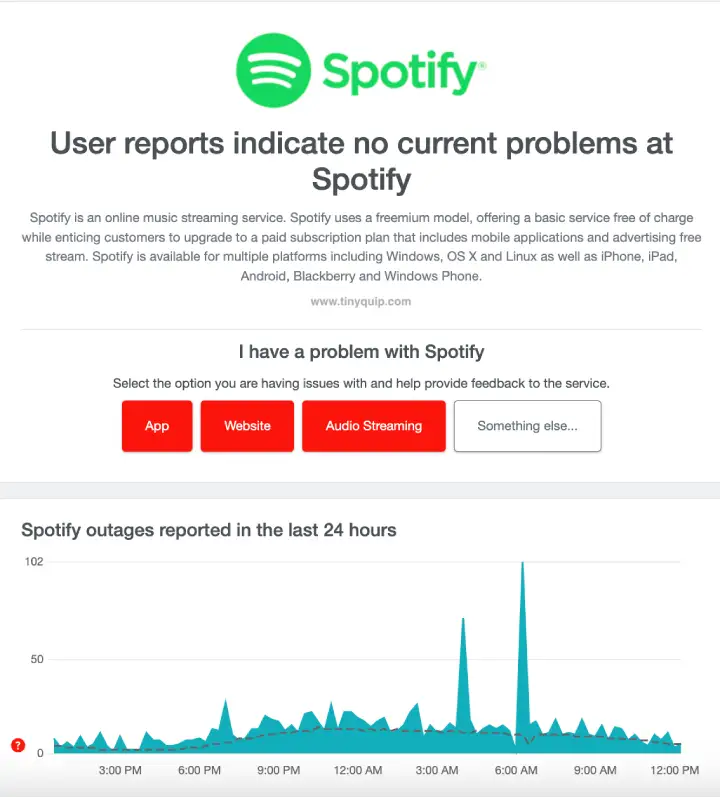 Be the reason whatsoever, if the servers are down, there is a good chance that the Spotify app on your device is buffering or just not playing any songs. So it is always best to check if the Spotify servers are up and running before you start fixing with other solutions.
Here is how you can check Spotify servers,
Visit the Down Detector website.
In the search bar, enter the Spotify URL and click enter.
You can now see if the users are facing Spotify outrage.
You can now see an outrage report alongside a heatmap and brief information about Spotify servers. If the servers are down, you cannot really do much until they are back up again, and there wouldn't be any issue with playing offline downloaded playlists as they are stored locally on your device.
Also Read: Does Spotify Pay Podcasters? How to Monetize Your Podcasts
---
2. Check the Internet Connection
The second solution on this list is to check if the issue is with your internet connection causing the Spotify app to buffer or not play songs. Now, to do this, you can either do a speed test on Google to know the internet connection speed you are receiving or troubleshoot your devices for taking a loss on the connection.
Here is how to do a quick internet speed test using Google search,
Using a smartphone or laptop with an internet connection, open a web browser, preferably Google Chrome or Safari.
Now, look for the query – "Speed Test," and you will find a snippet at the top of Google search results.
Hit the "Run Speed Test" button, and you should now be able to see a new window doing the test.




If you get a lesser internet connection speed, there are two prospects. The first prospect is to upgrade your internet subscription to a better plan, and if you already have an active fast internet connection, you need to troubleshoot your WiFi router.
Once you have a better internet connection, you should no longer see the Spotify app buffering while listening to music or podcasts.
To help you check the connection speed or get an alternate internet connection for streaming, here are some additional guides to follow.
---
3. Switch Connections
A lot of times, due to a bad network, you might see the Spotify app act strangely. It has been with me a lot of times, mostly while I am on mobile data, somewhere out, like in a cafe, and trying to play my favorite song while I work. In certain cases, it is due to all the blocking or closed environments which cause the network receptions to struggle, while in some cases, it's just the router or mobile network that drops.
Try switching between networks, connect to a WiFi router, and see if you are able to play songs or switch to mobile data otherwise. You can also try connecting to a personal hotspot from other devices and see if you are able to play songs or if the Spotify app still buffers.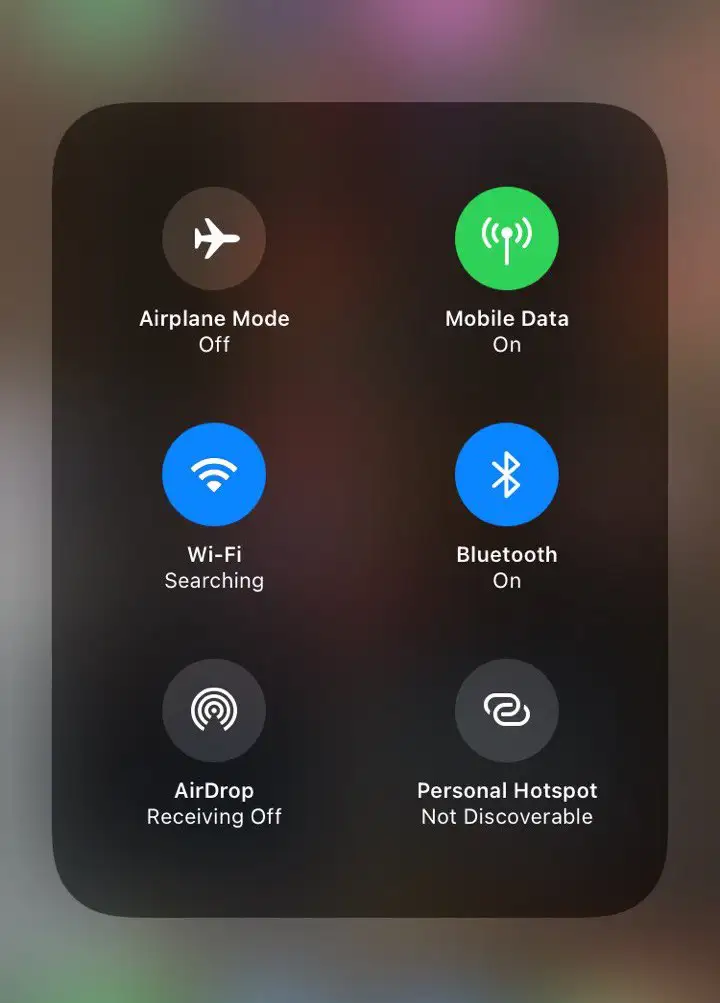 Restarting the app while switching networks also helps the app properly connect to the internet connection, and most probably, your issue should be resolved. For a few devices that are still struggling, let's hop on to the next solution.
Also Read: Apps Keep Crashing on Android? Here is How to Fix it
---
4. Close Bandwidth Consuming Apps
One of the many habits that I want to learn to ditch is to close the apps that I no longer need. Of course, your flagship phone can handle multiple apps in the background, and they work stable. But if these apps are bandwidth-consuming, such as multiple in-app updates, downloads, or game updates, you might want to do them one at a time.
Bandwidth-consuming apps lower your internet performance for the moment, and everything else turns into slow motion. You might face buffering issues not only with the Spotify app but also with other devices and platforms like Smart TV and YouTube.
Close all the background apps, clear your memory space, and try playing Spotify. It should help you solve the issue in most cases.
Also Read: How to Fix Spotify Not Playing Songs
---
5. Offline Listening
Spotify's premium account lets you download and listen to your favorite music or podcast in offline mode. If you are having an issue with playback on your Spotify app while connected to the internet, it is best to disconnect, restart the app and start listening to music offline. If the issue is related to the connection drops, this is the only best thing you can do.
After this step, if you are still facing an issue with the Spotify app keeps buffering, it is most likely the device or app-specific issue and not the internet connection. Let's discuss the next steps on how to solve the device or app-specific issue causing trouble with the Spotify app playback or buffering.
Also Read: Download Podcast as MP3: The Only Guide You Need
---
6. Clear Cache and Temporary Data
Cache and temporary data are not new to suspicion when it comes to your device or app performance. If you have been referring to our error codes and fix guides, you might often see cache and temporary data as leading causes of issues like buffer screens and app crashes.
But what is cache data, and why does it often cause an issue?
Cache data is the temporary information or files that are generated by the app and device in order to make the app faster and give optimal performance. The same technique has been used in the core of most technologies where accessing the data is required.
On Android and iOS devices, clearing the cache data is pretty simple, and I have already made helpful guides on this. You can refer them here,
Once the cache data is cleared, restart the app and check if you still see a buffer screen while using the Spotify app. And if that is so, check if there are any app updates.
Also read: How to Clear Cache and App Data on Fire Stick TV
---
7. Update the Spotify App
Updating the Spotify app is one the decent solutions to fix most issues with it. Often, when the apps are released into the production server, there are some unknown bugs that can be specific to devices or identified later after users start reporting the issue.
Developers then release a new version of the app, which solves that particular bug on the app and try to give a seamless app experience to all the users. The same goes with the Spotify app, and there is likely a bug or an issue that directly or indirectly causes the playback to buffer on your Spotify app.
One way to be sure is to check if there are any latest updates for the app, and if so, update the app and check if you are still facing the issue. If the issue is resolved, it was likely a bug that is now fixed, and if not, then you should be heading to the next solution.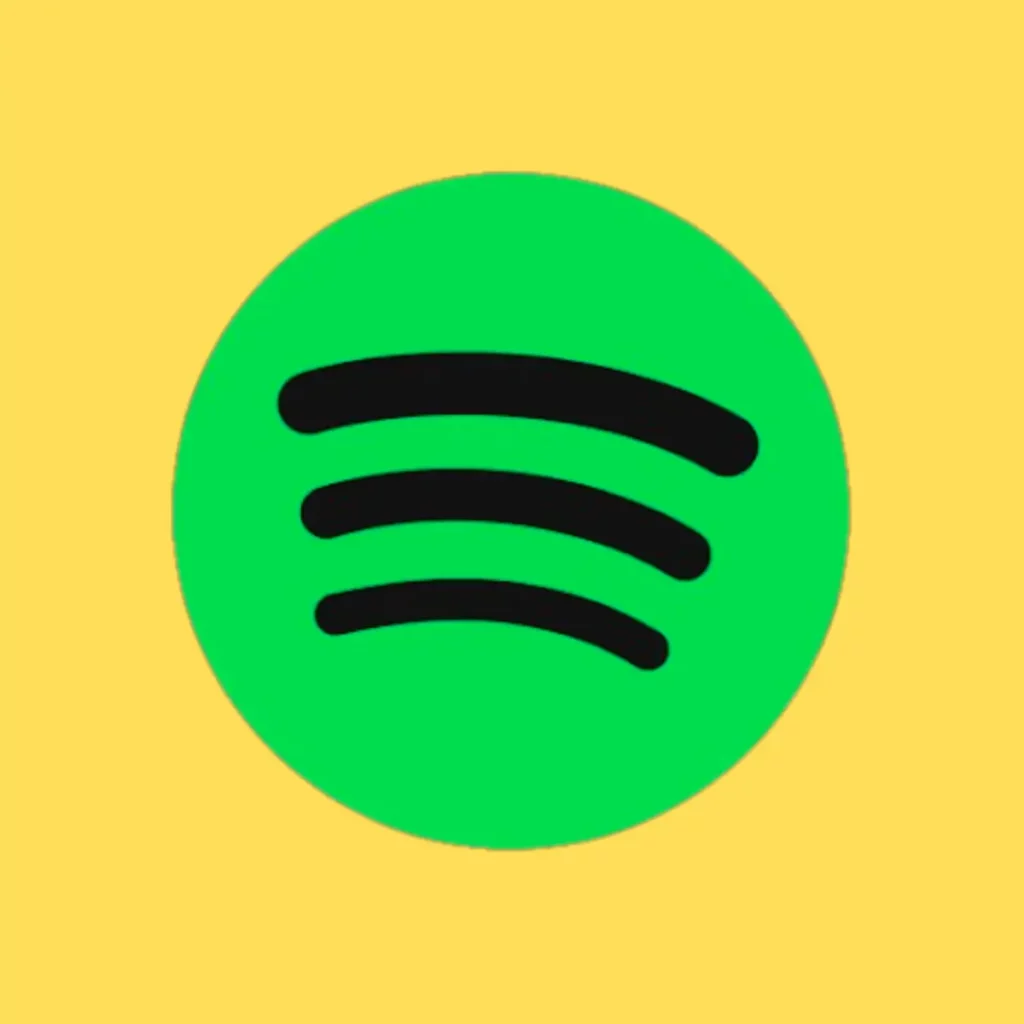 Spotify for Android and iPhone
Stream your favorite artist and podcasts; Spotify is your one-stop popular music streaming app with millions of popular music and podcast to choose from.
Also Read: One AirPod is Louder than the Other? Here is How to Fix it
---
8. Reinstall the Spotify App
This might sound a little foolish, but it is always a good option to reinstall the app causing an issue. This way, all the app files will be reinstalled, and if there is any corrupted file, it will be easily replaced.
Besides, it is advisable to install apps only from trusted sources such as Play Store, App Store, or the Spotify website. This is because there are a lot of malicious copies available for the apps that quote "free watching," "no premium required," and more which might be tempting, but it's a trap.
Such apps install backdoors and malicious code on your device and compromise security and personal information. You can refer to a few more points on how to secure your Android device by following these 10 simple steps.
---
9. Report the Issue to Spotify Community and Support
If none of the above solutions worked for you, the best thing to do is raise a ticket in the Spotify help center. I have been to a lot of platforms, but Spotify's community and support is one of the best. They quickly respond to your issue, give you additional tailored solutions and also check if the issue is only with your device. For this, the support team may require app data with adequate permissions.
You may also like to read,
---
Frequently Asked Questions [FAQs] on Spotify App Keeps Buffering
Why does the Spotify app keep buffering?
Buffering in the Spotify app can be caused by various factors, including poor internet connection, server issues, background apps consuming bandwidth, cache and temporary data buildup, outdated app versions, or device-specific problems.
Why does the Spotify app buffer even when my internet connection is good?
The buffering issue can still occur if there are app-related glitches or device-specific problems, even if your internet connection is stable.
Should I have a premium subscription to fix buffering on Spotify?
No, you do not need a premium subscription to resolve buffering issues on Spotify. The problem can often be related to internet connectivity or app glitches.
Before You Leave
Get Our Prime Content Delivered to your Inbox for Free!! Join the Ever-Growing Community… Right Now.
Give this article a quick share,
Wrapping up: Spotify App Keeps Buffering During Playback
Spotify is one of the best apps for music and podcast, and no doubt; it is loved by the audience. But playback issues, such as buffering while listening to Spotify, can be irritating at times. In this guide, we tried fixing the issue by troubleshooting the internet connection and optimizing the app performance.
I hope this guide on solving the Spotify app keeps buffering issue is now resolved. If you have any questions for me or want to share your views, feel free to leave a comment below. If you like this article, do give this a quick share on your social media handles and do tag us. Also, join our Telegram channel, Facebook page, and Twitter to never miss a quick update.
Some Catchy Line to Grab your Attention
Get Our Prime Content Delivered to your Inbox for Free!! Join the Ever-Growing Community… Right Now.