---
---
There are tons of messaging apps for android and ios devices. All of our small and long talks are now done with these messaging apps such as WhatsApp Messenger, Facebook messenger, Instagram Dm's, and a ton more. But, do you have always have a proper internet connection for all the gossips? You need to check these best offline messaging app.
At times we all face some problems where we cannot access the internet through cellular data or there is no wifi zone nearby. How would you send a message in need of a secret message without any interception?
There are a lot of apps that you can use for chat communication without internet and cellular connectivity. Even if there are no signals on your device, you can chat with your people. Interesting right? Let's markdown a few of them.
7 Awesome Offline Messaging App To Send Message Without Internet
---
Firechat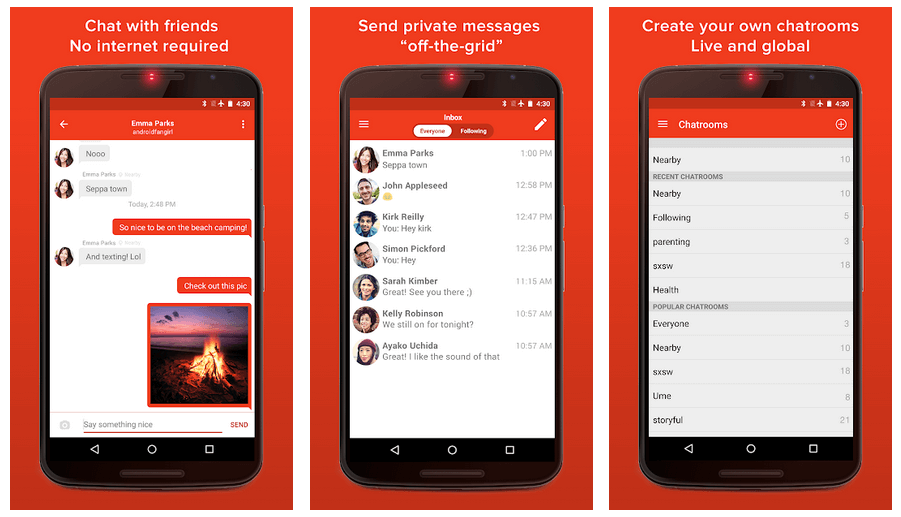 Firechat is an offline messaging app which uses peer to peer connection. With the use of this messaging app, you can chat with your friends, send them text and images without an internet connection.
This messaging app is available for both android and ios. You can directly download it from respective stores and ask your friends to download too. Since there is no internet connection or cellular connectivity involved, how is it possible to send and receive messages?
Firechat uses Bluetooth and wifi connectivity to exchange information between both the devices. This eliminates the use of the internet and cellular connections and secures your messages. How this messaging app does secure or encrypts our data?
The idea behind it is simple networking structures. When we are connected to the internet or cellular connections, we are sharing our network with other access points on the network too. This means there are several other devices connected to each other on the network. In Bluetooth or wifi connectivity using Firechat, only two of the devices (Bluetooth paired) or few known devices on wifi hotspot are connected. This restricts the leakage or tampering of data and encrypts our message.
Free Read: How To Import and Export Bookmarks From Google Chrome?
When we want to use such messaging apps for iPhone or such messaging apps for android, other people need to download it too. Whenever a person is added to your connection, it turns out to be a mesh network. This allows private communication without any trouble with leakage in data.
When there are certain situations like democracy wars, floods, and other natural disasters the signals of the cellular networks are lost and obviously there is no wifi connection. Apps like fire chat can be used to have a private chat during this within a small mesh network.
Firechat works on Bluetooth and wifi networks from your device to other devices in 200 feet range. The devices you want to serve a chat connection should also have the Firechat application running on it.
What if you want to send a message to a device that is not in range?
You can still send a message to the device which is away from the 200 feet range through the mesh network. In the mesh network if any of the devices are connected through the internet then the message too far off device will be sent using that internet connection.
You can do a lot with messaging apps on android and there are a few restrictions on messaging apps on the iPhone. Firechat has many features like instantly post message and photos and send private messages on android with end to end encryption.
Other features of this offline messaging app include adding of 50 members to the group. With the use of hashtags, you can easily create public room for discussion and block user discretion on Firechat.
Download Firechat for Android and IOS.
---
Bridgefy Messaging App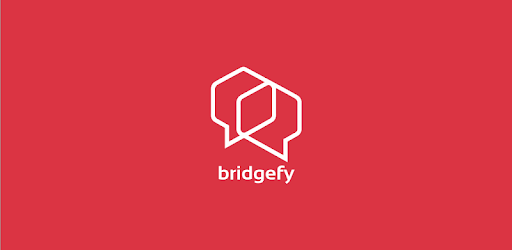 Bridgefy is an alternative offline messaging app for android and ios. It is much more like Firechat but is a lot better and improvised.
The best part is the use of unlimited hops on the mesh network and connections between android and ios devices. The communication is done over low Bluetooth energy which also saves a lot of battery.
Like Firechat, bridgefy also sends multiple data like text, sound, and game moves. It is also able to share offline locations over the same Bluetooth connection. You can download it for both android and ios devices.
This app can be used in many situations where offline texting is required. You can also use it for playing games over the Bluetooth network. An end to end service is provided for the same peer to peer communication. Along with sending messages, you can also broadcast them using bridgefy.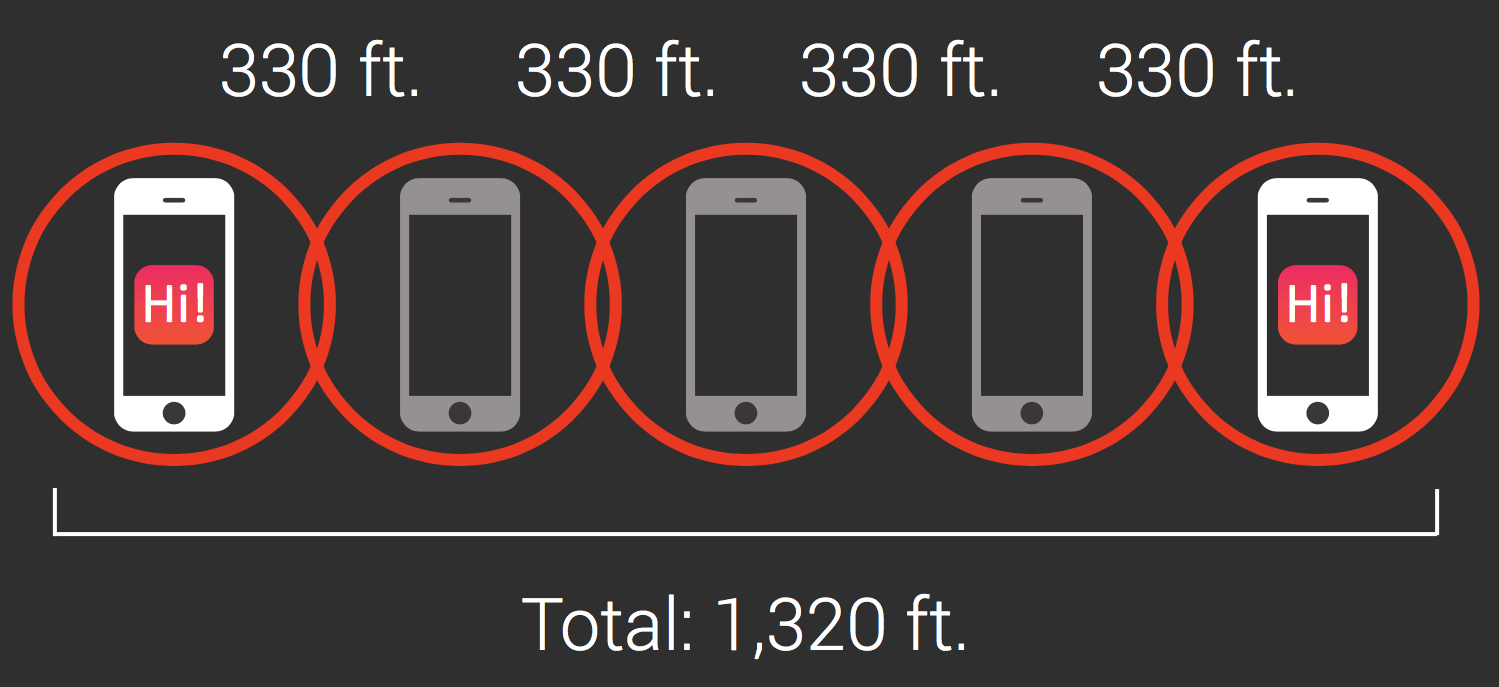 The range support of this app is 75 yards and can also be used in small enterprise companies where secret messaging is required. The developers at bridgefy are providing in-app messaging integrations for other enterprise applications. You can integrate it on android and IOS devices with few lines of code.
This helps to provide secure communication between employees to share confidential data or gossip about the boss.
Also Read: Whatsmate Whatsapp Manager – Recover Deleted Messages
---
Near Peer: The Offline Chat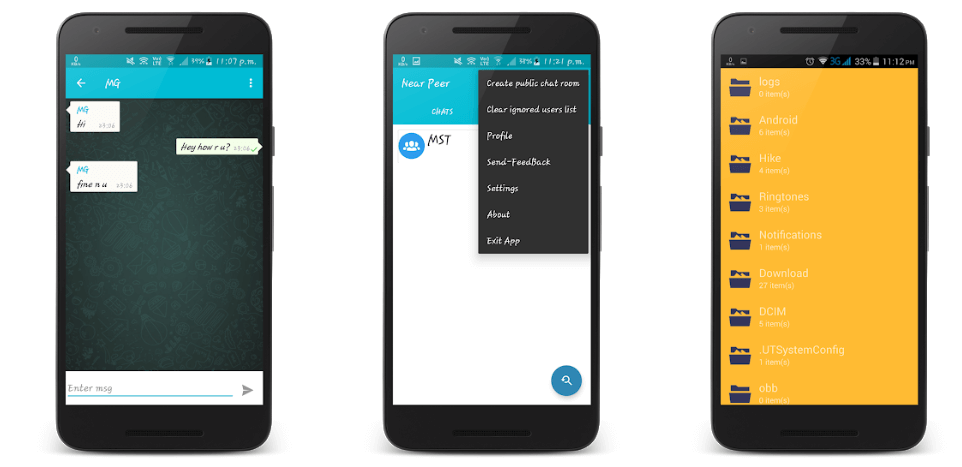 There are several other messaging apps for android but Near peer is an offline chat service for free and full of features. It provides connection over open wifi and automatically connects when you are near to any of the near-peer available connections. It is a completely free offline messaging app but with in-ads.
You can send private or group messages using this app and also share files without being connected to the internet.
You can connect to strangers nearby using the stranger chat feature and start a conversation in private or group. This is one of the missing features in other alternatives.
Other features include the sharing of drawings and having a message backup. In message backup even if your friend is not in the range you can send a message and as soon as he/she comes in range, your message will be delivered.
You can also block unwanted users, clear chat history, and also change the usernames of your peers. This is one of the great messaging apps for android.
---
The Serval Mesh – Messaging App


Serval Mesh is one of the other peer-to-peer messaging apps available for secret communication. You can directly send messages to people over the secure network and avoid a data breach. Serval mesh connects people over wifi networks which eliminate the use of mobile operating services and provide secure transmission.
It is an open-source software through which you can make private phone calls, send secure messages and data. The app is ideal in situations when there are natural disasters and the mobile operators are down.
The communication can be done over a broader distance with minimal mesh connections; this is quite helpful over secrecy.
This app is currently not available on google play store and app store, you can however download the apk file from google.
Also read: How to Download Instagram Reels Video on Android and IOS?
---
Briar Messaging App

Briar is a great offline messaging app for android when you are concerned about privacy and secrecy in messaging. It is all done on wifi and Bluetooth connections where the messages are synced directly with the user devices.
It is one of the best apps if you are stuck in certain areas where there is no mobile connectivity over the operator network. If you have your device connected through the network then the messages are sent over a secure TOR network to maintain the secrecy.
You cannot send other files or attachments using this offline/online messaging app to provide the safety measures for secret conversations. It helps in securing data by avoiding interference over potentially sensitive data.
There is no backup of chats in any way on cloud or servers helping secure communication and saving your data from risks.
You can download this app from the play store.
---
Signal Offline Messaging app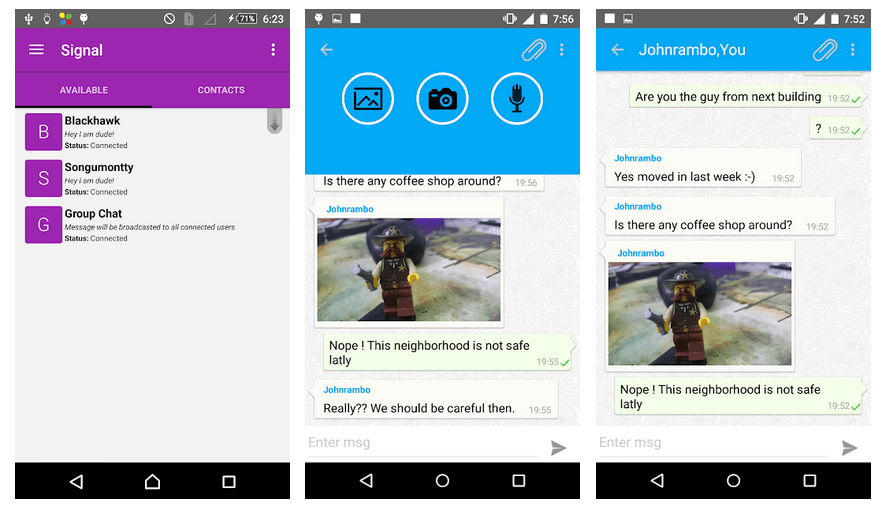 The Signal offline messaging app is one of the same as we have discussed above. The communication is done over a range of 100 meters with the use of wifi connections.
Using a signal messaging app you can send images and other files over high-speed channels without compromising the quality of data.
This communication is done over a secure connection that does not store the data on the cloud and servers avoiding the potential risk to your sensitive data. The app is free to download and also doesn't have any in-app ads while messaging.
Do not mistake it with signal private messenger available on the play store and app store, You can download it here on play store for free.
Free Content: 14 Instagram Hacks You Probably Didn't Know
---
Hike Messenger – Online/Offline Messaging App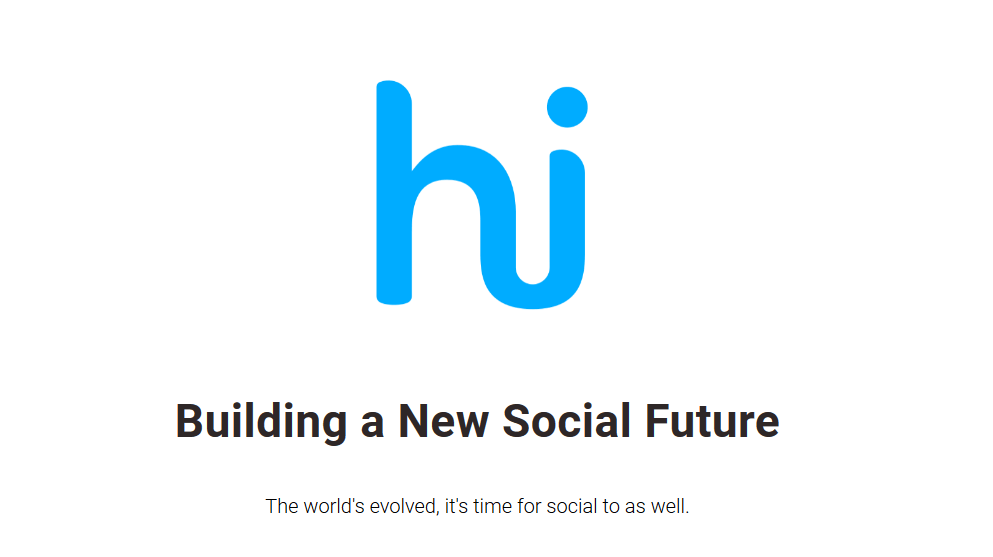 Handcrafted in India Hike is one of the most loved messaging applications. It is filled with thousands of stickers and tons of live filters to express almost all of your emotions. You can also personalize the whole chat theme based on your mood.
It is an online/offline messaging app for both android and iPhone and supports peer to peer connection over wifi direct for offline messaging. The messages are encrypted by SSL encryption and there is an option for private chats.
The private chat feature can be accessed using a passcode and this is available directly in-app messaging feature. If you are an iPhone user then you can lock the app with fingerprint or face unlock feature to protect the messages.
When there is no availability of the internet, users can send messages to peer in the range of 100 meters. If the peers are not connected to the internet then the messages are delivered as text messages. It is one of the friendly and expressive offline messaging app for both android and ios users. Download on the play store and app store.
---
Subscribe to our newsletter and get the latest updates and tips. Follow us on social media for the same Here.