Want to change the WhatsApp security code to ensure privacy? Here is how to do it in this handy guide.
WhatsApp is one of the top platforms to keep in touch with your friends by sharing texts, images, audio, Gifs, and even making audio and video calls. This, now owned by "Facebook" company has billions of users worldwide and helps each of them make seamless conversations. However, one of the major allegations on WhatsApp in the last few years is how user data is critical and at risk. In fact, in the recent news by Business Today, WhatsApp data of 500 mn users using older versions of the app was out for sale.
Using end-to-end encryption, WhatsApp ensures your data is safe, and users can verify if their chat is secure by checking the WhatsApp security code. If you suspect your security code has been made public, you can always change the WhatsApp security code by reinstalling the app.
In this guide, let's closely look at how to change the WhatsApp security code, verify the code, and even the precautions to take to secure your WhatsApp data.
Also read: How to Schedule WhatsApp Messages on Android & iPhone
What is WhatsApp Security Code? The Concept of End-To-End Encryption
Firstly, let's understand two basic terms: Encryption and Decryption.
Encryption: Encryption is a method to conceal certain information by different techniques for altering the original message and showing it as random data.
Decryption: Decryption is the key to reverting the random data into the original message by using appropriate algorithms and techniques used by Encryption.
WhatsApp encrypts the data on both ends to secure the chat conversation between two users. Only by using this code can the chats be encrypted and securely sent to the receiver. At the receiver end, the decryption code, which is the key to the sender's encryption, decrypts the message and shows it to the user.
By doing so, WhatsApp ensures that even if the messages are captured in the middle, they won't be understandable to the other user as the decryption key is missing. End-to-end encryption is like a peer-to-peer network where user communication is unique and requires code at both ends.
Also read: How to Setup and Send/Receive WhatsApp Payments in India?
---
How to Change WhatsApp Security Code on your Android and iPhone?
When you suspect a data leak on your WhatsApp account, changing the WhatsApp security code is an important thing to do. This is because if the leak also contains your security code algorithm, it is likely that your messages are no longer private.
There are a couple of things you can do to change the WhatsApp Security Code on your Android and iPhone. Firstly, you can reinstall the WhatsApp app and register your mobile number again to generate a new WhatsApp security code. Secondly, if you are changing your devices or registering WhatsApp on a new device, you can find WhatsApp to generate a new security code for that particular device.
Here is how to correctly reinstall the WhatsApp app on your Android or iOS devices,
Backup your WhatsApp data on Google Drive, iCloud, or your device
Uninstall WhatsApp on your Android or iPhone device
Head to "Play Store" or "App Store" and search for "WhatsApp"
Download the WhatsApp app and "Agree to Terms and Conditions" if you comply with it
Now, enter your registered mobile number and enter the OTP you receive for the registration
You can choose to restore your backup
Once done, verify your WhatsApp security code
How to register on new devices using a WhatsApp account,
Install the WhatsApp app on your device
Open the "WhatsApp" app on your Android or iPhone device
Tap on the "Settings" option from the bottom right of your WhatsApp screen
Now, choose "Linked devices" to view all the devices active with your WhatsApp account
Tap on "Link a Device," and it will open a QR code scanner on your phone, use it to scan the QR code on your screen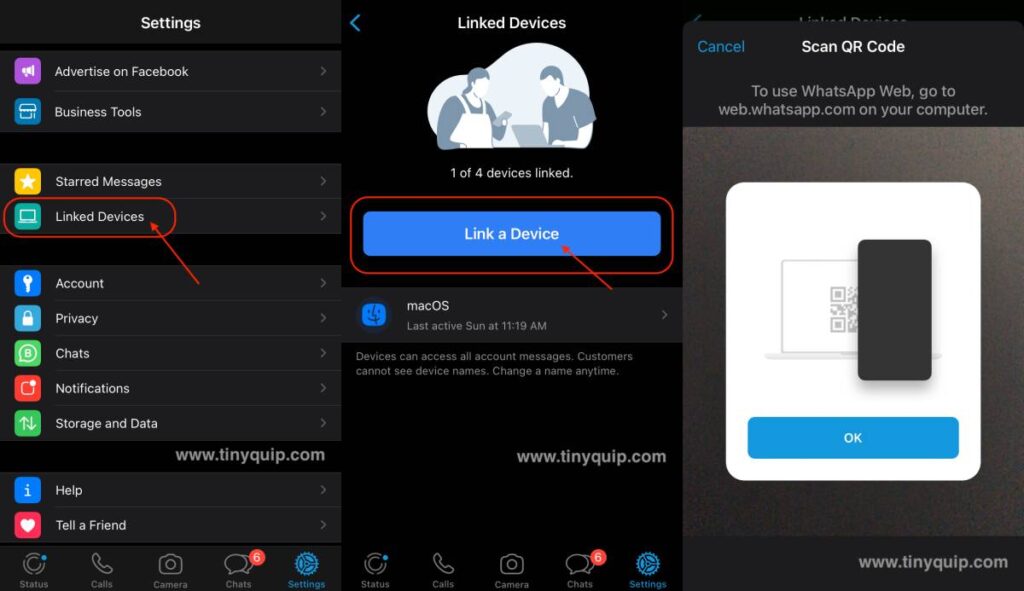 ---
How to Verify or Get WhatsApp Security Code Alert?
Verifying your WhatsApp code is necessary to know if you have active end-to-end encryption. You can do this for individual chats to know if all your chats are encrypted.
Here is how you can verify the WhatsApp security code between chats,
Open the chat conversation of the friend with whom you wish to verify the end-to-end encryption
Tap on the chat to view your friend's profile, scroll down and click on the "Encryption" label
You can now find a QR Code with a 60-digit number, screenshot it or save it on your device and share it with the person you are verifying the code with
Ask the user to repeat the above steps and tap on the "Scan Code" option to scan this QR code
If the chat is secure, you can find a green tick on the code confirming the same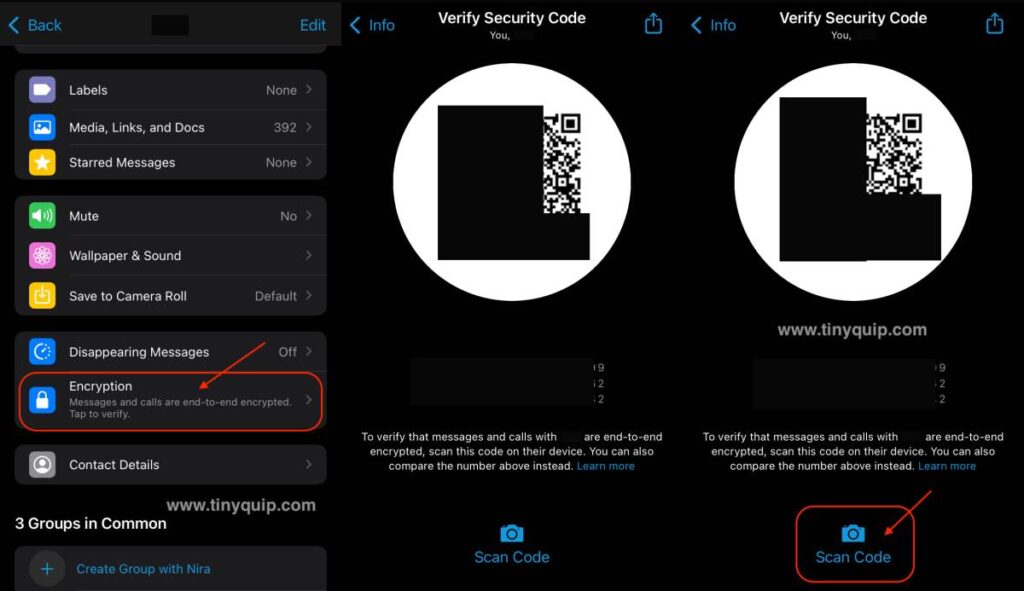 Also read: How to Secretly Track Someone on WhatsApp?
---
How to Get WhatsApp Encryption Notifications?
Enabling encryption notifications is one of the best things to do; it helps you understand if any of your friends have recently changed their code. You also know if chats are secured between devices and how frequently your friends on WhatsApp change their security codes.
Here is how to enable WhatsApp security code notifications,
Open "WhatsApp" on your Android or iOS device
Navigate to the "Settings" page and look for the "Accounts" option
Tap on the "Security" option from the "Accounts" menu
Now, toggle the switch to enable notifications for encryption security codes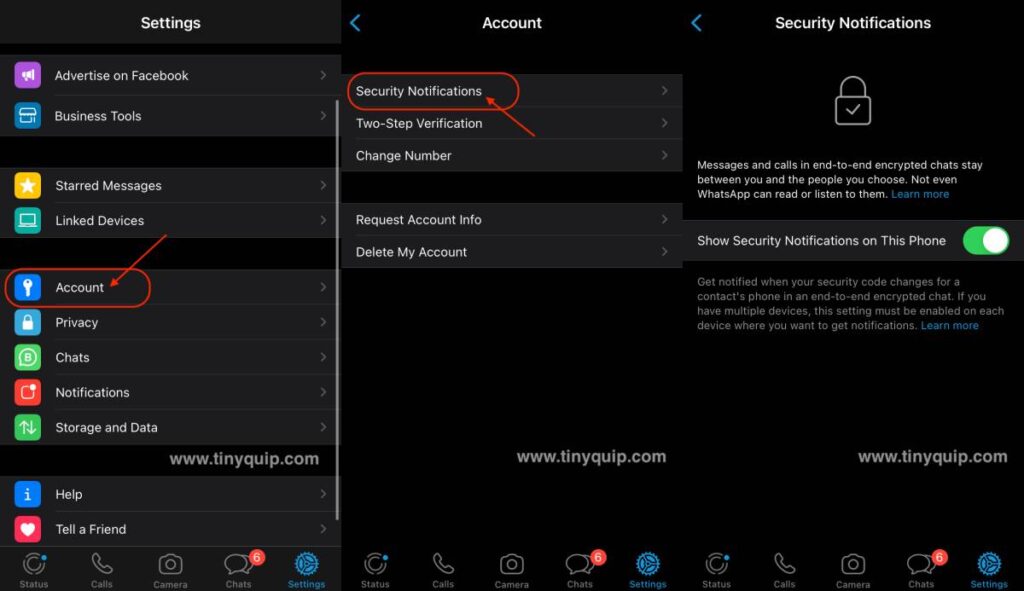 Also read: How to Send WhatsApp Messages Without Saving Number to Contacts [Guide]
---
When Should you Change the WhatsApp Security Code?
If you have been using third-party tools such as apps that allow multiple WhatsApp accounts on a single device, message editor, and apps from third-party app stores or play stores, you are likely compromising your data and account.
In such cases, it is best to change the encryption codes on your WhatsApp account and switch back to the official apps.
Here are a few things you can do to protect your WhatsApp from such compromises,
Enable 2-factor authentication
Avoid using third-party apps for WhatsApp
Do not click on unknown and suspicious links on your WhatsApp chats
Always run Antivirus and Antimalware software to avoid having payload on your device
Always protect your security code and do not share it with anyone
Also read: How to Fix WhatsApp Not Working or Crashing on iPhone?
---
Frequently Asked Questions [FAQs]
Why does my friend's security code keep changing on WhatsApp?
It only means the user is constantly reinstalling WhatsApp or registering new devices. In both cases, new encryption security codes are generated.
Why am I receiving notifications for changes in the security code on WhatsApp?
Users receive notifications for changes in security code when they have enabled notifications through the "Security" menu.
Can you hide security code changes on WhatsApp?
You cannot hide the security code change mentioned on the chat screen; however, you can hide notifications by toggling off the "show notifications" from the "Security" menu. 
Before you leave
Get Our Prime Content Delivered to your Inbox for Free!! Join the Ever-Growing Community… Right Now.
Give this article a quick share,
Wrapping up: Change WhatsApp Security Code
It is best to change the WhatsApp security code when you suspect there is a data leak or your account and chats are compromised. End-to-end encryption is one of the helpful features ensuring your data is safe, and everything is encrypted in random data that only the receiver understands and no one else, not even WhatsApp itself.
We hope to have helped you with how to change your WhatsApp security code and when you should do it. Feel free to browse more helpful guides on our website and share them with your friends on social media (do tag us). Also, join our Telegram channel and subscribe to our newsletter to never miss any crazy updates.
Some Catchy Line to Grab your Attention
Get Our Prime Content Delivered to your Inbox for Free!! Join the Ever-Growing Community… Right Now.