Pitaka is one of my favorite brands when it comes to Apple and Samsung accessories, not just for their features but also for their eco-friendly mission towards the planet. We will discuss more about it in this review, but before that, let me tell you the major agenda of this review: the Pitaka MagEZ Case 4 for the iPhone 15 series.
Apple launched the iPhone 15 series only a couple of days ago, and the new iPhones look stunning and premium. While the quality is dependable with the ceramic shield and titanium body, you might still need a case, and with cases from Pitaka, you are not just protecting your iPhone but also giving it a style statement.
Also Read: MagEZ Folio 2 – A Savvy Cover for your iPad Pro/Air
What is the MagEZ Case 4 for your iPhone 15?
Pitaka comes with limited and fun case styles for Apple and Samsung phones, from the AirTag holders to the MagSafe covers. One of the particular styles that most users love is the Pitaka MagEZ Case 4, which is available for the iPhone 12, 13, 14, and now for the 15 series, too.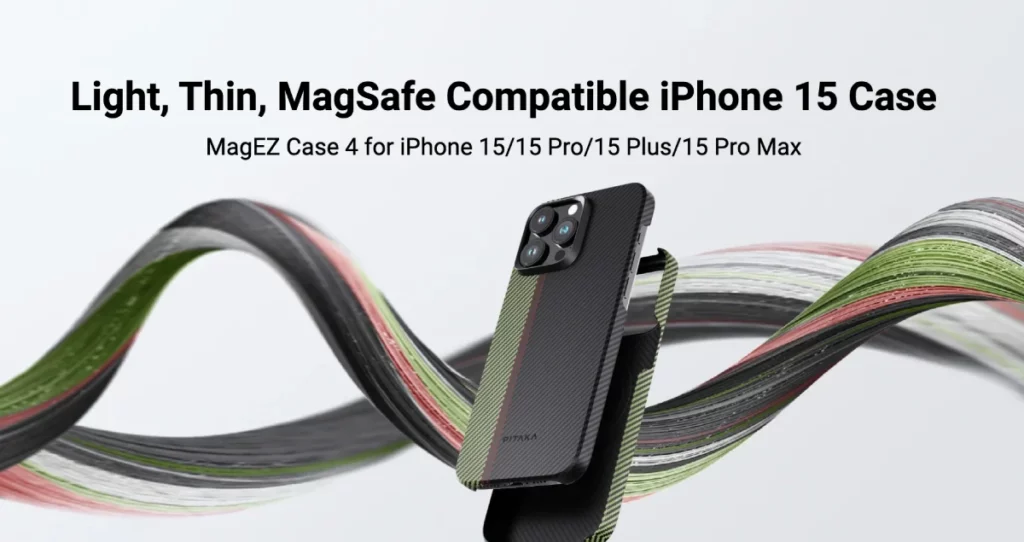 The style uses fusion weaving with Aramid Fiber that gives a soft texture for you to hold and is durable for long-term use. Of course, not just the 600D version; there are a few more options, such as the StarPeak case for the iPhone 15 series and other styles for older versions of your iPhone, but I particularly like this design for the modern and chic design, such as matt finish color at the back and interesting weaving like design.
We will talk more about the design and style later in this review, but first, what is Aramid Fiber, and why is Pitaka using this particular material in their cases and covers?
---
Aramid Fiber Material – Both Ecofriendly and Quality
Aramid Fiber is one of the most durable and strong materials, and with fusion weaving, Pitaka has introduced a new perspective to mobile accessories and wallets.
While there are plenty of material options for cases and covers, some of them give a rich look, like the leather ones, while some of them are great with dust resistance, such as the hard cases, and some, like the silicon cases, give the best grip. And Pitaka with Aramid Fiber offers you all of these on the back of your iPhone.
Here are some of the notable features of Aramid Fiber, in general,
Aramid Fiber is said to be stronger than steel yet is lightweight in nature.
This fiber can handle hot temperatures, making it an ideal option.
Aramid fiber, along with some other materials, is used in bulletproof vests.
The fiber does not ruin soon compared to other materials as it has high chemical resistance.
Despite being strong and durable, Aramid Fiber can easily be used to twist and turn and can be used in materials like ropes and cables.
Aramid Fiber is very durable; it is used in aerospace materials and racing cars.
Pitaka uses most of these properties of Aramid Fiber and uses innovative fusion weaving to create stunning, premium, durable, and better cases for your iPhone, MagSafe, and other Apple accessories.
But how special is Pitaka's MagEZ Case 4 for your iPhone? What features it has to offer? There is a lot that Pitaka offers for iPhone users with this material and style for the iPhone series, and let's see more about each of these features in detail below.
---
Features That Make Pitaka MagEZ Case 4 the Best Choice for Your iPhone
There is a lot to talk about how the Pitaka MagEZ Case 4 is the best case for your iPhone, and with the iPhone 15 series, it has been much more improvised. To make the review easier to understand, let's touch on some key points showcasing how the Pitaka MagEZ Case 4 is the best option for your iPhone.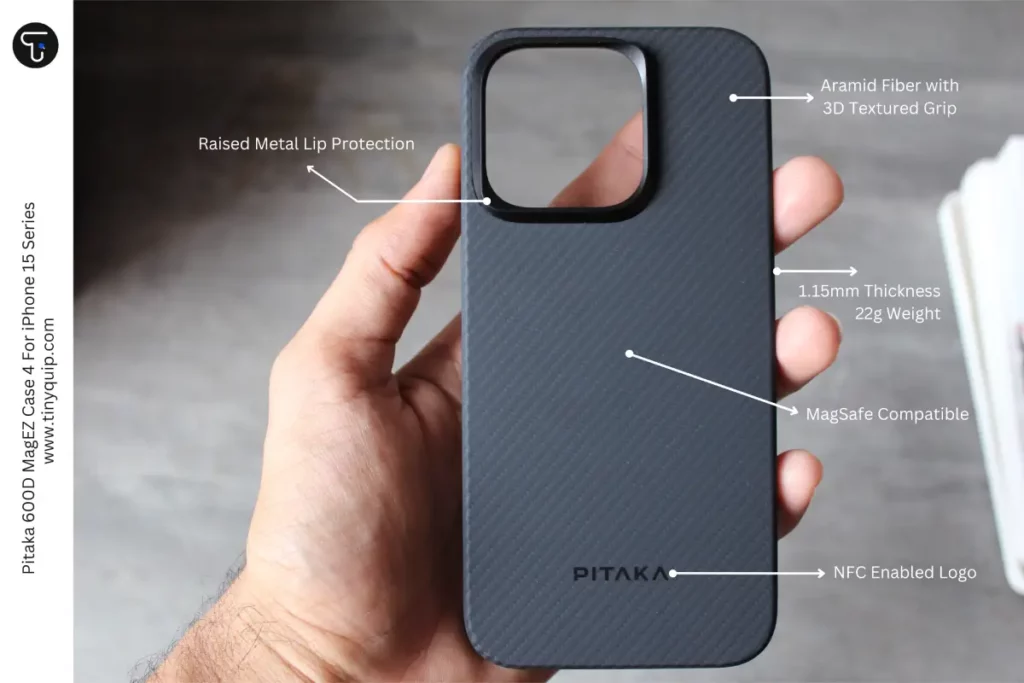 1. Thin and Lightweight – A Caseless Feeling
Apple is constantly working on making their devices feel lighter, and this has been the case with the iPhone 15, too. I personally wasn't expecting the iPhone 15 to weigh less than the iPhone 14 series, and it is a small but great positive approach to make your hands feel lighter.
And Pitaka has been working on it ever since the iPhone 12 when the first Aramid Fiber case was released for the iPhone 12 series. Aramid Fiber is said to be five times stronger than steel and yet lightweight enough to give you a caseless feeling.
If we have to talk in numbers, the iPhone 15 case weighs only 35 grams and is 1.65mm thin. That's pretty sleek for the rich quality that the Pitaka case has to offer. With this thinness and texture, it is rare to feel the cover subconsciously; you will likely feel more like a back sticker on your iPhone rather than a case.
---
2. Texture Soft Like Silk – 3D Textured Grip and Fusion Weaving
Most times, when we use phone cases, we are not just looking for how it looks but also how it feels. And with Pitaka, most of this visual and touch appeal comes from our daily rich lifestyle, which makes the cover or case look and feel richer when you use them on your iPhone.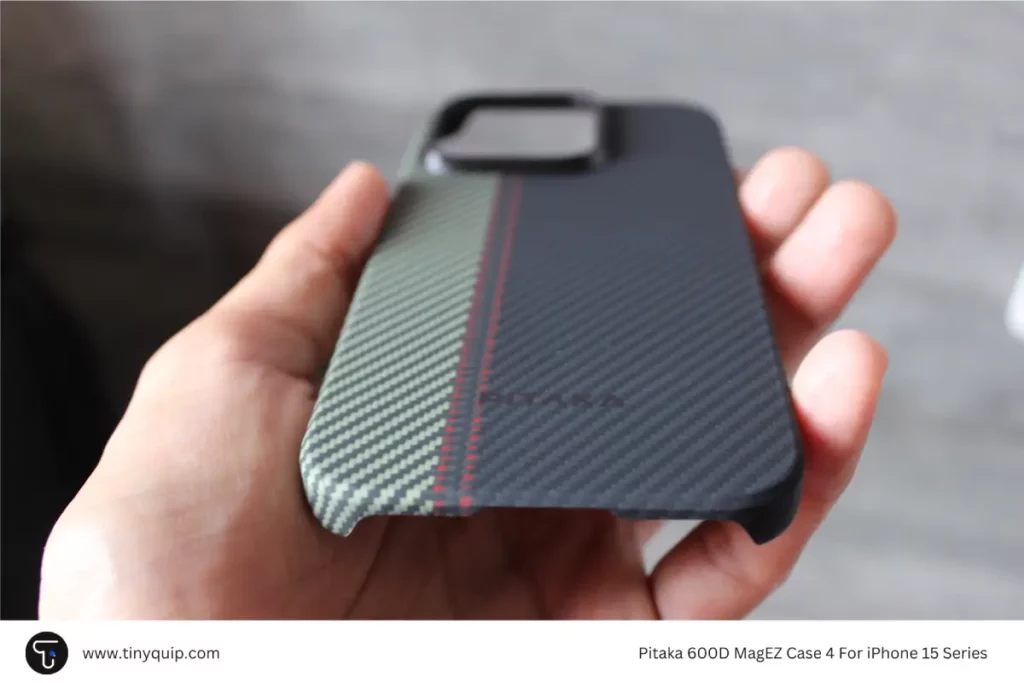 Pitaka goes through a tough process to ensure the case on your iPhone leaves a style statement. So, it is first woven on a loom using Aramid Fiber and then hardened and touched up with a 3D textured design that adjuncts the fabric. And then Pitaka's smart minds came up with fusion weaving.
With fusion weaving, the design engineers were able to match two Aramid Fiber strands and make more fashionable designs. For instance, there are four styles that Pitaka currently offers, and these styles are adopted from the Men's suit style: 1. The Pinstripe suit, 2. The Tweed suit, 3. In Full color, and 4. Suit and Bow Tie.
While the looks are great, so is the feel, and Aramid does feel soft like silk, something you would wear at a business meet or to an office.
---
3. Strong Phone Case to Protect Your iPhone
Appealing and functional cases for your iPhone are fine, but what makes the Pitaka MagEZ Case 4 better is the build quality. iPhone 15 Pro and Pro Max series have been all about the new Titanium body and lightweight nature; Apple uses Grade 5 Titanium alloy on the border and strong ceramic shield protection at the front and back.
But you can still see the coating coming off from the borders or near the ports or see a halo effect near the buttons. Besides, the damage that can be taken by this protection is limited to a certain fall or hit, and this is where your Pitaka MagEZ Case 4 will protect your iPhone. This is the same material used in bulletproof vests, depicting it's tear and wear quality or protection against damages.
There is also a downside of using this Pitaka case, which might give you some second thoughts, which is there are no button-shaped or port-shaped cutouts; rather, there are huge gaps for buttons and ports, which expose your iPhone even though you have a case on it. It is also fair for Pitaka to make such rigid and ergonomic designs that give your iPhone comfort while also protecting most of the outer body, and this also ensures a good fit. While this might be a downside for most users, I personally liked the cutout for ports and buttons.
Overall, in comparison to most other cases for iPhone that I have previously used, the Pitaka MagEZ Case 4 is just the near-perfect case I have come across in terms of strength, durability, and appeal.
---
4. Design and Style
Let me be pretty straightforward with my opinion on how Apple is running out of ideas to make their iPhones look incredible or innovative. Every year, all we can find is a new color and a bigger camera; nothing like a fold or too glittering like nothing phone themselves.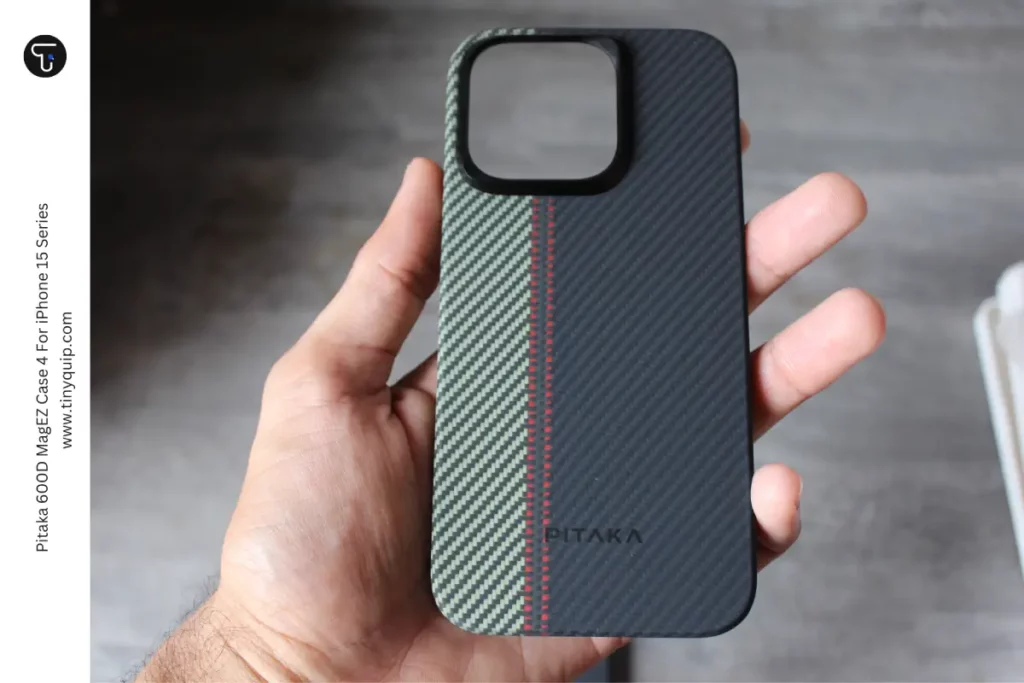 But you can always add that appealing touch to your iPhones with classy, modern, or funky cases, and while Pitaka currently has limited options in their series, they do add a classy look to your iPhone 15 or any iPhone since the iPhone 12 in the lineup. The design and style are appealing and give you more of a modern and classy men's suit look, which is also the idea behind the fusion weaving on the back of your MagEZ Case 4 from Pitaka. The inner edges have shock and drop protection to secure your iPhone from accidental minor falls, and the case, while being so strong and functional, is still lightweight in nature and doesn't make you feel like holding a brick and not your iPhone.
Pitaka also launched their all-new StarPeak cases that add a subtle universe or galaxy touch to your iPhone. I still like the Overtune and Twill styles from the 600D cases series, and I loved them on my iPhone 15 Pro.
But that's not all; these cases are compatible with MagSafe chargers and Pitaka's very own MagEZ Slider, which is, by far, one of the coolest magnetic charging modules for your Apple accessories.
---
5. MagSafe Compatibility – Pair it with the MagEZ Slider
I have been playing around with power banks for quite a time, and we have reviewed a couple of power banks and wireless chargers earlier, but if I have to tell you about the MagSafe charging brick specifically, it is one of the decent options, and the magnetic and sleek nature makes it a choice for most travel or always low on the battery users.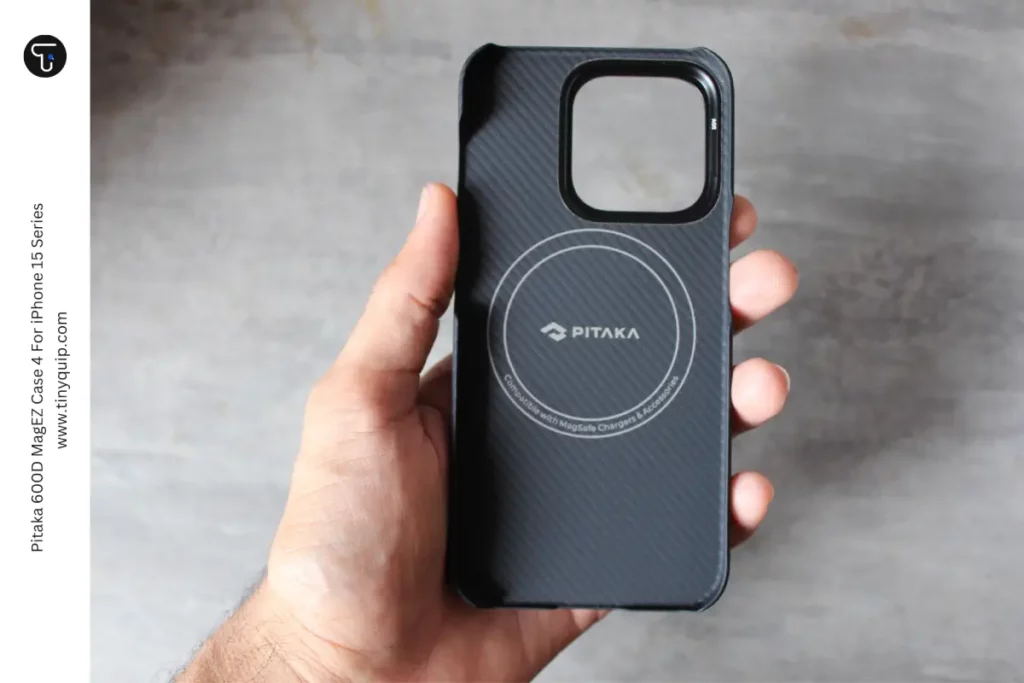 Pitaka's MagEZ Case 4 offers you a strong magnetic hold that can help you carry your Apple MagSafe or use a desk standby setup without having to remove your iPhone case. The case comes with a magnetic ring at the back, which offers a strong magnetic hold to ensure your iPhone holds the wireless charging without any trouble.
We tested the magnetic ring by attaching a few MagSafe accessories from Pitaka and other brands, such as wallets, holding rings, and a lot of others. In comparison to other cases, the Pitaka MagEZ Case 4 does have a strong magnetic ring that can hold your MagSafe accessories safely without having to worry about any damages. I prefer using the Pitaka Wallet paired with the case that not only makes my iPhone safe and appealing but also a lot more functional. If you plan to use the case with other wireless chargers, you can still have the Pitaka case on it, as the ring is perfectly aligned and works with almost all Apple or other branded accessories.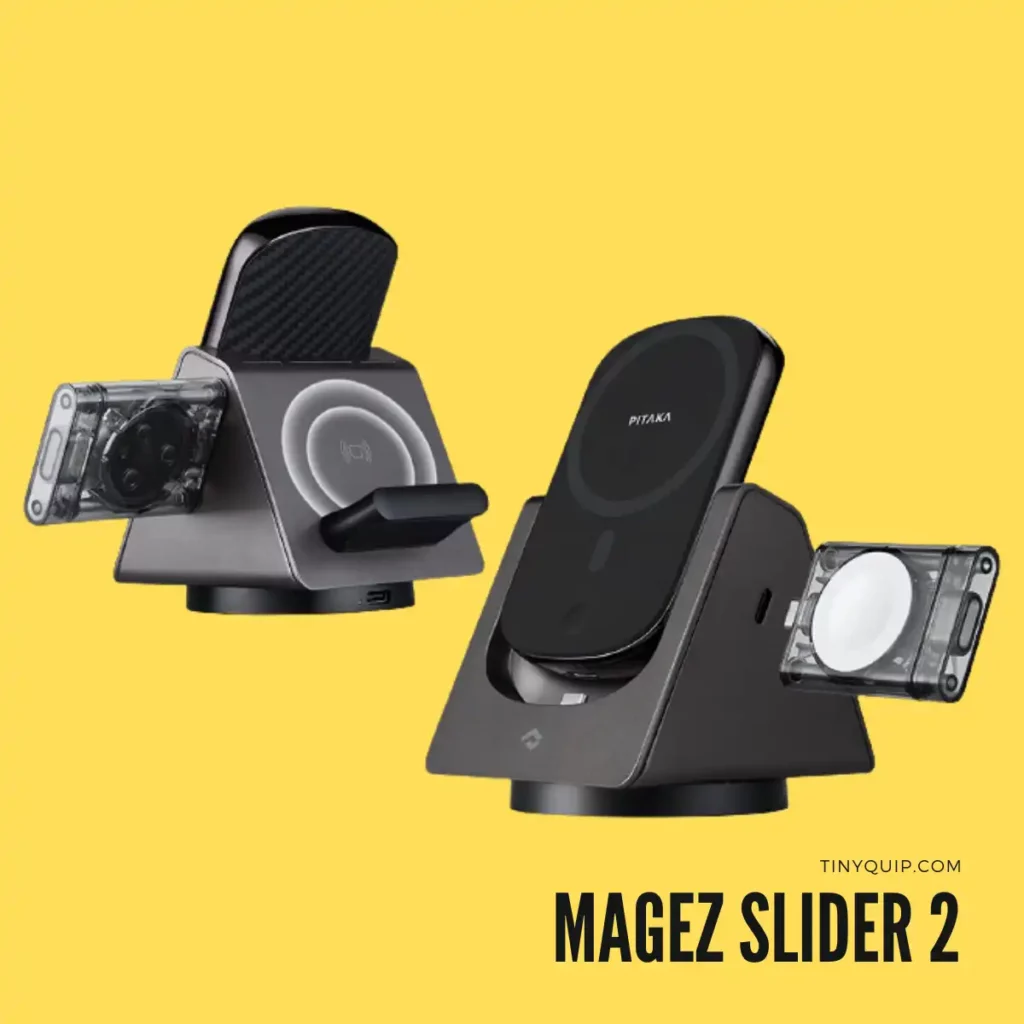 MagEZ Slider 2
Check out the MagEZ Slider 2, one of Pitaka's best accessories for charging your iPhone, Apple Watch, and AirPods at once. The dock features a Magsafe battery pack that you can carry on the go, and it magnetically attaches to your iPhone's back, just like Apple's MagSafe.
---
6. Camera Protection
Apple has been constantly improving the camera systems on their iPhones, and every year, they are big, have improved photonic engines, and now support a better range of shots compared to the previous generations. However, since the size has gotten bigger on the Pro and Pro Max models, there comes more need to protect the lens and avoid any damages or scratches on them.
Pitaka has been thoughtful about this, and the same is reflected in their case design. On the MagEZ Case 4, you can find increased metal lip protection that ensures the lens does not touch the plain surface directly. Most times, we just drag our iPhones from the table tops or office desks in a hurry, which leaves scratches on the lens, while with the Pitaka case and raised-lip protection, it is the first point of contact and protects your iPhone's camera lens from minor scratches with everyday use.
Pair Your iPhone 15 MagEZ Case 4 With Other Gadgets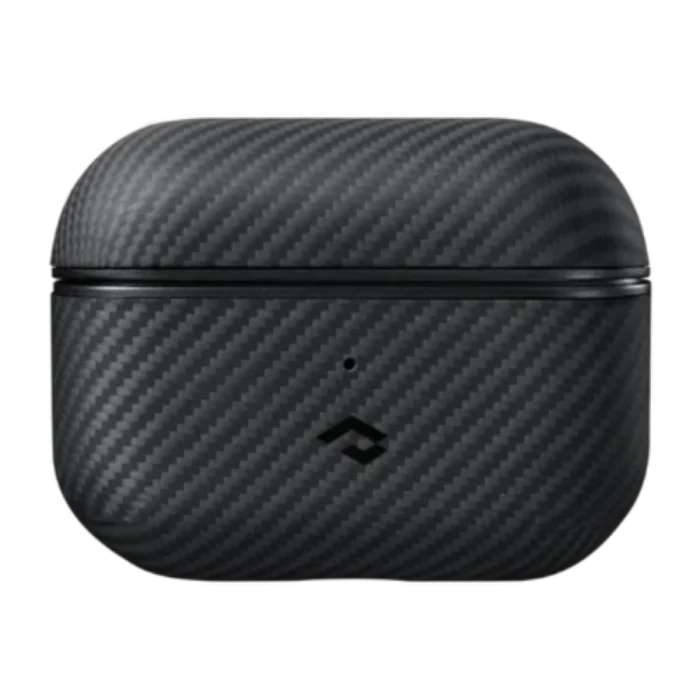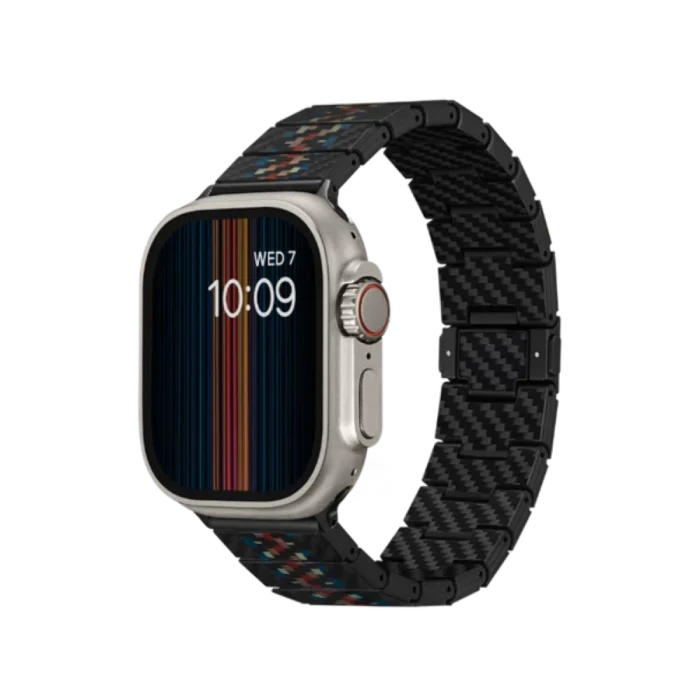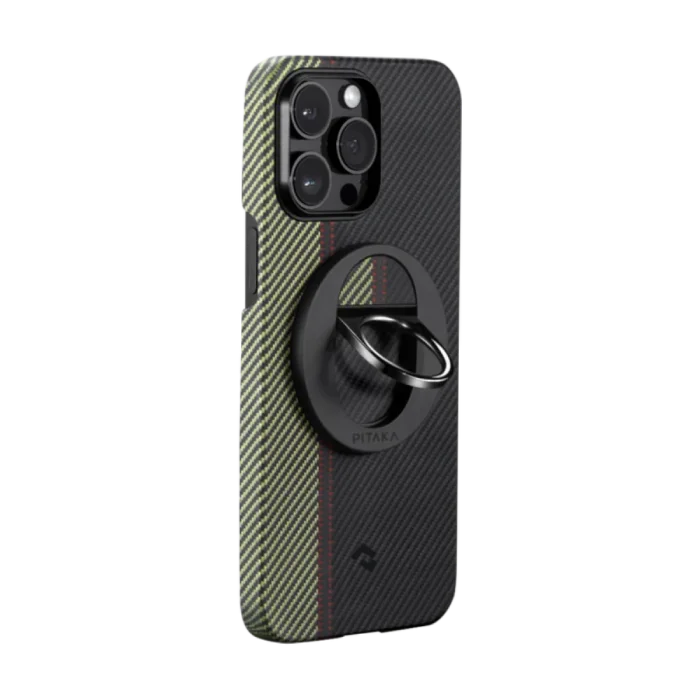 ---
How to Check the Authenticity of Your Pitaka Case for iPhone? And Perks
Be it the iPhones, Android, AirPods, or basically any tech or related gadgets, one thing is for sure: to find a duplicate and unauthentic copy from unknown sellers or local markets. Your Pitaka case is a premium case with Aramid Fiber, and it is important that a genuine case is delivered to you. To tackle the unauthenticity issue, Pitaka cases come with a unique serial number on the inside of the camera lip, which can be used to know if the case is genuine or if you have been deceived by unknown sellers.
To check the authenticity of your Pitaka case, firstly, ensure that NFC is enabled on your iPhone. If you are unsure about the NFC setting, you can navigate to the "Settings" app, look for NFC, and then enable it. In the next step, tap your iPhone on the back of your Pitaka case on the logo, and you can find a Safari link on your iPhone; tap on it.
Now, you can find a field to enter the serial number on your Pitaka case, enter the serial number, and fill in the other details. Once done, submit the form, and you will find a pop-up on your screen with a message of authenticity.
With the authenticity message, you will be redirected to the Pitaka Gallery, where you can find dozens of wallpapers, themes, music, videos, and other media that match the vibe of your Pitaka MagEZ Case 4.
---
Pros and Cons of Pitaka MagEZ Case 4 for your iPhone
Pros
The case is built with a strong and superior quality material: Aramid Fiber, which is mostly used in bulletproof vests.
Unlike other cases, Pitaka cases are lightweight, thin, and soft textured, giving you an absolute experience.
MagSafe ring that lets you attach other Pitaka and Apple accessories such as wallets, rings, and more.
The button and port cuts make it easier to find the buttons, unlike the previous versions of the case.
Pitaka MagEZ Case 4 comes with raised lip protection to protect your camera from scratches and surface damage.
The case designs are more inspired by business suits and styles, which make it look more premium when you carry them on your iPhone. However, there are also other styles, such as StarPeak, which make your iPhone look more casual and classy.
Cons
There is room for more design and styles on the case, offering a wide range for users to pick from.
At times, there are visible smudges and fingerprints, which is likely common with every other branded case.
Before You Leave
Get Our Prime Content Delivered to your Inbox for Free!! Join the Ever-Growing Community… Right Now.
Give this article a quick share,
---
Final Verdict | This is a Must-Have Cover for Your iPhone
The Pitaka MagEZ Case 4 series is by far my favorite pick, and you can find it not only for the iPhone 15 series but also for previous models such as iPhone 12, 13, and 14. Pitaka also has similar cases for other devices, such as Google Pixel and Samsung, and hopefully, more Android devices are adding up soon. What I love about this case is the build quality and material used: The Aramid Fiber is just as lightweight as a feather; it is softly textured and is resistant to most damages. Also, the thought of increased lip protection showcases how the case is designed to protect your iPhone from most minor to a few major damages. I wish Pitaka could add more designs and pop colors to make the cases more lively, and hopefully, we can see some of those in the future.
Let me know what your views are about the Pitaka MagEZ Case 4 using the comment section below, and also, do not forget to check out other Pitaka products from their website. You will find some of the best-in-class engineered products for your iPhone and Samsung.
If you like this article, do give this a quick share on your social media handles, and do tag us. Also, join our Telegram channel, Facebook page, and X to never miss a quick update.
Should You Buy This Pitaka Case for Your iPhone 15 Series?
Pitaka 600D Aramid Fibre Case for iPhone 15 and iPhone 15 Pro Models
In my opinion, this is the best case set to buy for your iPhone 15. I have used this case for almost a week now, and I can strongly agree on it's build quality and appeal. Of course, there is room for more designs, but on a personal level, I love the existing three designs they have to offer, and it is easier for me to pick. Yes, you should definitely buy this for your iPhone 15 or the iPhone 15 Pro models.
In my opinion, this is the best case set to buy for your iPhone 15. I have used this case for almost a week now, and I can strongly agree on it's build quality and appeal. Of course, there is room for more designs, but on a personal level, I love the existing three designs they have to offer, and it is easier for me to pick. Yes, you should definitely buy this for your iPhone 15 or the iPhone 15 Pro models.
Total Score
i

Review-based on personal opinion
The case is pretty slim and lightweight, and you can feel like you are holding a feather in your hand. The good thing is, despite all the material and MagSafe functions, the case doesn't make your iPhone look bulky.

Pitaka MagEZ Case 4 feels soft textured like silk, which makes it comfortable to carry around while also giving a good grip.

Pitaka MagEZ Case 4 is built with Aramid Fiber material, which is durable, lightweight, and strong enough to protect your iPhone from most damage. The case is also well thought out in terms of design, such as raised metal lip camera protection, MagSafe charging and accessories, and a cutout for the charging port and buttons.
Some Catchy Line to Grab your Attention
Get Our Prime Content Delivered to your Inbox for Free!! Join the Ever-Growing Community… Right Now.