Pitaka is famous for creating accessories that make a difference, mainly for Apple and now for Samsung too. And recently, they upgraded their Folio case for iPad Pro, and though the improvements are small, it is one of the best magnetic cases for iPad you will ever get. But what makes it different? What is so special about the MagEZ Folio 2? This review is all about it, and you will love it till the end.
iPad Pro is pretty handy, be it for designers, content creators, influencers, photographers, or even coders and entertainment freaks. This list never ends with iPad Pro, as there are plenty of apps. With so much that your iPad can do, there is something that you can do for your iPad; get a case that can not only protect your iPad but also make it more functional. And one of the best choices is the MagEZ Folio 2. But what is MagEZ Folio 2?
Also Read: MagEZ Slider Review | The Best 4-in-1 Wireless Charger for Apple?
What is MagEZ Folio 2?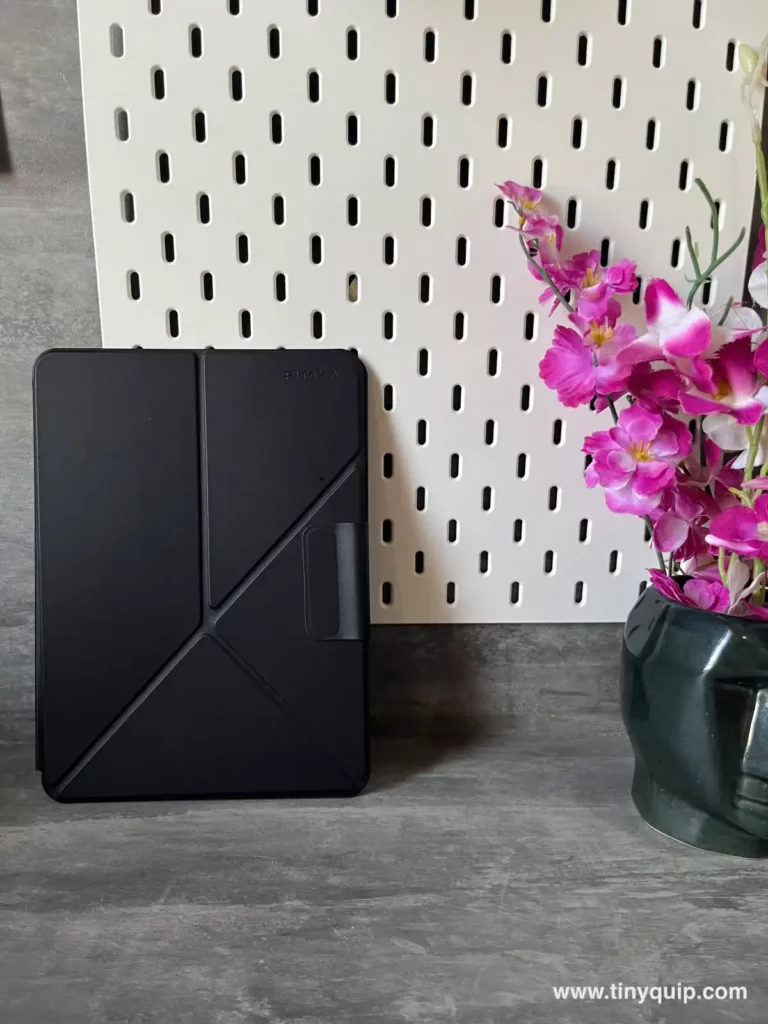 MagEZ Folio 2 is an upgraded version of the MagEZ Folio by Pitaka, one of the best textured and protective cases for your iPad Pro. With version 2, Pitaka introduces added features such as better magnets, softer texture, multiple folds – portrait and landscape, and a better hold.
It also is a lightweight case and is a little different from the other MagEZ cases for iPad that Pitaka offers. MagEZ Folio 2 brings a huge improvement with the multiple viewing or fold options. The previous version of the case – MagEZ Folio, though magnetic, still fails to give a multiple fold or viewing angle, which is certainly a huge issue for iPad users who want to rest their iPad and relax while still working, watching, or playing on it. However, with the MagEZ Folio 2, that's certainly not the case.
Also Read: Realme Smart Cam 360 Review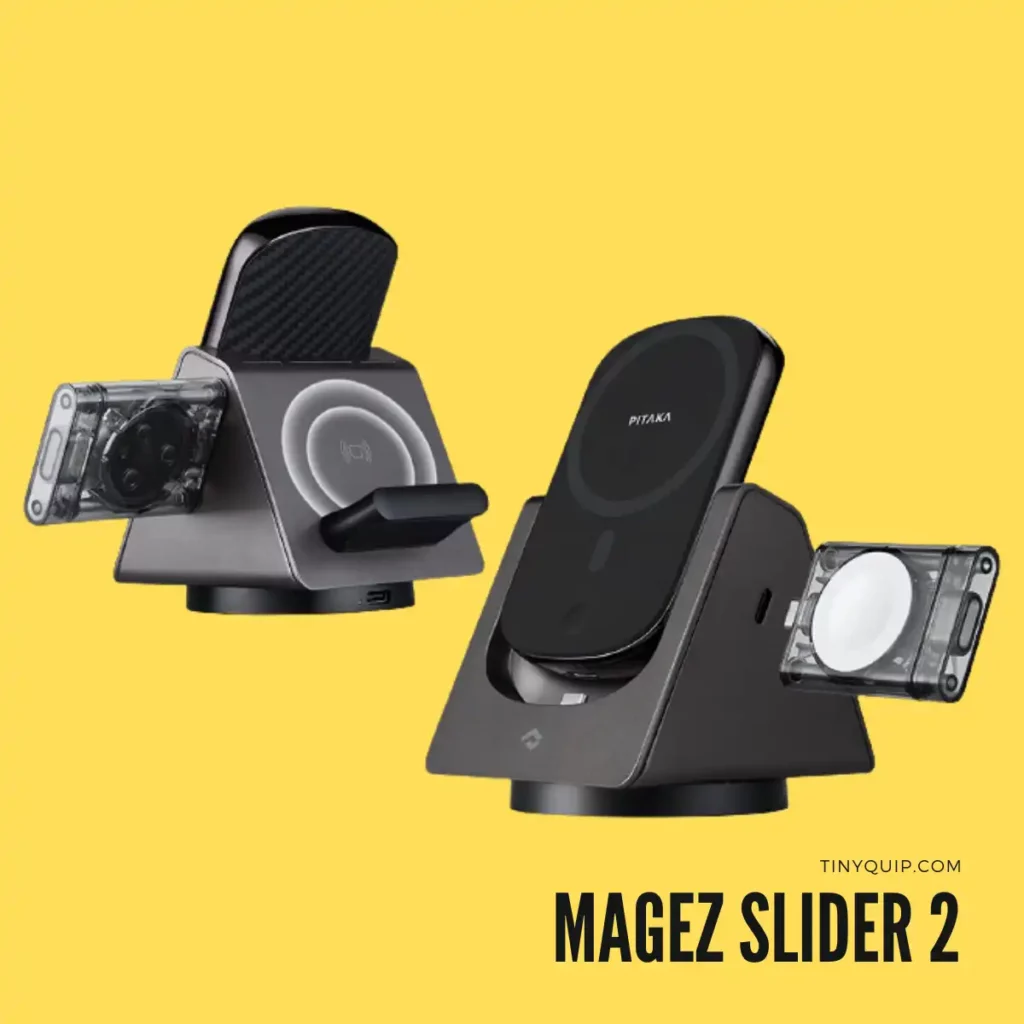 MagEZ Slider 2
Check out the MagEZ Slider 2, one of Pitaka's best accessories for charging your iPhone, Apple Watch, and AirPods at once. The dock features a Magsafe battery pack that you can carry on the go, and it magnetically attaches to your iPhone's back, just like Apple's MagSafe.
---
1. Let's Talk More About the Design
To start with, the MagEZ Folio 2 has an amazingly soft texture that makes it a comfortable and stylish case to hold or carry around. Be it office, traveling, or being artistic on the beach, there will always be a premium feels to talk about. This is because this iPad Pro case is made up of "Premium PU" leather which also gives a soft touch on your palm while you hold your iPad.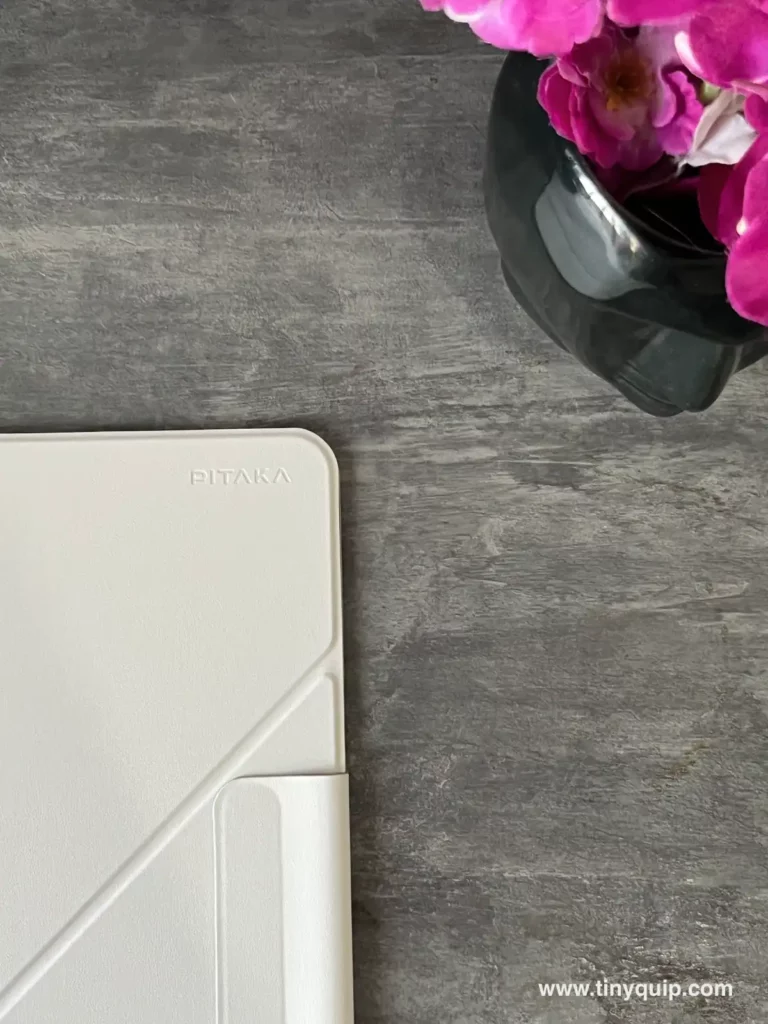 Besides, there are two color options in this case, and both options are perfect for giving a classic look to your iPad Pro. In my opinion, if you have an 11-inch iPad Pro, you can get the classy black color cover or the classic royal white option for all those with a 12.9-inch iPad Pro. However, both color options are available for iPad-size models, and you can still choose one of each or both for your iPad Pro and Air.
The cover fits both iPad Pro and iPad Air, but you will find some noticeable changes around the camera lens. On iPad Air, the camera lens is pretty close to the edges, leaving some white spaces, while on the pro models, the cutout is completely covered.
Here are all the iPad models that the MagEZ Folio 2 currently supports,
What I love the most about the Pitaka MagEZ Folio 2 is there is no need to fit your iPad onto the case forcibly. Something that you can find on most iPad and iPhone covers. As Apple is going magnetic with its products, Pitaka carefully designed the same. Here, you just place your iPad Pro or Air on the MagEZ Folio 2, and it magnetically attaches to it.
Now, let's address the question which might be currently pricking your mind. Does the iPad fall from the case if it is magnetic? Well, not really, at least most times. This is because Pitaka uses strong magnets to hold your iPad, and if you are not using your iPad, there is a magnetic clasp to hold your iPad from falling. But when you are using the iPad with the case, and you give it a strong push over the edges, the iPad may come off, so you need to be a little careful about that.
The MagEZ Folio 2 is definitely not only a stylish-looking case but also protective in nature. The outer surface is soft and may get dirty at times, but a wet-drained cloth wipe should help you clean the case easily and without much effort.
While we are speaking about the design, let me also mention the hidden Apple pencil holder that the case comes with. Just before closing the clasp, you can attach your Apple Pencil just like you would do with your iPad and close the clasp. With or without the Apple Pencil, the clasp holds your iPad strong enough.
I love the perfect camera cutout for iPad Pro devices; there is no room for any dirt to pass in though there is equal spacing on all the sides. However, with the iPad Air devices, the camera cut fits well, but the camera is on the corner, so a part of your iPad Air's back is visible and may get a little dirty. To clean it, you can use a microfibre cloth, and you are good to go. Other than this, you also get added features in terms of smart design, such as an auto wake or sleep on opening or closing the cover, which is best for saving some battery life.
The cover is made up of PU leather outside, which is great for grip and texture, but what's more interesting is how Pitaka has used microfibre on the inside, which also protects your iPad with a smooth surface.
---
2. Multiple Resting or Viewing Angles for your iPad
Be it designing, designing podcast scripts, or even just watching a series on Netflix or Hulu. One thing that most users don't want is to hold their iPad for too long; trust me, the wrist pains a lot. And with any normal case, you would have to lay down your iPad and look from above, which can be stressful for your neck too. This is why I like Pitaka products more than most of the others, they add their thought before designing any accessory, and they did the same with the MagEZ Folio 2 – Multiple viewing or resting angles.
In the earlier version of the MagEZ case, the original MagEZ Folio, there was only one horizontal resting angle which is convenient but slightly discomforting. This is because the Folio case has a very low resting angle, and there is no vertical resting for it.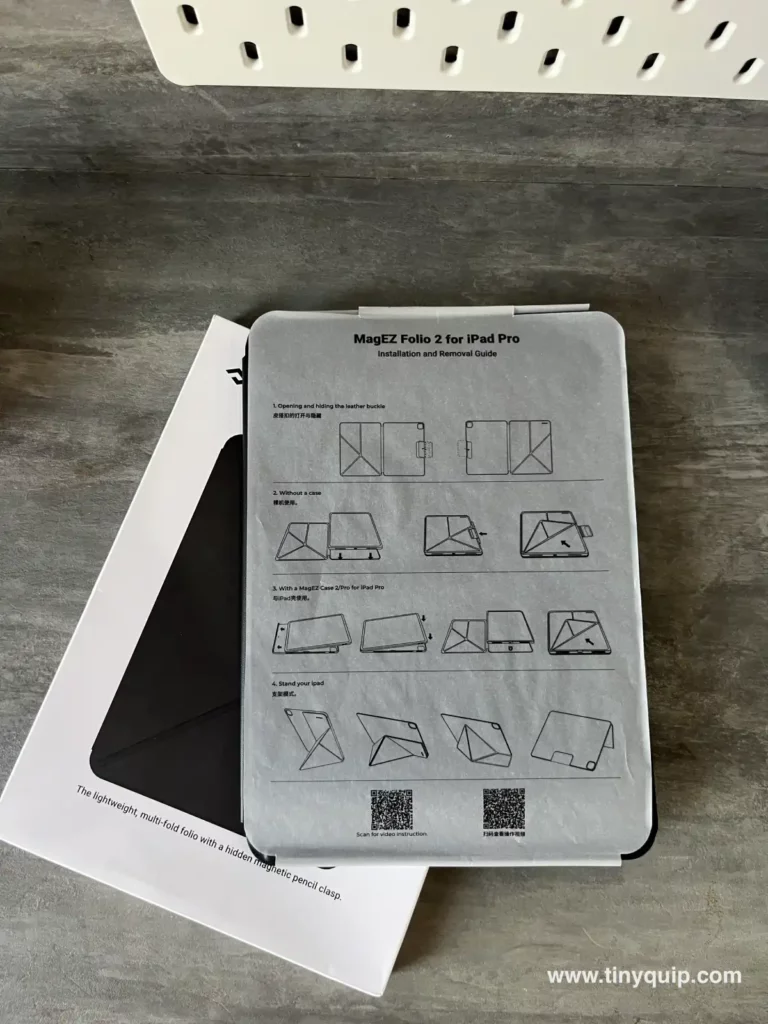 With the MagEZ Folio 2, Pitaka solves this problem. With this iPad Pro cover, Pitaka introduces 4 resting angles, 2 horizontal and 2 vertical. And no, there is no need to add an extra accessory for it. You can easily fold the iPad cover, and it will settle well. The fold then magnetically attaches the back of the case, which gives a firm hold and ensures the stand just doesn't collapse while you are working on your iPad.
Also Read: Dell U2723QE Ultrasharp 4K KVM Monitor Review
Let's discuss each angle that MagEZ Folio has to offer.
1. The 57-Degree Angle – The Angle for Video Calls and Entertainment
The Pitaka MagEZ Folio 2 has 4 viewing angles, and one of them is the 57-degree angle. And this is pretty much my favorite. It is because this angle offers a comfortable view for video functions such as FaceTime or watching tv shows or movies.
The fold is super easy to make as there are lines on your iPad cover that guide you with folding, and you also get a cover with instructions on how to fold. To make the 57-degree angle on Folio 2, move the front cover of your iPad backward in a way that looks more like a case than a cover. The front part of the cover will basically attach to the back of the cover. But keep a little distance as we need to do some folding here.
Now, on the right top of your Folio 2, you can find the Pitaka branding or logo; call it anything that suits you; hold it from the edge and fold it back to the left of the cover. As you make this fold, you can find a pyramid-like structure at the bottom, and then the top part magnetically attaches to the back of your iPad Pro cover, exactly in halves. You can now see a stand-like structure; place the back of your iPad on it, and you are ready for all the entertainment at 57 degrees of comfortable view.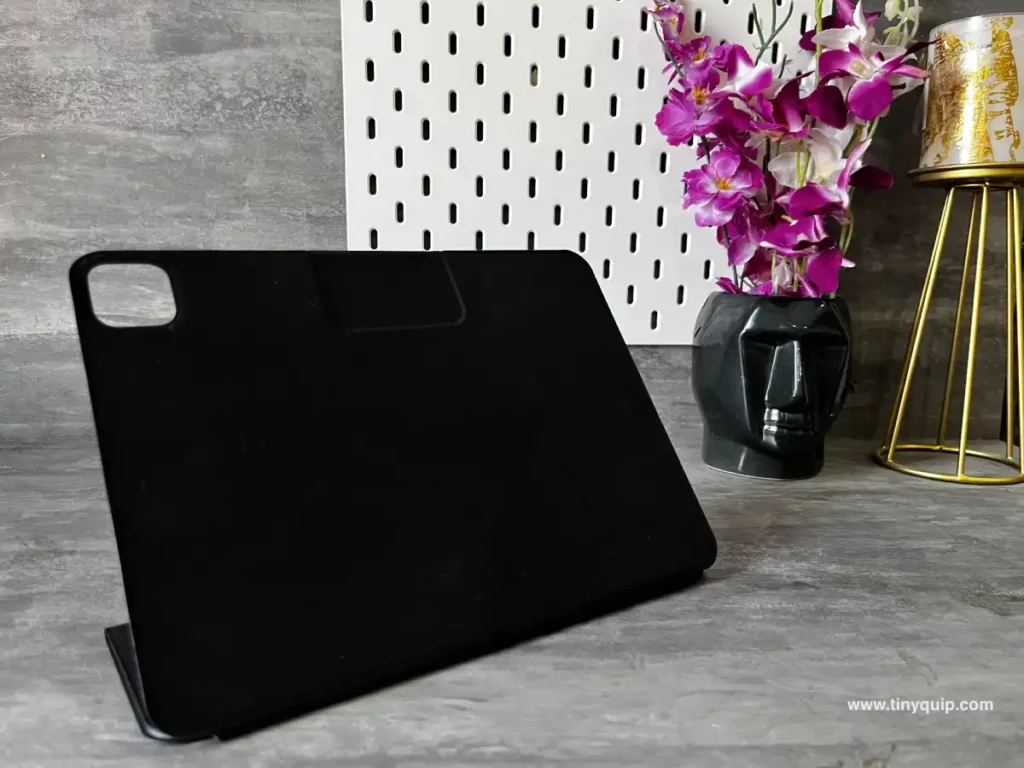 But entertainment is not all about the iPad. Let's not forget about how students find iPad helpful while studying or making notes. In fact, Notes is one of my favorite productivity apps on both macOS and iOS. And definitely iPadOS. In such a case, you can use the 62-degree portrait angle, and I love it for all my note-taking and studying.
---
2. Make Better Notes, Read Better, and Do a Lot Better Things – The 62-Degree Angle on the MagEZ Folio 2
Most times, my iPad is either on the couch, my backpack, or the kitchen counter. I pretty much use it for everything from making recipes to creating amazing guides for all my readers on Tiny Quip.
But most times, the difficult part has been the need for a portrait resting angle that a lot of iPad cases miss out on in the market, but Pitaka's MagEZ Folio 2 doesn't. I use the hands-free portrait mode for three major reasons, mainly to create a shopping list or doodle my thoughts on the kitchen or the study table. While I want my iPad to be hands-free, either it is too down or in landscape mode. But after switching to the MagEZ case, I find the 62-degree angle pretty much helpful. It is a tall portrait mode with a pleasing angle that lets me use Notes or like apps easily without having my neck dance. With this, I create notes such as shopping lists, to-do's, and other habit-tracking apps. 
To make this fold, flip the cover to the back, and you can now see the "Pitaka" branding on the right top of your cover. Now, move the branding from the front to the back; that should be half a fold of the front of your cover.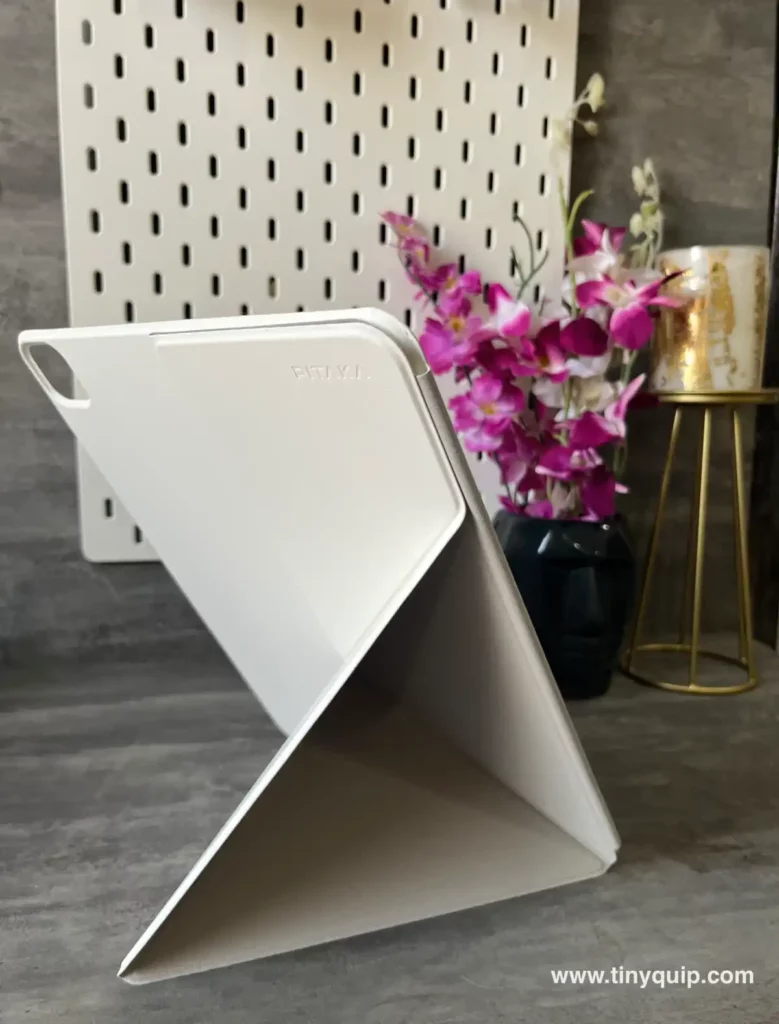 The simplest thing to do would be to make a 57-degree fold on your MagEZ Folio 2 and then just flip it vertically. That should help you make the easy switch between landscape and vertical resting angles and, in complicated terms, a switch between 57-degree and 62-degree.
---
3. The 34-Degree Angle – For all the Creating and Editing
One thing that the iPad is pretty handy famous is for all those creators out there. First of all, if you are a creator too, great job, keep doing it. And do it much better with the 34-degree comfortable working angle on the MagEZ Folio 2 case, especially with the Apple Pencil in your hand.
The 34-degree resting angle helps you with easy designing and creating; Pitaka loves calling it sketch mode. This is because the sketch mode helps you with a comfortable hold on your Apple pencil and lets you draw easily without having to strain your neck.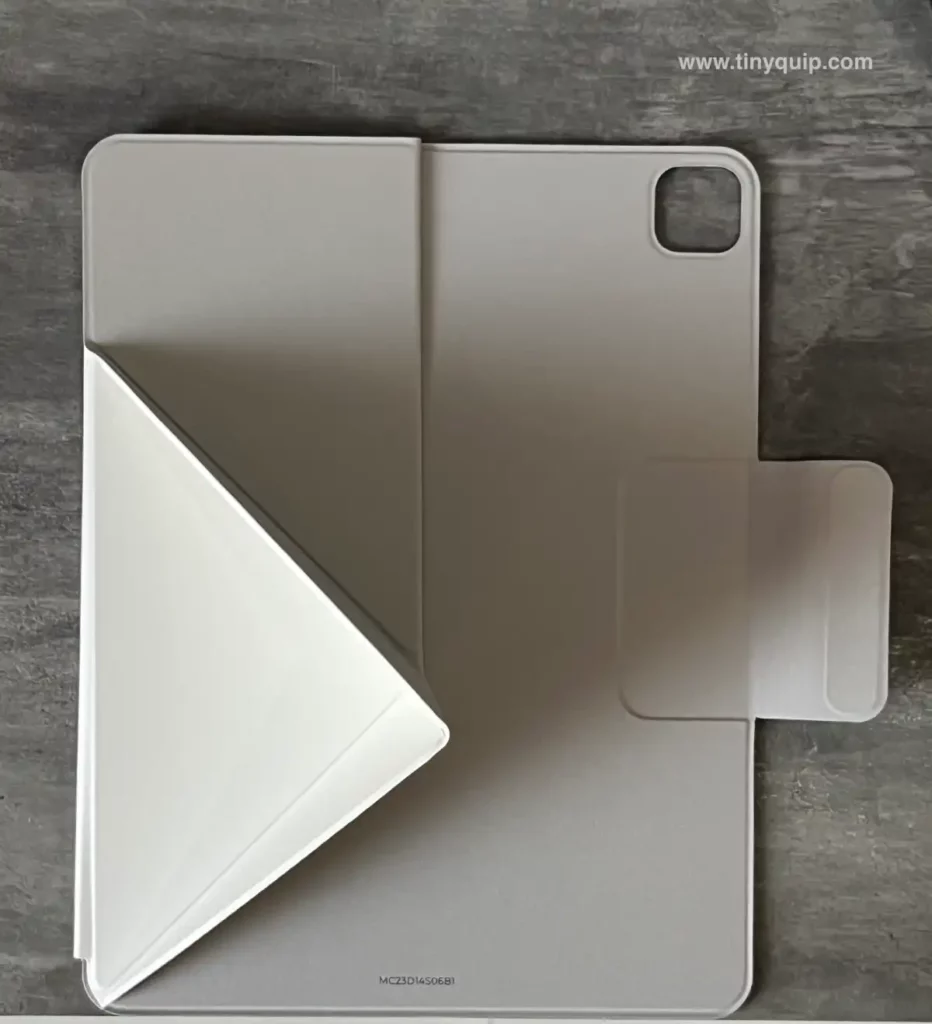 To make this fold, flip the front of your MagEZ Folio 2 case to the back, and you can now see the Pitaka branding at the front. Now, hold the right edge of your cover and move it toward the left of the cover, and it should make a pyramid-like structure at the bottom. It should also magnetically stick to the back of your iPad Pro cover and make it a stiff stand. Now just rotate the iPad such that the camera cut is at the bottom, and you are good to go.
I pretty much like this resting angle on my iPad Pro, as it helps me with designing wireframes for a lot of other projects on my iPad, and since it is a stiff stand, it also gives a good hold while I rest my hand with the Apple Pencil on it.
Also Read: 10 Best Microphones for Podcasting | Factors, Budget & More
---
4. 53-Degree | The Second Screen to your Computer
Who doesn't like to have a second screen? From streaming to hustling hard on productivity, a second screen always helps you manage tasks better. Though I love having the Dell Ultrasharp U2723QE as a second screen, the iPad comes in handy too.
And thankfully, Pitaka considers the design for iPad as a second screen with their MagEZ Folio 2.
The 53-Degree resting angle with the MagEZ Folio 2 cover helps your iPad to stand perfectly as a second monitor. And if you are using it with your MacBook or iMac, this process will be smoother without having to use any connectors in between with the universal extend feature.
To make the 53-degree fold, you can copy the 34-degree angle process, and at last, rotate the iPad cover such that the camera cutout is at the right-top of your iPad. That's it. There you have the second screen angle on your iPad Pro with the MagEZ Folio 2 smart cover.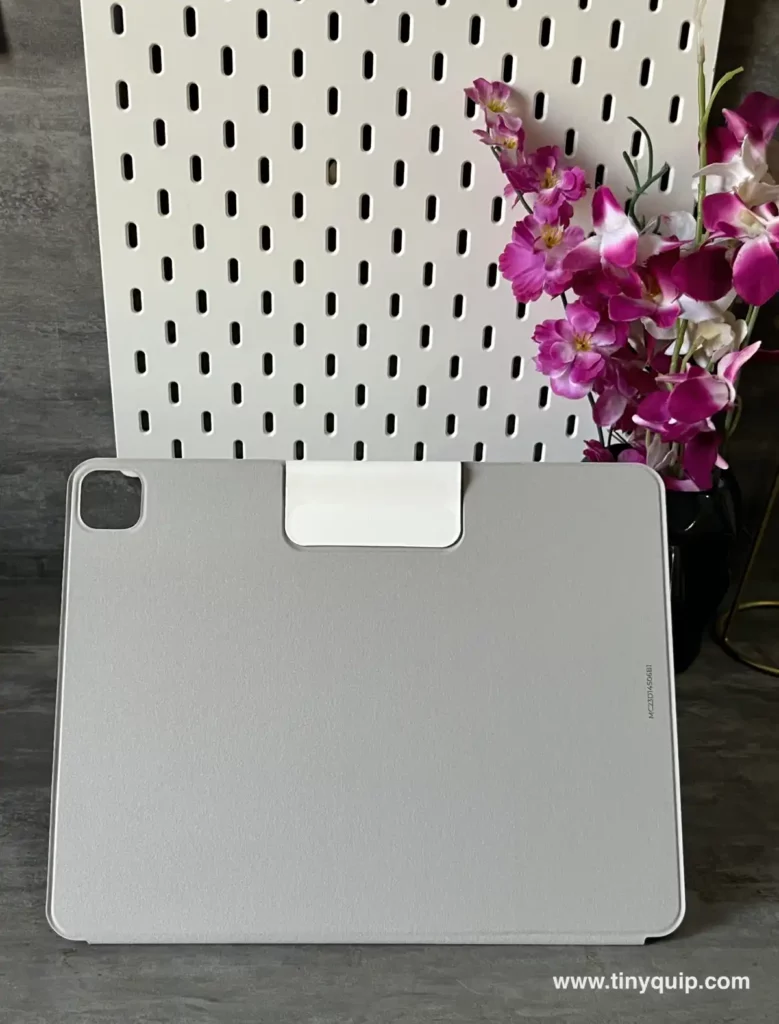 If you are a productive freak like me, this cover would be a handy thing for you. But do I approve of the quality? Does the MagEZ Folio 2 stand strong on the drop tests, and how do you clean the cover? Let's cover all of them in a queue.
---
3. The MagEZ Folio 2 Quality | Drop Tests and Water Spillage
iPad Pro is one of the most expensive devices to own, and not taking good care of it will only cost you more money and the data present on it. The MagEZ Folio 2 is a budget-friendly cover for all the features that it has to offer, but if the quality fails, then it is no use to have it in the first place. So, I thought, let's do some quality testing and know if the MagEZ Folio 2 can really make a good stand for its name.
Here are some of the tests I did,
1. Water Spillage on the MagEZ Folio 2 iPad Pro Cover
One of the most concerning things about buying leather covers is water resistance. What if I accidentally spill some orange juice or water on the cover? Will it be damaged?
It concerned me a little, so I spilled some water and not accidentally, but intentionally to check if the MagEZ Folio 2 could withstand it. Before spilling the water, the only concern for me was the outer leather body, as most leather does not have the temperament to resist water and eventually gets damaged.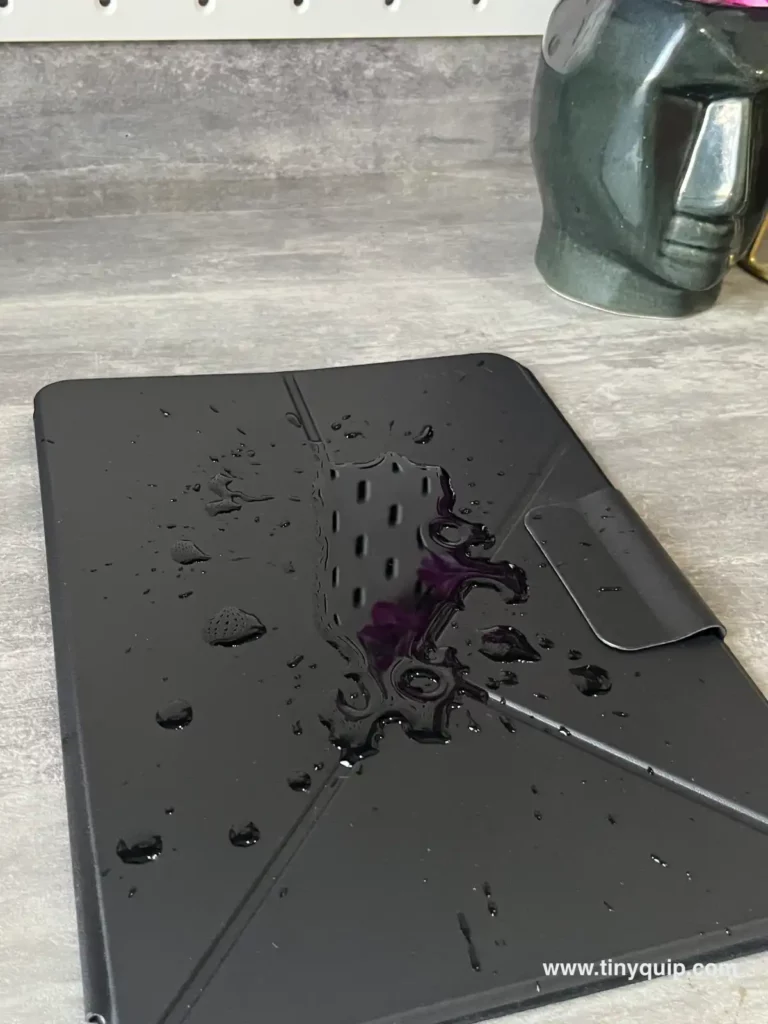 And thankfully, it didn't.
However, if you spill on the insides of the cover, you will find some stains that'll stay for much longer and are easily visible. Also, I do not recommend you spill orange juice on either side; it is just not a good idea.
Overall, the cover is resistant to water spillage outside, and you can use the same as an advantage to clean the cover over a period when it gets dirty. Yet, I would recommend you avoid spillage on the inside of the cover, as it is made up of microfiber. The black case is pretty easy to clean as the stains are not much visible, be it most of the drinks other than water, but with the white case, you might want to be cautious about it and regularly clean it by spraying cleaning solution and using a microfibre cloth.
Also Read: OXO Sweep and Swipe | The Best Gadget Cleaner?
---
2. Drop Test – Do the Magnets Hold Tight?
When you drop your iPad Pro with the MagEZ Folio 2 cover on it, you might have your heart in your mouth. But that's the moment of the truth; what do you think? What part of the iPad is suspected to be damaged with the MagEZ Folio 2 on it?
Let's start with the magnets; the iPad did not slide off the cover, which is one of the good things. Besides, the magnetic clasp is strong enough for another supportive hold on shorter heights. Regardless, the three sides are still open and are prone to damage on the edges depending upon how it falls.
Moreover, the screen should still be able to withstand damage with the clasp on it but not for a fall from bigger heights. The outer body might get some scratches that will never go, but most of your iPad should still be good with small drops.
Of course, the MagEZ Folio 2 is a protective cover for your iPad Pro, and to an extent, it does help in small drops with a magnetic hold in nature. Besides, you can expect water spillage resistance and protection from small damages, which should do for everyday use.
---
From MagEZ Folio to MagEZ Folio 2 – What Changes Did Pitaka Bring?
The MagEZ Folio was the prior version of the MagEZ Folio 2 iPad cover, and with this version, Pitaka brings major changes and corrections to the cover.
The first and most likable change for me is the multiple viewing angles that Folio 2 has to offer. With the first version of the case, there were two resting angles for your iPad, and both of these are horizontal resting angles. Now, these are great for working on your iPad, typing, or watching movies, but if you want to use your iPad as a second screen or use your iPad hands-free with a stand in portrait mode, it isn't likely possible. Pitaka improved it with the second version of the cover, which is the MagEZ Folio 2, and now it is much better than before.
The second likable change for me is how Pitaka has introduced the clasp in the MagEZ Folio 2. Earlier, with the MagEZ Folio, you didn't get a clasp; rather, it was a push-like mechanism that would help you open up the front of the cover. Now, the problem with this is your Apple Pencil is always open for a fall, and secondly, you don't have a good protective hold of your iPad and the cover.
On the Folio 2, with the magnetic clasp, your Apple Pencil is under the clasp, so it stays in the place protected, and even you get a good protective hold that ensures your iPad doesn't fall off its place when you are in motion.
---
Pros and Cons of MagEZ Folio 2 – The iPad Pro Cover You Need
Pros
The Folio version 2 comes with multiple viewing and resting angles, which is pretty handy for all hands-free operations.
The outer cover is made up of premium PU leather which gives a soft texture and grip, which is great, and it is also resistant to water to an extent.
The inside part of the cover is made up of microfibre, which not only protects the screen from scratches or grime but also the back of your iPad.
A strong magnetic hold ensures the clasp fits well, and the iPad is in its place and does not shift or move out of the cover easily.
Despite the use of such premium material, the MagEZ Folio 2 is still lightweight in nature and can fit easily in your backpacks from traveling to work. It is totally portable.
As soon as you close the front cover, the iPad automatically turns off the screen and wakes up when the cover is removed. This auto wake-up and sleep functionality saves a good amount of battery on your iPad.
A good hold on the Apple Pencil underneath the clasp ensures it doesn't fall while you are walking with your iPad and keeps it protected.
Cons
The internal part of the cover is made up of microfibre, which is great for protecting the screen, but it is not water-resistant like the outer part of the cover.
It can take some good small hits and drops, but if the iPad with the cover falls from bigger heights, the edges of the iPad from top and bottom can be damaged, and the surface can be a little scratchy. There are no protective edges which can always leave you in concern about damage.
The classic white case can be more difficult to clean and may leave some stains.
Before You Leave
Get Our Prime Content Delivered to your Inbox for Free!! Join the Ever-Growing Community… Right Now.
Give this article a quick share,
Final Verdict | MagEZ Folio 2 is One of the Best iPad Covers to Have
The MagEZ Folio 2 works great for anyone using the supported models of iPad Pro and iPad Air. The cover feels premium as it uses PU leather and is protective from both inside and outside. What is more advantageous from my point of view is the multiple-viewing or resting angle so that most of your tasks are now hands-free; the second and third advantageous factors are the better magnetic hold and the introduction to the clasp, which are a great upgrade to the older version of the MagEZ Folio case from Pitaka.
In terms of quality, the MagEZ Folio 2 does a great job; it is protective and water-resistant from the outside. Besides, the strong magnets hold your iPad well and ensure it doesn't slip away. I love how the case is also lightweight in nature despite the use of such premium quality material, and I guess it is the smart engineering behind it.
Let me know what your views are about the MagEZ Folio 2 using the comment section below, and also, do not forget to check out other Pitaka products from their website. You will find some of the best-in-class engineered products for your iPhone and Samsung.
If you like this article, do give this a quick share on your social media handles, and do tag us. Also, join our Telegram channel, Facebook page, and Twitter to never miss a quick update.
Some Catchy Line to Grab your Attention
Get Our Prime Content Delivered to your Inbox for Free!! Join the Ever-Growing Community… Right Now.